10 Destination Wedding Etiquette Tips You Need To Know
Wedding etiquette can be a tricky thing. And when all of your guests are jetting off to a strange new land, the rules of destination wedding etiquette are different.
We have included third party products to help you navigate and enjoy life's biggest moments. Purchases made through links on this page may earn us a commission.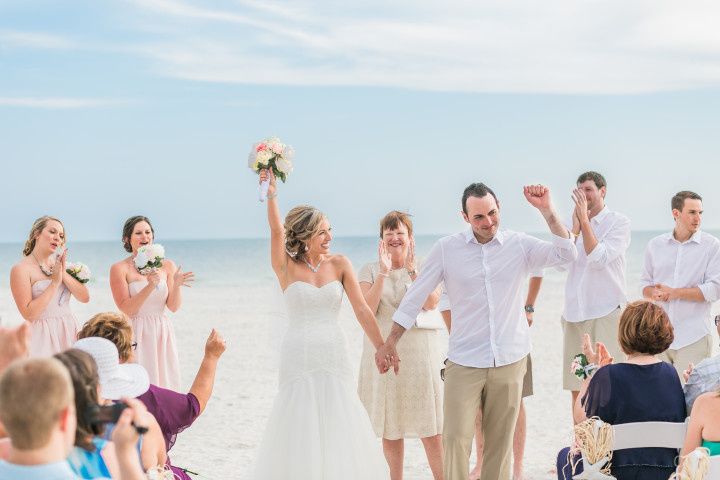 Regardless of whether or not you're getting married close to home, understanding basic wedding etiquette can be a tricky thing. Who pays for what? How many guests should you invite? The etiquette questions are sometimes endless, and when you add a faraway destination with potentially different customs and cultural practices, the rules could change entirely. But destination wedding etiquette doesn't have to be confusing — all it takes is a bit of extra research and planning before you jet off for the big day.
From travel costs to tipping, here are our top 10 destination wedding etiquette tips.
For the Couple
Figure out who pays for what.
"First off, couples need to keep their guests in mind with regards to costs. Unless all their guests are wealthy (which is not usually the case), you don't want to choose a location that is expensive to get to and expensive to stay at," says Jamie Chang, a destination wedding planner and designer at Los Altos, California-based Mango Muse Events. "It's poor destination wedding etiquette to ask guests to fork over thousands of dollars to come to their wedding."
Keep the guest list short.
There are no hard and fast destination wedding etiquette rules when it comes to creating your guest list. But for most destination weddings, it's best to think small. Invite people who you love and want in your life. Chang suggests asking the following question: "If your wedding happened yesterday and you didn't invite this person, would you be sad? Your guest list should be comprised of people who the answer to this question is 'yes,'" Chang says.
Give guests ample time to plan.
Send your save-the-date cards about eight to 10 months before the wedding, and mail out invitations at least three months in advance, giving guests plenty of time to RSVP.
Make your guests feel welcome.
Welcome your guests from the get-go. Maybe throw a party on the arrival day. welcome bags filled with sunscreen, flip flops or other hot-weather location essentials are a nice touch too. "Make it easy for them to enjoy," says Sabrina Cadini, founder and creative director of San Diego-based La Dolce Idea, a company that offers wedding planning services. "Give them specific instructions about the travel itinerary, the weather conditions, outfit suggestions, and keep them informed and connected during the wedding weekend."
If you want alone time after the ceremony...
"There really isn't a way to mention this," says Chang. "The best way to get this point across is just to create a physical barrier." If you want time together as a couple after the reception, Chang recommends staying somewhere private. Hole up in your hotel room. Put up the "do not disturb" sign. Book a wedding suite in a separate hotel. Your guests will get the message.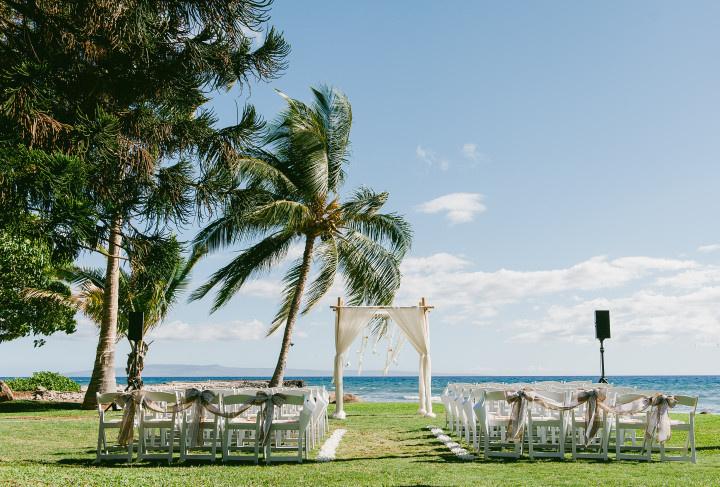 Learn local traditions and cultures.
"Don't include rituals or traditions or other elements that might be offensive to the culture of the country where you get married," says Cadini.
For instance, tipping your vendors in other countries can be offensive. A friend of Cadini's married a Japanese man in his home country, and she invited her American friends to the wedding. "During the wedding reception, the guests tipped the bartenders as a sign of appreciation for a job well done. It turned out, tipping in Japan is considered an insult. Her guests obviously didn't know, but the bartenders got offended and complained with the banquet captain who, in turn, went to complain with the bride and groom," says Cadini.
To avoid any cultural miscommunication and to maintain good destination wedding etiquette, Cadini suggests asking a local wedding planner about your location's specific customs or traditions. If you find out that tipping is considered rude, pass that information along to your guests.
Give your guests key information.
There are a lot of logistics and details involved with attending a destination wedding, so be sure to give your guests plenty of information as far in advance as possible. Your wedding website is the ideal place to share all of the important information—from the weekend's schedule to transportation information, emergency contact information, and much more.
Provide chances to mingle.
If one of your guests doesn't know others at the wedding, consider letting he or she bring a plus one. Since many destination weddings can be week-long affairs, give your guests the opportunity to bond with a welcome party and other organized activities, such as sightseeing, sports, boat cruises, or other excursions.
"You want to make sure everyone has a good time and has someone to hang out with," says Chang.
For Guests
Don't invite others without permission.
It's terrible destination wedding etiquette to bring along a friend if you haven't been invited with a plus-one. If you'll be flying solo during the wedding, you'll have to accept that you'll be alone the whole time. It's not fair of you to invite your friend or significant other yourself—adding to the couple's total costs.
Don't feel the need to overspend on a gift.
Since you probably spent a nice chunk of change getting to the wedding, you can buy a more modestly priced gift for the couple. But it's up to you entirely. Go high on the registry or go low. Since hauling gifts on a plane can be a pain, have your gift shipped to the couple before the wedding.