How Much Does a Destination Wedding Cost?
If you're in the early stages of wedding planning, you might be wondering how much a destination wedding costs. The answer might surprise you.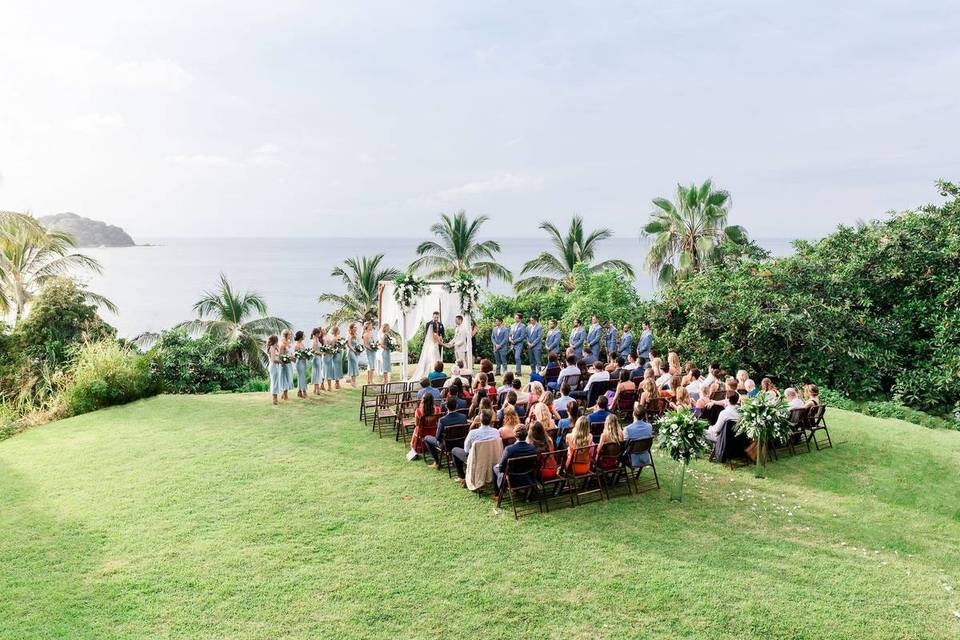 If you're thinking about hosting a destination wedding, you're probably wondering: How much does a destination wedding cost? Is a destination wedding more expensive than a hometown wedding? The answer to that question is yes—a destination wedding does cost about 11 percent more than a hometown wedding, according to a recent WeddingWire survey. The average cost of a destination wedding is $32,000, as opposed to the $28,600 couples spend on a hometown wedding. But why is this the case? What's more expensive about a destination wedding? Wondering how much a destination wedding costs? We're here to break it down and explain why you may shell out more for a destination event—and how you can save some cash.
Okay, so what actually is a destination wedding?
When you think of a destination wedding, you probably imagine a beach event in a faraway country. Turns out that's not usually the case. According to the WeddingWire survey, 1 in 4 couples consider their wedding to be a destination wedding—but only 13 percent said it took place in a different country and 22 percent said their destination wedding took place in a tropical location. So, destination weddings nowadays are less about jetting to a far-off setting, and more likely to be at city or vacation spot that's meaningful to the couple.
You'll Pay More: Travel and Accommodations
When thinking about how much a destination wedding costs, you'll definitely need to factor in accommodations, airfare, and other travel expenses. About one-third of couples hosting a destination wedding had to fly to their wedding location, and as we all know, airline travel costs can be quite steep. And even if you're not flying to your wedding location, you'll probably have to book a hotel room or rooms, which can add expense, even at an all-inclusive resort. While some hotels may offer all-inclusive wedding packages or certain other freebies to help keep pricing on the low side, you'll still have to budget for your travel and hotel. And if you're planning a destination wedding during your location's high season (late December through Easter in Mexico and the Caribbean, for example), you'll likely pay even more—so be mindful of the time of year as you set your wedding date. Some couples even help pay for their wedding party's travel and accommodations—not necessary, but definitely a kind gesture.
You'll Pay More: The Guest Experience
It shouldn't be too surprising to learn that destination weddings tend to have fewer guests than hometown weddings. In fact, the average destination wedding has 94 people on their guest list, whereas the average hometown wedding has 132. This means the couples are spending more per guest than they would at a hometown wedding. It's clear that couples are trying to create a special experience for their guests at a destination wedding, whether that means filling welcome baskets with local treats, hosting pre- or post-wedding parties and events (a welcome dinner, for example), or providing unique food or entertainment. Just as wedding guests shell out more money to attend a destination wedding, it's clear that couples try to make the experience as enjoyable and carefree for their loved ones as possible.
You'll Pay More: A Full-Service Destination Wedding Planner
Destination wedding planning from a distance can be tricky. Meeting with local vendors, visiting wedding venues, scheduling a menu tasting, and other tasks can be exponentially more difficult. That's why hiring a local wedding coordinator is even more of a must. According to the WeddingWire survey, 36 percent of destination wedding couples hire a wedding planner, as opposed to 24 percent of couples hosting a hometown wedding. And couples hosting a destination wedding are more likely to host a full-service wedding planner than those hosting a wedding closer to home. Yes, a full-service wedding planner costs money, but he or she can actually help you save money in other areas by connecting you with vendors who are within budget and keeping your spending on track.
You'll Pay Less: Décor, Attire, and a Honeymoon
While thinking about how much a destination wedding costs can be somewhat stressful, it's helpful to realize that there are aspects of a destination wedding where you can save a bunch. For example, many couples choose their destination wedding location because of the area's beautiful scenery. Let the natural beauty speak for itself and skip the over-the-top décor. If your destination wedding has a relaxed and informal vibe, you'll likely save money on your attire—a simple beach wedding dress usually costs less than a heavily-adorned ballroom, for example. And, some couples hosting a destination wedding may stay a few extra days at their wedding location instead of taking a major honeymoon and save the big trip for their first anniversary or a different time. While destination weddings do tend to be more expensive than hometown weddings, careful planning can ensure that your big day is stress-free and doesn't break the bank.