How to Plan a Destination Wedding on a Budget
If you're dreaming of a wedding in a faraway location, check out these tips for planning a destination wedding on a budget.
We have included third party products to help you navigate and enjoy life's biggest moments. Purchases made through links on this page may earn us a commission.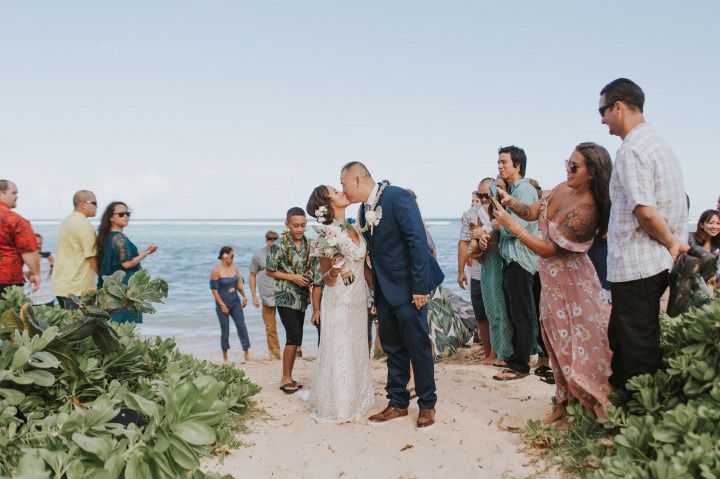 For a 24-hour period that is meant to symbolize day one of a lifelong marriage, weddings demand a tremendous amount of planning and hard-earned cash. Many couples who do not have quite as much to spare or prefer to keep their celebrations to a minimum often choose an exotic location to double as a ceremony location and a vacation. Those planning a destination wedding on a budget will soon learn that these events can still be quite pricey, especially with a slew of unforeseen demands—from legal requirements in various countries to sourcing cakes, DJs and more.
"Depending on the area that you're choosing to get married in, your options for vendors and venues may be relatively slim, which sometimes means compromising for budget items that may be a little higher than you anticipated," explains wedding expert Megan Velez of Destination Weddings. "Travel is also a major factor in expenses, whereas a local wedding wouldn't necessarily require a pricey flight."The good news though, according to industry professionals is there are cost saving measures many twosome take to cut corners, but not class.
From booking the right type of package at a resort of your choice to planning far in advance, consider these strategies for planning a destination wedding on a budget.
Book an all-inclusive package.
When you are piecing together all of the moving parts of a wedding in your hometown, your to-do list overfloweth. Not only are you tasked with selecting your photographer, but also deciding between various floral arrangements and countless other tasks, too. Velez says to earn the most return on your destination wedding on a budget, choose a package that takes care of the details—without any extra dollar signs. Most of the time, all-inclusive resorts offer the everything-and-the-kitchen-sink deal. "Typically, your wedding package will be inclusive of the venue itself and its décor, flowers, music, photography, and more. This eliminates the price tag of paying for each individual service," she explains. "For the couple, destination weddings are especially affordable due to not having the responsibility of paying for each guest's meal. This savings per guest can drastically offset other costs."
Embrace the local scene.
So you stuck a pin in the country you'd like to host your destination wedding on a budget—but they don't offer an all-inclusive option. It may take some tedious digital homework, but Kevin Dennis of Fantasy Sound Event Services in Livermore, California says taking a chance on the local cuisine can decrease your food and beverage bill. "Embracing local cuisine can be a lot of fun, while also potentially saving you big on your reception budget," he explains. "Better yet, research local breweries or wineries to see how you can incorporate the destination flavor into your beverage lineup."
Keep it small.
As Heather Jones of Wente Vineyards in Livermore, California explains, smaller celebrations mean smaller budgets, making a case for narrowing down your save-the-dates to those you treasure the most. Many places dotted along coastlines around the world have a variety of packages, and when you have less than 30 guests, you can get away with a full wedding—food and all!—for a few thousand dollars. As a bonus, it also allows more flexibility, since you aren't working around the complicated schedules of 100 of your closest friends.
Let your surroundings be your backdrop.
When walking into the reception of a wedding, most guests stand in awe of the aura of the room. But what most discount is just how much money is poured into decorations, from the bouquets to the centerpieces and the silverware. To minimize this portion of your funds, Velez says to let the natural—and often breathtaking!—surroundings of your destination wedding speak for themselves. "There's no need to splurge on extra ceremony details when you have the bright Caribbean waters as your backdrop," she adds.
Extend your trip into a honeymoon.
Considering most couples will choose a beachy getaway for their honeymoon, why fly somewhere else when you are exchanging vows on the sand, anyway? For budget-mindful newlyweds-to-be, Velez suggests extending your trip into a honeymoon, eliminating the need to plan another vacation. Depending on which hotel you partner with, you may even reap rewards. "Many resorts will offer special honeymoon packages with perks when you get married on property, or you may have the option to move to a sister property nearby or upgrade your room for a change of scenery," she says.
Choose a weekday.
How do you plan a destination wedding on a budget? While it may prevent some guests on your invite list from attending, Velez urges couples to consider a weekday party to significantly reduce the price of not only the wedding itself, but airfare, too. "Many resorts offer discounts to those having their celebration on a weekday. Another plus side? The resort grounds will be less crowded," she adds.
Use technology for meetings.
One of the unexpected expenses of a destination wedding on a budget is meeting with vendors across time zones. Though some may ask you to fly in to iron out your requests, Dennis says you can be just as productive via the interwebs. "There are a number of low-cost apps and programs to help you every step of the way. When communicating with your creative partners, see if they are open to Zoom or Skype conferencing. Skype also allows you to make international calls for very little out of pocket," he explains. And when the big day comes along? Use WhatsApp and connect to WiFi to communicate out of the country.