Do I Have to Attend a Destination Wedding?
Do you have to be a destination wedding guest or can you skip? Here's how to figure out if attending a destination wedding is the right move for you.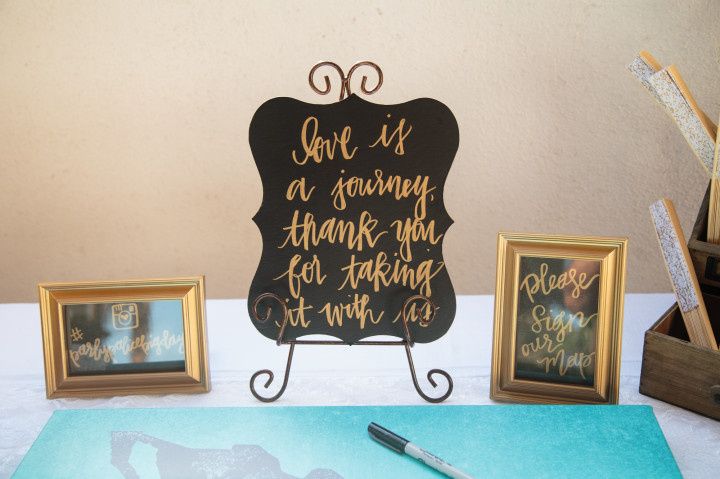 First things first: you never, ever have to attend a wedding. No matter if you're considering being a hometown or destination wedding guest, your RSVP is up to you. That being said, plenty of singles and couples have to figure out which celebrations they want to attend every year — and which ones they'll need to skip. Since budgets, paid time off and other factors all play a factor on your ability to toast to the newlyweds of the season, many people consider various pros and cons before checking "yes" on an RSVP card. When an invite for a destination wedding arrives in your mailbox, you have even more aspects to weigh: a longer flight, a longer weekend and a bigger commitment.
If you find yourself trying to make this destination wedding guest decision, consider this your guide.
Should: The couple means the world to you.
...so you would probably go anywhere they decided to exchange vows. Truly remarkable, loyal and sincere friends are hard to come by, and when you find these people, you hold onto them. Missing one of the most important days of their life would be something you would likely regret down the line. John Tobey of John Tobey Event Design in Denver, Colorado says the memories created at this type of event will last a lifetime, especially if it's in an exciting location and full of engaging, bonding events.
Shouldn't: You aren't really excited about the location.
Maybe you've been to Mexico so many times, you've lost count. Or you aren't exactly pumped about the idea of standing outside in chilly 50-degree weather in Scotland. Perhaps you and your partner are trying to get pregnant and the wedding destination location is in a country that has a Zika warning. Whatever the reason, if you aren't excited about getting out of town and exploring a new spot, Leah Weinberg of Color Pop Events in Long Island City, New York says it's probably best to decline the opportunity to be a destination wedding guest. "While you may love the couple, if the wedding is on a cruise ship and you're scared of water, or if it's in a warm and beachy local and you are miserable in humidity, perhaps it is best if you skipped the destination wedding and sent them your well wishes and a lovely gift," she suggests.
Should: You have a lot of friends also attending.
Now that you and your classmates from graduate school have been out of school for five years, your lives have dramatically changed. One pal met the love of his life on Tinder, another stumbled across their one-and-only at a bar. Another pair moved abroad and are now tying the knot in the Middle East. While — of course! — you're pumped for the couple exchanging vows… you're also excited to reunite with your old buddies, too. Heather Jones of Wente Vineyards in Livermore, California explains, when you're really close to other guests who are attending, it will feel like a rare trip where you're visiting a beautiful location and catching up with long lost pals.
Shouldn't: You aren't super-close to the couple.
Not everyone is particular with their guest list — especially when someone else is paying for the grand affair. But just because you're invited to a wedding, you should only attend if you honestly want to be witness to the couple's happiness. Leah says if your relationship with one or both of the people getting married is superficial or strained, attending is probably not the best decision. "Not only do you have less invested in someone you do not know as well, you also may not know any of the other guests at the wedding," she continues. "Or if the relationship is rocky, the expense of being destination wedding guest may lead to feelings of resentment or generally not enjoying the time spent at the wedding."
Should: You want a vacation, too.
When your friend from college — who, at best, you speak to twice a year — invited you to their destination wedding, you were shocked. But when you read the details and discovered they were saying 'I do' in Costa Rica? You nearly jumped for joy at the mere thought of a vacation. Leah says sometimes a romantic celebration for other people is excuse enough to finally use your PTO. She recommends building in time before or after the wedding so you can disconnect, relax, explore and savor the time away from your zip code. "This will create all these wonderful memories tied to the wedding experience," she continues. "Just remember you shouldn't consider the wedding weekend itself an opportunity for a vacation You're going to be busy with wedding activities with probably not a lot of downtime, which is why if you're looking to make it a vacation, you need to stay a few additional days."
Shouldn't: Your budget is tight.
One of the most important considerations to make when attending a destination wedding are finances. As Heather puts it, if the thought alone of spending money on a pricey affair gives you unbearable anxiety, it's probably not in your best interest — or the couple's — to book a flight. "Knowing that the vacation is a bit out of your reach financially might keep you from enjoying yourself during the wedding festivities," she explains. "You can always send a gift in your place or take the newlyweds out for dinner as a raincheck. A great alternative could also be to organize a smaller trip with just the two of them later in the year."
Should: You want to.
Though it seems simple, the desire to be a destination wedding guest is reason enough. As Jamie Chang of Mango Muse Events in Los Altos, California puts it: you either want to attend someone's wedding — or you don't. Most of the time, it's that easy: "Destination weddings require travel, which requires both money and time. If you don't have one or both, it can be difficult to make a decision especially if you really want to attend. If you have trouble traveling for physical reasons, you'd really have to think through whether you're able to make the trip. And if you have kids and those kids aren't invited, you'd have to figure out how to take care of them. All of these are reasons one might have to think about attending a destination wedding or not," she explains. "I really don't believe anyone should attend a destination wedding , no matter who you are. Attending a wedding isn't a requirement or obligation. If you do want to attend and you can, then you'll attend. And if don't want to attend — for one reason or another — or you can't, then you won't."