How I Knew He Was the One, From Couples Who Met Online
Many couples these days meet online. Here are some true love stories of couples who found each other through dating apps.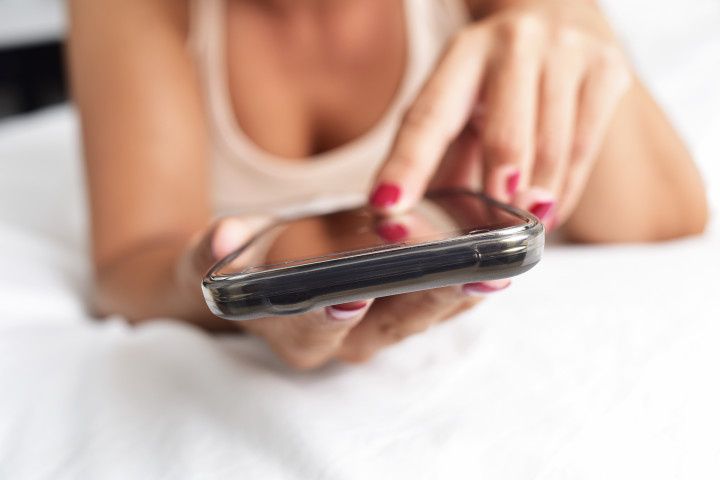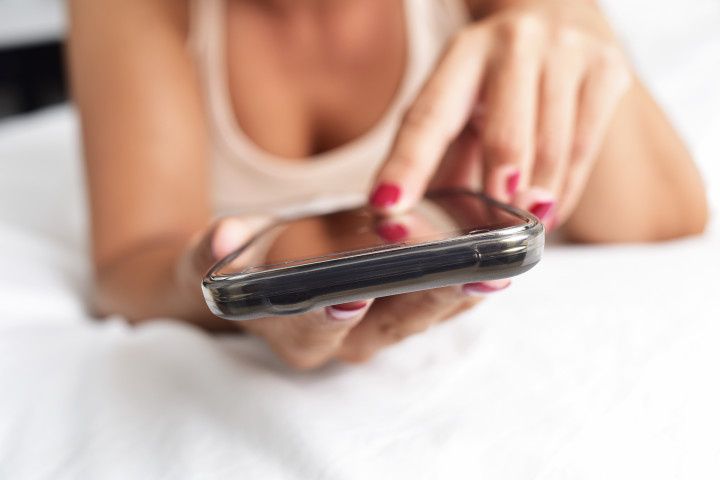 Dating can be downright discouraging, especially online dating, which often feels as though it's becoming increasingly less personal. But then you hear about how someone knew he was the one, their absolute perfect match, through swiping on some app, and think, "hey, it works for some!" There's no denying that true love can be found—and felt—in so many different ways. But just how it will happen for each and every one of us is pretty much up to timing, and fate if you believe that sort of thing.
At the end of the day how we meet the person we choose to spend the rest of your life with isn't what really matters. It's how we feel about this person and what our gut tells us about the longevity of a partnership with him or her that truly matters.
Here are some inspiring "how I knew he was the one" stories from folks who met their significant other online and how they knew he or she was the one.
"How desperately he wanted to see me, no matter what."
"Mack first noticed me in a photo with my best friend Keshia on Instagram. After almost a year of failed attempts of letting her know he was trying to get my attention, he finally reached out on his own by sending me a direct message. We planned to meet for dinner during the week, but ended up having an ice cream date over the weekend. From then on, we talked every day and the rest is history. A few months into us dating, Hurricane Sandy happened. Streets were flooded in New Jersey, electricity was down and it was hard to get around because there was limited gas available. I remember telling him, we may not see each other for a few days because I barely had any gas left in my car and probably wouldn't make it to the gas station. After telling me he just waited for hours to get gas in his own car, he told me he was going to get extra gas for me too. I smiled, and thought to myself, 'Damn, he must really want to see me!'" —Jacqueline Y., 29, from Elizabeth, NJ
"He was open and honest, and I found that rare."
"My husband lived in Atlanta and I lived in Chattanooga, Tennessee, but we met on the dating app Plenty of Fish even though both of our geographic settings should have prevented us from seeing each other. After years of unsuccessful dating experiences, I was only on my app to close my account and delete it, when I read his profile, I was really taken aback. Unlike most of the profiles I saw, his was extremely honest. He talked about how he'd made the mistake, time and again, of trying to meet someone to make himself feel better about who he was. Instead, he'd spent a few years single and working on himself and spoke about how what he really wanted now was someone to be a partner to him. He even had the line, 'I don't need you to complete me.' It felt mature and open and I was at exactly the same place in my life. So, I took a chance and liked his profile. What I didn't know at the time was that he'd opened his app to deactivate his account and delete it too! Suddenly he saw the notification pop up that I'd liked his page and he checked out mine. And that was it! We spent the next month nearly non-stop texting and calling each other before he came to Chattanooga to take me on a date."—Alicia G., 31, from Reno, Nevada
"He had a take-charge attitude"
"We met on Match.com in 2012—he was my one and only online date. When we barely spoke beforehand, I initially thought that was a bad sign. Back then, you'd potentially talk for hours on the phone with a would-be suitor. But when he point-blank planned the date without any dilly dallying, I really liked it—it's how I knew he was the one. That take-charge attitude definitely intrigued me immediately, and it was something I hadn't really seen before. When that date happened, one drink turned into dinner, which turned into hours long conversation. When our second date consisted of an impromptu midnight movie and then the 3rd a spontaneous adventure going to the top of the Empire State Building, I thought I might have met the man I'm going to marry." —Blake T. , 37, New York, NY
"We fit in all the craziest ways."
"We met on Tinder on New Year's Day. Robin had swiped right the night before; I swiped right the next morning and, viola! It was a match! We texted like crazy for days before Robin insisted that we talk on the phone, despite my strong distaste for talking on the phone. One week later, she took me on a Cinderella-style dream date in Dallas. It was seriously magical. She sent a car and had a whirlwind evening planned, dinner at Perry's Steakhouse, a drag show and two stepping at a gay country western bar! Two weeks later we were at a bar dancing and hanging out with her friends on a Sunday Funday afternoon in Houston and I just knew. It was like we fit in all the craziest ways. That same moment kept hitting me, like, this is it. And, well, it was!" —Jenny B., 48, from Houston, TX
"I felt a security, comfort and connection that I had not felt before."
"We met on OkCupid in 2012. I'd been online dating for a while, but never met anyone who I wanted to go on a second date with. When I met my now-husband, Pat, I felt an instant connection. We went out to dinner and conversation just flowed—it was as if I'd known him for years. It helped that he knew of a couple of my friends from mutual friends. It made me feel a bit more comfortable with him. After dinner, I knew that I would see him again...and I did a couple of days later. I felt a security, comfort and connection that I had not felt before, and it's how I knew he was the one. I knew that if we committed to each other long-term that I would never have to worry about playing the dating games that I was so sick of, or his loyalty." —Ashley C., 31, from Rocky Hill, CT