Why You Shouldn't Be Ashamed If You Met Your Partner Online
While there used to be a stigma attached to meeting someone online, those days are long gone. Here, experts explain why.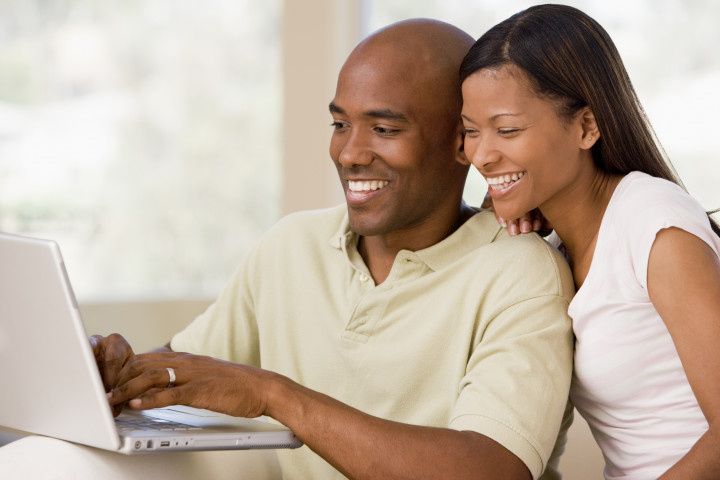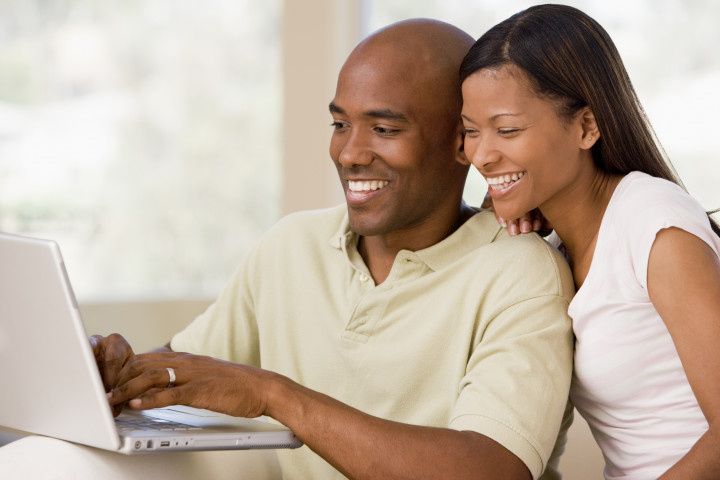 Even in today's day and age, there is an unfortunate stigma that's still attached to meeting someone online, be it in chat rooms, various matching websites or functional dating apps. But, interestingly enough, we're in a time and space when more people than ever are meeting online. Meeting "blind" and in person has almost become risky, and very hit or miss. "Online dating gives individuals the chance to vet people and take their time talking, texting and—we all do it—Googling to do their best to learn as much as they can about the person who could be the one," explains Jenny Block, sex educator and author of The Ultimate Guide to Solo Sex. "Online dating brings the world to you, making your odds better than ever if you're looking for Miss or Mr. Right."
Block should know, since she, herself, met her significant other on the dating app, Tinder. "We connected on New Year's Day. Robin was driving home from Dallas after going to the Cotton Bowl the night before to see Michigan State lose and I was at a brunch eating black eyed peas," she tells WeddingWire. "She had swiped right the night before and I swiped right the next morning and, viola!, it was a match!" The two texted like crazy for days before Robin insisted that they talk on the phone, despite Robin's strong distaste for talking on the phone. Two weeks later they were at a bar dancing and hanging out with friends on a Sunday Funday afternoon in Houston and the two just just knew it was meant to be. "It was like we fit in all the craziest ways," says Block.
Although some may still balk at meeting someone online, the stigma is disappearing at a rapid pace.
"Meeting someone online is the way of the future, and there is no going back," Block adds. "The more people are finding dating success online—and they certainly are—the less looked down upon the practice becomes."
Mark Gibson, online dating coach for men and women, agrees, adding that, while 20 years ago online dating was viewed as a secondary choice for people who were unsuccessful in the face-to-face dating world, now online dating is so much more common and sophisticated that intelligent and socially well-adjusted men and women know it's an effective tool for meeting wonderful people.
Caleb Backe, CPT, a health and wellness expert for Maple Holistics, meets clients all the time who met someone online and has no personal stigma against it. In fact, he doesn't see why meeting someone online should be looked down upon any more than if two people met them by chance, through a friend or at a dinner party. "The fact is that meeting someone and forming a relationship with them is something to be celebrated (especially if it works out to be a good relationship) and the circumstances in which you met should have no difference with regards to how you perceive your relationship," he says.
What's more, Backe believes that meeting someone online brings additional relationship benefits to the table that simply meeting by chance does not. "It's a safer, more accurate way of meeting people and, ultimately, it allows you to cut through the finicky hassles that so many of us had to deal with before they existed as well as allowing you to open yourself up to a number of different people who you would likely never have met had you been confined to your personal circles," he adds.
Ultimately, the fact that you're in a relationship is the point and how you met shouldn't be a factor in determining the validity of that relationship, but if you're still feeling insecure about scrolling through dating apps, try to imagine how you'll feel once you meet someone that you connect with like magic. Will you really care then about the building blocks of how you met? "Meeting at the grocery store, on a hike, at a party—the 'how' you met becomes irrelevant once you have had your first date and a relationship is developing," says Gibson. "In fact, I have a great time telling people how my S.O. and I met almost eight years ago and our first face-to-face date lasted eight days!" He recommends staying out of judgment about what you are doing and simply do whatever works for you! The only thing that matters, adds Block, is that you have more opportunities than ever to find someone with whom to share this crazy thing called life.