5 Reasons You Need to Hire a Proposal Photographer
There's one detail that's become a proposal essential—hiring a professional professional photographer (and/or videographer!) to capture the moment.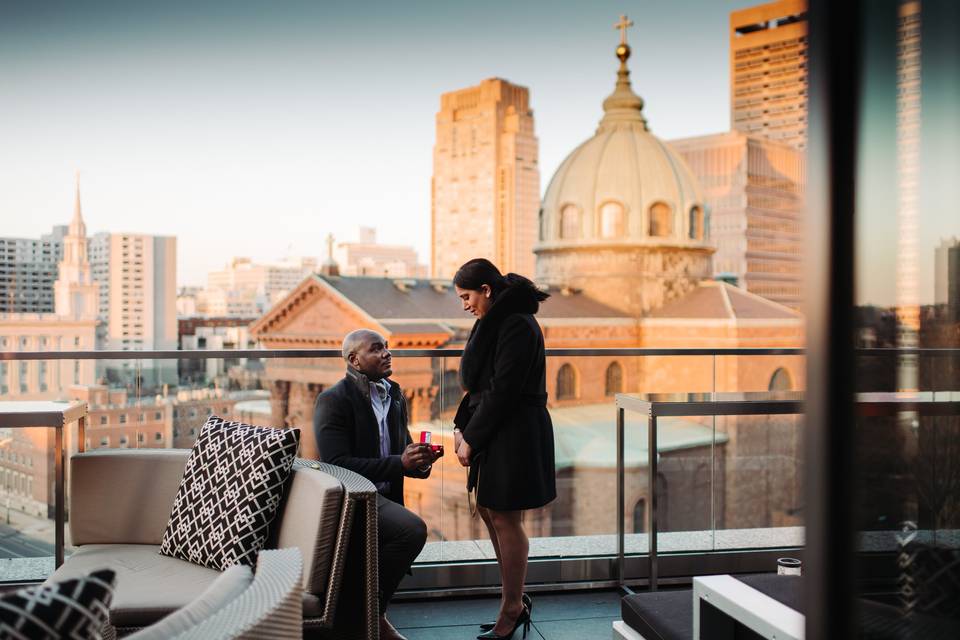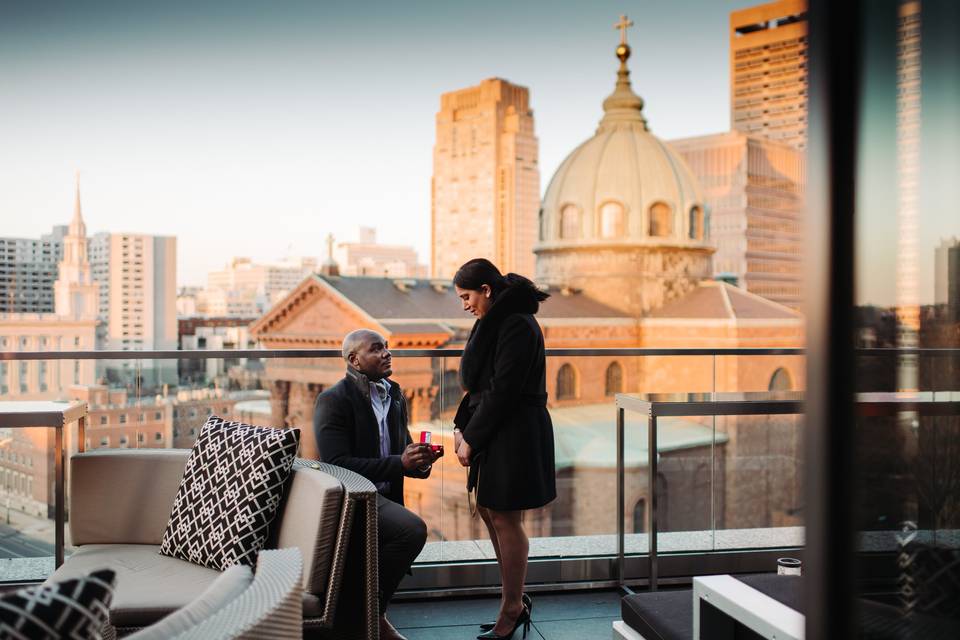 Your proposal will be one of the biggest moments of your life. But it will be just that—a moment! Sure, the memories will last forever no matter what, but to assure yourself that your dream surprise proposal is perfectly frozen in time, you should absolutely consider hiring a professional proposal photographer to record the special moment.
"Proposal pictures are unique because they're genuine and heartfelt," says Sabrina Guyton-Wright from SGW Photography in Philadelphia, Pennsylvania. "It's a candid moment where your significant other is unprepared and caught off guard. There are a lot of tears, laughter, and joy that's pure and photogenic. Just like weddings, it's a moment that happens so quickly you'll be happy knowing you have that memory in the form of a picture."
Here are all the reasons why hiring a professional proposal photographer is a non-negotiable.
Why Should You Hire a Proposal Photographer?
Yes, hiring a photographer—and/or a videographer—to capture your marriage proposal costs money. But, we'd argue that it's worth every penny. Here's why:
1. Memories (duh!).
As mentioned above, this moment will go by like a flash, and the next moment, you'll be walking down the aisle! Really. That's how quickly this season of your life will speed by. That's why most people will tell you the only thing they remember from their proposal is that they said yes! Having a proposal photographer take some beautiful pics that capture your big moment from every angle will remind you of all the little details—from the very romantic ones to the funny ones (like when you almost dropped the ring!), so that, in a few years, you'll be able to look back and replay the entire event from start to finish.
Says Natasha Miller of Tashography in Greenwich, Connecticut: "The top reason why you should consider hiring a proposal photographer is to be able to capture the reaction and emotions when you pop the big question. The reaction shot is truly priceless."
And you'll be able to share these images with your kids (and grandkids) someday in the far future when people are getting engaged in space and no one remembers what earth proposals were like.
2. You'll get tons of mileage out of the photos.
From your first social media post announcing your engagement, to your engagement party invitations and beyond, you'll have so many events and occasions in which you'll be so glad to have your gorgeous, professionally shot proposal pics! You may think that cute candid party snap you've had as your profile pic since the night you and your now-fiance(e) met will do just fine pasted into your engagement party invite, but since it was probably taken in 2010 when cameras were pretty crappy, you'll likely be disappointed with the end result. Having a small album of different poses and setups to choose from for all of these pre-wedding posts, events and card will also make it so you don't have to use the same pic, over and over again.
"The couple can use these photos on their wedding website, save the date cards, for sharing the news of their engagement on social media, and to display the beautiful memories at their home," says Miller. "I also have had couples display framed prints of their proposal and engagement photography at their wedding reception."
3. So you can get that epic ring photo.
I can't predict all the details of your proposal, but I can tell you one thing with certainty: Everyone will want to see the ring! A professional proposal photographer can snap the perfectly lit, perfectly framed ring pic that you'll need to show 1,000 people for the next 12 months. It's hard to get a good close-up shot of something, with great lighting and all the important details captured, so knowing you'll have a professional on hand to cover that base for you gives you one more thing not to worry about—so you can focus on soaking in the good vibes of your big moment.
4. So everyone can feel like they were there.
Mom showing up at your ultra-romantic proposal? Probably not ideal—our apologies to her. But with a full album of perfectly framed photos that basically replay your whole engagement start to finish, Mom can feel like she was a part of it, hiding in the bushes! (We can't guarantee she wasn't.) Not to mention, all the friends your future spouse forgot to invite, your great grandma, the list goes on. This won't reduce the amount of times you'll have to tell your proposal story (which will probably hit about 10,000 by the time your wedding day rolls around) but it will provide a visual aid and a much richer picture of whole the whole thing went down, and will make everyone you love feel much more a part of this uber-important life moment.
5. So you can get a feel for being photographed.
Hiring a proposal photographer is a great way to get in the groove for the next few months of your life, which will feature a lot of photographed moments. From your official engagement photoshoot to the big day, you'll want to be used to having your own personal paparazzi so your pictures feel natural and candid, and so you don't spend the whole time feeling awkward. Weddings are usually the first time most of us will experience professional photo shoots in our lives (unless you're Gigi Hadid), so the earlier you can get comfortable with it, the better your photos will come out. You can also consider this as your wedding photographer's trial run—if you love how the proposal pics come out, hire him or her immediately to photograph your engagement photos and wedding! If you think you'll want a different look for your engagement or wedding pics, it's great that you discovered that early—now you know exactly what you're looking for. Win win!
How to Hire a Proposal Photographer
So, we've convinced you that proposal photography is a great idea. Now, it's time to select the perfect engagement photographer to capture the once-in-a-lifetime moment.
Plan ahead.
Yes, there's something to be said for a romantic, spur-of-the-moment surprise engagement, but a little pre-planning can go a long way. "I would recommend reaching out to photographers as soon as you have a rough idea of when you plan to propose, the sooner the better especially due to the insane wedding season in 2021 and 2022," says Miller. "I've had many clients reach out just 1-2 weeks prior to the proposal and that is fine too during the slower months. If you're planning a weeknight proposal, photographers will be more available."
However, Guyton-Wright has had proposers reach out at the very last minute—like, the day before they plan to pop the question. "Because proposal planning is often so quick, photographers can be pretty flexible about time. So the moment you know you're going to do it, start looking and book then. The sooner, the better, always," she says.
Start online.
To get started finding a proposal photographer, check out wedding vendor review sites (yes, like WeddingWire)—wedding photography pros typically shoot proposals, as well. Read reviews and check out their online gallery of images to see if there are any proposal photos—but if there's a professional photographer whose wedding work you like but doesn't have any proposal pics posted, don't be shy about reaching out and ask if they have experience photographing proposals or are interested in doing so.
Ask the right questions.
"When hiring a proposal photographer, you should ask if they've photographed a proposal before and what their package pricing includes," says Miller. "My proposal photography packages include capturing the moment when you pop the question followed by an engagement photo session afterwards. I would ask the photographer what their plan would be for capturing your proposal. Do they have the right equipment and lenses to capture a proposal for a distance in any given lighting situation?"
Don't forget to ask how you'll receive your images—usually a photographer will provide an online gallery of high-resolution images, but it doesn't hurt to ask.
Aside from asking questions, be sure to share any information you may have about your planned proposal. Will it be a public or private proposal? What proposal locations are you considering? What time of day? And once you've selected your proposal photographer, be sure to read their contract carefully before moving forward.
Let your proposal photographer help you plan.
Your photographer is likely a treasure trove of proposal ideas and information. For example, your photographer can likely recommend the best proposal spots or, if you've already chosen a location, scout out the spot a day or two prior to find the best places to hide. Your photo pro can also help you settle on the best time to day to ensure good light. According to Miller "golden hour"—the hour before sunset—provides the best natural light.
For those open to a more photo-driven marriage proposal, Miller recommends planning a "couple's shoot" with a surprise proposal at the end. "This actually works out well because the couple will already be dressed to impress," she says.