How to Create an Online Dating Profile that Truly Represents Who You Are
If you're ready to dive into the world of dating apps, it's time to create an online dating profile. Here's how.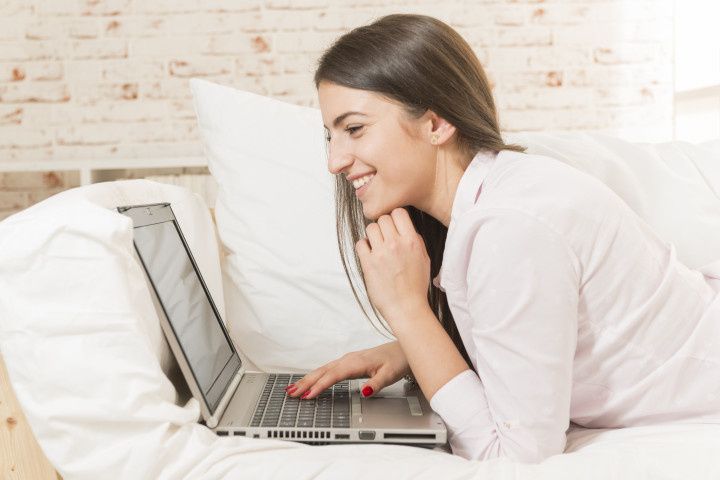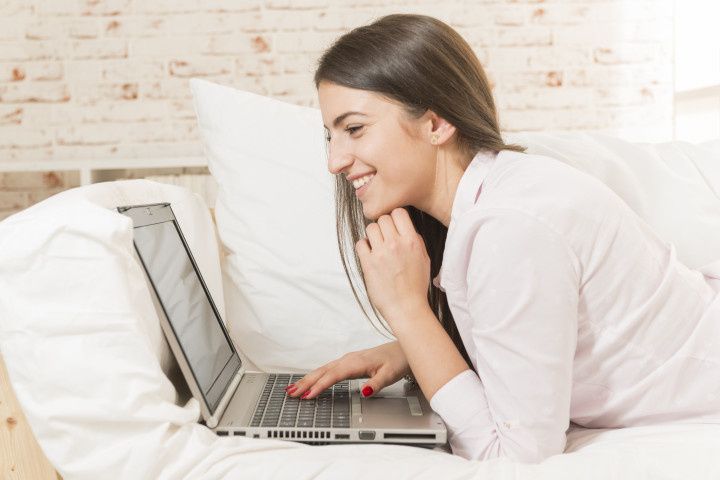 Congrats—you did it! You bit the bullet, gave into the nagging of your friends and you signed up for an online dating profile. Now, the love of your life will message you right away, you'll be instantly attracted to one another, get engaged, married and hop a flight to Fiji. Eh, if online mingling was that easy, no one would be single. Once you've decided to give digital romance a shot, the most important part of the experience to focus on is your profile. After all, you want to put your best face forward—quite literally—and you want to be honest about who you are, what you want and what matters the most to you. Unfortunately, this is easier said than done.
Dating expert and chief branding officer Lori Vajda explains for many, knowing you're being judged can be so anxiety-provoking that they're tempted to take 'creative license' with the facts. "You might think that embellishing your height or shedding some years off your age or placing photos that are a few years old on your online dating profile are harmless 'white lies,'" she continues. "But doing so does more than send a message you're not comfortable in your own skin, it starts every relationship on a foundation of dishonesty…and that is a very unstable beginning."
So how can you effectively portray yourself in an authentic, yet attractive light? Here, the dating experts give their most solid advice.
Think of your online dating profile as your brand.
Before you start swiping aimlessly on Bumble or get buried in the endless text of Match, Vajda says to get your head in the right spot. At the core of online dating is developing a personal brand to show off to the world—and hopefully, your next boyfriend or girlfriend. When you structure your thoughts this way, Vajda says you give yourself the opportunity to create a profile that expresses your style and personality. "Using a personal brand approach is the secret sauce to helping you stand out from the crowd in a positive and unique way, which gives you a competitive advantage in the online dating arena," she adds.
Upload a variety of photos.
We don't know what it is, but those selfies in your car—they're just stunning, right? And after you finish a killer workout and feel powerful? Snapping a quick mirror photo seems like an empowering idea. Though we're sure those pictures are nice, they don't have a place on your online dating profile, according to love and marriage therapist Courtney Geter, LMFT, CST. Instead, you want to select a variety of pictures that illustrate a few various scenarios so daters know exactly who they will be meeting in person. "Try to focus on pictures that show you in experiences like a trip or event around town. This can help lead to a conversation with someone who is only getting to know you through your pictures and written words," she explains. "Many people are visual so pictures help them create conversation." Even if you aren't at your ideal weight or size, Geter says to not shy away from images that feature your full head and full body. "When people don't post a face photo, it can be an instant red flag that they are trying to hide something," she warns.
Brainstorm before writing.
Not everyone has the talent of a wordsmith in 'em. And most people feel a bit uneasy talking about themselves. Much like a writer will break through a mental block, sometimes a brainstorming session can help get those online dating profile juices flowing. Vajda suggests running through this exercise to help you find the right phrases, adjectives and descriptors:
Take a few minute and ask yourself what is your emotional appeal? What is it about your nature that attracts people? Is it your sense of humor, your ability to organize fun get-togethers or your storytelling?
Now, take the top two to three trains from your list and add creative adjectives to generate unique descriptions of what it's like to be with you. Vajda explains, this might read like: "I have a wacky sense of humor" or "when it comes to planning a fun evening, I can be crazy organized" or "I have mad storytelling skills that keep friends and family on the edge of their seats."
Keep it positive.
Now as you pour yourself a glass of wine and start to write it out, Geter says to always air on the side of positivity. We all have insecurities and aspects of other people or situations that annoy us—but your online dating profile isn't a place for that. No one wants to date a Negative Nancy or someone they have to cheerlead for 24/7. "Your summary is not to project negative feelings or experiences about online dating or other interactions with people on the site. It's a place to make you shine," she explains. "When someone reads your negativity without knowing you, they may not engage with you or respond to messages thinking this is your personality 24/7."
Make sure to complete your online dating profile.
Sure, it'll take some time. And yep, depending on what site you choose, you might have 10+ questions to answer about who you are, what you want, what you like, what you don't, and so on and so forth. Geter says even if you get bored or frustrated by the process, it's important to complete your online dating profile so you don't come across as lazy. "Most serious daters are going to swipe past your profile and engage with someone who they feeling a connection," she continues. "Your summary does not need to be an autobiography or detailing every little aspect of yourself. Stick with a nice summary of a few main points you'd like someone to know about you first. The dating process is where you begin to share more and decide if the match is long term."