Engaged During COVID? 5 Fun Ways to Announce Online
If your quarantine included a proposal, there are plenty of ways to share the big news without leaving home.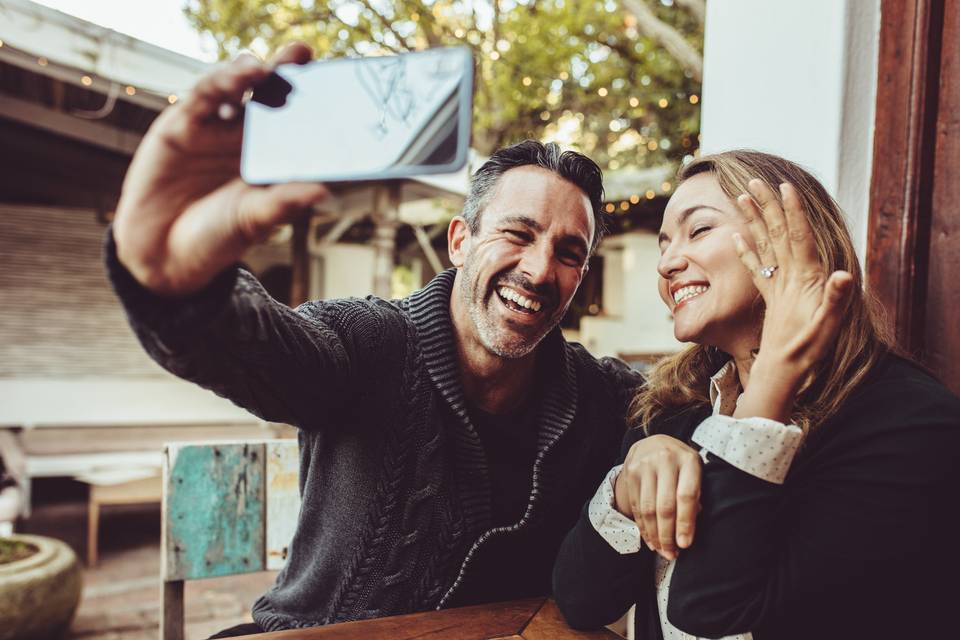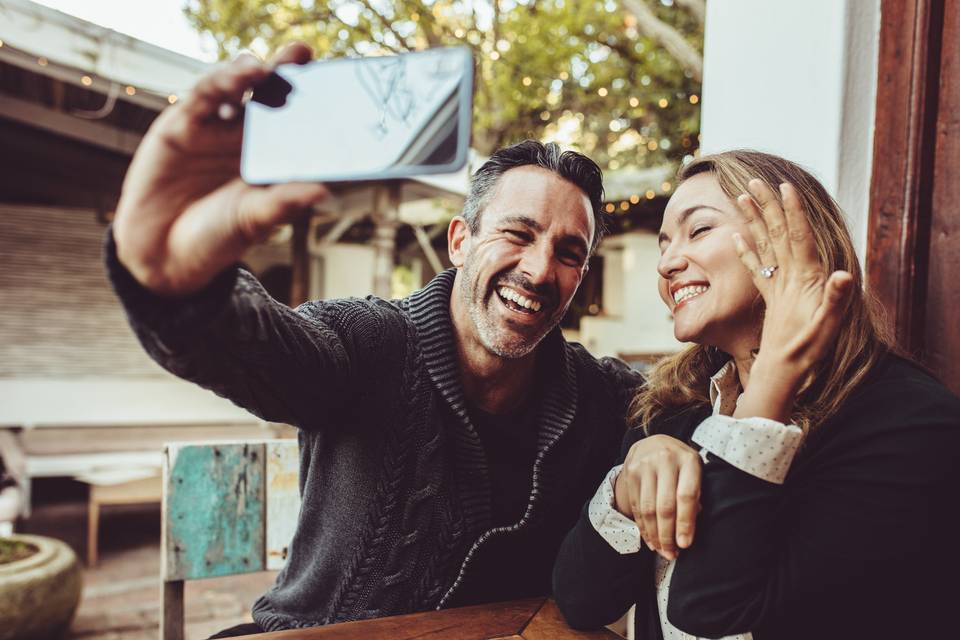 Getting engaged is one of the most exciting and momentous life milestones. It's a time where you make the monumental decision to spend the rest of your life with the person you love and share the incredible news with your close friends and family. However, if you're getting engaged in the midst of the COVID-19 pandemic, chances are your engagement looks a little different than you imagined.
Social distancing regulations may have prevented you from carrying out a proposal at your favorite restaurant, or perhaps in a cross-country destination. The situation may also mean that you're unable to celebrate with your loved ones. "We all have expectations in our relationships—especially our romantic ones," explains Cassandra Cacace, M.S. Registered Marriage and Family Therapist. "It's okay to feel happy and at the same time disappointed by the changes in circumstance—and it's okay to process these emotions and hold them both at the same time."
Although the pandemic has brought about a great deal of sadness for countless Americans, you shouldn't feel as though you have to conceal your exciting news. The current state of affairs doesn't take away from this life milestone—and it is still worth celebrating, even if you're unable to do so how you imagined. In fact, experts agree that now is the perfect opportunity to be bold and creative with an engagement announcement. (Your friends and family may even appreciate the break from scary news stories in their feed!).
Here are some fun ways to make your big engagement announcement online.
Pose with your fur baby.
If you have a furry friend with you in isolation, consider incorporating them into your engagement announcement. "There are a number of things you can try—have them dress up, share a photo with what your pet might be thinking, or get a cute bandana or collar that says, 'Will you marry me?'" suggests Cacace. Post the pic on your social media platforms and watch the likes, loves and sweet comments from loved ones pile up!
Go live on Facebook.
Facebook Live is a relatively new feature on the social networking service that allows you to record—you guessed it—live for your Facebook friends. For a really exciting and unforgettable engagement announcement, message, text or email all your close friends and family with information about when to tune into your Facebook Live (you can also do an invite on Facebook through their calendar feature). Once everyone's tuned in, let the magic unfold!
Create a TikTok.
This social media platform is having a serious moment—especially because most of us are held up in our homes with little to do! Take advantage of this by creating a clever engagement announcement utilizing TikTok's fun features and effects such as filters, music clips and unique recording capabilities. Not only will your friends and family get a kick out of it, but it will live on your page (and you can download the video to your phone) so you have it for years to come!
Host a virtual engagement party.
Celebrating an engagement with close friends and family is important to many, but sadly this may be impossible due to the pandemic. Cacace encourages couples to get creative with their announcement by hosting a virtual engagement party. "We've now adapted to using platforms like Zoom and Google Hangouts for school, work meetings, and virtual happy hours, so why not utilize them to celebrate an engagement?" she says. " It's a great and simple way to connect with others in a virtual space.
Post a 'story' on social media of your engagement story.
Many couples choose to keep the actual down-on-one-knee part of the engagement just between them. If that's more your style, you do you! A great way to share the news after the fact online is through the "story" feature on both Instagram and Facebook. "You can put a screenshot or photo of the two of you together and tell the story of how you got engaged," says Paulette Sherman, Psy.D., psychologist and author of Marriage and The Law of Attraction and host of 'The Love Psychologist' podcast. "You can even do a Boomerang or add fun effects."