5 Wedding Events to Host Virtually When You Can't Celebrate in Person
Wondering how to plan your virtual wedding and still make it feel special? We've got answers.
We have included third party products to help you navigate and enjoy life's biggest moments. Purchases made through links on this page may earn us a commission.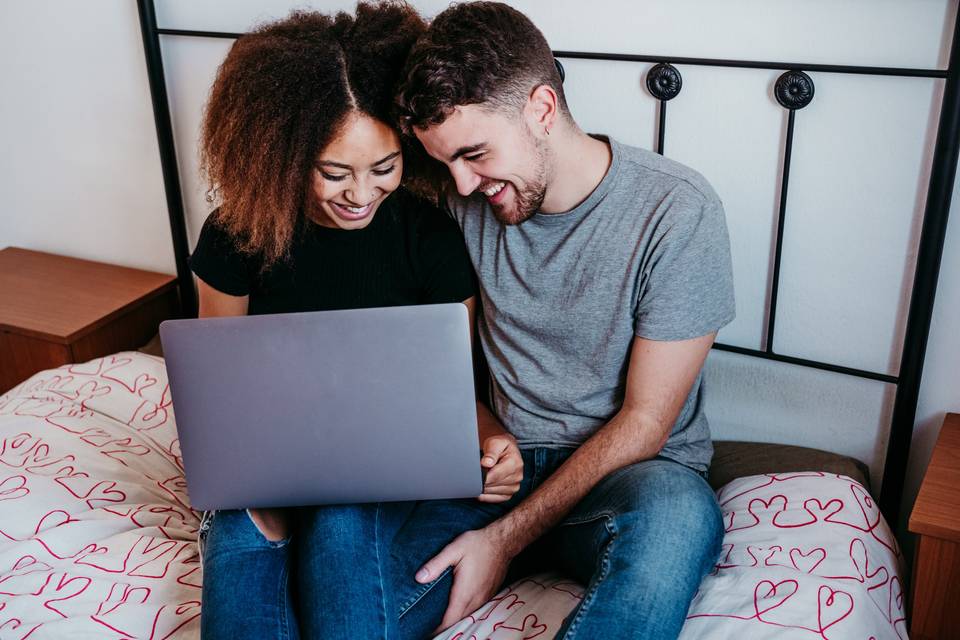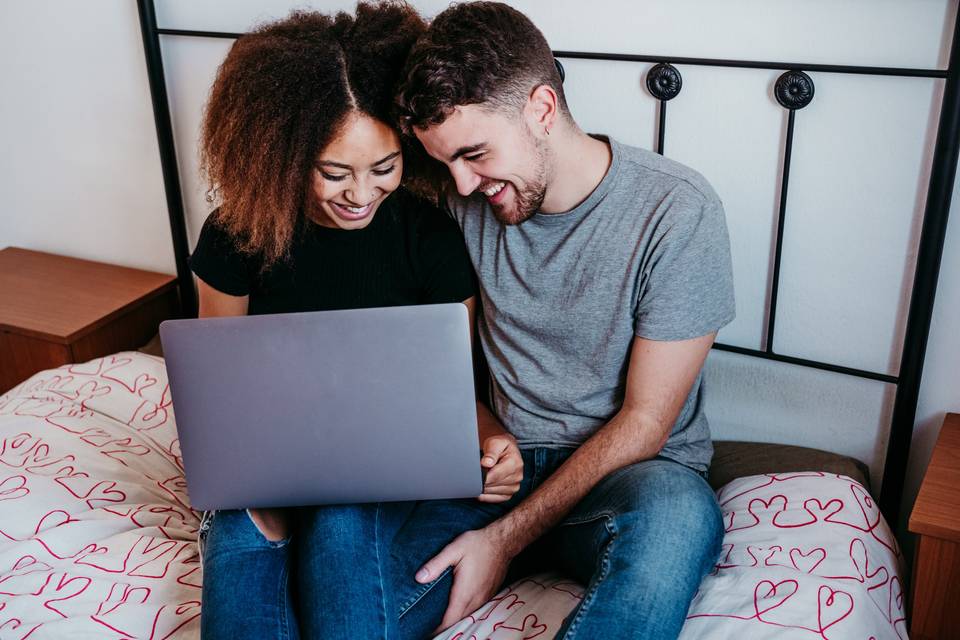 Hosting a virtual wedding isn't something that most people plan to do when they first get engaged, but with the ongoing spread of COVID-19, going digital on the big day is becoming a reality for more and more couples. If your wedding has been impacted by the pandemic, know that all hope is not lost. You can still celebrate your original date (and all of the special moments leading up to it) by going virtual, whether it's a casual get-together with your wedding party or a heartfelt commitment ceremony.
Here are all the virtual wedding events you can host—and ways you can make the celebrations memorable, even when they're online.
Engagement party
Whether you had your #justsaidyes moment before COVID-19 started or you're sharing the happy news of a quarantine proposal, an engagement is always something to celebrate! Decide if you'd prefer to limit your virtual engagement party to just parents and close friends, or if you want to invite a larger group of people. If you're going with the latter, remember this golden rule of engagement party etiquette: don't invite people who may not ultimately make the cut for your wedding guest list later on (even if your party right now is virtual). If your parents haven't met in person yet, that's okay! Plan a separate video call with them before your virtual engagement party takes place so everyone has a chance to be introduced.
Once you've settled on a guest list, it's time to put on your best outfits, break out your favorite beverages, and prepare some snacks for the occasion. Encourage your attendees to do the same—and get ready to celebrate!
Bridal or wedding shower
If your wedding is a few months away, you might be wondering if you should postpone your bridal or wedding shower, which traditionally takes place about two months before the big day. But the good news is that even if you can't gather in person, you can still host this event virtually. Bridal showers are typically hosted by the maid of honor, the bridesmaids, or a family friend—so if you're the guest of honor, be sure to coordinate with your group before making any formal announcements about a virtual party. If you're in charge of hosting the event, you can follow the same general steps of planning a bridal shower with a few modifications. A huge plus? You can still have a theme for your virtual bridal shower. Encourage attendees to dress accordingly, whether that means fancy fascinator hats for a tea party theme or bright colors for a tropical theme.
Opening gifts is traditionally a major part of any bridal shower, so your guests may be wondering how they can still spoil the happy couple with presents, especially if they've already purchased items from the registry. Decide if and where guests should send their gifts ahead of time, and make that information clear to everyone. If you live close enough to the guest(s) of honor, you can consider having all of the gifts delivered to your house to avoid overwhelming the couple. After everything has arrived, drop the gifts off all at once—safely from a distance, of course! It will be fun to watch the bride and/or couple open their gifts on camera.
Finally, we recommend having a few virtual games planned to liven up the party. Many of our favorite bridal shower games and couples shower games can still be played in a group setting even if you aren't physically together. Focus on games that can be printed at home and won't require special pieces or equipment.
Bachelor/ette party
Bachelor and bachelorette parties are some of the most anticipated pre-wedding events, so we know how disappointing it feels when they can't go on as planned. The next best thing is gathering your crew for a virtual hangout where everyone can let loose—you might even consider making it a surprise for the bride or groom. While you may not be able to spend a weekend hitting the best bars in town or soaking up the sun at the beach, you can try to recreate the experience as much as possible. That means themed attire, beverages, and an upbeat playlist to match your original destination. For bachelorette parties, you can mail favors or swag ahead of time to boost everyone's mood. Treat the bride to a thoughtful gift, such as a gift card to her fave local restaurant, an at-home pampering kit, or a bridal subscription box.
You can also plan an alternative get-together based on the bride or groom's interests. Ask around to see if anyone in your group has a skill they'd be willing to share, such as cocktail mixing, crafting, or teaching a workout class. If not, consider pitching in as a group to cover the cost of an activity. The BACH offers fun online game nights and workshops designed for bachelor/ette crews. You either pay per party or per person, and there are options for different budgets.
Wedding party happy hour
While bachelor/ette parties are typically separated by friend groups, the rehearsal dinner is one of the few pre-wedding events that involves both sides of the wedding party. Even when you can't have your in-person rehearsal dinner, you can still host a virtual happy hour for your bridesmaids, groomsmen, and their plus-ones. If it's in your budget, you can send everyone a bottle of your favorite wine or gift cards to buy their own. Pick a dress code, play some music, and use the happy hour as an excuse to put on clothes that aren't sweatpants.
Ceremony
There's been a lot of buzz about virtual wedding ceremonies lately, but if you're thinking of hosting one, there are a few logistics to smooth out first. Most importantly, determine whether or not your virtual wedding will be legal. If you don't already have a valid marriage license, find out if your state's county clerk offices are still open. Some states have started allowing couples to apply for and obtain a marriage license via phone or video conference instead of requiring an in-person visit. Even if you have a valid marriage license (make sure it hasn't expired), most states require an ordained officiant and at least one witness to be present in order for the ceremony to be legal. This may not be feasible or safe at the moment, depending on your local guidelines.
When in doubt, you can always proceed with the safest option: a commitment ceremony between just you and your partner. Write your own vows, decorate your backdrop, and get dressed up in your best attire (or purchase something brand-new for the occasion). A commitment ceremony can be equally as special as a legal marriage—even more so now, since you're choosing to still marry each other without the fanfare of a big wedding. Once you decide to move forward with a virtual wedding ceremony, it's time to spread the word! Update your wedding website, send an email blast, or mail invitations to announce the special day.
Hosting a virtual wedding ceremony is also an excellent opportunity to support small business owners by involving your wedding vendor team. Ordering a cake from your local baker, purchasing a bouquet from your florist, or getting a fancy wedding night meal from your caterer are just a few ideas. Don't forget the champagne!
How to host a virtual wedding event
There are dozens of different programs and apps you can use to host a virtual wedding event, but they're not all made equally. We weighed the pros and cons of some of the most popular options so you can decide what works best for you.
Google Hangouts: This free program works on both iOS and Android devices. Anyone can access your video call (even if they don't personally have a G Suite account) as long as they have the specific invitation link. You can host Google video calls for up to 25 people, and there's no time limit to how long the video can last.
Zoom: With a free Zoom account, you can host video calls for up to 40 minutes and a maximum of 100 participants. Zoom is a great option if you don't want to leave anyone out of the celebration—or if you want to try out the platform's virtual backgrounds. You can even upload your own photo to use as a backdrop (which means your dream of getting married in front of the Eiffel Tower can finally become a reality).
FaceTime: Did you know that you can add up to 32 people to a FaceTime video call? We didn't either. This option might be the easiest for your technology-challenged relatives to figure out, since all they'll need to do is swipe to accept the FaceTime call. There are a few caveats to using FaceTime: Participants can't dial in if they don't have an iOS device, and you'll need to track down everyone's phone number in order to add them to the call.
Facebook: Livestreaming on Facebook is another free option with unlimited participants and up to eight hours of time. The downside here is that each guest will need access to a Facebook account, unless you want to make your livestream public. To avoid broadcasting your virtual wedding to your entire friends list, we recommend inviting your guests to a private group. Once you've created the group, you can broadcast directly into it.
Houseparty: This app is a fun idea for your virtual bachelor/ette party, since it's best for getting together informally with your friends. The premise is exactly what it sounds like: a house party! Once you log into the app, you can either create your own party, called a room, or join a preexisting party. Each 'room' can have up to eight people on the video call, and you can switch between rooms as often as you like. You'll get an alert anytime someone joins the house (unless they've enabled the 'sneak in' feature), you can send private notes to individual users, and play games directly in the app.
Disclosure: This post contains affiliate links, some of which may be sponsored by paying vendors.