How to Propose with a Puppy (or Another Pet)
A furry friend makes any marriage proposal even sweeter! Here's how to include a beloved pet in your proposal.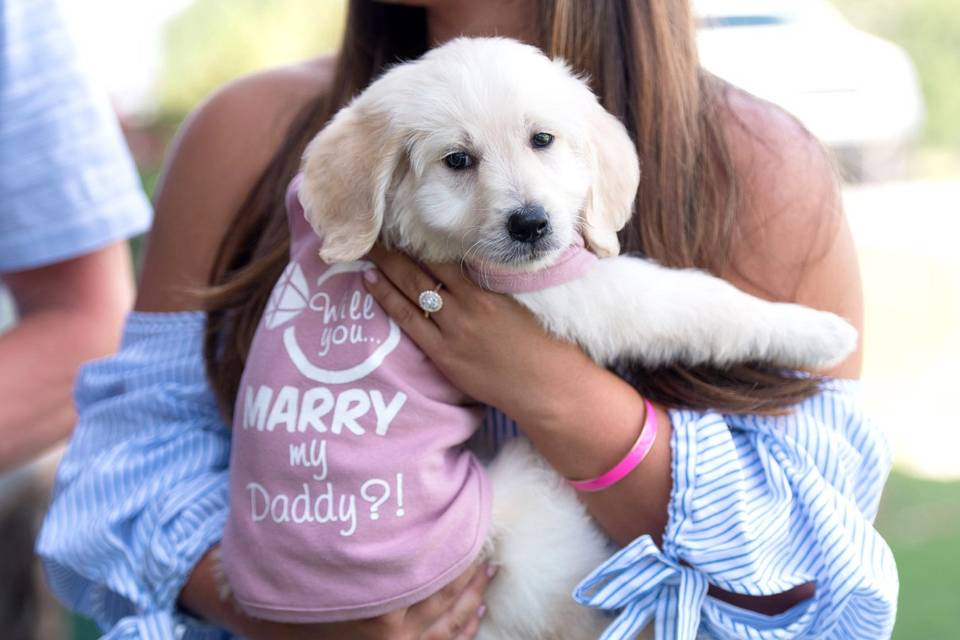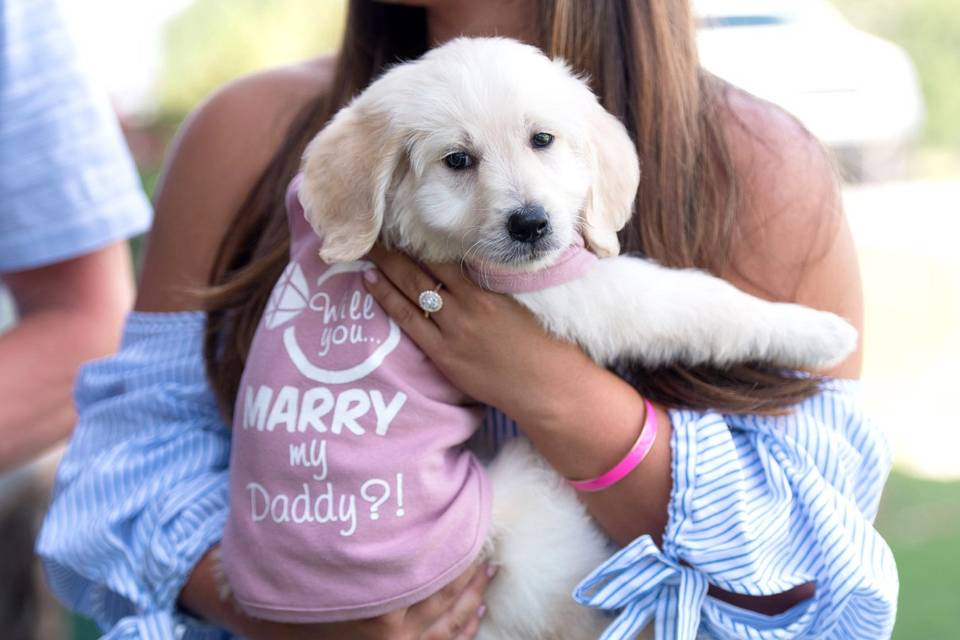 Whether you're the one dropping down on one knee or the one awaiting the moment when your partner finally pops the question, you're probably brainstorming all of the different ways it could possibly go down. If you're a pet parent, you might be trying to figure out how to propose with a puppy (or another type of pet). After all, he or she should have a paw in the matter anyway, right? Luckily, the Internet is practically overflowing with fun, sweet and totally aww-worthy ways to include your pet in your proposal.
Here are some of our absolute favorite ideas for how to propose with a puppy (or other pet)—and how you can pull them off yourself!
Balancing act
If your pup—or cat!—has a knack for balancing things on his or her nose, consider using this skill to your benefit and as a means of proposing. Of course, you'll want to do this in the safety of your home or in an enclosed area, in case Fido runs off with the ring. All you have to do it practice with dog treats, placing one on his nose and then instructing him to "stay" until you say "good boy!" Do the same with the ring on your wedding day, too!
Ring around the collar
You might not be able to trust Fluffy's furry paws enough to carry around the ring, which is why her collar makes for the most secure spot on which to it. This type of proposal can be execute in a myriad of different ways. One option is to attached the ring to your pet's collar and have him or her wake your significant other up with tons of kisses. To make sure your soon-to-be fiancé(e) doesn't lose sight of the ring, you can add a pretty bow or even a small sign that points to it and says, "Look here!"
New pet surprise!
If your significant other has been begging you for a furry friend for months—or years—what better time, or way, to welcome one into your little family than with a proposal? Of course, this involves a great deal of work on your part—deciding on a breed, finding a breeder or a shelter from which to purchase the animal, choosing the animal and then bringing it home—but we're pretty sure it'll be worth it in the end. If you're thinking about how to propose with a puppy, actually popping the question should involve less work—just walk into the room alongside your new furry pal and get down on that knee! Your partner's reaction is sure to be priceless!
A trail of treats
If you want your fur baby to lead your significant other to the proposal itself, you can leave a long (or short) trail of treats—be it dog or cat—and ask your soon-to-be fiance to take the pet outdoors (ideally, close to where the treat parade begins!). Once your partner approaches the end of the trail, there you will be—down on one knee!
Be my pet parent too?
If the pet in question was not adopted by the two of you together, but rather belongs to one partner only, a sweet proposal idea is to have the pet "ask" your fiancé(e) to marry his or her "daddy" or "mommy." Wondering how to propose with your puppy (or other pet?). One is to use a sign that hangs around your pet's neck—another is to create some sort of sign that asks the big question and have your pet sit on or near it. One big happy family!
Still looking for options for how to propose with a puppy or a kitty or some other type of animal? Check out social media platforms such as Pinterest and Instagram, as they're overflowing with fun ideas and inspiration.