11 Rustic Barn Venues in Massachusetts
Always dreamed of getting married in a rustic farm or barn? You're in luck! Check out these barn wedding venues in MA.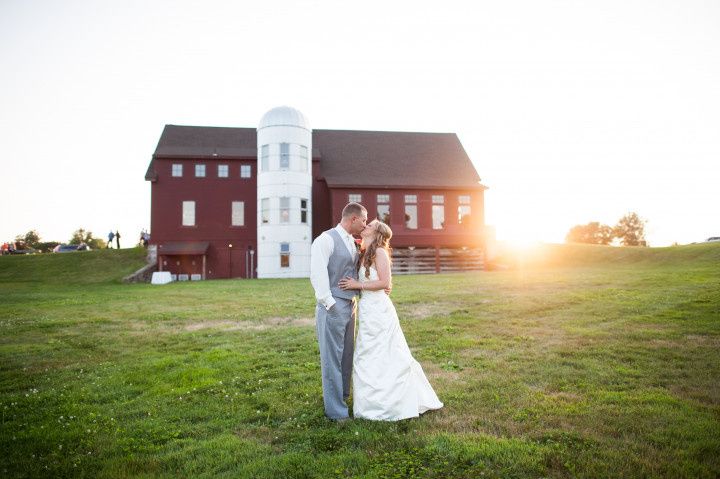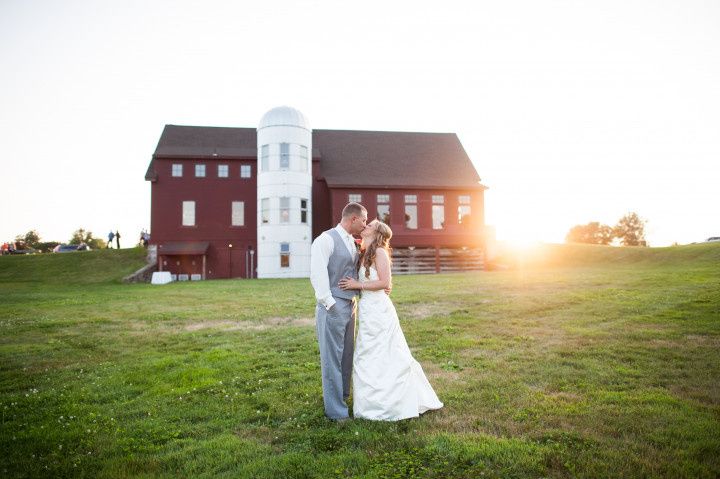 Photo: Lexi Photography
If you're hoping to host a rustic New England event with a casual feel, there are many barn wedding venues in MA to choose from. These venues are particularly ideal if Boston wedding venues or city skyline views aren't your cup of tea. Because of the area's long and vast history, you'll find barns situated on farms, of course, but also as part of inns, golf clubs, and more, all over the state. We love these venues' laid-back feel for a wedding where you and your guests will be able to celebrate, stress-free.
Check out some of our favorite barn wedding venues in MA.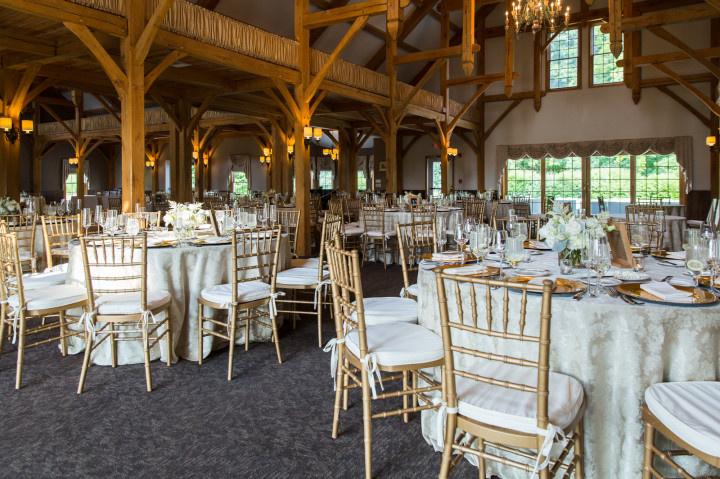 Photo: Kristen Jane Photography
Harrington Farm
This barn wedding venue in MA dates back to the 18th century, and the setting offers a variety of indoor and outdoor spaces for your ceremony and reception. At this Princeton venue, you'll find a lovely outdoor patio for garden ceremonies as well as a tent area for cocktails. Wedding receptions are held in the wooden barn with its wood beams and majestic stone fireplace. This venue has won the WeddingWire Couple's Choice Award for seven years in a row.

Learn more about Harrington Farm »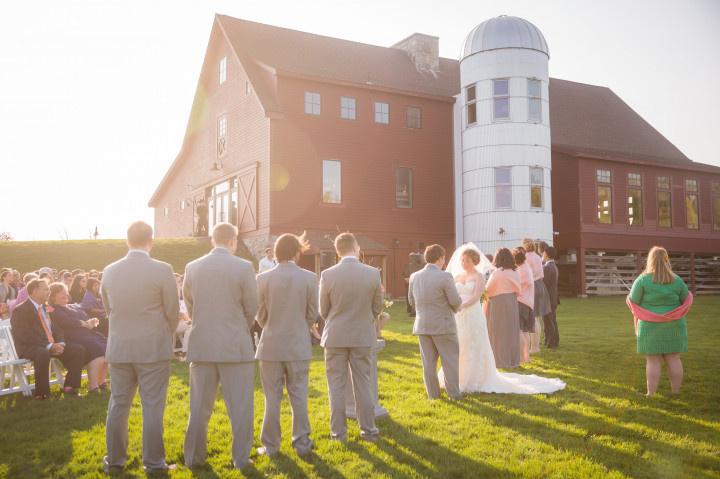 Photo: Lovely Valentine Photo + Film
Barn at Gibbet Hill
One of the most popular barn wedding venues in MA, this Groton location is a stunningly restored 100-year-old barn in a gorgeous hillside setting. The venue prides itself on using produce grown on-site to create your wedding menu. Wedding ceremonies are held either on the spacious and scenic lawn or on the Top of the Hill, a tented space on the summit of Gibbet Hill where you'll be wowed by the unique ruins of an early 20th century castle. The barn itself can host weddings of up to 220 guests.

Learn more about the Barn at Gibbet Hill »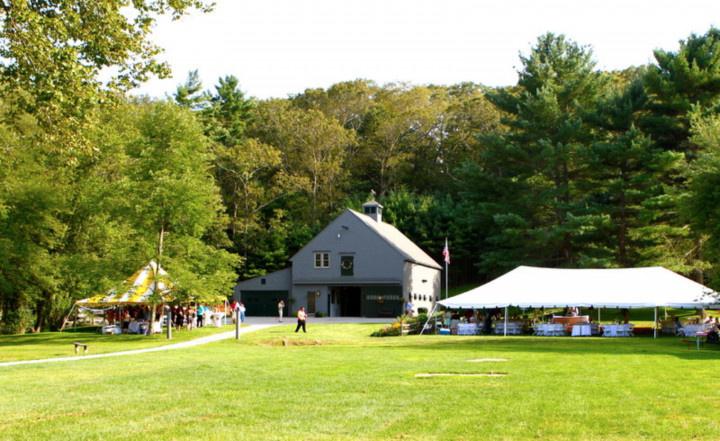 Photo: Terrydiddle Farm
Terrydiddle Farm
For more intimate barn weddings in MA, this equestrian farm in Rehoboth is situated on eight acres and features a historic barn for your event as well as outdoor and tented spaces. Terrydiddle Farm can host events of up to 150 guests and also has an on-site horse and carriage for the ultimate newlywed grand entrance or exit!

Learn more about Terrydiddle Farm »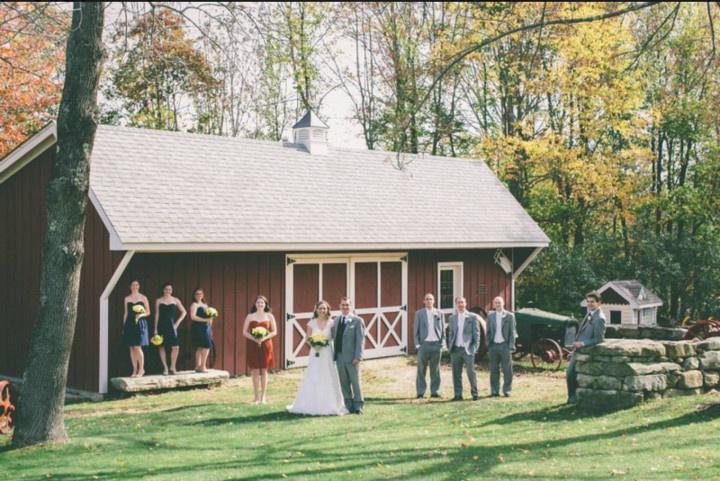 Photo: Blissful Meadows Golf Club
Blissful Meadows Golf Club
Looking for a wedding venue in Central Massachusetts that combines a rustic setting, the convenience of an all-inclusive venue, and incredible views? This Uxbridge golf club may be just the rustic wedding venue in MA for you. The Pavilion at Blissful Meadows is an open-air Victorian wooden barn from 1880 that offers views of the scenic golf course. There's also an outdoor space for ceremony and/or lawn games, as well as a variety of gorgeous photo backdrops, including well-manicured gardens and an antique car.

Learn more about Blissful Meadows Golf Club »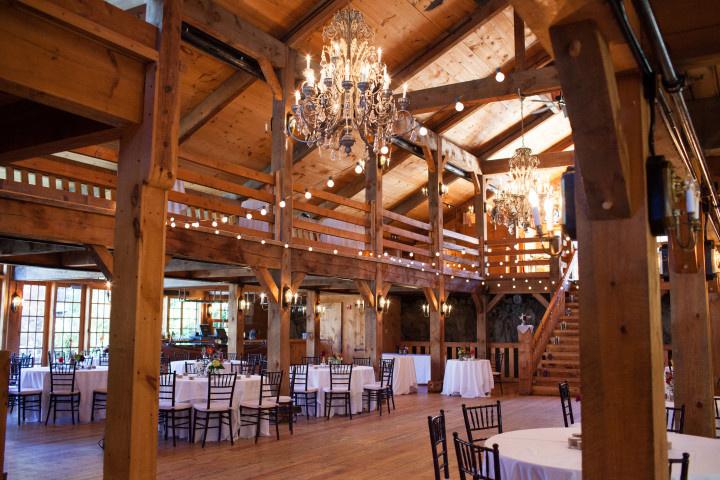 Photo: Studio Nouveau
Red Lion Inn Resort
The rustic and unique Lion's Hall event space at this historic Cohasset resort can host weddings for up to 300. From the vaulted ceilings to the chandeliers, you'll be absolutely wowed by this setting, which can host both wedding ceremonies and receptions. For more intimate events the Salon Du Soleil is a classic wedding space. And for added convenience, the inn has well-appointed and unique guest rooms so that your wedding party can stay on site.

Learn more about Red Lion Inn Resort »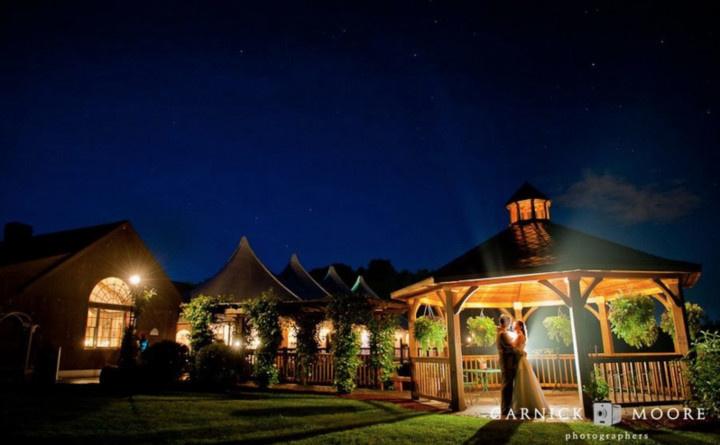 Photo: Zukas Hilltop Barn
Zukas Hilltop Barn
One of the top rustic wedding venues in MA, this peaceful and serene Spencer farm has both tented and indoor spaces for your wedding day. The family-run Zukas Hilltop Barn hosts just one event per day and uses local ingredients in their catering. Couples rave about the helpful staff and the delicious food, plus the amazing views and photo backdrop opportunities. This venue has won the WeddingWire Couple's Choice Award for nine years in a row.

Learn more about the Zukas Hilltop Barn »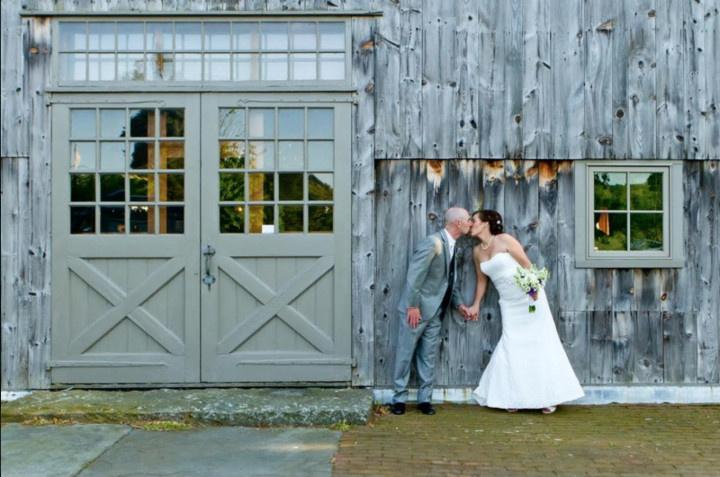 Photo: Salem Cross Inn
Salem Cross Inn
This West Brookfield inn effortlessly combines the romance of a garden venue with the rustic feel of a barn. You'll love the outdoor gazebo for ceremonies with gorgeous views of the rolling hills. The cozy and charming historic barn will make all of your rustic wedding wishes come true. This all-inclusive venue also hosts rehearsal dinners, bridal showers, and other events for your convenience.

Learn more about Salem Cross Inn »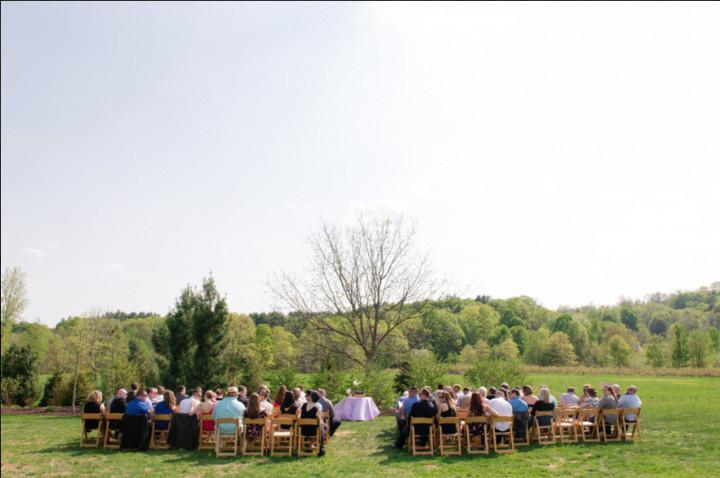 Photo: Quonquont Farm
Quonquont Farm
Located in historic Whatley, Massachusetts, this 140-acre orchard and flower farm features a 5,000 square foot barn that can accommodate 200 guests. While this venue only hosts weddings from May 1st through October 31st, the picturesque space is totally worth the wait. A 2018 Couple's Choice Award winner, couples rave about the farm's responsive staff and well-maintained grounds.

Learn more about Quonquont Farm »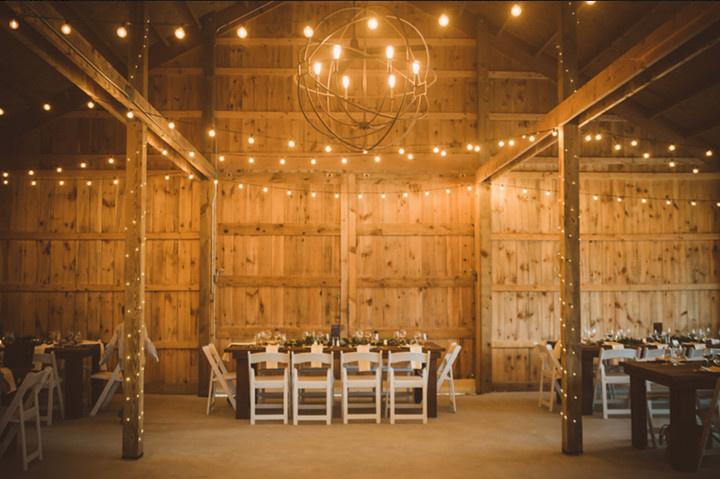 Photo: Rustic Rose Barn Weddings
Rustic Rose Barn Weddings
Couples flock to the Berkshires for its gorgeous scenery and rustic venues, and Rustic Rose Barn Weddings is one of the premier barn wedding venues in MA. The barn is absolutely picture-perfect, with vaulted ceilings and bistro lighting. There's ample outdoor space for ceremonies, and even a gorgeous farmhouse which can sleep 20 guests for your wedding weekend. You'll also find a wide variety of scenic, natural photo backdrops, from fields to ponds to a forest.

Learn more about Rustic Rose Barn Weddings »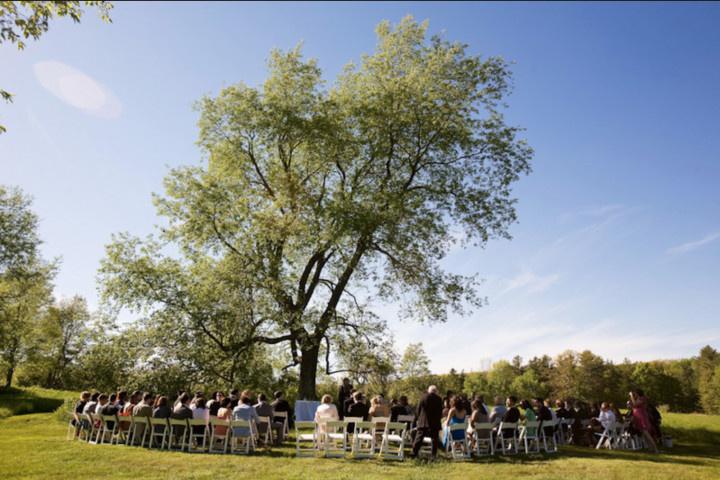 Photo: Gedney Farm
Gedney Farm
Gedney Farm is one of the most popular venues for a classic red barn wedding in the Berkshires. Located in New Marlboro, this venue is open year-round and can accommodate up to 250 guests. The three-level Event Barn has sliding glass doors that provide access to the garden and courtyard, and the outdoor ceremony space is oh-so picturesque. There's also a Lodging Barn with 16 rooms so that you and your crew can stay on-site all weekend long.

Learn more about Gedney Farm »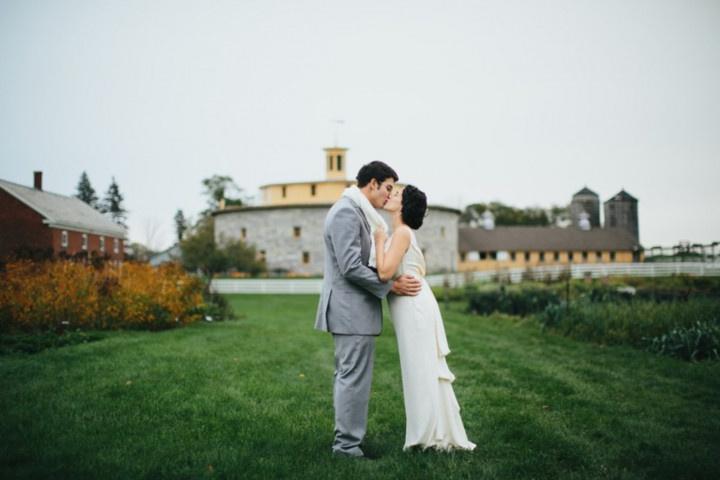 Hancock Shaker Village
If you're looking for a venue that combines history with a rustic farm feel, look no further than Hancock Shaker Village in Pittsfield. The Round Stone Barn is a unique space for ceremonies or receptions, and there's also ample outdoor space for tented weddings. The views of the Berkshire Mountains are incredible, and you'll find lots of photo backdrops to choose from.

Learn more about Hancock Shaker Village »