These 15 Cabin Wedding Venues Have All the Rustic Vibes
These scenic event spaces are cozy and chic.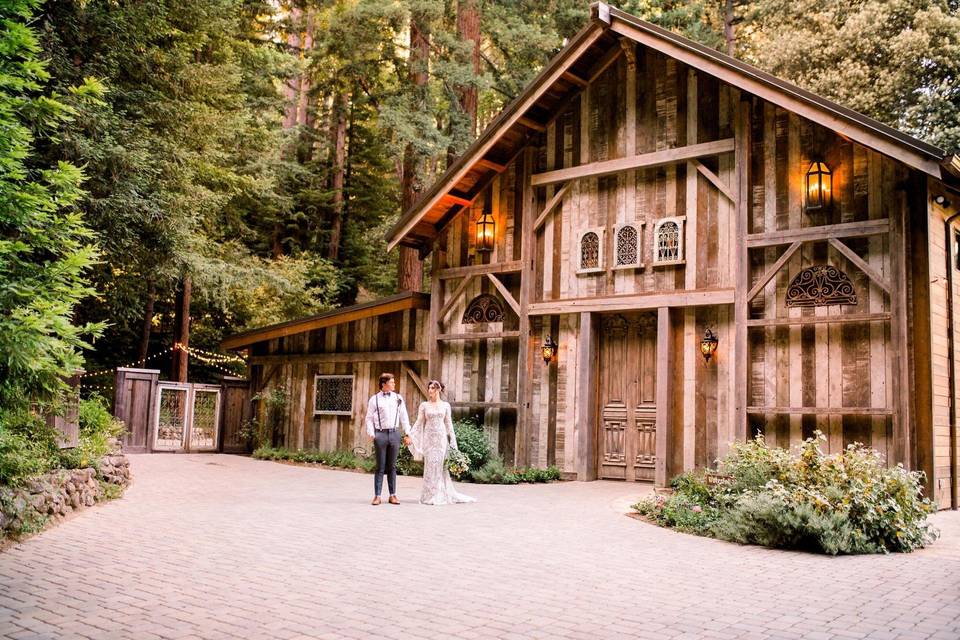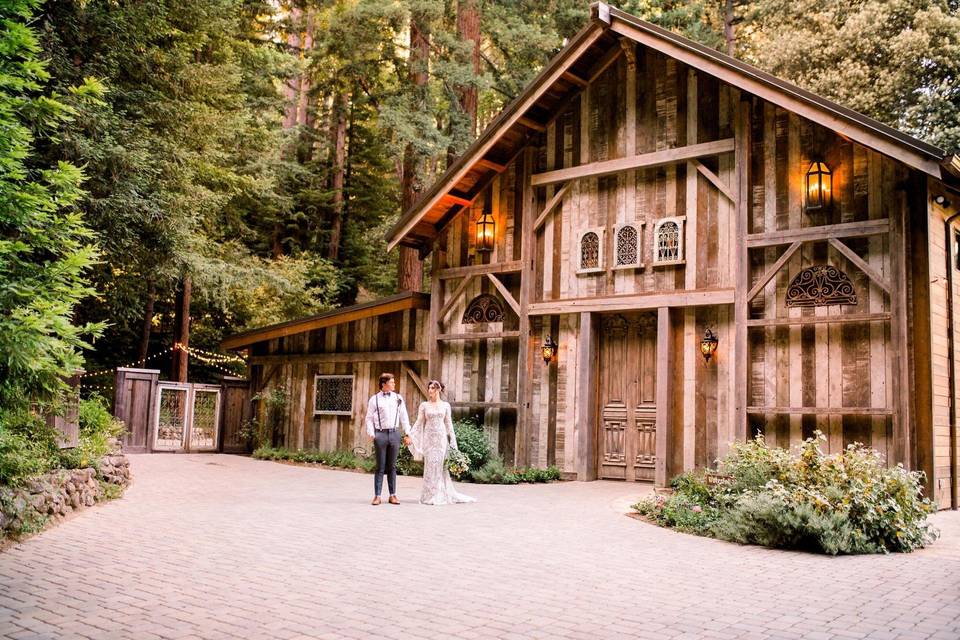 Before starting your venue search, it's important to consider the vibe you'd like to create on your big day. If you're dreaming of a wedding with a cozy, family-oriented, and rustic feel, complete with some truly spectacular scenery, a cabin wedding venue might be the perfect setting for your event. And fortunately, there are amazing cabin venues from coast to coast, whether you're envisioning a wedding with mountain views or on a serene waterfront. Check out some of our favorite cabin wedding venues in the U.S.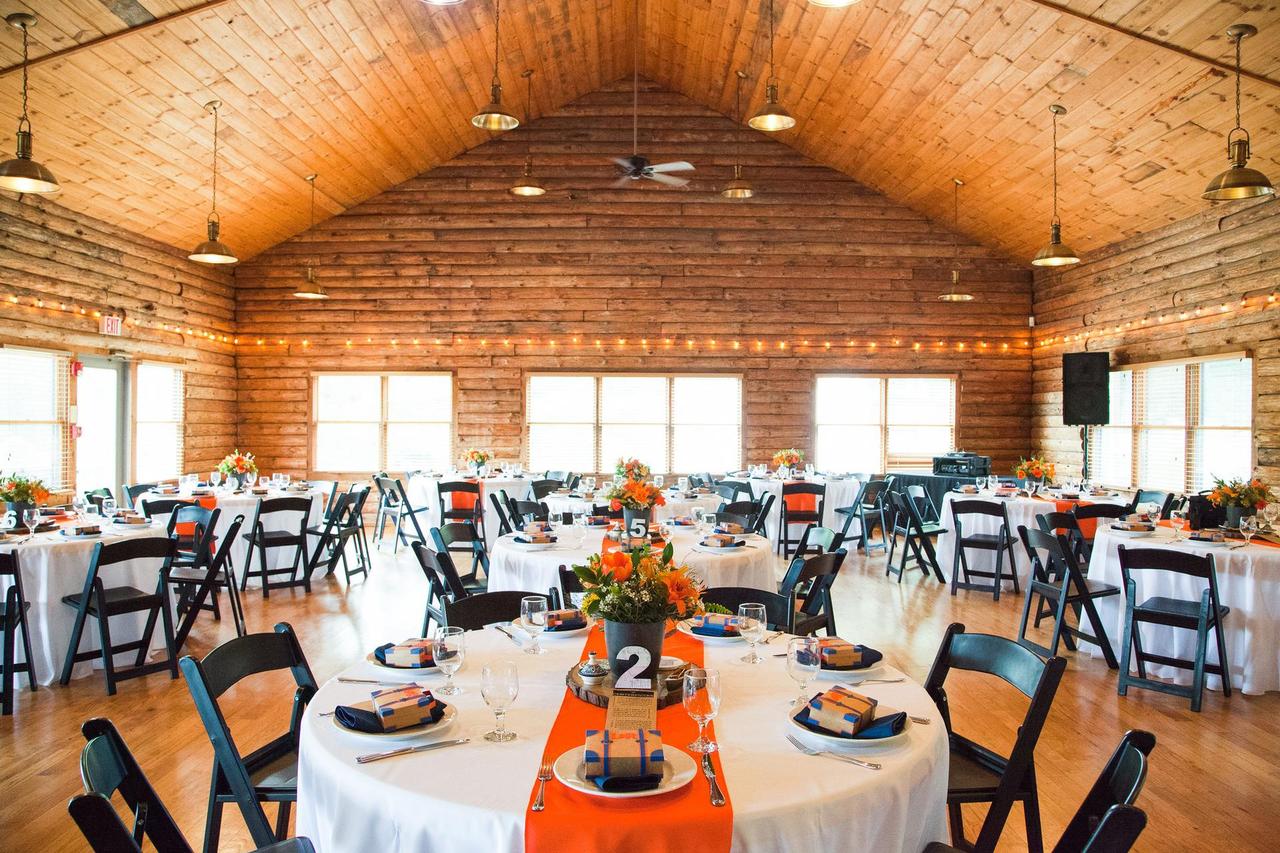 The Lodge at Little Seneca Creek
Boyds, Maryland
For nature-obsessed couples, this rural Montgomery County venue features two beautiful outdoor ceremony sites, as well as an indoor reception space. Host your ceremony in a tent or entirely outdoors on the expansive property, followed by a reception inside the 2,300-square-foot log cabin, with its cathedral ceilings and stone fireplace. This cabin venue can host small weddings and events (year-round!) of up to 120 guests—and it's pretty affordable too, with pricing ranging from $950 to $4,165.
Learn more about the Lodge at Little Seneca Creek »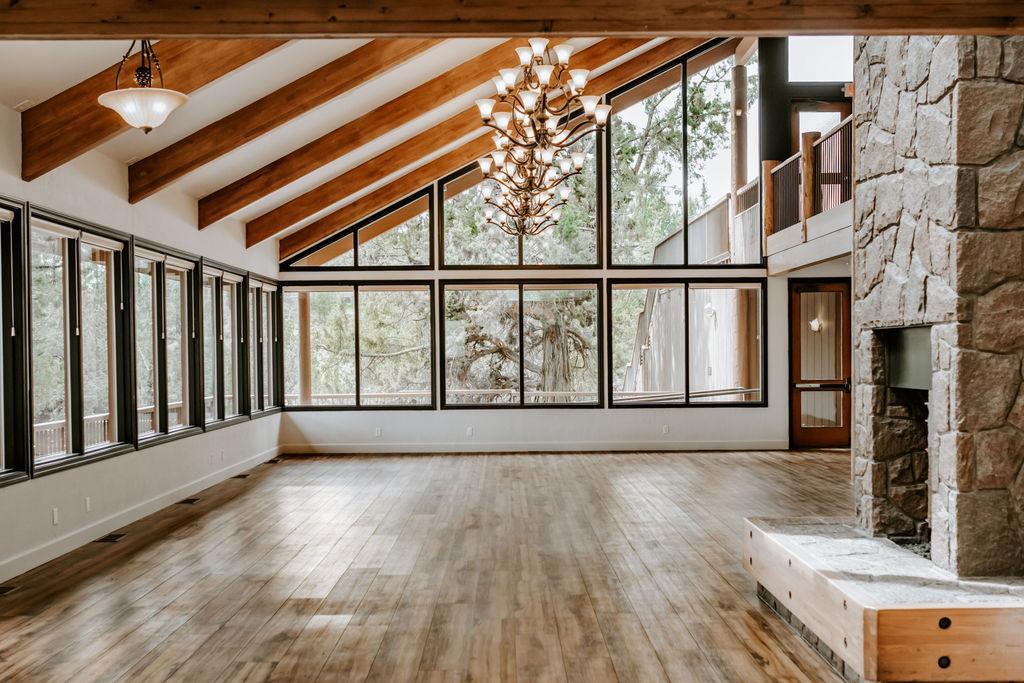 River Run Lodge
Redmond, Oregon
If incredible vistas are on your must-have list, this cabin wedding venue, located just east of the Cascade Range, is sure to be a favorite. Outdoor ceremonies may be on the 3,000-square-foot deck overlooking the Deschutes River or elsewhere on the property, and dinner and dancing takes place inside the main lodge, which features vaulted ceilings, chandeliers, and floor-to-ceiling windows. Though this venue can host weddings and events of up to 200 guests, elopement packages are available.
Learn more about River Run Lodge »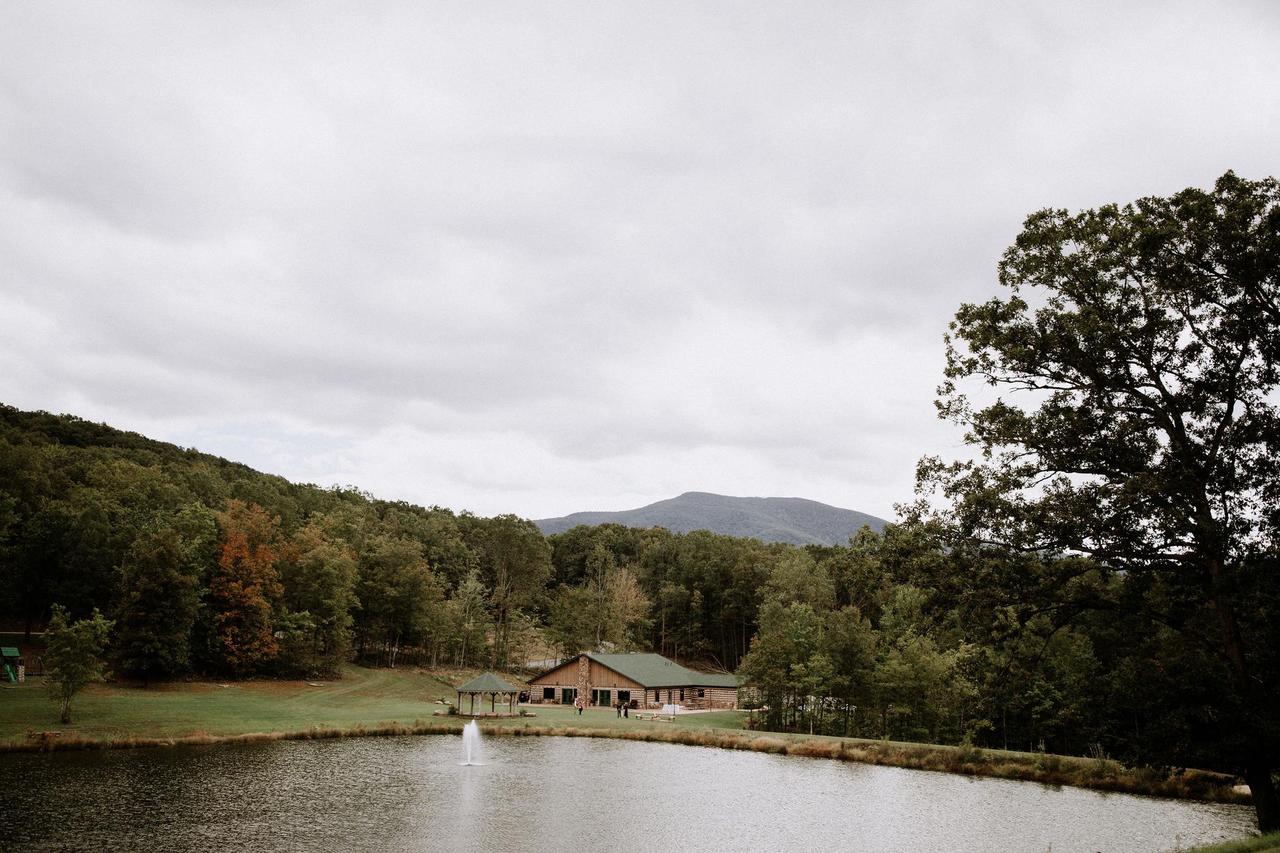 Brenwood Lake Weddings
Stanley, Virginia
Located in the Shenandoah Valley, this waterfront cabin wedding venue is a perfect woodsy getaway spot less than two hours from Washington, DC. Exchange vows in one of three wedding ceremony spots, including a gazebo overlooking a lake and a forest setting. The reception hall is an authentic log cabin (but with climate control!) that features cathedral ceilings, ample natural light, and a stone fireplace. This event venue is available for weddings, as well as rehearsal dinners, and can accommodate up to 200 guests. For the ultimate wedding weekend, up to 18 guests can stay in cabins on the property.
Learn more about Brenwood Lake Weddings »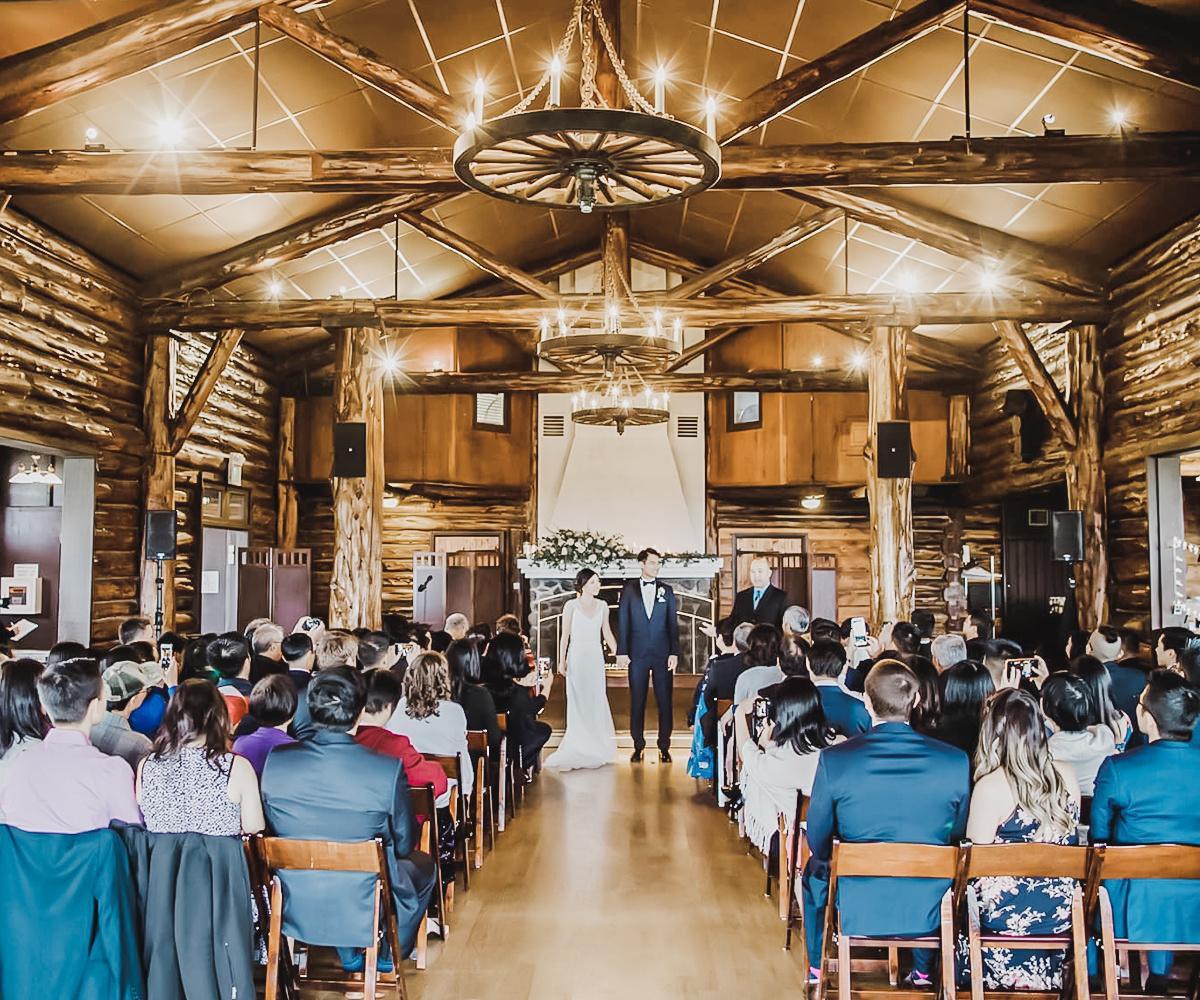 Log Cabin at the Presidio
San Francisco, California
A rustic log cabin wedding venue with views of the Golden Gate Bridge? Sounds too good to be true, but it actually exists. At the Log Cabin at the Presidio, you'll feel a world away from the big city, but still able to enjoy the city skyline as your backdrop. There are both indoor and outdoor spaces for ceremonies and receptions available, and can accommodate up to 200 guests. Your outdoor wedding ceremony spot can feature views of the bridge, the Financial District, or the gorgeous landscape. And the cabin itself features rustic-style chandeliers, a fireplace, large windows, and more. All-inclusive packages are available, and a day-of planner will be on hand to ensure your wedding day runs smoothly.
Learn more about the Log Cabin at the Presidio »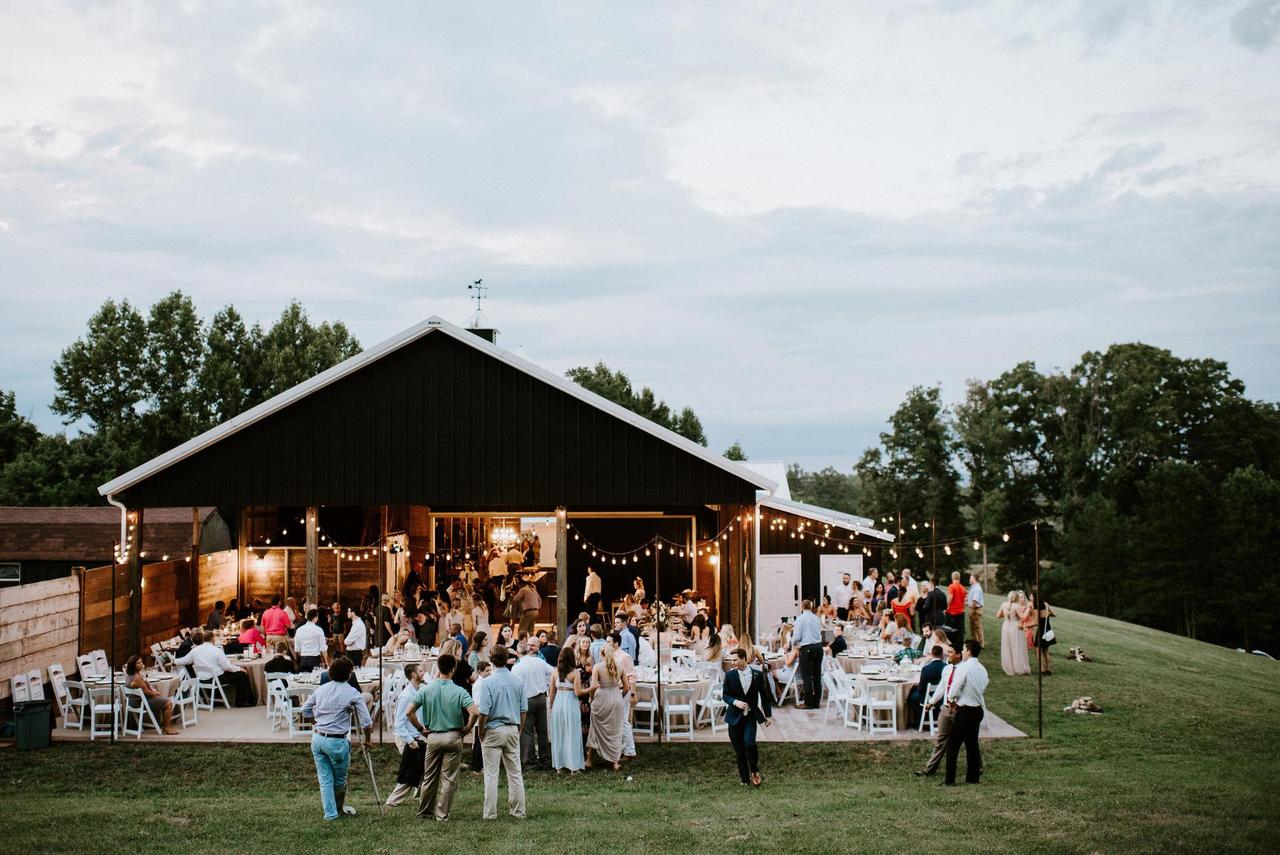 The Stables at Strawberry Creek
Knoxville, Tennessee
This Couples'-Choice-Award-winning ceremony and reception venue in Knoxville is located on 55 acres of stunning scenery. Ceremonies are typically held outdoors on the grounds, while dinner and dancing take place in the Stables Venue, which has both indoor and outdoor event space for up to 300 guests. There's also a historic log cabin on site where the couple and some of their guests can enjoy a fun-filled wedding weekend. All-inclusive wedding packages are available.
Learn more about The Stables at Strawberry Creek »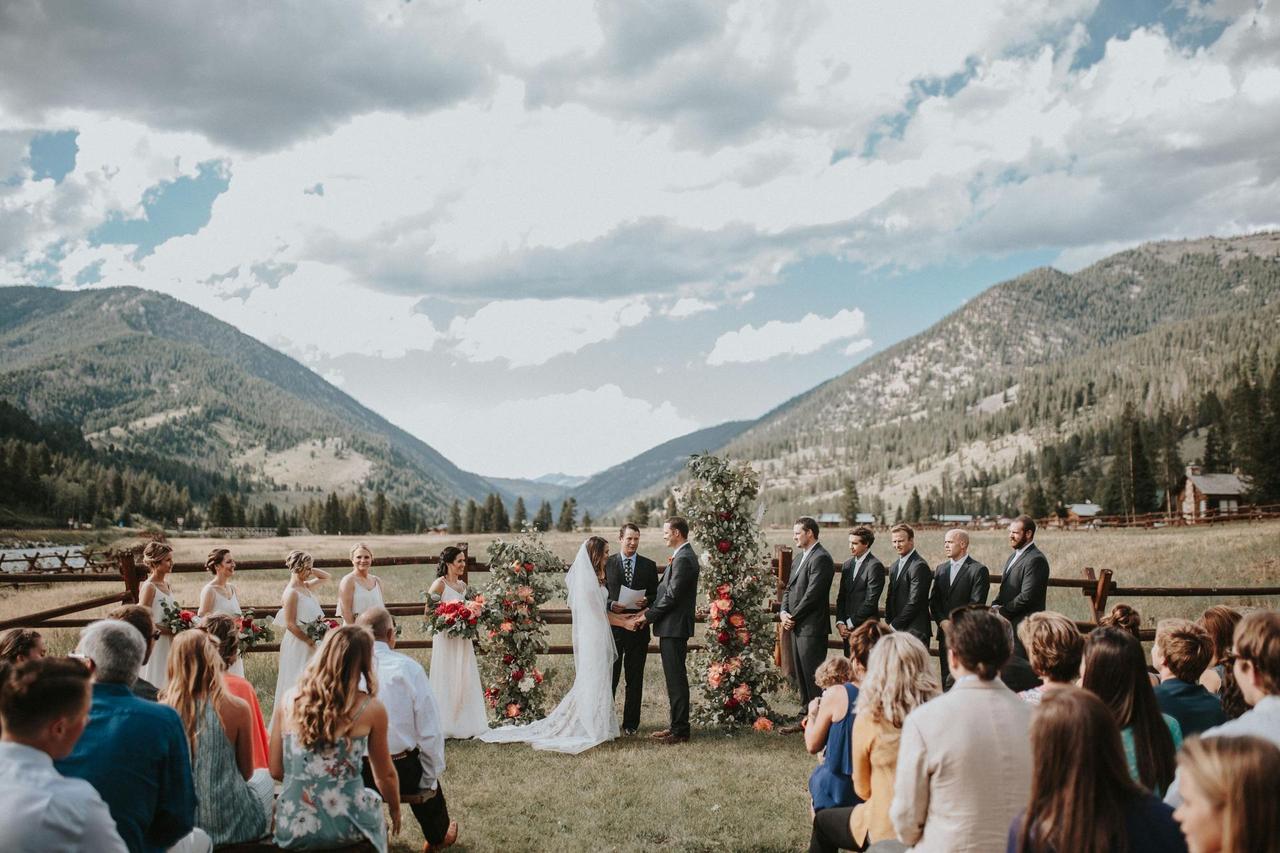 320 Guest Ranch
Big Sky, Montana
This mountain wedding venue in Big Sky Montana offers some of the most gorgeous vistas we've ever seen, from mountains to forests to the Gallatin River. Choose between a variety of ceremony sites, from the lush meadow to a riverside site. Receptions may be held in a tent on the property or inside the banquet hall, with its wood beams and unique chandeliers. Guests can stay on site for the ultimate Montana ranch destination wedding weekend, with activities like fly fishing, horseback riding, and soap making. Catering is provided by the ranch's restaurant, McGill's Restaurant & Saloon.
Learn more about 320 Guest Ranch »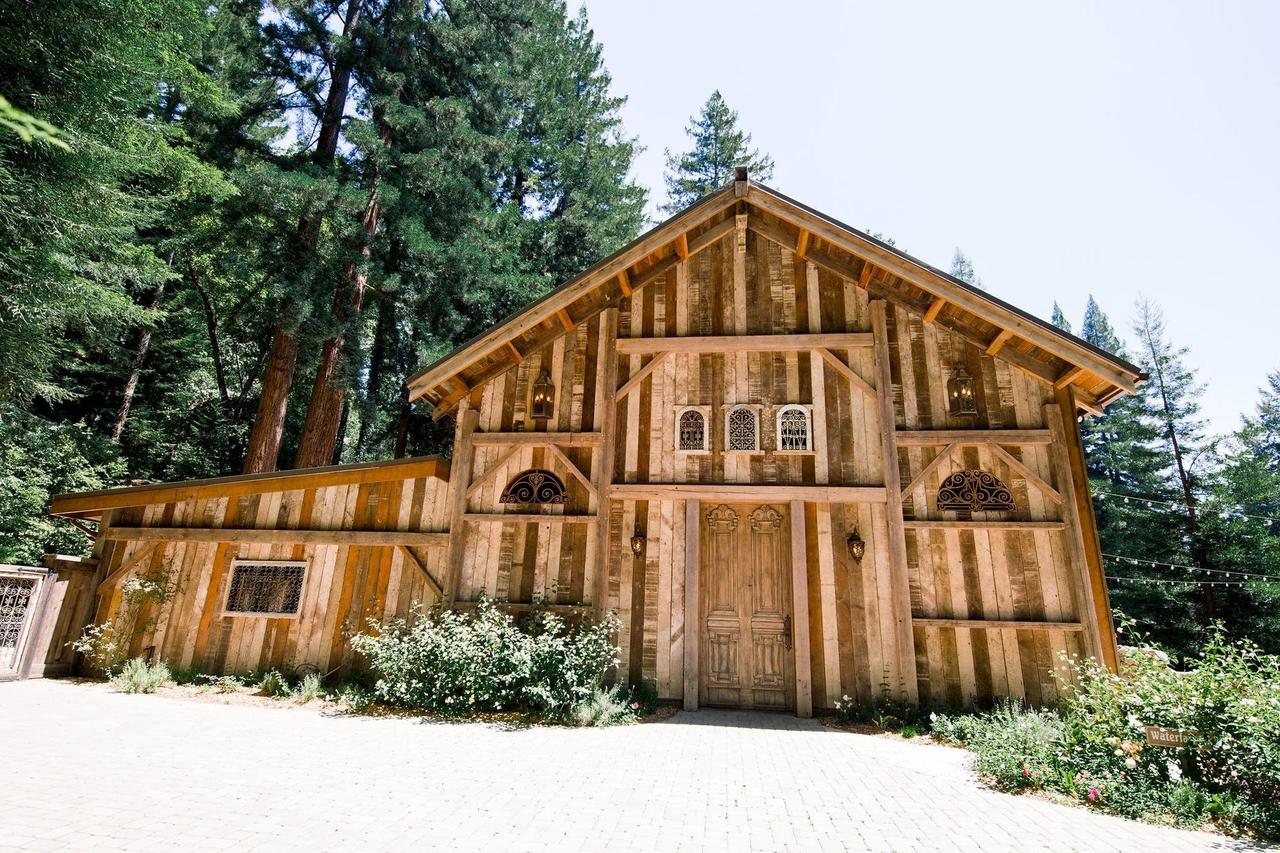 Waterfall Lodge & Retreat
Ben Lomond, California
This secluded California forest venue is a photographer's dream. There are so many gorgeous spots for amazing wedding photos here, from the redwood trees to the 19th-century cabin. Host your ceremony among the majestic redwoods, followed by cocktail hour and a reception on the outdoor patio, with space for up to 150 guests. And you and your guests will love the convenience of the on-site accommodations, including 33 cabins that can accommodate up to 96 guests.
Learn more about the Waterfall Lodge & Retreat »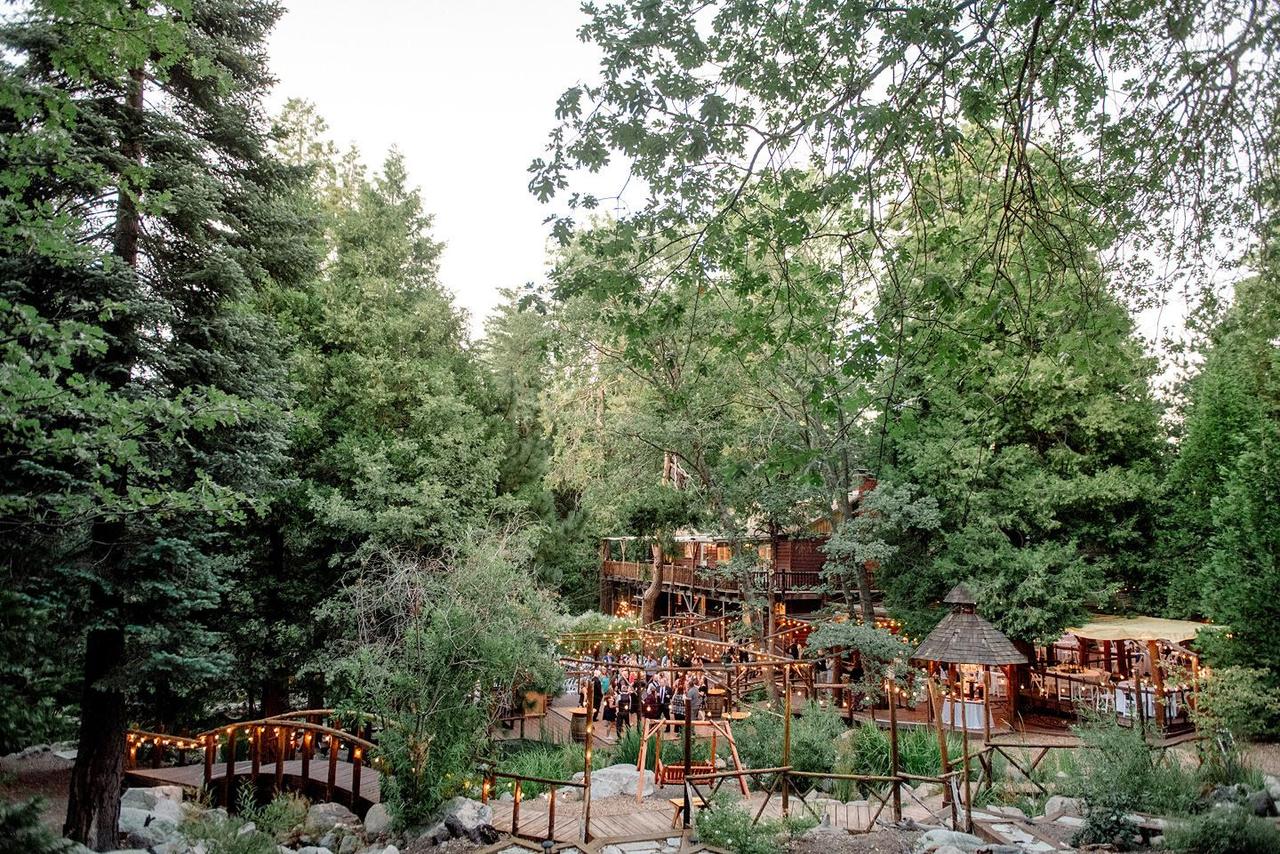 Arrowhead Pine Rose
Twin Peaks, California
This cabin wedding venue located just east of Los Angeles offers a serene and private forest setting for your special day. Ceremonies are held in a wooded amphitheater (arranged so that all of your guests will have a good view of the proceedings) under a log-and-branch gazebo. Then, enjoy your reception in the trellised event space set aglow with market lights and complete with its own dance floor. From the variety of photo backdrops (including a lovely bridge!) to the on-site cabins for guest accommodations, this venue really has it all.
Learn more about Arrowhead Pine Rose »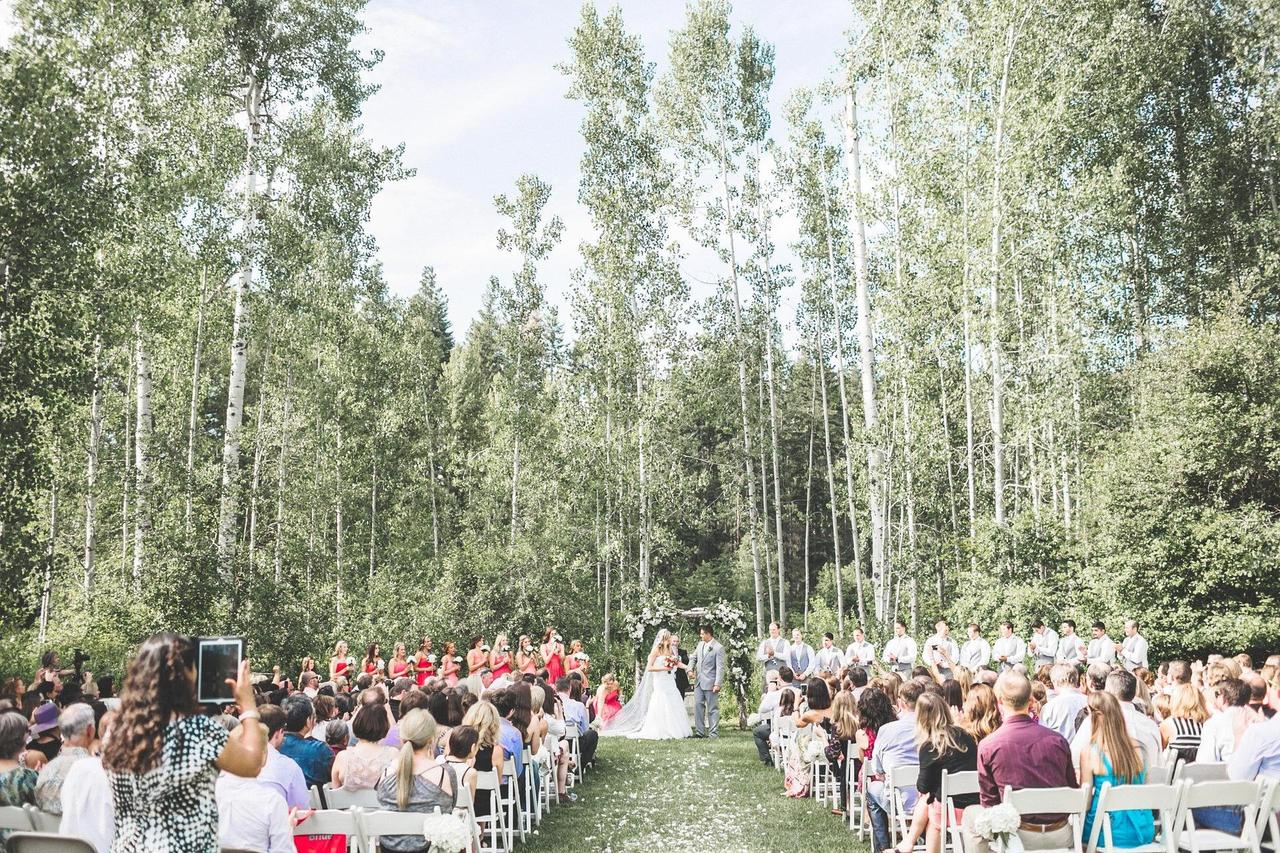 Mountain Springs Lodge
Leavenworth, Washington
The Cascade Mountains are a beautiful location for a wedding, and this cabin wedding venue is an ideal spot for your big day. Choose between the Aspengrove ceremony site, with its tall trees and woodsy vibe, or the Ponderosa Meadow, featuring some truly stunning scenery. Receptions are held in the Beaver Creek Barn or the Beaver Creek Lodge. While this venue can host weddings of up to 500 guests, it also offers packages for elopements and small weddings of up to 30 guests, complete with photographer, florist, officiant, and more. Plus, there are lots of accommodation options on site, including log cabins, lodges, and a decked-out honeymoon suite.
Learn more about Mountain Springs Lodge »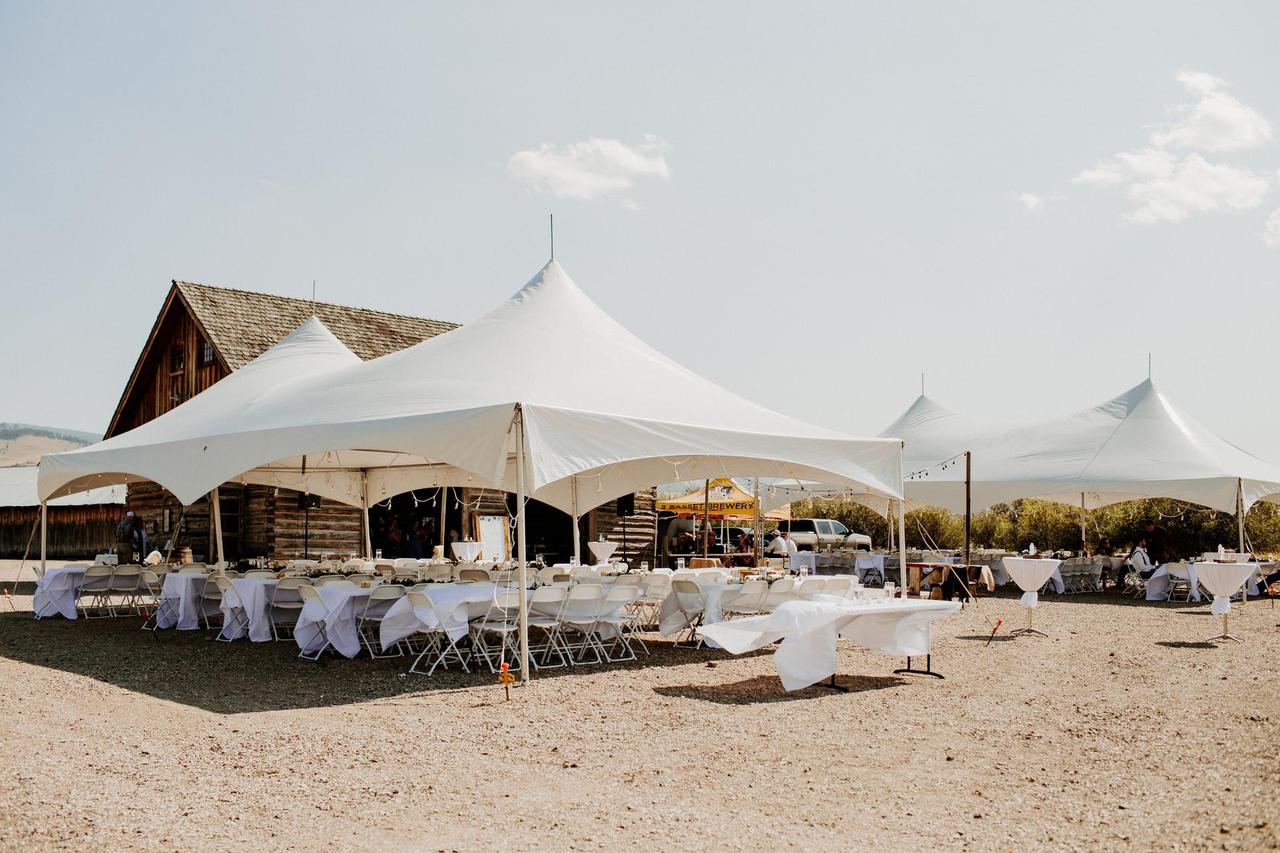 Willow Creek Cabins
White Sulphur Springs, Montana
Montana is becoming a hotspot for destination weddings, and this ranch is one of our favorite venues for an entire weekend of activities and celebrating. Say "I do" with a pond and the mountains as your backdrop, followed by a reception in and around the historic log cabin. There's space for up to 250 guests, and on-site cabin accommodations for your nearest and dearest. Plus, if you and your new spouse are game, a honeymoon glamping experience is available for the newlyweds.
Learn more about Willow Creek Cabins »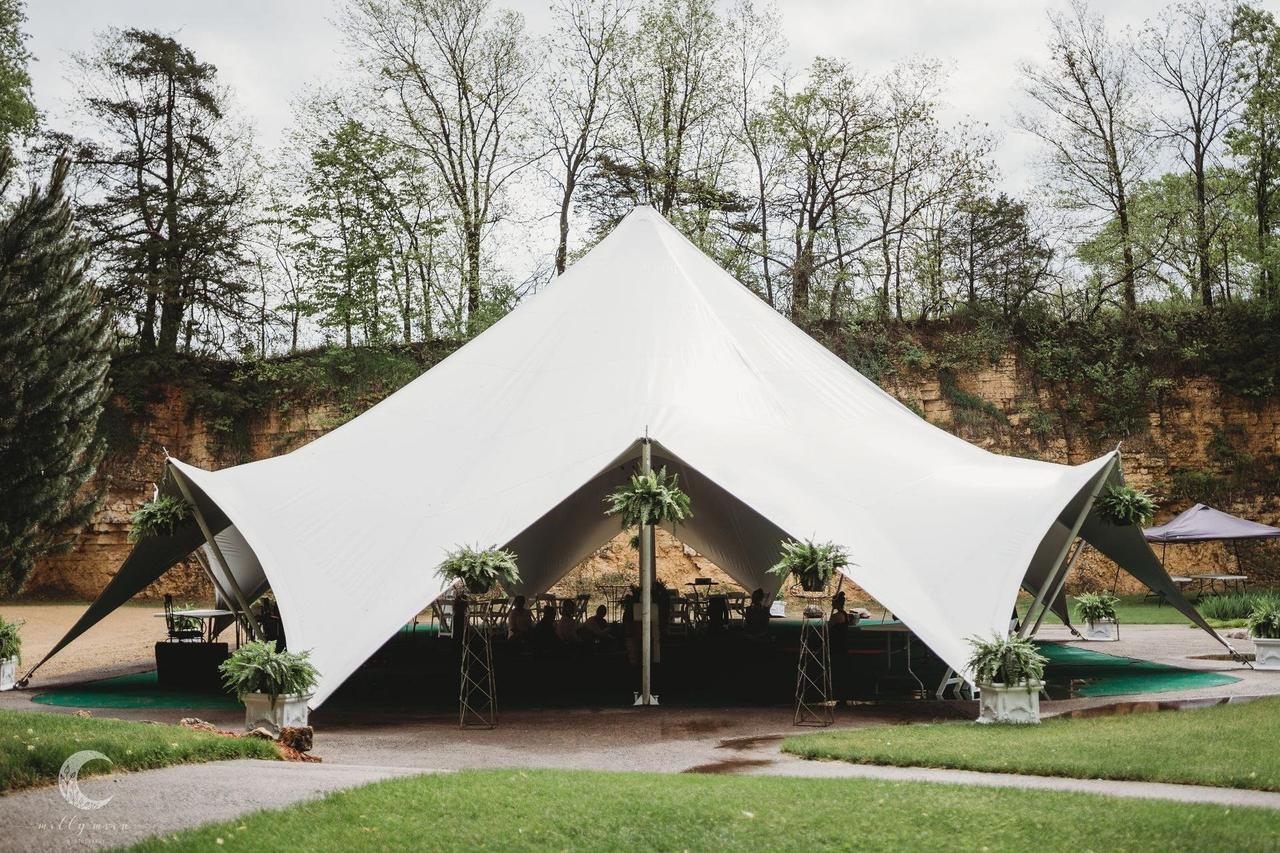 White Pines Resort
Mount Morris, Illinois
Just 90 minutes from Chicago, you'll find this nature resort that's perfect for a serene wedding weekend. This Couples' Choice Award winning event space offers gorgeous scenery, from waterfalls to lily ponds and more. Your ceremony can be held in the magical woodland outdoor space, and your reception in one of two event spaces—the CedarStone event lodge or the White Pines Lodge. Plus, this venue has 25 log cabins on the property where you, your wedding party members, and your guests can stay the weekend.
Learn more about White Pines Resort »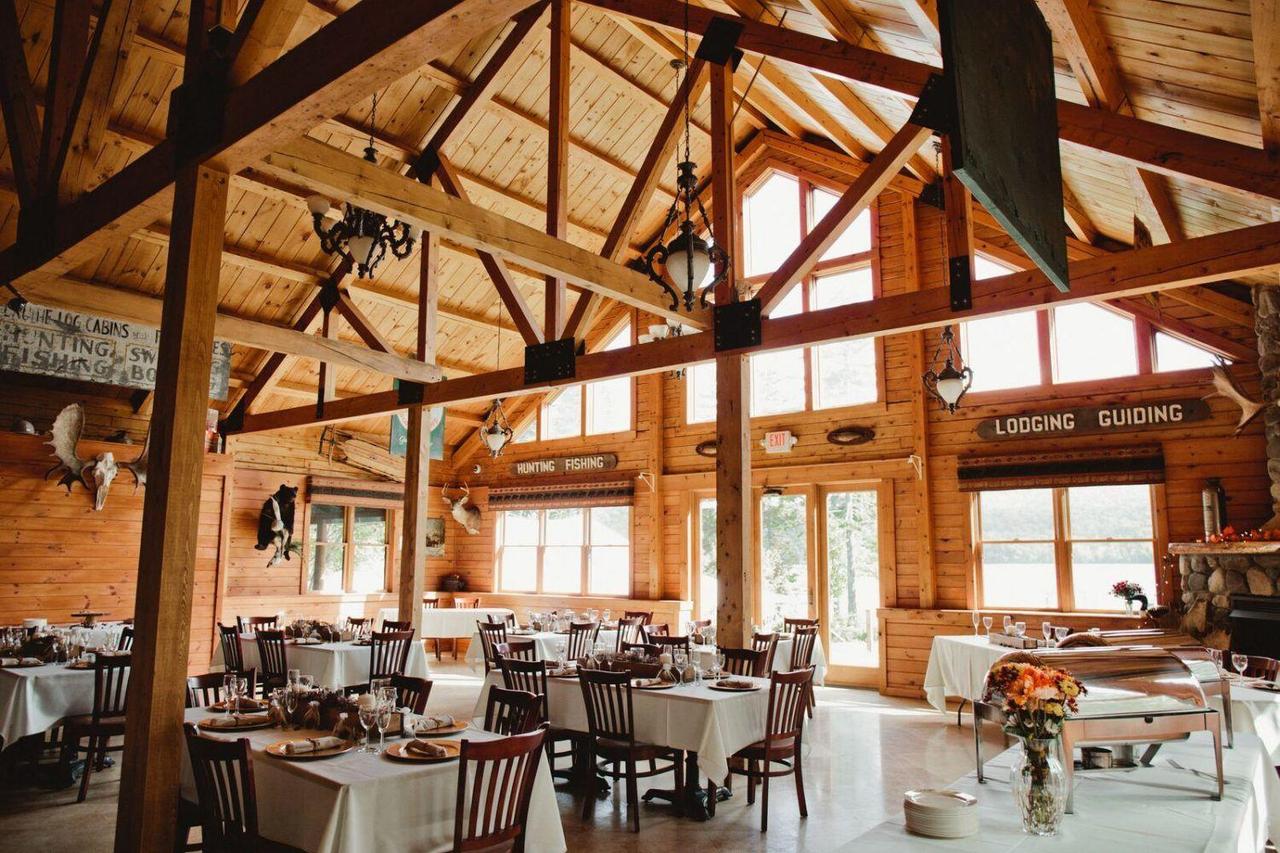 Lake Parlin Lodge & Cabins
Jackman, Maine
Maine is among the most beautiful locations in the country for a rustic event—and if you're hosting a smaller wedding, this cabin wedding venue is a perfect choice. Exchange vows with the lake as your backdrop, and then enjoy dinner and dancing in the main lodge, which can seat up to 75 guests. For a larger reception of up to 170 people, tented event space is available. Don't forget to gather around the fire pit for a memorable after party! A bridal suite is available for all the pre-wedding fun, and cabin accommodations allow your loved ones to stay on site for some real summer camp vibes.
Learn more about Lake Parlin Lodge & Cabins »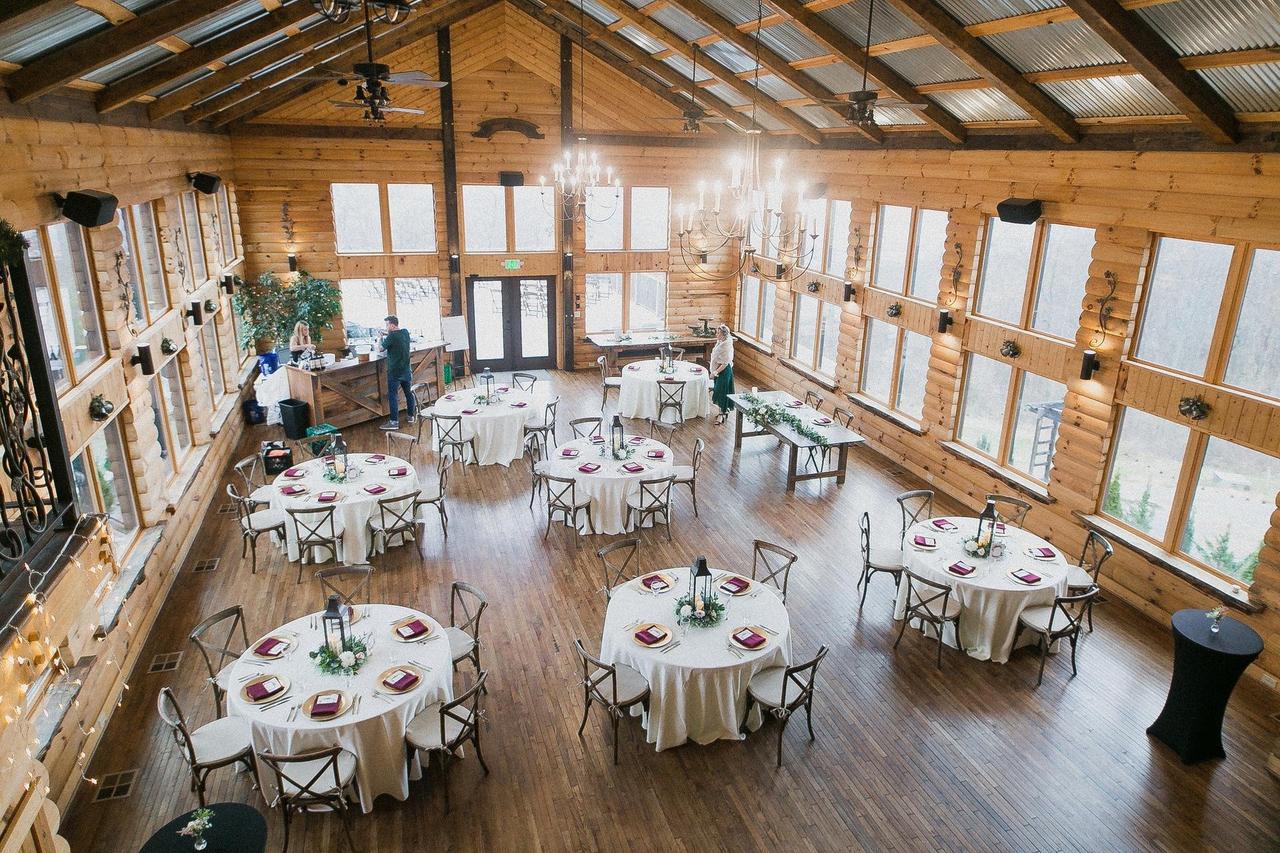 Lydia Mountain Lodge & Log Cabins
Stanardsville, Virginia
Located in the foothills of the Blue Ridge Mountains, this mountain lodge offers four unique wedding venues in one scenic location. These ceremony and reception venues include The Rustic Event Hall at The Lodge, Lydia Pavilion, Lydia's Barn and Lily Pad Sawmill—each with their own individual look and feel. The all-inclusive venue, the Lydia Mountain Lodge, features gorgeous mountain vistas and on-site overnight accommodations, while the other three venues are best for DIY weddings. This venue can host weddings of up to 200 guests.
Learn more about Lydia Mountain Lodge & Log Cabins »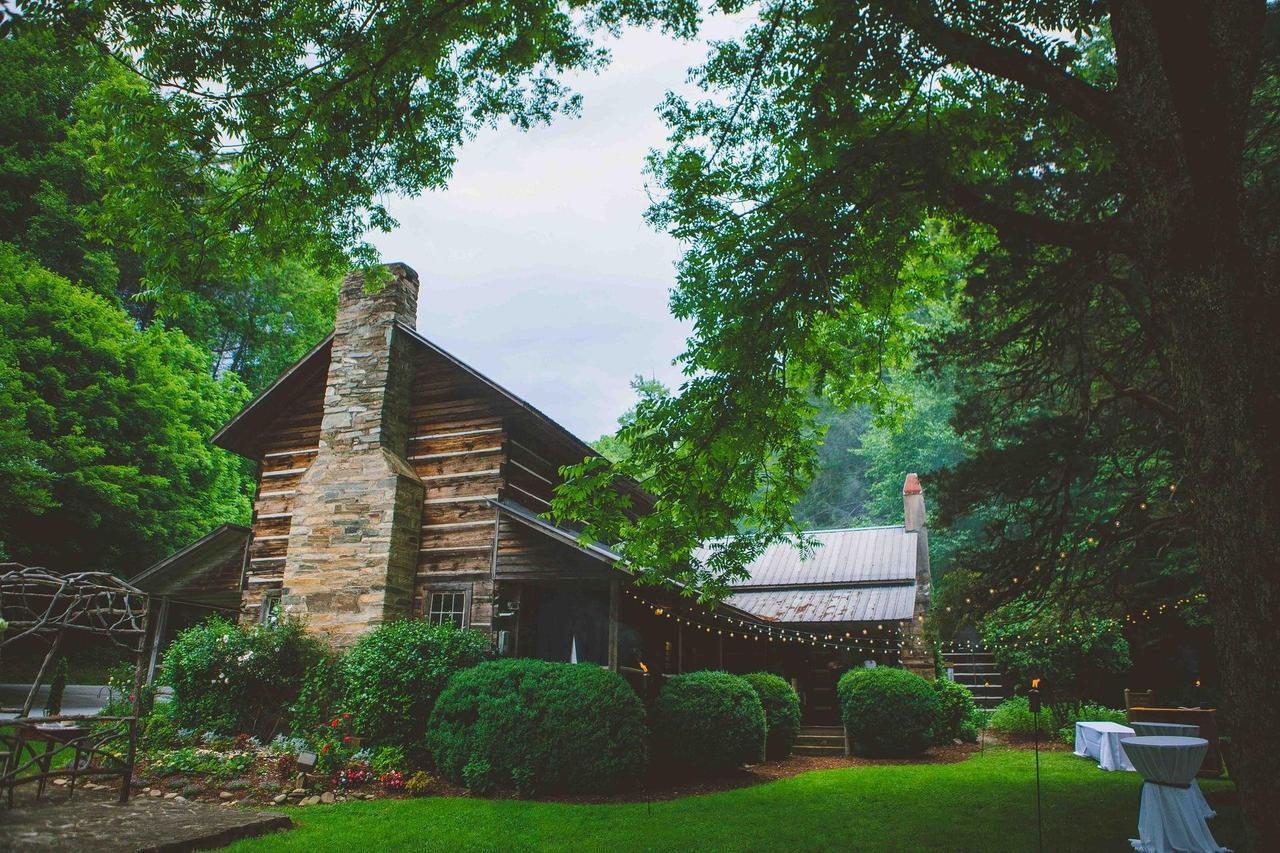 Leatherwood Mountains
Ferguson, North Carolina
Looking for a cabin wedding venue with ample Southern charm? This beautiful Blue Ridge Mountain wedding venue is one of our favorites in the area, and can host events of up to 400 guests. There are several locations available for ceremonies and receptions, including the Cabin Stage (complete with two-story chimney), the Valley Gazebo, the Covered Pavilion (a huge open-air stage with 13-foot ceilings), the Hendrix Homeplace (a two-story cabin), and the Elk Creek Inn. All-inclusive packages and luxury cabin accommodations are available.
Learn more about Leatherwood Mountains »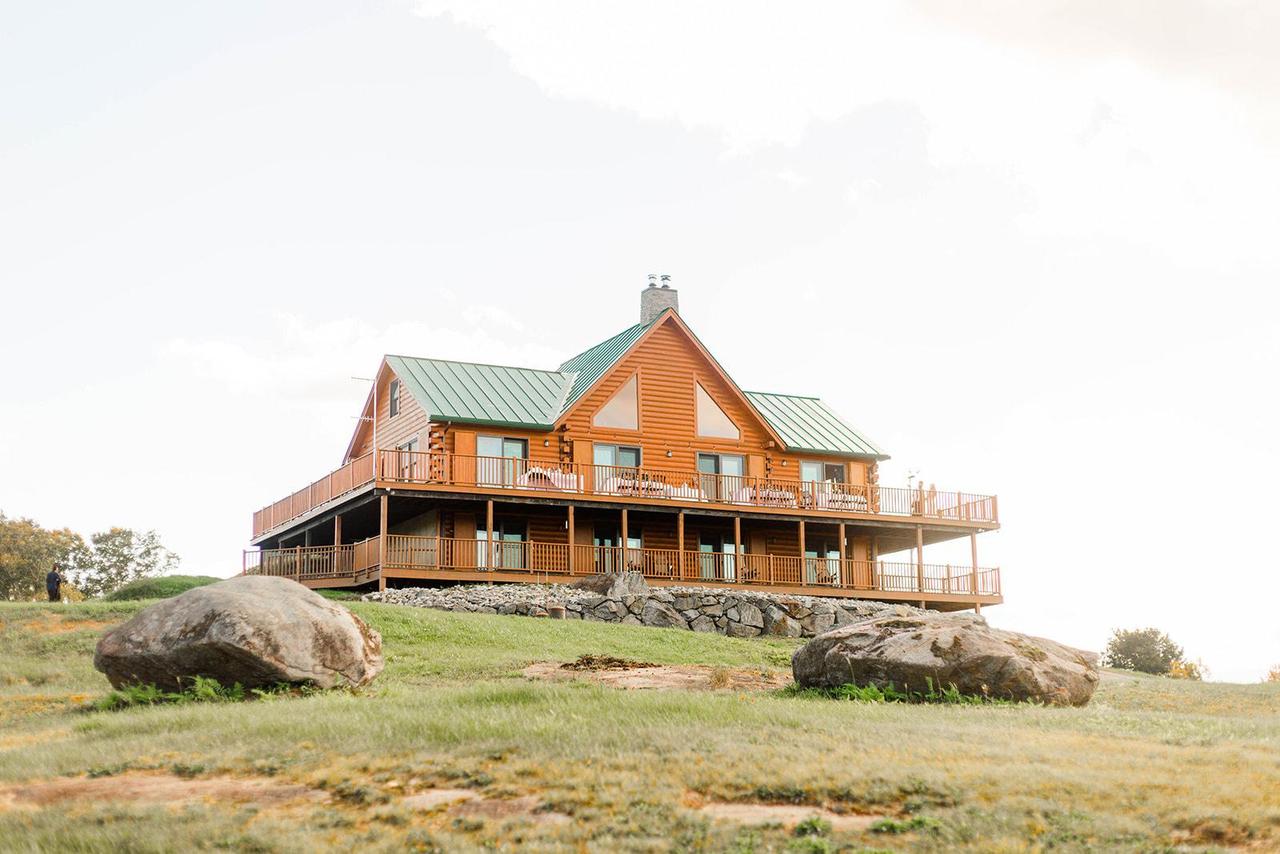 Rustic Gatherings at Pat's Cabin
Warren, New Hampshire
If you're dreaming of a nature-filled cabin wedding venue that celebrates all of the beauty New Hampshire has to offer, this Warren event space is definitely worth checking out. Located at the bottom of Mount Moosilauke, you and your guests will enjoy incredible panoramic views of the Baker River Valley throughout your big day. Host an outdoor ceremony and reception for up to 250 people in the event field, or enjoy an indoor event for up to 99 guests inside the barn. Pat's Cabin is perfect lodging for you and your wedding party to enjoy a celebratory weekend together.