With its towering mountain ranges, big sky, serene lakes, and untouched land for as far as the eye can see, Montana is home to some of the most awe-inspiring scenery in the country. One of the best things about getting hitched in Big Sky Country is that scenic Montana wedding venues are almost always a given, no matter where you are in the state. From luxurious ski resorts to quaint hillside barns along flowing rivers, wedding venues with unforgettable scenery are among the most popular places to get married in Montana, and we're sharing our top picks right here.
Keep reading to see six of our favorite scenic wedding venues in Montana.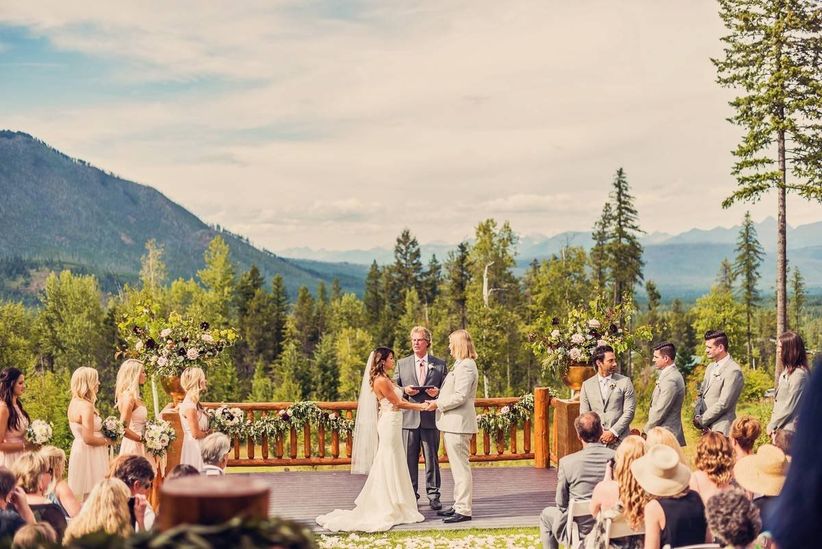 Glacier Raft Company Weddings & Events
This scenic Montana wedding venue in West Glacier has everything you need (and more) for an unforgettable, rustic elegant event. The historical Montana ranch offers two equally stunning spaces for your nuptials, including a log pavilion overlooking Glacier National Park and a charming 85-acre homestead featuring a picturesque meadow for outdoor ceremonies. Glacier Raft Company Weddings & Events offers customizable, all-inclusive packages, whether you want a one-day package, a full weekend rental, or even an elopement option. Various lodges and cabins are located throughout the property, making this one of the best Montana wedding venues for destination weddings and out-of-town guests.
Learn more about Glacier Raft Company Weddings & Events »
Spruce Lodge at Glacier Camp
If you loved going to summer camp as a kid, then we have the perfect Montana wedding venue for you! Spruce Lodge at Glacier Camp is a sprawling property located along Flathead Lake in northwestern Montana. When it's not being used as a camp, this venue is a great spot for anyone looking to create a laid-back, welcoming atmosphere for their big day. The property's 20,000 square-foot lodge can accommodate up to 52 people overnight, so get ready to host a fun wedding getaway with your friends and family (a.k.a your own grown-up version of summer camp!). Choose from a ceremony spot inside the lodge or several scenic overlooks near the lake. Catering is provided by the venue.
Learn more about Spruce Lodge at Glacier Camp »
Foster Creek Farm
Surrounded by four different mountain ranges, Foster Creek Farm (located just outside of Bozeman) is a peaceful, secluded Montana wedding venue that's ideal for couples who love modern rustic style. The timber barn, built in 1923, is a gorgeous two-story space that holds up to 270 guests. The updated barn maintains its original charm but is outfitted with air conditioning, heating vents, and a large stone fireplace, making it a comfortable space for your wedding no matter the time of year. You can get ready in the bridal suite or the groom's barn, and even stay overnight at the venue. The original farmhouse, named the Huffine House, has been recently renovated with cozy lodging for you or your guests, including four bedrooms, two bathrooms, fireplaces, a full kitchen, and a deck. Feeling adventurous? Ask about renting the venue's four glamping tents for a truly unforgettable experience!
Learn more about Foster Creek Farm »
The Woodlands at Cottonwood Canyon
Next on our list of gorgeous Montana wedding venues is The Woodlands at Cottonwood Canyon. Nestled in a forest 10 miles south of Bozeman, this venue combines timeless elegance with the beauty of Montana's rustic wilderness. The venue, which is available from May through October, can host events for up to 200 guests and provides rentals (tables, chairs, linens) and a ceremony arch, not to mention top-rated event staff to ensure that your big day goes off flawlessly. The venue only hosts one event per day, allowing you time to relax and enjoy your wedding day without interruption. Newlyweds are treated to a complimentary stay in the private honeymoon cabin at the end of the night.
Learn more about The Woodlands at Cottonwood Canyon »
The Lodge at Whitefish Lake
Whether you're dreaming of a rustic outdoor wedding or a glamorous ballroom soirée, The Lodge at Whitefish Lake has plenty of options for everyone. The lakeside area has breathtaking mountain views that are perfect for nature lovers, but you can also choose from several indoor spaces on the property, including an open-air pavilion, a grand banquet hall, or an intimate regatta room overlooking the water. After you say "I do," enjoy a celebratory ride around Whitefish Lake with a private champagne cruise! This venue is in a great location, too — downtown Whitefish and the Whitefish Mountain Resort are just minutes away, and you can get to Glacier National Park with a quick (and scenic) 30-minute drive. The Lodge at Whitefish Lake can host weddings for up to 300 people and offers overnight accommodations to provide a seamless experience for your guests. Check out this real wedding at The Lodge at Whitefish Lake to see the venue's beauty for yourself.
Learn more about The Lodge at Whitefish Lake »
The Barn on Mullan
We're in love with this romantic hillside barn! The venue is located on the stunning property of The Ranch Club, an award-winning golf course in the Missoula Valley. Exchange your vows overlooking the pristine green (complete with mountain backdrop) before heading into the charming barn for your reception. The barn's cathedral ceilings and votive candles (there are more than 200 of them lining the walls!) create a magical atmosphere that will have you swooning. The in-house events team will take care of everything needed to ensure that your wedding day is flawless, from event set up and breakdown to catering services and rentals.
Learn more about The Barn on Mullan »