So, You Want to Elope?
If a big, splashy wedding just isn't your thing, you may want to elope. Here's how to make it happen.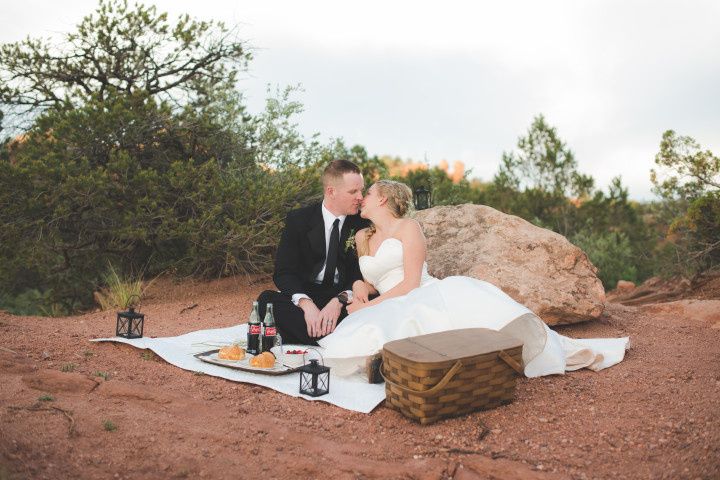 For some couples, a big, over-the-top wedding just isn't their style. And neither is a small, intimate wedding. These couples will likely want to elope, which means that their nuptials will be completely private—no family, no friends, no guests at all. Elopements can be super-romantic ("let's run away and get married—today!") and they certainly require less planning than a full-on wedding. However, elopements do require some forethought, and it's best to do some preliminary research to ensure eloping the right move for you and your future spouse.
Want to elope? Read on to learn the steps it will take to planning the elopement of your dreams.
Okay, so what exactly is an elopement?
At various points during wedding planning, many brides and grooms might say they want to elope. But do they really know what eloping actually means? An elopement is a simple, secret wedding where a couple marries in a private setting without informing friends or family members in advance. As mentioned, there are no guests present, and there's no reception. An elopement is different than a "surprise wedding," where a couple invites loved ones to a non-wedding event that turns out to actually be a wedding. It's also different than a super-intimate wedding, where only a few close loved ones are invited. An elopement means complete privacy and usually occurs quite suddenly.
Consider if eloping is really right for you.
Elopements aren't for everyone. By eloping, you likely won't inform your family members and friends that you're marrying until after the fact—not even your parents. Some parents might be cool with this, while others would be deeply hurt if they didn't witness their child's wedding. If you think eloping might cause a major rift between you and your family members or friends, think twice. A small, intimate wedding can have a very similar feel to an elopement, but it will allow your nearest and dearest to be present during your special day. Also, if you think you'll regret not having loved ones by your side while you exchange vows, an elopement probably isn't for you. If wedding planning has become overwhelming and you're ready to throw in the towel and elope, take a step back and have an open and honest discussion with your partner to see if eloping is really the right move, or if you just need to de-stress.
Choose a location.
When you think of an elopement, you probably think of two locations: the local courthouse and Las Vegas. And yes, many couples choose to elope at their local courthouse or government building because it's easy, quick, and romantic. And because Las Vegas has no waiting period between receiving your marriage license and when you can actually wed, it's the elopement capital of the country—there are lots of chapels and other elopement venues to choose from. However, if you have a bit more time and are willing to do a little planning, you might want to elope at a scenic location locally or far away. Perhaps a favorite vacation spot, a National Park (you might need to get a permit, though), a famous landmark you've always wanted to visit, or somewhere else—the world is your oyster! Many hotels and resorts offer elopement packages that may be worth investigating. Not only will picking a unique location feel more personal, think of the amazing photos you'll be able to capture!
Read up on the legal requirements.
If you want to elope, you'll need to check out the marriage laws and requirements in the state or country where you'll wed. Many states have no waiting period, meaning that you'll be able to get your marriage license and wed on the same day. But other states require that you wait a day or more between receiving your license and marrying. In fact, in Wisconsin, you'll have to wait six days. If you choose to marry at city hall, you might need to make an appointment and bring witnesses. Be sure to bring all the necessary documents when applying for your license. And if you're marrying in another country, it's best to get your marriage license in the U.S. before heading abroad, as it may be more difficult (or impossible) to legally wed abroad, depending on the country where you're eloping.
Yes, you'll probably have to hire some vendors.
Many couples want to elope to avoid the work and potential stress that comes with planning a traditional wedding. However, you will have to hire a few vendors, even if you're having the most casual elopement. An officiant is a must (though officiants are provided at city hall weddings), and you'll likely want a photographer on hand to capture the big moment, and perhaps take some fun and romantic portraits before or after you say "I do". You may also want to enlist a florist to make a bouquet and/or boutonniere, and of course purchase some new attire for the occasion (of course, you don't have to purchase a traditional wedding dress or tux, but you can if you want to!). And even if you're not hosting a traditional reception, you might want to make a reservation at a special restaurant to celebrate. Enlisting these vendors may take some time, but you'll be glad that you had some pros on hand to ensure everything runs smoothly.
Announce your marriage—and celebrate (if you want).
While an elopement is secretive and private by nature, you will need to announce your marriage to your loved ones at some point. Try to share the news to your closest family members and friends either in person or via phone. We also recommend sending out formal marriage announcements (yes, via snail mail) rather than simply posting on social media—though it's totally up to you. Some couples also choose to host a post-elopement party, usually a super-casual event like a happy hour or backyard BBQ, where you can celebrate with loved ones in person.