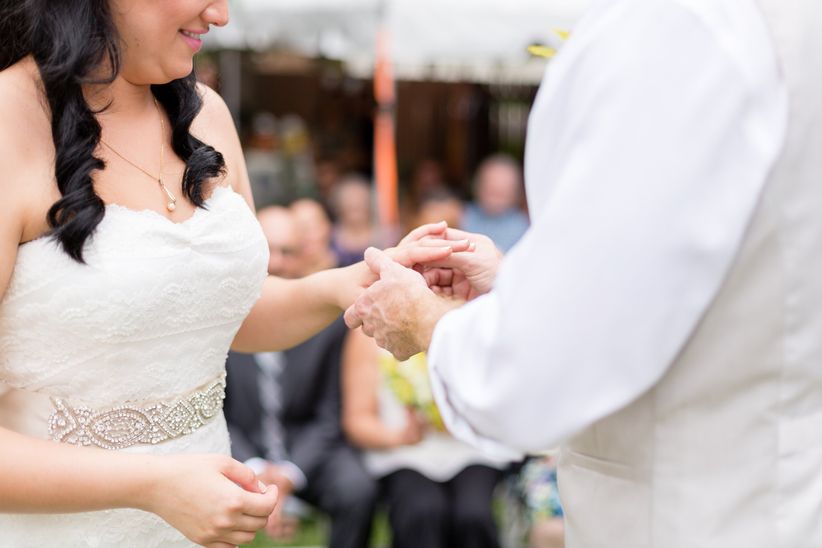 Photo: Stephanie Rawcliffe Photography
For couples who want to plan something completely out of the box, a surprise wedding may be just what they're looking for. It offers couples a chance to plan an event that most of their family and friends have probably never attended, and gives them a chance to plan a wedding with minimal input from everyone since very few are in the know. "A surprise wedding can be the right fit for couples who are looking to simplify, or who are worried about the unavoidable stress from uninvited input and help from family and friends," Katie Wilgus of Gather Event Planning in Portland, Oregon says.


Whatever reasons you may have to plan a surprise wedding, here are seven things to keep in mind to ensure that it goes off without a hitch, and without anyone ruining the surprise.
Don't tell too many people.
It may seem obvious, but the more people who know about your surprise wedding plans, the more likely it is that the news will get out. Tell as few people as possible, and make it clear that it's a secret and they cannot share the details with anyone or on their social media channels. "The personal relationship between the couple and their immediate family should dictate who is let in on the secret," Joanna Lenck of
Square Mile Events
in New Jersey says. If you're not sure if someone can keep a secret, don't tell them.
Create a cover-up event.
To ensure that your friends and family will attend your surprise wedding, invite them to an event that will guarantee their attendance. "Without understanding the importance of the event, people may feel more casual or less inclined to attend," says Katie. "It may be challenging to get out of town guests to fly in without a great reason." You may want to pretend it's your
engagement party
or a BIG birthday celebration. The more important the reason for the party, the more likely it is people will RSVP yes. "And if a couple is inviting out-of-town guests who they really want to be a part of the big day, they should share the details about a secret wedding because the guests may be less apt to fly in for a milestone birthday than a wedding," advises Joanna.
Tell vendors it's a surprise.
Don't forget to let your
wedding vendors
in on the secret. You can even include in your contract that it's a surprise wedding if you want to be extra precautious. "Many vendors log their planning process, design inspiration and real client stories on social media platforms leading up to a wedding or special event," says Joanna. "A surprise wedding should be communicated to each vendor so that they have clear expectations of what they can and can't share with the social media community leading up to and during the wedding." They may also have some super-creative ideas that would be perfect for a surprise wedding!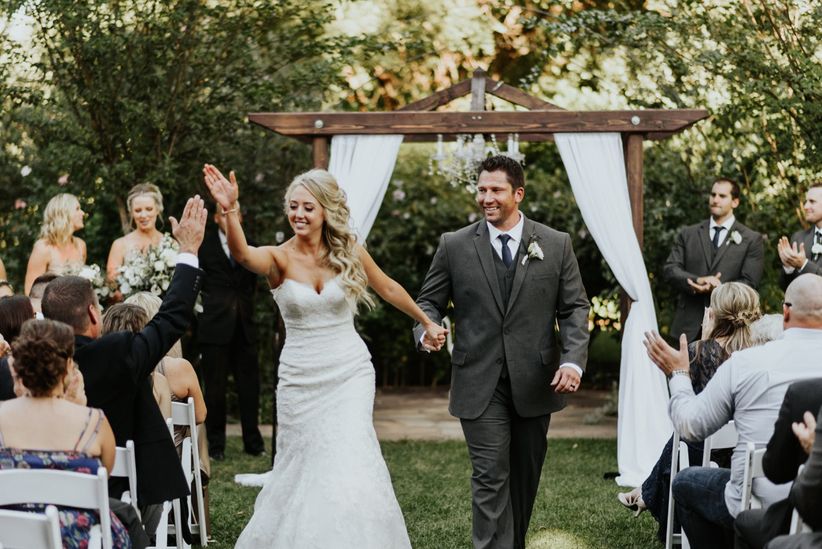 Photo: Matthew Lim Photography
Don't be surprised if some people get upset.
Your family and friends may be disappointed, though happy for you, that they weren't in on the surprise or any of the planning. They also may be disappointed that they didn't have the opportunity to
plan a bridal shower
or a bachelor/bachelorette party for you. Let them know how happy you are that they are celebrating this special day with you, and give them the green light to plan the other parties to toast the newlyweds!
Hire a wedding planner.
Regardless of the fact that your wedding is a surprise, it is still a wedding, and there are a lot of vendors, logistics and details to manage. Since not many people will be in the know, you won't be able to rely on more than a few close relatives and friends to assist you in advance of and on the day-of your wedding. "Remember that just like with non-surprise weddings there can still be hiccups," says Katie.
Hire a planner
to help you from beginning to end, or at least a month-of planner to help you in the final weeks and on the big day.
Have fun designing the details.
A surprise wedding can have the look and feel of anything you want. You can make it very traditional and romantic or modern and minimal. "The beautiful thing about a surprise wedding is that you get to design it exactly the way you want to," shares Katie. Plan exactly what you've always envisioned whether it's in a ballroom,
a barn
or the backyard. And the beauty of a surprise wedding is that you won't have to explain your decisions to anyone, because no one will know about them until they get there!
Have a short engagement
Don't take the average 13 months to plan a surprise wedding.
The longer your engagement
the more likely it is someone may let it slip as to what you're up to. Schedule the surprise ceremony and reception within three to six months of deciding that you want to plan a surprise wedding. And in that window an engagement party may be the perfect reason for everyone to celebrate with you!