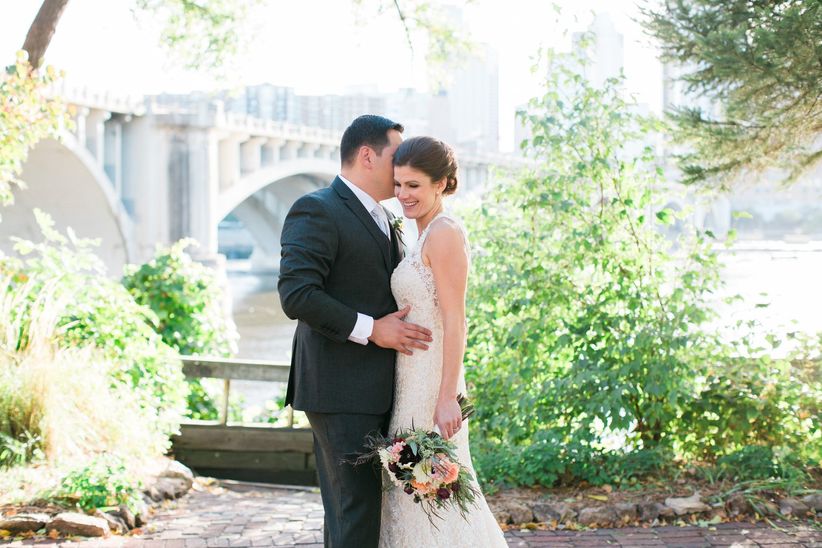 Photo: Eileen K. Photography
If you're planning a Minneapolis wedding and need some help when it comes to searching Minnesota wedding venues or just learning the ins and outs of the Twin Cities' region, we've got you covered. This go-to Minneapolis wedding guide will provide you with everything you need to know about planning a wedding in the area, from wedding accommodations to the best things to do in Minneapolis.
This Minneapolis wedding guide is a lifesaver if you're planning to wed in the Twin Cities.
Basics
Minneapolis—which neighbors Saint Paul and forms part of the Twin Cities—is a great midwestern city to host a wedding. Minneapolis weddings have been popular not just because the city is known for hosting one of the best state fairs, but because the city is one of the largests in the state of Minnesota. Minneapolis has an an estimated population of 400,000 and also has plenty of different event spaces and venues for couples to choose from. The area is filled with scenic parks and lakes, and is home to the famous contemporary art museum, the Walker Art Center. The city is also budget-friendly with an average wedding cost of just over $23,000, less than the national average of $28.000.

Getting There and Getting Around
Located in Hennepin County, Minneapolis is also an easy city for guests to travel to, since it's international airport is located right in the middle of the Twin Cities metro area. The Minneapolis-Saint Paul airport is a hub for Delta and Sun Country Airlines and provides out-of-town-guests with plenty of flight options. The Twin Cities region is also about a six hour drive from Chicago, lies on both banks of the Mississippi River and is one of the most accessible cities in the area.

Once you get into the city, you can easily walk around the downtown area (and stay warm!) with the Minneapolis Skyway. This indoor walkway system links many downtown buildings and, fun fact, it is one of the longest skyway systems in the world! There's also a light rail, public buses and Ubers and taxis that can be used to travel around the city.
Weather
Minneapolis is known for having all four seasons with cold winters. The average temperature in January and February usually doesn't reach higher than 30 degrees Fahrenheit and the city often gets a decent amount of snowfall. So, if you're planning to wed in the wintertime, you should definitely opt for an indoor venue. The other season are all pretty moderate with July and August reaching in the low 80's. June is the most popular month to wed, since it averages in the mid to low 70's. As for the spring, these are the wettest months with March being the most days with precipitation.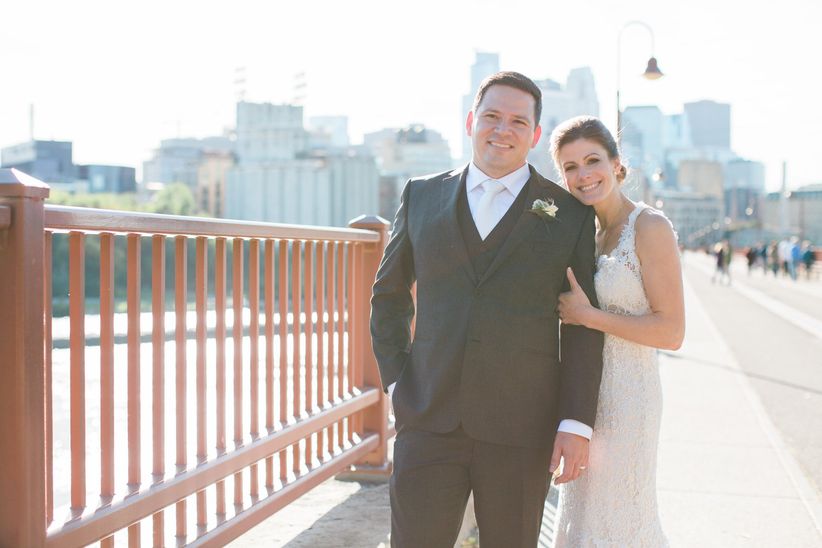 Photo: Eileen K. Photography
Wedding Venues
Many Minnesota couples opt to have a Minneapolis wedding because they have a variety of venues and event spaces to choose from. These venues can be easily dressed up to match any wedding style and some even include scenic city backdrops. These skyline backdrops are great for romantic couple portraits or even silly wedding party pics. If you're hoping to have a city backdrop for your big day and also a venue you can easily transform then definitely check out the chic Windows on Minnesota or the classic Grand Hotel Minneapolis. These downtown venues offer up a scenic and one-of-setting for vows and celebrations. Not looking for a downtown wedding venue? Don't fret! Minneapolis also has a variety of venues that showcase the city's natural beauty. Some of our favorites include Leopold's Mississippi Gardens, Earle Brown Heritage Center and the elegant ballroom in the Minneapolis Club.
Marriage Laws
Couples who are hoping to have a Minneapolis wedding must follow the state's marriage laws and obtain a Minnesota marriage license beforehand. The state has certain laws in place that must to be followed in order to get married in city, such as providing a social security number, paying a marriage license fee, and more. In order to make sure that nothing ruins your big day, you and your future-spouse should go over all the necessary requirements before the wedding date approaches.
Wedding Accommodations
Downtown Minneapolis has some of the best hotels in the area, since that is where most of the theaters and art centers are located. There are also plenty of national brands throughout the city that provide an affordable and comfortable place for guests to stay. Many of Minneapolis' hotels even allow couples to arrange room blocks for their big day—so guests can get a discounted rate.
Things to Do In Minneapolis
It is always important to provide your out-of-town guests with some things fun to do and see around the city. This can be included in a welcome bag or listed on your wedding website to ensure that your guests are well-informed about the city and also the celebrations, too!

• Walker Art Center
One of the most-visited modern arts museum in the country, the Walker Art Center offers a variety of gardens, galleries and cinema for guests to check out and enjoy.

• Minneapolis Sculpture Garden
Adjacent to the Walker Art Center the Minneapolis Sculpture Garden is a must-see. With over 40 permanent art installations this 11-acre park is one of the largest sculpture gardens in the country. It includes the quirky and iconic Spoonbridge and Cherry that is perfect for photo ops and more.

• Mall of America
Shopaholics absolutely should check out the The Mall of America if they are hoping to get some shopping in during their visit. The Mall of America is located just outside Minneapolis in Bloomington, Minnesota and is the largest mall in America.

• Local Breweries & Distilleries
Minneapolis has plenty of hip breweries to check out if you're a beer or cocktail lover. Inbound Brewco attracts crowds since it has a cool and vibrary brewery taproom. Some others include Fulton Brewery Company and Tattersall Distilling.

• Theater District
Minneapolis also has tons of theaters and orchestra halls that are known for showing world-class theatrical performances. From the Orpheum Theatre to the State Theatre, if you have a love for arts definitely check out the city's Theatre District.

• Good Eats
Minneapolis has a wide range of restaurants to choose from. If you love French-Inspired fare and an elegant ambiance, we suggest checking out chic new restaurant Spoon and Stable. Or if you're hoping to find something upscale with an Italian-inspired menu, definitely swing by Zelo for a delicious and formal meal. Don't want something formal? Check out Heyday for small plates, a classic cocktail list and a rustic, low-key vibe.

Minneapolis Wedding Inspiration
Ready to start planning your big day, but need some help when it comes to wedding decor, trends and more? Don't fret! We've rounded up our favorite Minneapolis weddings that will help inspire you. Just check out these couples who all threw a spectacular Minneapolis wedding.

Melissa and Erik's modern-meets-rustic wedding in Minneapolis
Emily and Mitch's Minneapolis warehouse wedding
Amanda and Matt's loft wedding in Minneapolis
Konila and Olyad's garden wedding in Minneapolis
Tonya and Adam's book-inspired Minneapolis wedding