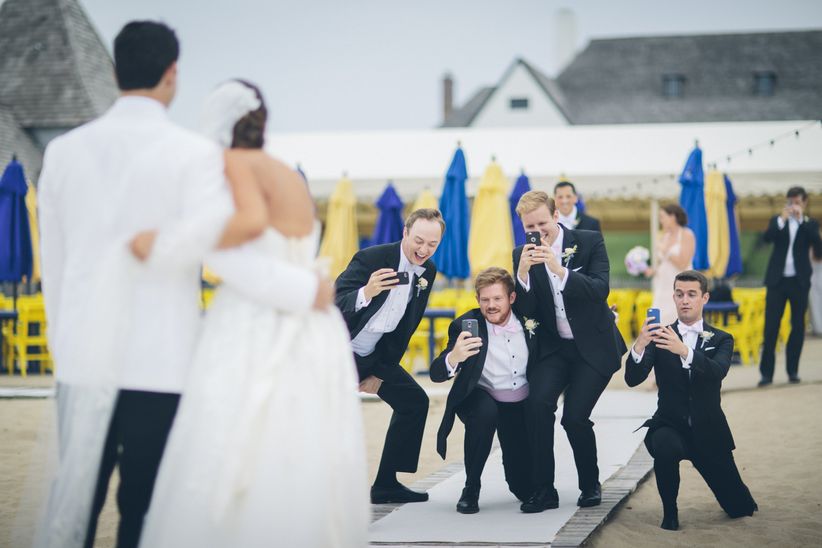 Photo: Kane and Social
Amazing as it sounds, you can pretty much plan your entire wedding from your phone, which means you don't have to be glued to your computer (and your desk) to be productive. With all of the amazing and useful apps out there, your phone can easily become mission control for all of your wedding needs.


Check out this list of apps, download 'em, and plan your wedding on-the-go!
WeddingWire App
With the new WeddingWire app, you can search for and contact wedding vendors, organize your budget, refer to your customized checklist, browse inspiration, and much more, all from your mobile device.
WedSocial
This app helps you stay connected with your guests. It syncs up to your
WeddingWire wedding website
and allows your guests to view all of your wedding details on-the-go. Even better, it aggregates all of the photos your guests take during your wedding so you'll be able to relive the memories later on.
Periscope
This is a great app if you have family and friends spread out across the country (or world), or a spouse-to-be that is frequently traveling. You can livestream your venue tours, dress/attire shopping, or other wedding-planning-related meetings with this app so that everyone, near or far, can be included!
Instagram
Many wedding professionals have Instagram accounts, so it's a good way to check out their work on a day-to-day basis. You'll also find lots of wedding inspiration from other sources (including WeddingWire, of course!), and use your wedding hashtag on any wedding-related photos you post.
Venmo
This app helps you make and share payments with friends, so it's ideal for wedding party members. Whether they're chipping in for the wedding gift, paying for the bridesmaid dresses, or splitting the bill during the bachelor party, this is a useful app to have to make splitting payments much easier.
RoadTrippers
This is a must-have app for visiting multiple venues (or dress salons, or other vendors)—especially for those hosting a destination wedding. It will help you organize and plan your trip, and even direct to great lunch spots or other attractions along the way.
TripIt
Whether you're hosting a destination wedding or planning your honeymoon, this app will help keep all of your travel details (airline and hotel confirmations, restaurant reservations, etc.) organized. It's especially great if your honeymoon involves multiple destinations.
The 7 Minute Workout
Looking to get in shape for your wedding but don't have a ton of time? This app provides you with short workout ideas to help get your body moving before the big day.
Shazam
It's happen to all of us. You're listening to the radio, or in line at the drug store, or in a bar, and you hear the perfect first dance song—but what's it called? Who sings it? Use this app to discover all of the details about a song so you can tell your bandleader or DJ about it later.
Weather Underground
If you're hosting an outdoor wedding, a weather app is a must. Take a look at the extended forecast in the days before your wedding, so you can have enough time to put together your Plan B if needed.