Is a Destination Wedding a Good Idea?
Wondering if a destination wedding is a good idea for you and your partner? These pros and cons will help you decide.
We have included third party products to help you navigate and enjoy life's biggest moments. Purchases made through links on this page may earn us a commission.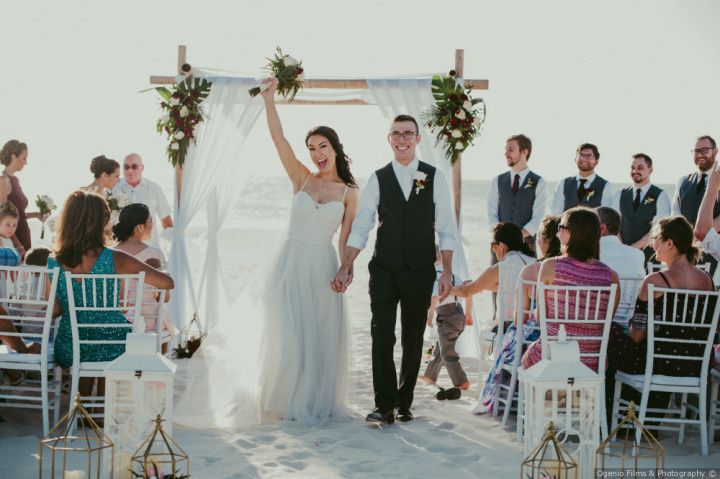 As wanderlust grows, so does the appetite for getaway nuptials that take your biggest day to a big, big place. No matter how you define a 'destination' wedding — from Bali to the Bahamas — more and more couples are considering this avenue for their grand affair—and even more are wondering if a destination wedding is a good idea for their big day.
In fact, according to a WeddingWire report, 1 in 4 couples consider their wedding to be a destination wedding. "As with much of life, couples want their wedding to be a reflection of themselves - their dream travel destinations, perhaps share a bit of their history, and provide their guests with an experiential, one-of-a-kind memory," John Tobey of John Tobey Event Design in Denver, Colorado explains. Though they are trendy, they aren't all fun, games and passport stamps. As wedding experts and planners warn, there are plenty of perks to a destination wedding — but also many setbacks.
If you're wondering if a destination wedding is a good idea for you and your partner, here are some important facts to consider.
Pro: They're smaller — and more intimate.
By definition, John says destination weddings have a smaller guest lists. This is widely due to the ability of your loved ones to jet set or take off for an extended weekend — or week. Though that's definitely a negative (more on that later), it can also be a positive if there are some tricky family members you should invite but you don't really want them to attend. Based on sheer numbers, John says destination weddings also tend to feel more intimate and authentic. "As a bride or groom, with a smaller destination wedding, you can share in the guest experience, and spend more time with each person in attendance — be it stand up paddle-boarding on a lake in Colorado or holding your rehearsal dinner on a private beach in Bali," he continues. "Everyone is basically on vacation, relaxed and ready to have fun, and we find that people participate more fully in all activities, forging new friendships or reconnecting in a more genuine way. It really speaks to current values and provides quality time in a hectic world."
Con: You will likely pay for more.
No matter how you slice or dice it, a wedding is going to cost a pretty penny. Though there are plenty of ways to make your celebration more cost-effective, it's a bit of a myth to think a destination wedding is more affordable. How come? As Tracie Domino of Tracie Domino Events in St. Petersburg, Florida explains, you'll end up paying more for various activities than you would back home. Not only are you responsible for your own flight and accommodations, but many couples will be tempted to also set up tours, welcome dinners or parties and other travel-oriented expenses for your guests. Though this definitely makes the whole long weekend that much more dazzling — it can also come with a bill at the end.
Pro: They allow you to organically pare down your guest list.
That friend-of-the-family who always makes a scene? Your partner's great-uncle who always has a bit too much to drink? That high school friend who invited you to her wedding, so now you feel obligated to return the gesture? Before you know it, that 'quaint' wedding you dreamt of is now bubbling with a long, long list of guests. But if you take your celebration abroad, you don't have to explain yourself. Or rather, it's easier to detail why they didn't receive a save-the-date, according to John. "It is much easier to explain to your third cousin twice removed or that enthusiastic co-worker that the villa you rented in Italy only has space for your immediate family and your wedding party," he explains.
Con: Traveling is tough for older generations.
While not everyone is close to their grandparents, for duos who want elders to be part of their event, a destination wedding can be a hindrance. Not only is it more difficult to fly but accommodations must be accessible for wheelchair-bound senior citizens, which can sometimes be a tall order. Not to mention everything they need that a typical 30, 40 or 50-something person does not require. "Travel can be stressful enough when you are packing for yourself, but when your packing list requires that you have to arrange for oxygen or medical equipment it adds an extra dynamic that should be considered," John continues. "Altitude sickness can strike anyone at any age, but is particularly trying for elderly guests. International destinations and exotic locales might mean your guests need to think about vaccinations."
Pro: You have more freedom.
While you are always on your A-game in the office, the mere thought of planning a wedding from top to bottom has you shaking in your boots. Not everyone wants to be super-involved in every-last-detail of their ceremony and reception — and that's okay. Leah Weinberg of Color Pop Events in Long Island City, New York says there is an incredible amount of freedom that comes with a destination wedding. Or in other words: you can just have to make an appearance and let the venue do the rest of the nitty-gritty stuff for you locally. "If you do not want a lot of responsibility with the wedding planning, an all-inclusive location is the perfect pick. These options are most common in tropical resort locations but can be found in other destinations with a little bit of work," she continues. "Photographer, florist, food, all the details are handled: you just pick your location and show up and you have a wedding!"
Con: Remote locations and small destinations can present unexpected difficulties.
...on the other hand, off-the-beaten-path locations are beautiful — but they aren't always organized. If you do want a hand in the planning process, you may run into various roadblocks, cultural differences and other unexpected, unpredictable hurdles. This especially happens when you can't find a seasoned, experienced wedding planner in your destination wedding locale. "Be prepared to spend many hours on the phone and your laptop searching for your must-haves, whatever they may be. We advise our clients to do a lot of research about their destination before they commit to it, or to adopt a more flexible and open outlook about their wedding," he suggests. "That favorite flower you have always wanted in your bouquet might have an agricultural ban in another part of the world. Go local and embrace the culture of your particular wedding destination."
Pro: You can show your favorite place to your favorite people.
Even though you thought you knew what you wanted in your wedding before you met your partner, now that you have, everything has changed. He's from Europe, so now you're mesmerized by the idea of saying 'I do' in his home city, and flying your parents over for the adventure. Or perhaps, you got engaged in the Caribbean and now that tiny island holds a special place in your relationship. Whatever the reason for choosing a destination wedding, one of the most amazing benefits is the opportunity to show your favorite place in the world with your favorite people. As John explains, it's a gift you not only give to each other — but to the community that will support and celebrate your marriage.