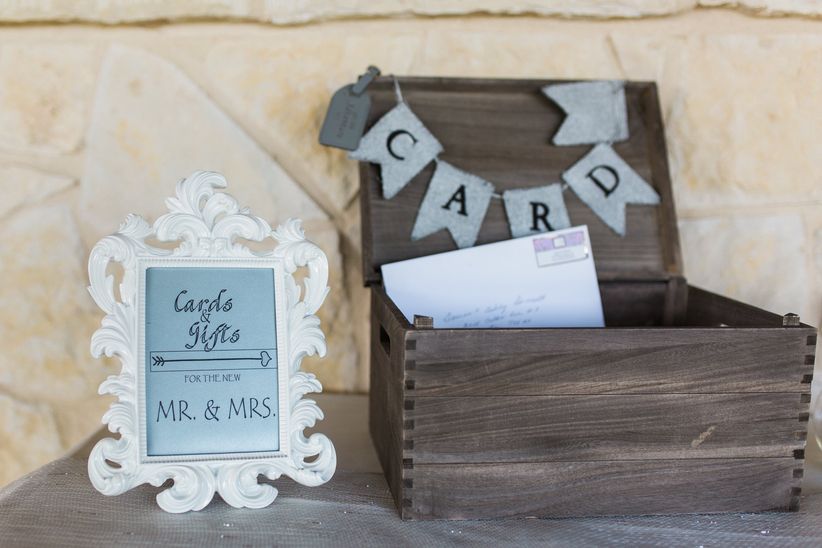 Can you give cash as a wedding gift? What about cutting the couple a check? And if so, what's the appropriate wedding gift amount — how much should you give for a wedding gift? While it's not all that uncommon to stray away from a couples' wedding registry and opt to fill a card with a check, there are certainly a few things to consider — budget, your relationship to the happy couple, and if you're bringing a guest — when giving wedding gift money. We've got all your questions answered below.
So, how much money to give for a wedding gift? Here are the top five things to know.
1. First and foremost, is it okay to give wedding gift money?
Let's set the record straight: Giving money as a wedding gift is one hundred percent okay. Money for a wedding gift can replace buying something off of a registry, or even contributing to a honeymoon fund. And just try to find a couple — just on the tail end of planning a wedding and honeymoon — who wouldn't appreciate the extra cash! In fact, since most couples live together before marriage these days, they often have everything they need in their abode. More than not, they'll appreciate a little extra towards savings. That being said, when it comes to wedding gift money and the proper wedding gift amount, things can get confusing.
2. Once and for all: How much to give for a wedding?
While there is no maximum wedding gift amount, you should avoid a check for less than $50. And this rule applies to every wedding — be it a small backyard nuptial or an over-the-top 200-person affair. The old adage of matching the cost per head is obsolete; your gift should not be about reimbursing the couple for their wedding day. On average, most guests will spend between $75 and $150 on wedding gift money, according to Tendr. And if you're still struggling to figure out how much to give for a wedding gift, Tendr reports the national average for wedding gift money is $160. All the being said, what you spend also depends on if you're going solo or with a date.
3. How much should one person spend on a wedding gift?
When you're giving money for a wedding gift and attending solo, etiquette says you should spend about $50 to $75. But you may want to also consider the couple you're celebrating. If it's a coworker, or someone you just catch up with from time to time, the lower end of the spectrum is appropriate. For a close friend or family member, consider going higher, to the $75 range, or even to $100.
4. How much wedding gift money should a couple give?
If you've been invited to a wedding with a date, that $150 number is more appropriate for wedding gift money etiquette. Again, think of your relationship with the couple. For closer friends and family, you may want to consider going to $200, or higher if you can afford it. For others, $100 to $150 is more than okay as a wedding gift amount.
5. Should I bring the wedding gift money to the reception or mail it beforehand?
Either! If you plan on giving cash or a check though, plan to put the wedding gift money in an envelope so it doesn't get lost. There should be a box or designated gift area at the reception where you can safely place it. Opt for slipping your wedding gift money in the card box over handing it to the couple in person — they'll be so overwhelmed, you don't want to give them one more thing to keep track of. Just make sure you sign the check! And if you're giving cash be sure to include a card with your name so the couple can thank you appropriately.