Yes, Even If a Wedding Is Canceled, You Should Still Give a Gift—Here's Why
COVID has complicated the already murky waters of wedding gift etiquette. Here's everything a guest needs to know about gift giving if the event has been postponed or canceled.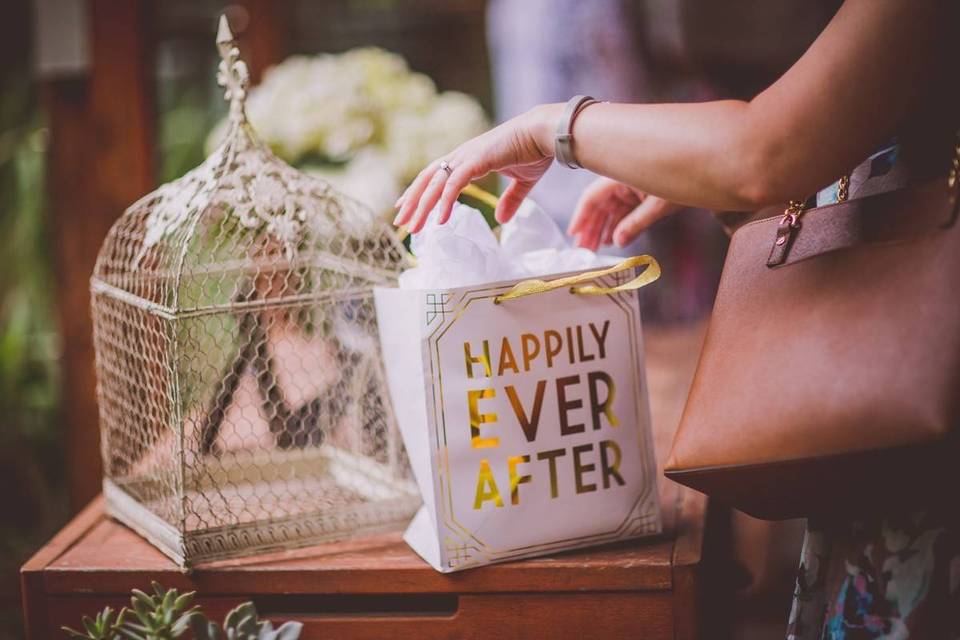 Wedding gift etiquette has always been a tricky subject, but the COVID pandemic has made things even more complicated. As couples postpone their weddings or opt for smaller events like minimonies, guests are likely wondering what exactly to do about gifts. If you were invited to a wedding that's been postponed, when should a gift be purchased? What if the couple opted for a virtual wedding or elopement instead of a bigger event? And how much should you spend on a gift if you're not attending the wedding?
Here's everything you need to know about wedding gift etiquette during COVID.
I was invited to a wedding that got postponed due to the COVID pandemic. Should I wait until the new date to send a gift? Do I have to send a gift for both the original date and the new date?
You only need to purchase the couple one gift, and we recommend sending it around the time of their original wedding date. Doing so gives the couple something to celebrate during what's sure to be an emotional time, and it will also help the engaged pair start their life together when they originally planned. You do not have to purchase another gift for the postponed wedding date, but giving a handwritten card when that time comes is certainly a thoughtful gesture.
I sent a gift and the wedding was postponed soon after. Can I ask for my gift back?
If the couple still intends on getting married, then you shouldn't ask for your gift back. Yes, gifts are traditionally returned in situations where the couple calls off their wedding entirely, but that's not the case here. In many cases, couples have been forced to alter their wedding plans, whether that means elope, host a virtual wedding, have a minimony, or postpone to a later date. Even though circumstances have changed, you're still celebrating their upcoming marriage—so let them keep the gift.
Do I have to send a gift for a virtual wedding?
Wedding gifts are sometimes viewed as an exchange between couple and guest—the couple feeds and entertains you, you give a gift to "cover your plate." That's actually not how it works. Gifts are given as a symbol of your love and friendship, and to help the couple start their new life together. And that applies whether the couple is hosting an in-person wedding or a Zoom ceremony. So if you're attending a virtual wedding, you should indeed send a gift to the engaged couple to show your support.
The couple decided to have a minimony and I wasn't invited. Should I still send a gift?
Many couples have been forced to alter their guest lists in an effort to keep everyone safe amid the COVID pandemic. If a couple opts to have a minimony and you weren't invited, don't be insulted—the couple is taking your safety seriously. And yes, if you were invited or received a save-the-date to the couple's original event, you should still give a gift. The couple did want you to join their celebration, and getting them a gift shows your support.
I was invited to a couple's small wedding, but decided not to attend. Do I still need to send a gift?
Yes, wedding gift etiquette dictates that while you don't have to give a gift if you're not attending a wedding, it's still a good idea—especially if you're close with the couple.
The couple canceled their wedding and haven't announced if they're rescheduling. Do I have to send a gift?
The couple is likely trying to figure out their next move—perhaps they're planning to elope, or hosting a minimony. We still recommend sending the couple a gift timed to their original wedding date. They'll certainly appreciate the gesture as they try to put new plans in motion.
How much should I spend on a gift if I'm not attending the wedding?
The average guest spends about $120 on a wedding gift, but if you're not attending the wedding, you can certainly spend less than that. However, if you're very close with the couple, you might consider spending what you normally would, even if you won't be present for the nuptials. Either way, your best bet is to take a look at the couple's wedding registry and select a gift at a price point you're comfortable with.