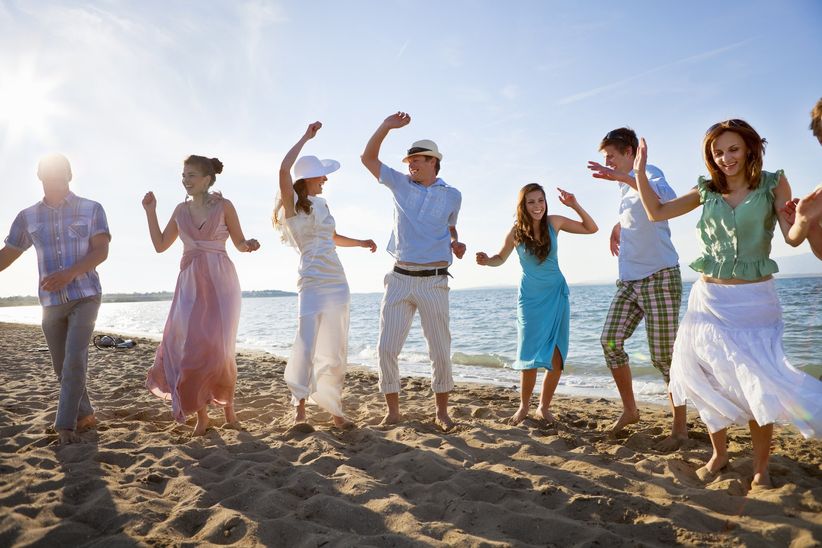 You've got the stack of wedding invitations, you've locked in those RSVPs, and now it's time to decide what to wear to a summer wedding. You want to dress to impress, of course, but before raiding your closet or browsing the stores, remember proper guest etiquette includes your fashion choices. It's important to make sure you feel comfortable and confident rather than sticking out like a sore thumb.
Not sure where to start? Forget the wardrobe stress and follow these simple guidelines to be the guest who knows exactly what to wear to a summer wedding.
Don't Assume Summer = Casual
When the days grow longer and the temperatures get hotter, wardrobe choices tend to become more carefree and casual to reflect the summer season. It can be easy to assume that mentality applies to all your summertime events, but remember that warm-weathered weddings don't always equal a casual dress code. As a rule of thumb, always refer to the invitation for your dress code cues. Take note of the venue, the time of the event, and the formality of the invitation itself to be your fashion guide.
Opt for Seasonally Appropriate Fabrics
Whether it's an outdoor ceremony in the heat of the day or a barn reception sans air conditioning, bear in mind that when it comes to what to wear to a summer wedding, breathable fabrics are your friend. Avoid anything too heavy or itchy and steer clear of fabrics like velvet that have a distinct winter feel. Instead, opt for linen, silk, cotton or chiffon attire allows you to look your best but also feel great too.
Carefully Consider Shoe Choice
Equally important to your dress or suit choice is the shoes you pair with it. If you're attending an outdoor summer wedding beware of sky-high stilettos sinking in the grass and consider a wedge or, if the occasion calls for it, a dress sandal. For most events, both open and closed toe shoe choices are appropriate for women, while men should stick to closed toe shoe options only.
Say No to Shorts
Unless the couple clearly say otherwise, always assume shorts for a summer wedding is a no-go. While it may be tempting to wear your most comfortable attire, remember that this event is an important celebration, not to mention a fun opportunity to dress a bit more formal than your day-to-day look. Of course, there may be exceptions to the rule, such as a beach or backyard wedding, but when in doubt, leave the shorts at home.
Forget the Flip-Flops
When it comes to what to wear to a summer wedding, flip-flops and shorts go hand-in-hand as general no-gos Similarly to shorts, flip-flops—particularly the variety made of rubber, foam or plastic—have an overly casual feel that are best left for the beach. You may find the couple provides a basket of flip flops or casual shoes for late night dancing, but you'll definitely want to wear your more formal footwear for the ceremony and early evening festivities.
Keep Modesty in Mind
Summertime attires often means showing a little extra skin, but make sure your wedding attire isn't turning heads in all the wrong ways. Again, always look to the information on the invite for your fashion cues and whether it's a black-tie or backyard affair, make sure your outfit is both appropriate for the occasion and isn't overly revealing. This rule especially applies if the wedding takes place in a church, synagogue, or religious site.
Avoid White Attire
According to age-old fashion rules, the time between Memorial Day to Labor Day is the perfect time to pull out your white attire. Except when you're attending a wedding, of course. While no guests in white may seem like a dated wedding tradition, it's always best to play it safe and be respectful of the couple's special day. Some modern couples will actually request their guests to dress in all-white, but unless you receive specific instructions always assume otherwise.