Here's What You Should (and Shouldn't) Wear to a Summer Wedding as a Guest
You sent your RSVP and bought a gift from the registry—now, you just have to figure out what to wear. Read our top tips on summer wedding guest attire right here.
We have included third party products to help you navigate and enjoy life's biggest moments. Purchases made through links on this page may earn us a commission.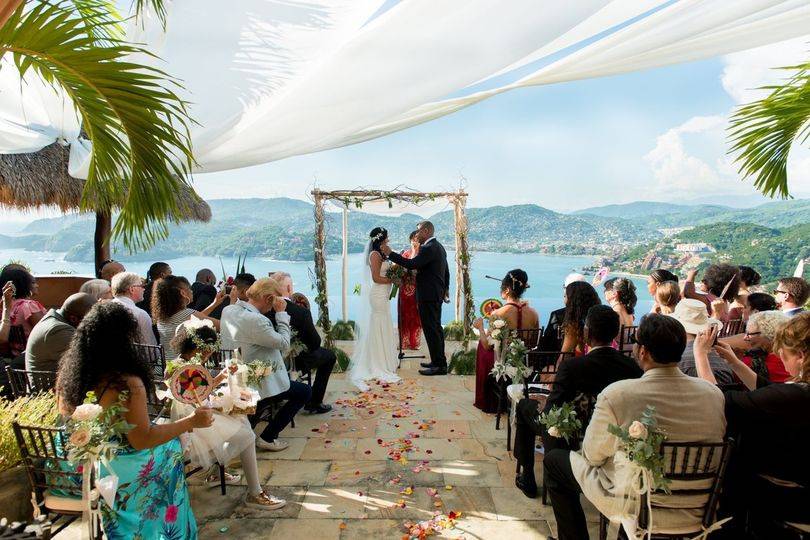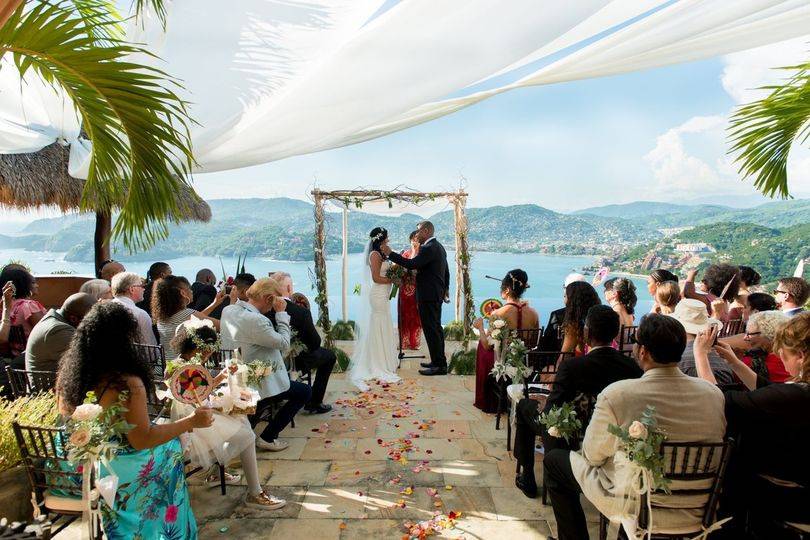 Is there anything more beautiful than watching a loved one tie the knot on a warm summer day? The sun is in the sky and love is in the air—but nice weather comes with its own unique wardrobe challenges. If you're wondering what to wear to a summer wedding, you've come to the right place. We're sharing expert insight on exactly how to choose the right outfit according to dress code, venue, and, of course, season. These tips will help you stay cool and comfortable (without throwing traditional guest etiquette out the window). Keep reading to find out the biggest dos and don'ts of summer wedding guest attire, whether you plan on donning a dress or a seasonal summer suit.
Decipher the dress code.
When the days grow longer and the temperatures get hotter, wardrobe choices tend to become more carefree and casual to reflect the season. It can be easy to assume that mentality applies to all your summertime events, but remember that warm-weather weddings don't automatically equal a casual dress code.
"Summer weddings shouldn't be more casual just because of the season," says Dean Handspiker, fashion expert and Vice President of Retail at popular menswear brand INDOCHINO. "They should be potentially more casual because they're a daytime event versus an evening event, an outdoor event versus an indoor event, and also somewhat led by the venue." With that in mind, the best place to look for dress code cues is your wedding invitation. Let the location, time of day, and formality of the invite itself be your guide.
What to wear to a black-tie summer wedding
Many soonlyweds adopt a formal dress code to make their celebration feel extra special. After all, a wedding is an important occasion no matter the season. "A black-tie event will always require more formal attire at any time of the year," says Blaire Walsh, Style Director at Rent the Runway. But that's not to say you can't wear an outfit that feels a little more summery. "During the warmer months, we see more color, shoulder play, and hemline variation," she explains. For men, a tuxedo is generally expected, but there are ways to make it more summer-friendly. Opt for a suit with a lighter fabric weight or that's made from breathable materials, such as silk or a wool blend.
What to wear to a semi-formal summer wedding
For a semi-formal wedding, Walsh suggests choosing a midi or floor-length dress with a dramatic silhouette, lace detailing, or another playful element. Bold colors and pretty floral prints are also a welcome idea. When it comes to getting suited up, you can ditch the tux, but a smart suit is still a must. While a black suit is certainly an appropriate choice, Handspiker advises against the color for outdoor or tented events in the sun, as it attracts heat.
What to wear to a casual summer wedding
Casual summer wedding attire can be tricky to figure out—but that's what we're here for! "My advice is that it's better to be overdressed than underdressed for any wedding event," says Walsh. The style director continues, "Leave any worn-in items at home and bring the bling!" Similarly, Handspiker believes that a casual wedding still deserves the respect of a proper jacket, a proper shirt collar, long sleeves, and pants with a crease. Baggy and untucked shirts should be avoided at all costs, according to the menswear expert.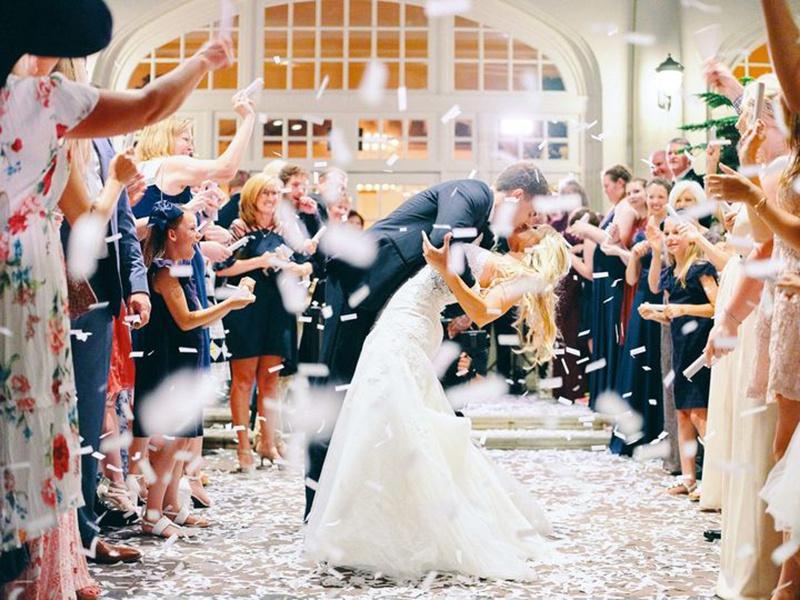 Take the venue into account.
As we mentioned earlier, the type of venue can alter dress code expectations slightly. For example, it's safe to assume that the dress code at an outdoor summer wedding is going to differ slightly from an indoor event—both in terms of style and functionality. But don't worry—so long as you're not underdressed or uncomfortable, you should be fine.
What to wear to an indoor summer wedding
Indoor weddings during the summer come with their own unique challenges (think: air conditioning woes). The best way to prepare for rogue (or no) AC is to dress in layers. With a three-piece suit, you'll look pretty sharp with or without the jacket. An understated pashmina is another subtle touch that can easily be added to (or taken away from) an outfit. One more thing to keep in mind with certain indoor venues is modesty. You'll want to make sure you're appropriately dressed if the wedding is taking place at a religious site.
What to wear to an outdoor summer wedding
"If you know part or all of the wedding will be outside, it's crucial to wear styles that allow for a bit of a breeze and are lighter in fabric," says Walsh. The style director suggests turning to outfits with "cutout details, open backs, or skin-baring necklines." Of course, you should still keep modesty in mind. Avoid anything too revealing, like super-high leg slits or plunging V-necks. Handspiker agrees that lighter fabric choices are key when it comes to outdoor summer wedding attire.
What to wear to a beach summer wedding
While a beach wedding generally dictates more casual attire, you should still check your invitation to make sure the couple hasn't made any special requests. If you're good to go, the next thing to consider is practicality. Walsh advises sticking to styles that are longer and a little more fitted to avoid a Marilyn Monroe moment in the ocean breeze. Handspiker suggests going with "an open-collar shirt as opposed to a shirt and tie" and being a little more adventurous with colors and patterns to nail the relaxed vibe.
Consider the time of day.
The time of the event also plays a role in what makes an appropriate summer wedding guest outfit. According to Walsh, "When attending a daytime wedding, guests have the option to dress a tad more casually with lighter-colored dresses and breezier fabrics."
Confused about what to wear to an evening wedding in the summer? The stylist suggests sticking with ankle- or floor-length hemlines for a formal evening event, while knee-length styles are acceptable during the day.
When it comes to picking out a suit, Handspiker believes that darker colors such as black would fit right in at an evening event. In the daytime, consider playing around with fresh, bright colors.
Opt for seasonally appropriate fabrics.
When deciding how to dress for an outdoor summer wedding, comfort is key. "Nothing is worse than getting all dolled up for a wedding and then sweating it out during the ceremony," says Walsh. If you want to enjoy yourself, breathable fabrics are the way forward. Avoid anything too heavy or itchy and steer clear of materials like velvet that have a distinct winter feel. Instead, opt for linen, silk, cotton, or chiffon attire. For beach weddings, Handspiker recommends a suit made from linen or a wool-linen blend.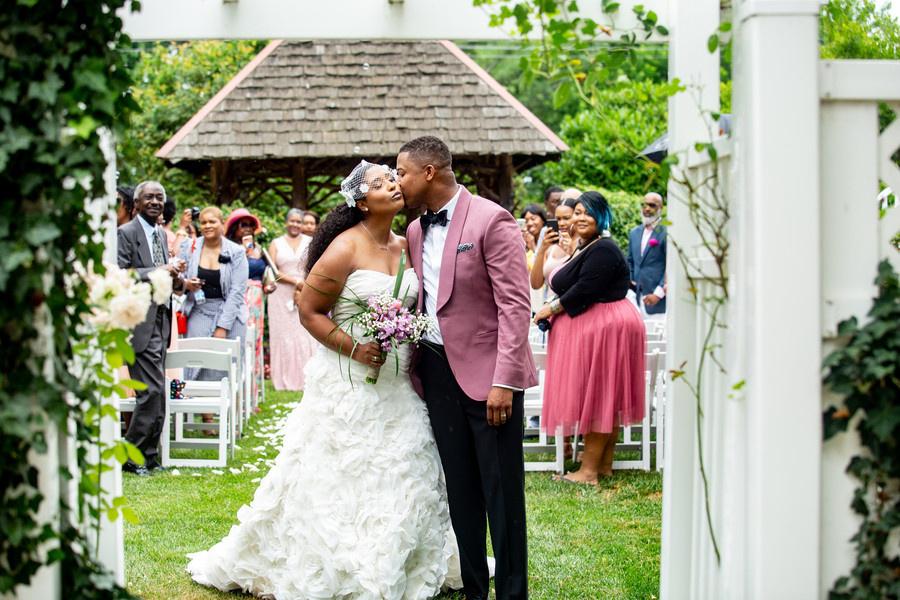 Embrace bright colors.
"Summer weddings are so fun for guests because there's more opportunity to play with bold colors and prints," says Walsh. Bright, cheery shades like red and yellow look amazing during the warmer months. Wondering if you can wear black to a summer wedding? According to the style director, the only shade that's truly off-limits is white—but she does suggest steering clear of darker colors and jewel tones, which are more suited to fall and winter events.
When it comes to men's fashion, darker shades are typical of formal and evening wear all year round, but there are opportunities to embrace a bit of color. For boho-style weddings, Handspiker suggests going with a three-piece suit with a contrast vest in a funkier hue. It's also acceptable to wear a brightly colored suit for more casual daytime events.
Wear appropriate shoes.
Equally important to your outfit are the shoes you choose. If you're attending a summer wedding outdoors, beware of sky-high stilettos sinking in the grass or sand. Instead, consider a wedge or, if the occasion calls for it, a dress sandal. For beach events, Handspiker suggests going sockless with a pair of loafers. Generally, both open- and closed-toe shoe choices are appropriate, but you might want to steer clear of anything that feels a little too blasé (think: flip-flops) unless the invite says otherwise.
Beware of being too casual.
When deciding what to wear to a summer wedding, it's usually best to leave the shorts and flip-flops at home—yes, even in a beach or backyard setting. Unless the couple clearly says otherwise, anything super casual is a no-go. While it may be tempting to wear your most comfortable attire, remember that this event is an important celebration. Handspiker believes it's respectful to the couple and their wedding party to get dressed up, since they'll all be in their best attire. Plus, it's a fun opportunity to dress a bit more formal than your day-to-day look.