21 Summer Wedding Suits for Guests That Perfectly Fit the Dress Code
Invited to a wedding this summer? These stylish suits will help you keep your cool without dissing the dress code.
We have included third party products to help you navigate and enjoy life's biggest moments. Purchases made through links on this page may earn us a commission.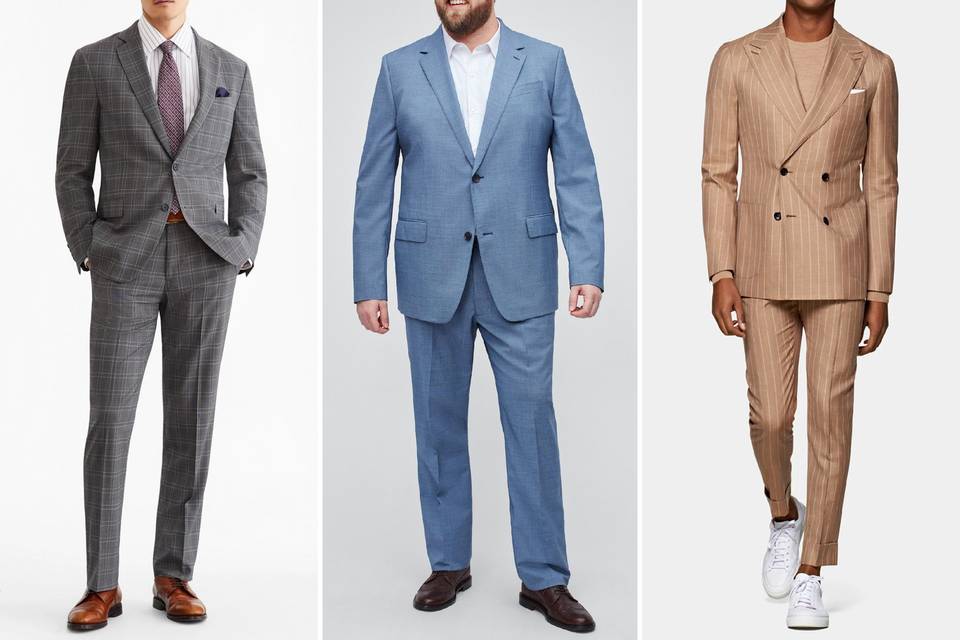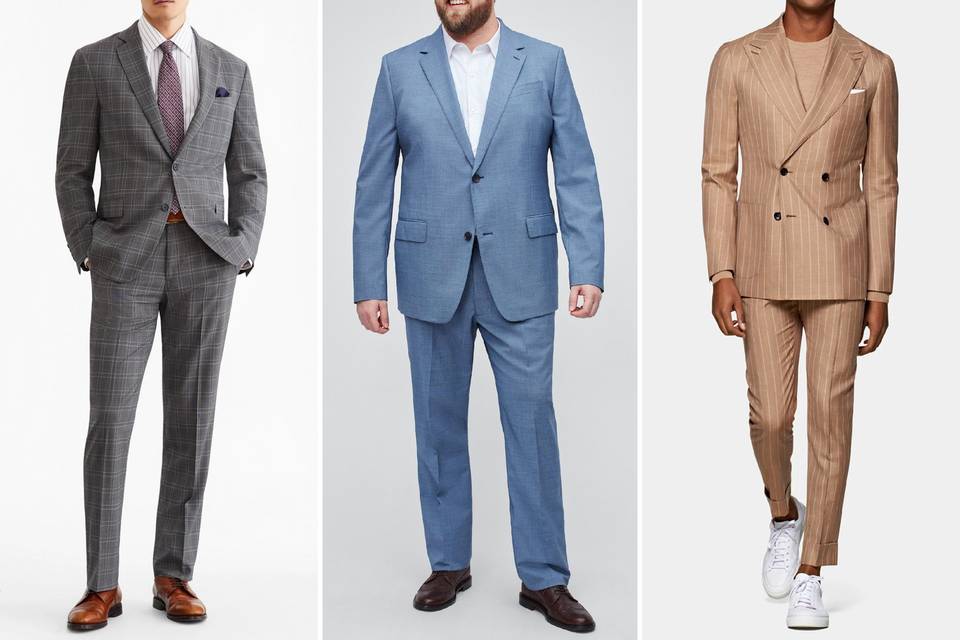 While wedding invitations generally come with a flood of excitement, there's also an unwritten list of to-dos every guest has to take care of before the big day. And when it comes to summer celebrations, deciding what to wear is one of the biggest tasks of all. Summer wedding suits don't just have to look good, they have to feel comfortable too—and that can be easier said than done when hot weather is involved. That's why we're sharing our top tips for buying men's summer wedding attire, including what to look for, where to shop, and our favorite styles you can order online.
What to Look for in a Summer Wedding Suit
Suit criteria changes depending on the dress code, venue, and time of day an event is taking place. That said, there's one thing to pay attention to no matter what: the fabric. Assuming the weather will be warm, lighter materials like linen and cotton are both great options. You also don't have to throw the idea of wearing wool out the window—simply opt for a lighter weight version or a wool that's blended with silk or linen. Seersucker suits are another great option, thanks to the material's durable, lightweight, and crease-resistant qualities.
Summer weddings are also a great opportunity to play around with colors and prints. Bright shades of blue are a popular choice for guests, but don't be afraid to explore other options like light greens, pinks, and purples. If you'd rather keep things subtle, opt for slightly less saturated shades like pastels or skip the colorful suit altogether and play up your outfit with a fun necktie or bow tie instead. It's also good to keep in mind that very formal events (think: a formal evening wedding) typically call for darker hues. If that's the case, you might want to skip the playful prints and go with a classic charcoal gray, navy blue, or black suit.
Where to Buy Summer Wedding Suits
Shopping in person at your local suit store comes with some great perks. You get a personalized experience from start to finish, including help with finding the right style and sizing. Plenty of retailers also offer in-store alterations so you can get everything done in one place. That said, there are lots of great retailers online nowadays offering everything from custom-tailored tuxedos to trendy three-piece suit rentals. No matter your style or budget, there's something out there for everyone. To help you get started, here are three of our favorite men's formalwear websites:
Indochino: Indochino offers a made-to-measure experience from the comfort of your couch. Simply choose a suit from the site's collection, customize the details, upload your measurements, and you're good to go.
Bonobos: Bonobos is another fashion-forward menswear site specializing in formal attire. You'll find a wide range of styles, price points, and sizing to suit your summer wedding needs.
Suitsupply: This trendy brand has suits and tuxedos for every kind of occasion. The site offers lots of contemporary and classic styles made with lightweight summer-ready materials.
Our Favorite Summer Wedding Suits for Guests
Ready to start shopping? We're sharing suitable styles for every dress code and venue, from casual beach weddings to black-tie ballroom affairs. Check out our favorite wedding guest suits for the summer season.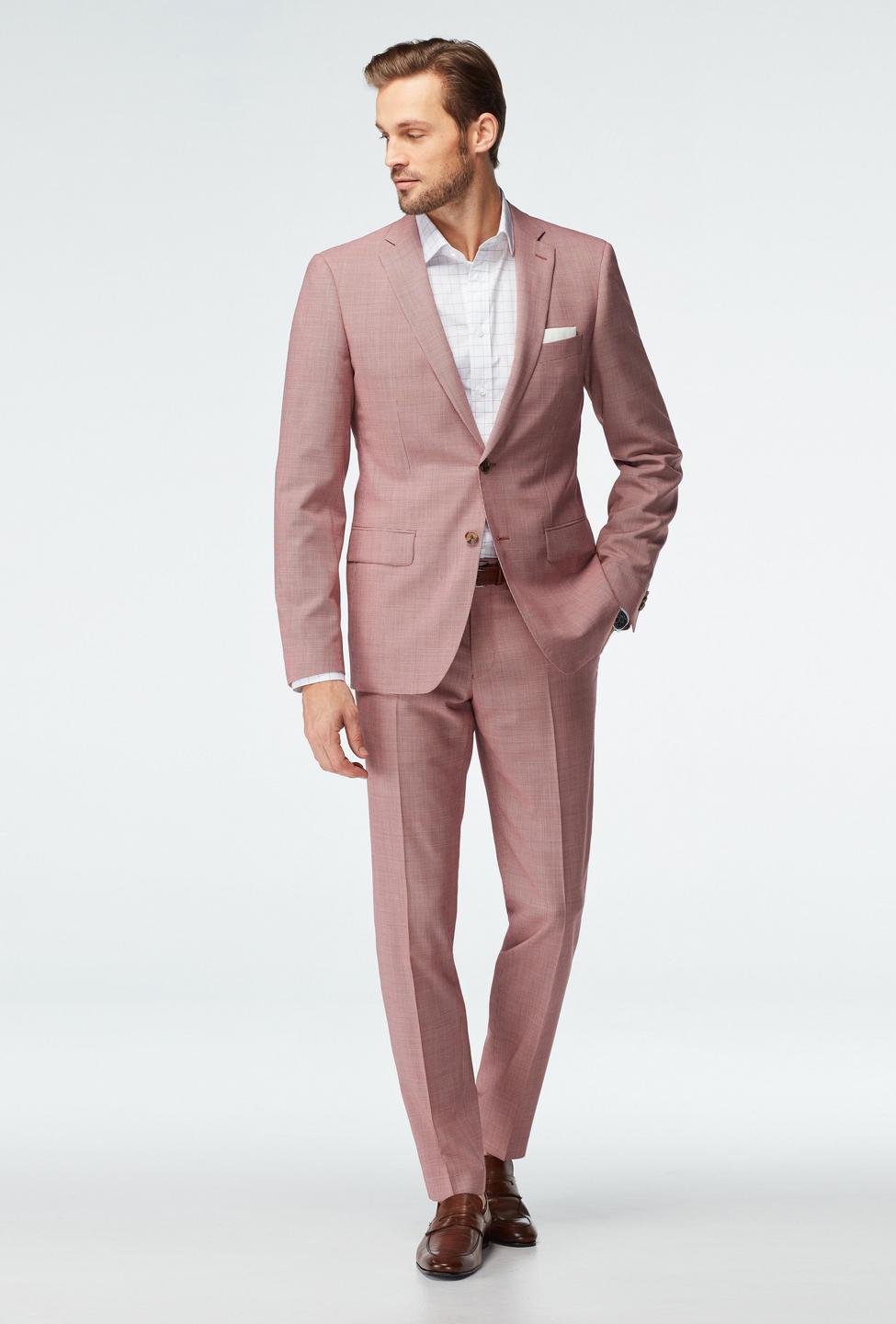 This colorful two-piece suit is made with 100% wool that's lightweight, soft, and luxurious. The muted red color is trendy and playful without feeling over the top—it's pretty much right on the money when it comes to summer wedding guest attire for men.
Indochino Coalville micro houndstooth red suit, $429, Indochino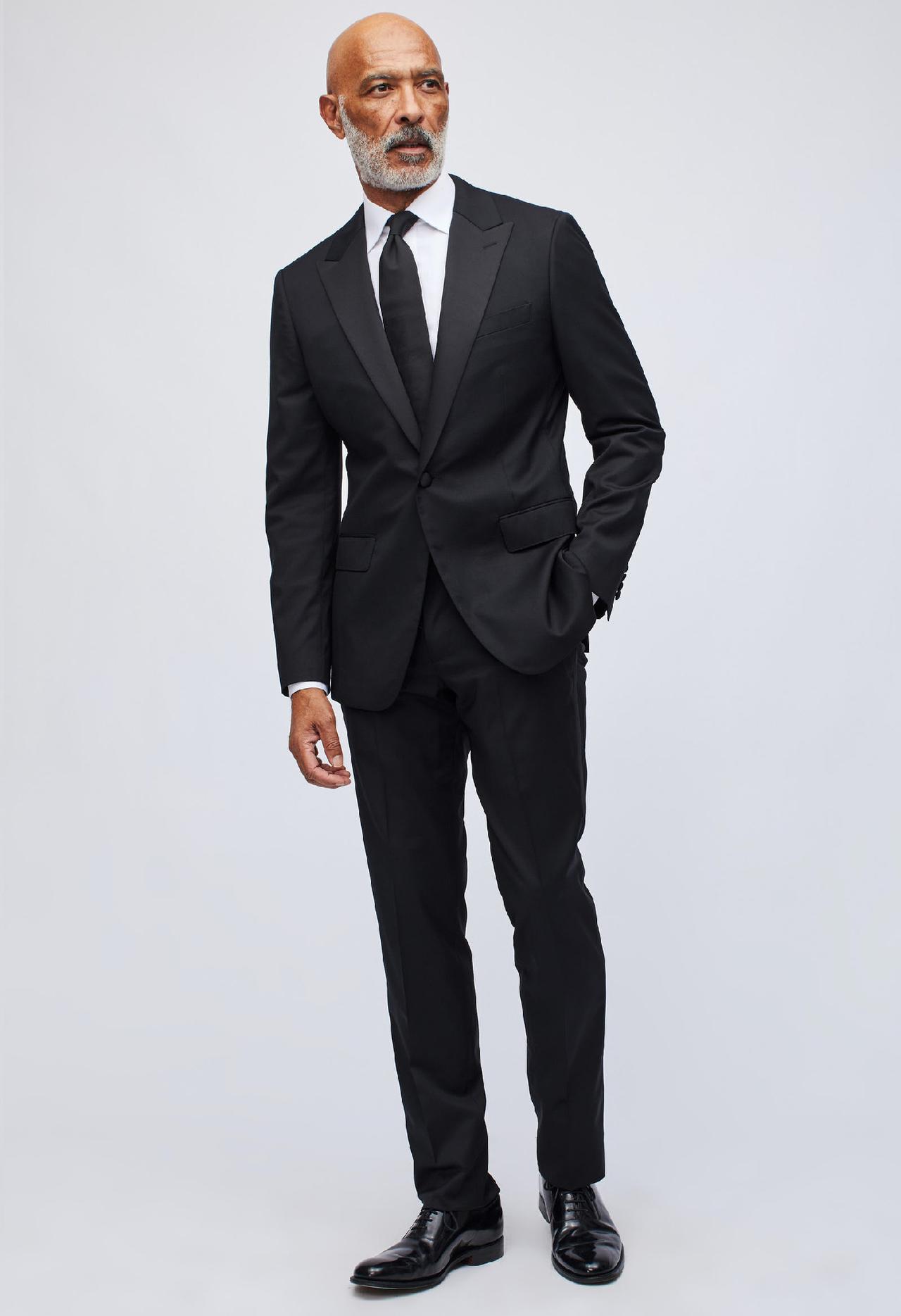 Shopping for a black-tie summer wedding? This sleek pick might be pricey, but it will serve you for years to come. It's made from wrinkle- and stain-resistant wool, and designed to feel comfortable in all conditions. Yep, you've just found your go-to tux.
Bonobos Italian performance tuxedo, $1,000, Bonobos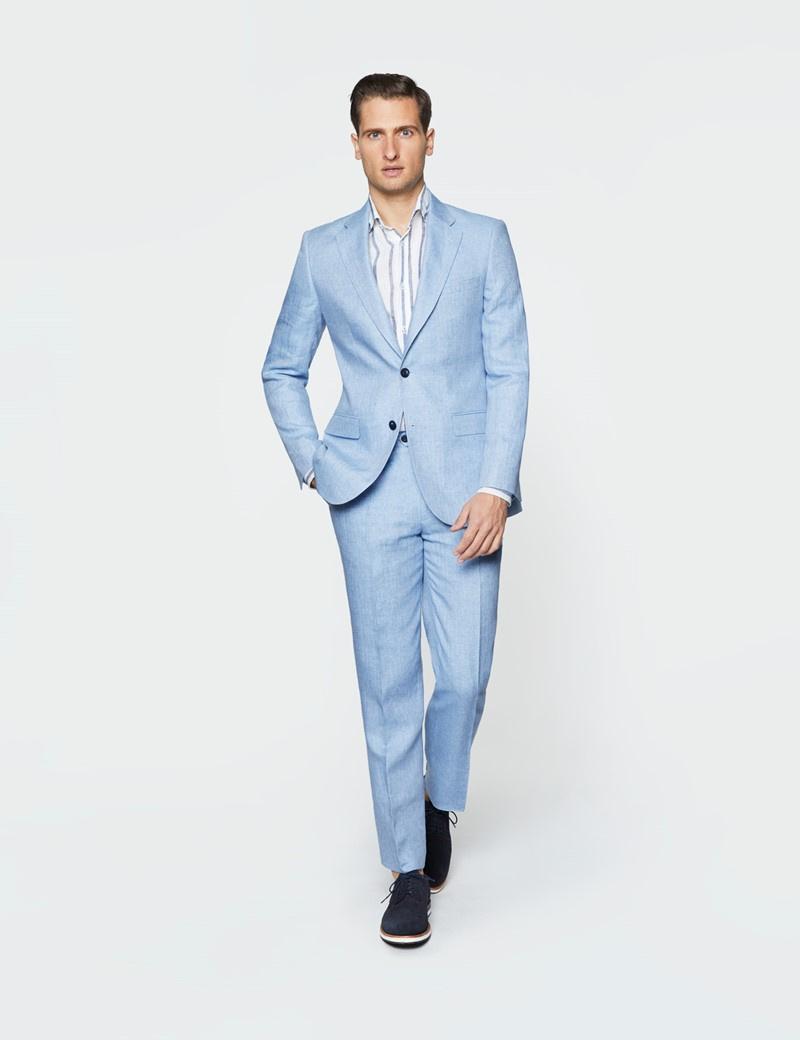 There are lots of ways to dress down a suit for a daytime wedding, such as choosing a lighter color, ditching the tie, and opting for a pair of athletic-inspired dress shoes (we're big fans of Wolf & Shepherd). Made from 100% linen in a subtle herringbone pattern, this trendy casual summer wedding attire for men is equal parts chic and comfy. (Psst, it also comes in a romantic pastel pink.)
Hawes & Curtis men's light blue herringbone linen tailored fit suit jacket, $359, Hawes & Curtis; Hawes & Curtis men's light blue herringbone tailored fit linen pants, $190, Hawes & Curtis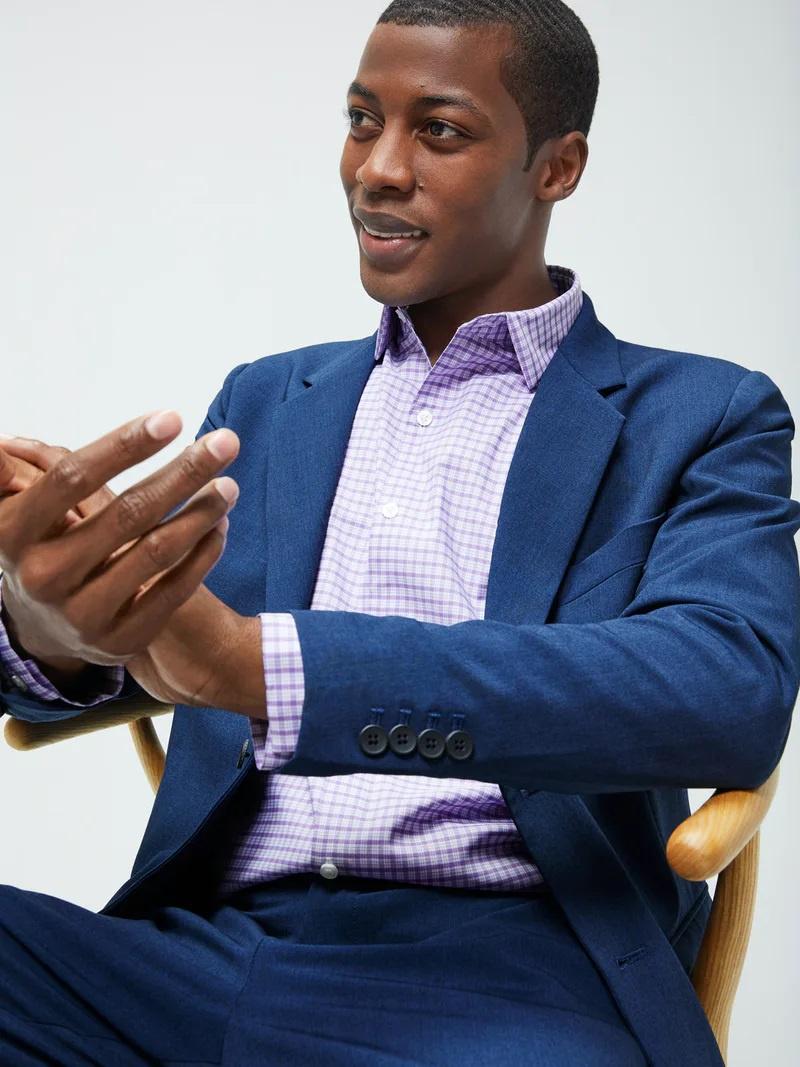 Comfort is the key to a good suit, and this stylish two-piece has it all. Made from a super-soft four-way-stretch material, both the blazer and pants are comfortable, breathable, and sophisticated to boot.
Ministry of Supply men's Velocity blazer in Indigo Heather, $495, Ministry of Supply; Ministry of Supply men's Velocity pant in Indigo Heather, $185, Ministry of Supply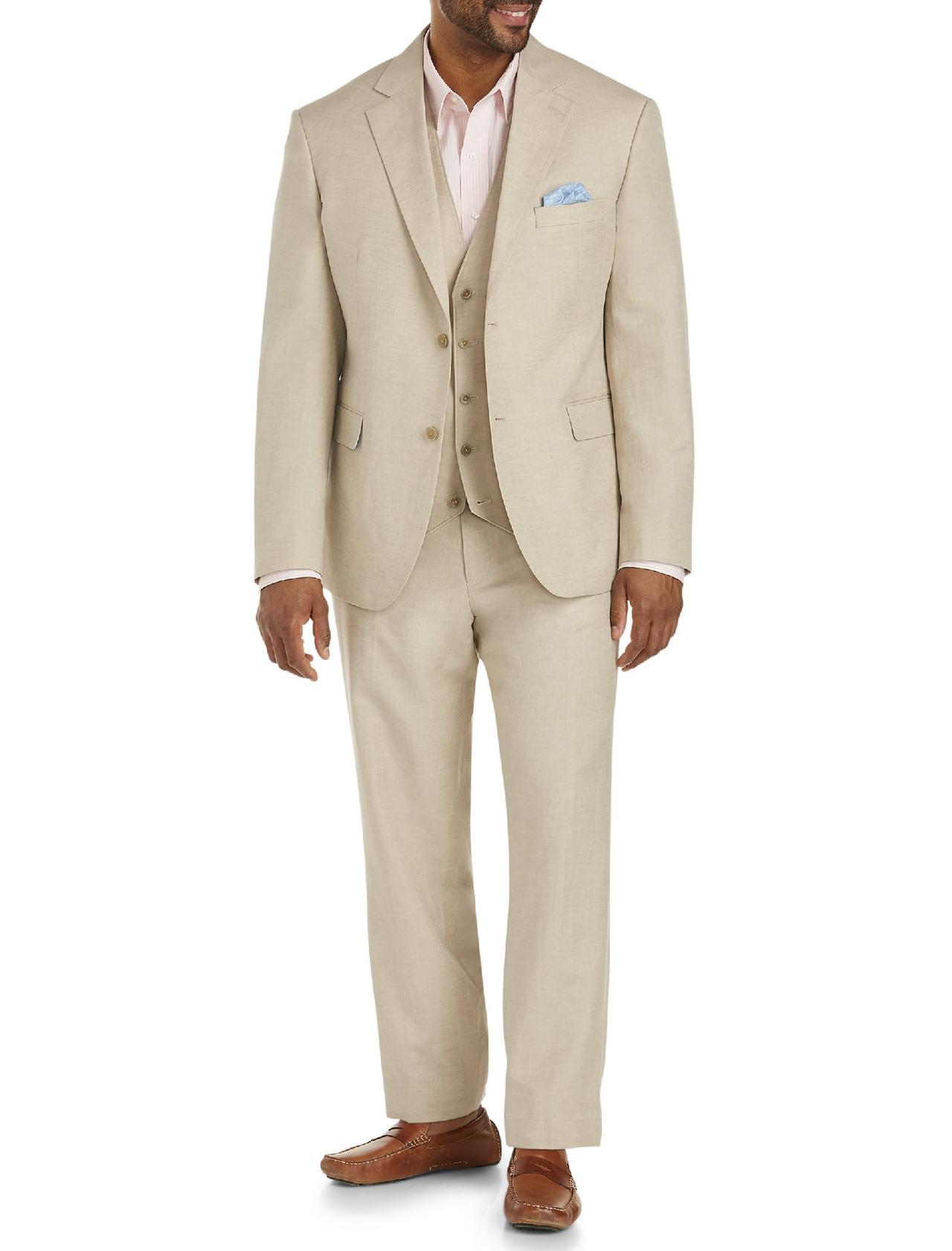 This summer wedding suit is fully equipped for warm seasonal weather. Everything is made with a lightweight linen blend (and the jacket includes sweat shields just in case). Not only that, but it comes in an understated neutral hue that'll look amazing in photos.
Oak Hill Jacket-Relaxer linen-blend suit jacket in Flax, $158, DXL; Oak Hill reversible vest in Flax, $78, DXL; Oak Hill linen-blend suit pants in Flax, $78, DXL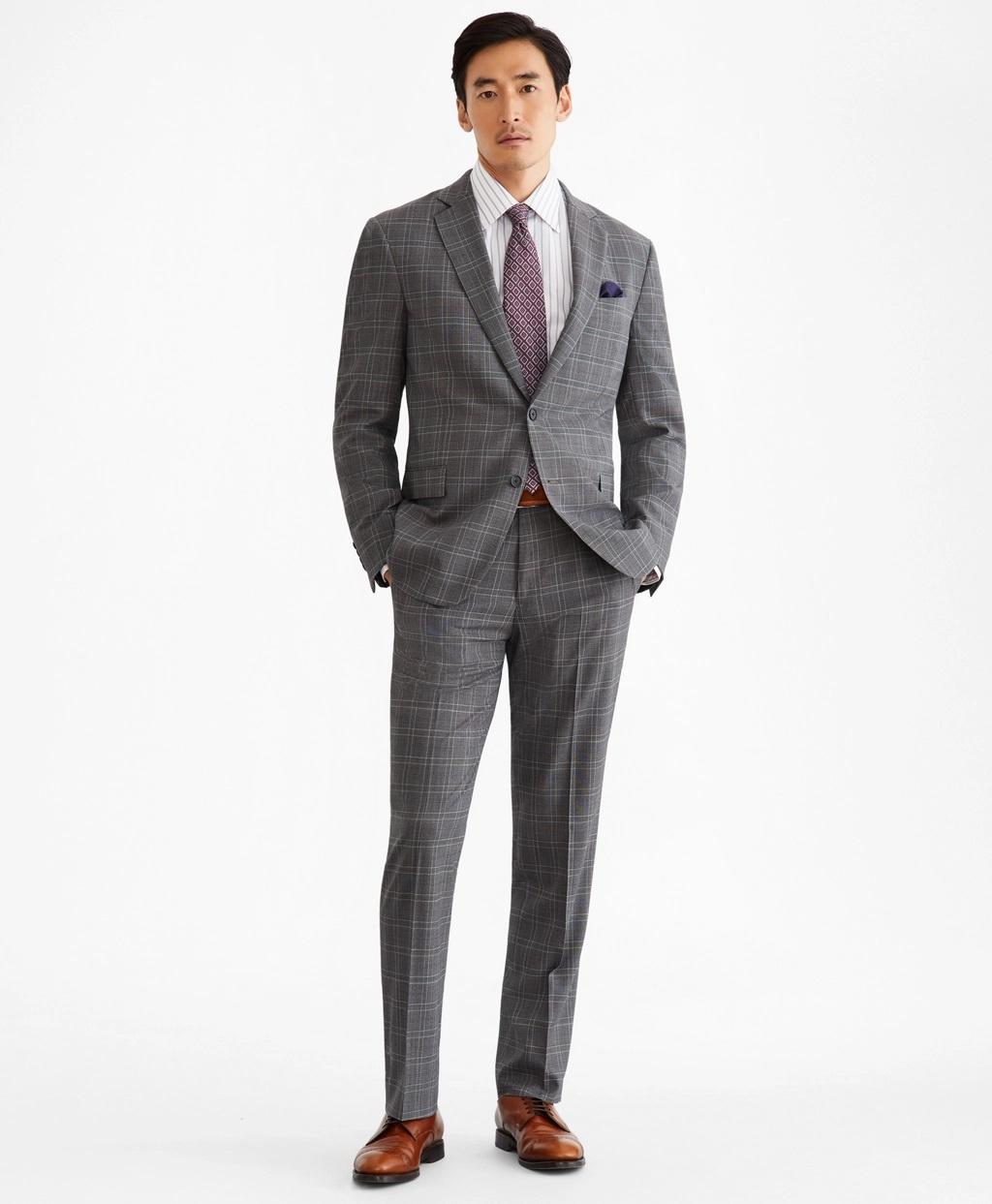 This stylish menswear is pretty much made for a summer wedding. The ultra-lightweight wool is breathable, crease-resistant, and water-resistant—what's not to love? Plus, it comes with unfinished sleeve and trouser hems so you can bring it to your local tailor for the perfect fit.
Brooks Brothers BrooksCool Regent Fit check suit, $698, Brooks Brothers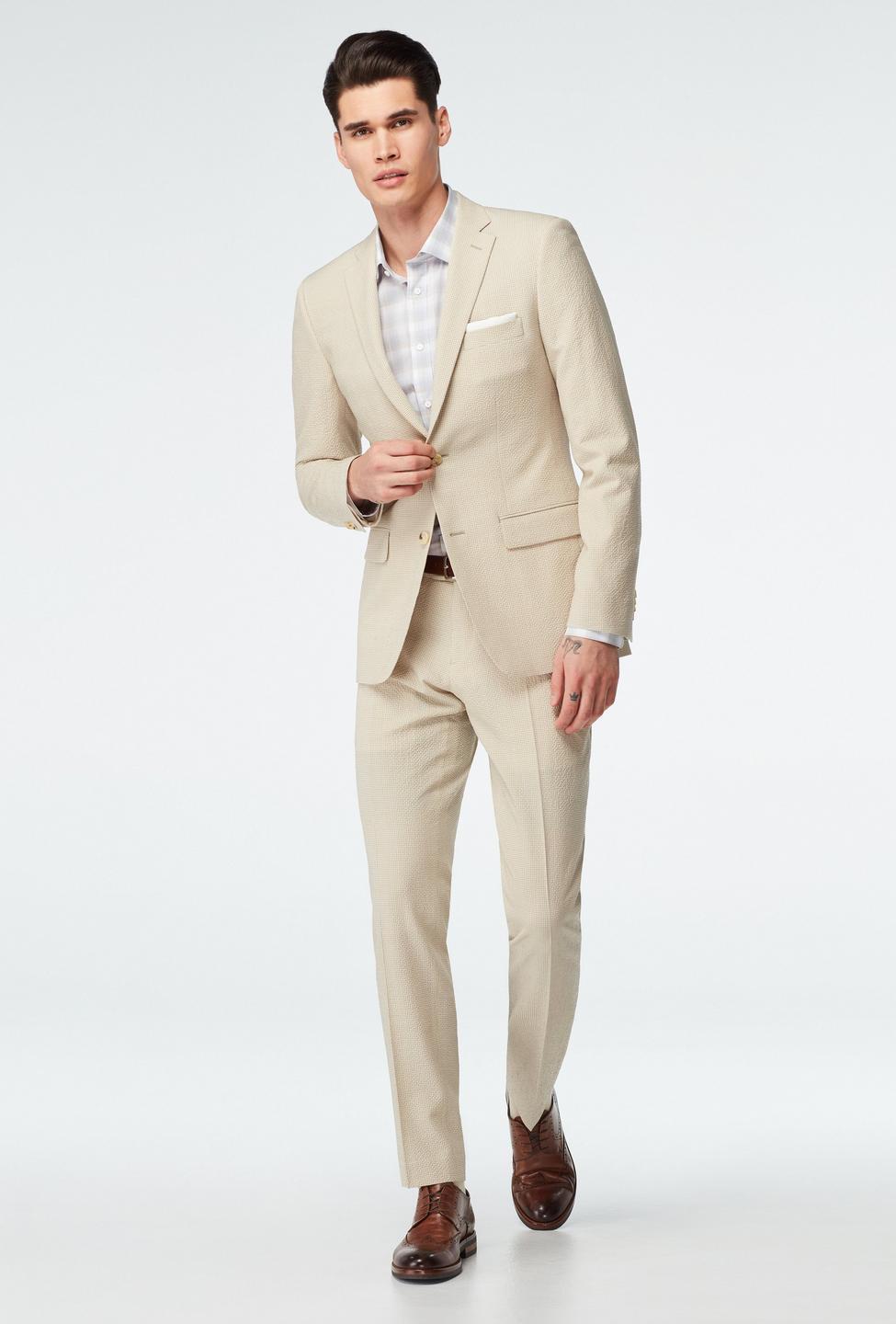 This beige-toned attire is made from seersucker cotton, making it a lightweight choice you won't overheat in. The textured fabric is airy and almost impossible to wrinkle.
Indochino Stapleford seersucker cream suit, $429, Indochino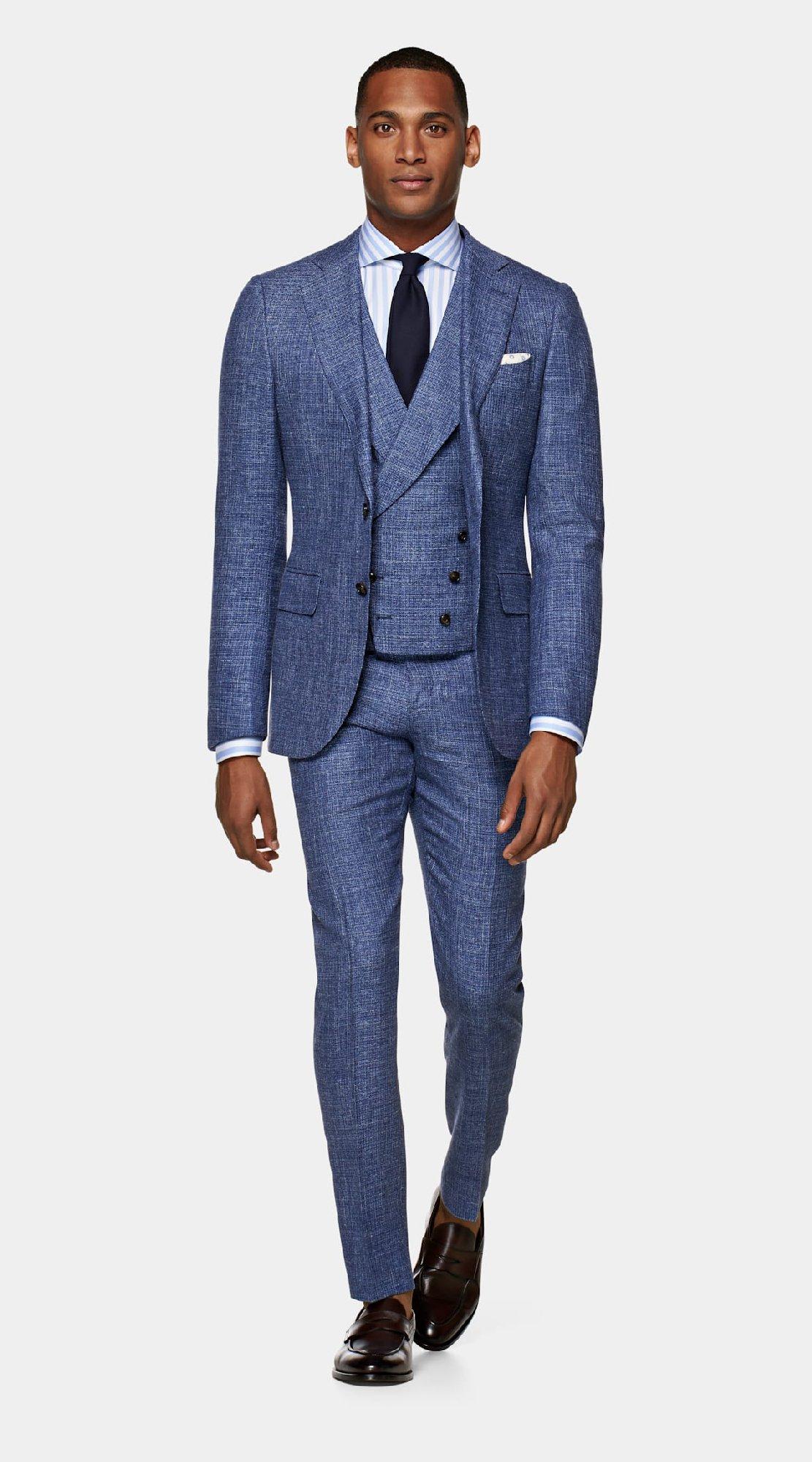 If the invite states a formal dress code, a sharp-looking three-piece like this one is just the ticket. The mid-blue color is bright enough to salute the summer season but still dark enough to feel dressy. Plus, the wool, silk, and linen blend makes it light enough to wear in warm weather.
Suitsupply mid blue Lazio suit, $699, Suitsupply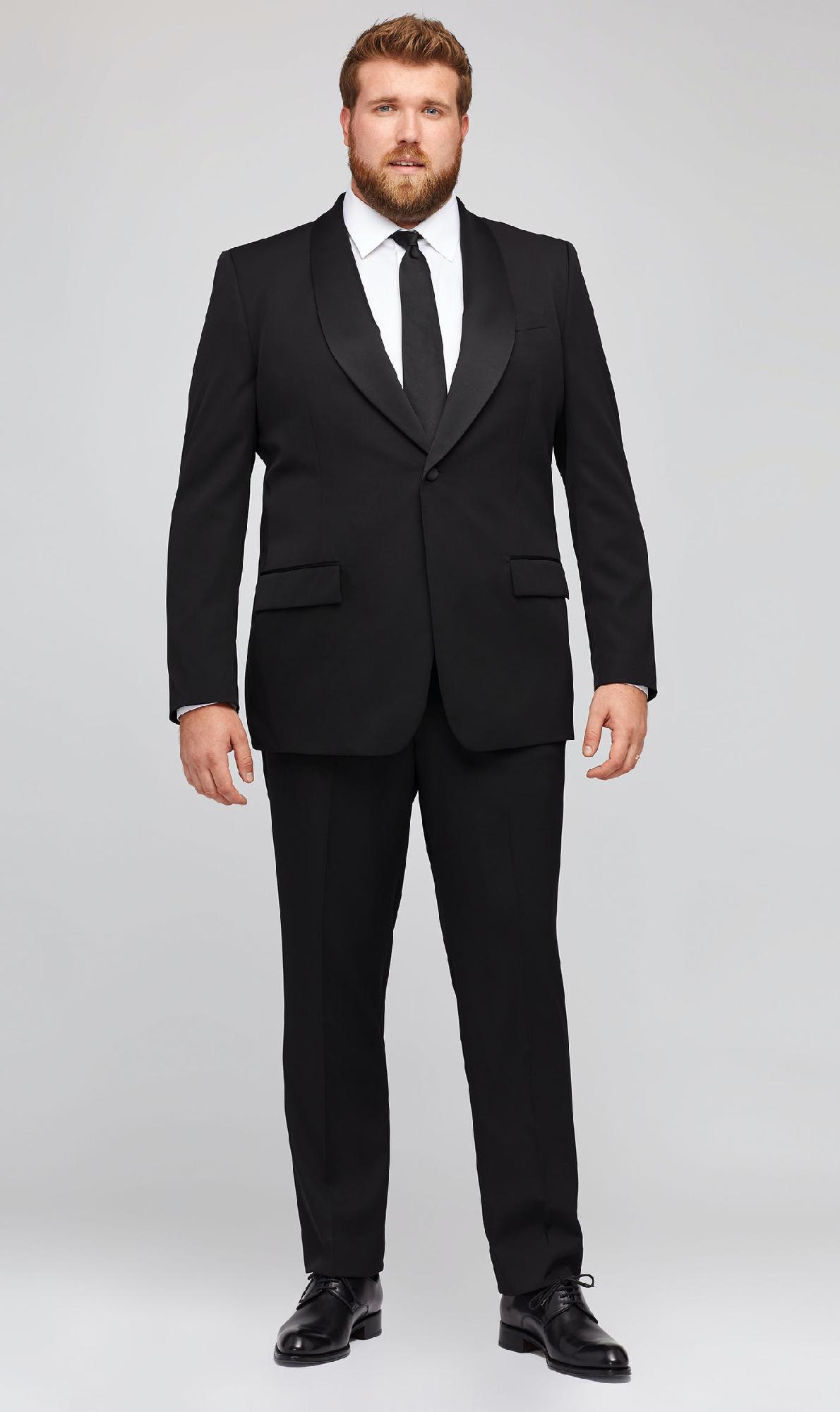 Of course, if you'd rather go with a classic black tux, that's fine too. A timeless men's tuxedo will work for formal events all year round, summer included.
Bonobos extended sizes Capstone Italian wool tuxedo, $900, Bonobos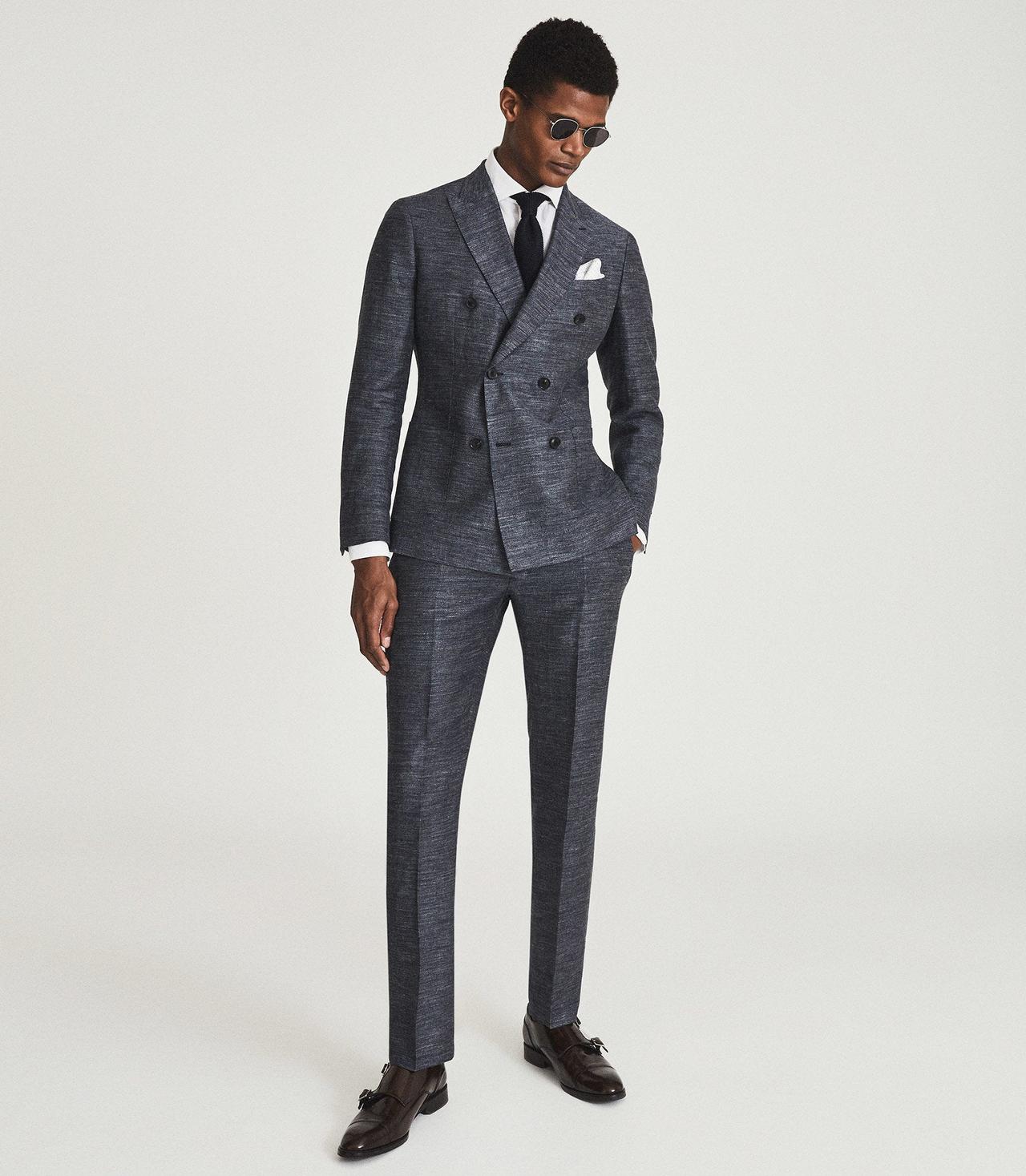 If you're looking for outdoor summer wedding suit ideas, linen is your new best friend. This lightweight material will help you keep cool under the hot sun—and how sleek is that double-breasted blazer?
REISS Transit linen double breasted blazer in Indigo, $620, REISS; REISS Transit linen slim fit trousers in Indigo, $295, REISS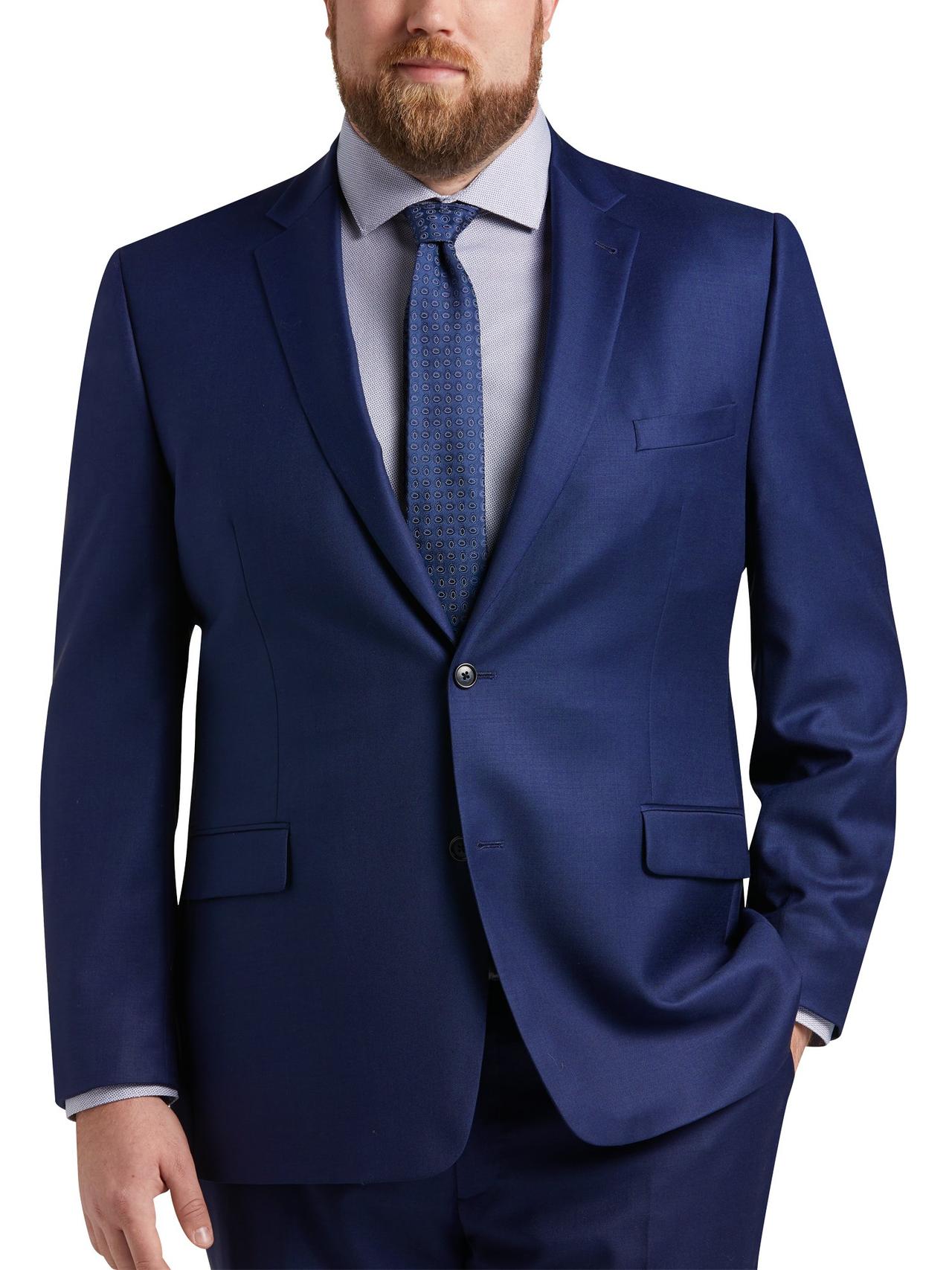 If the dress code calls for semi-formal or cocktail attire, a smart suit and tie are essential. This bright blue three-piece has a roomier executive fit, allowing for some extra air flow in warm conditions. And thanks to the vest, you'll also have the option of removing the jacket during the day without running the risk of looking too casual. Add it back to your ensemble in the evening when it's a little cooler.
JOE Joseph Abboud bright blue Executive Fit vested suit, $200, Men's Wearhouse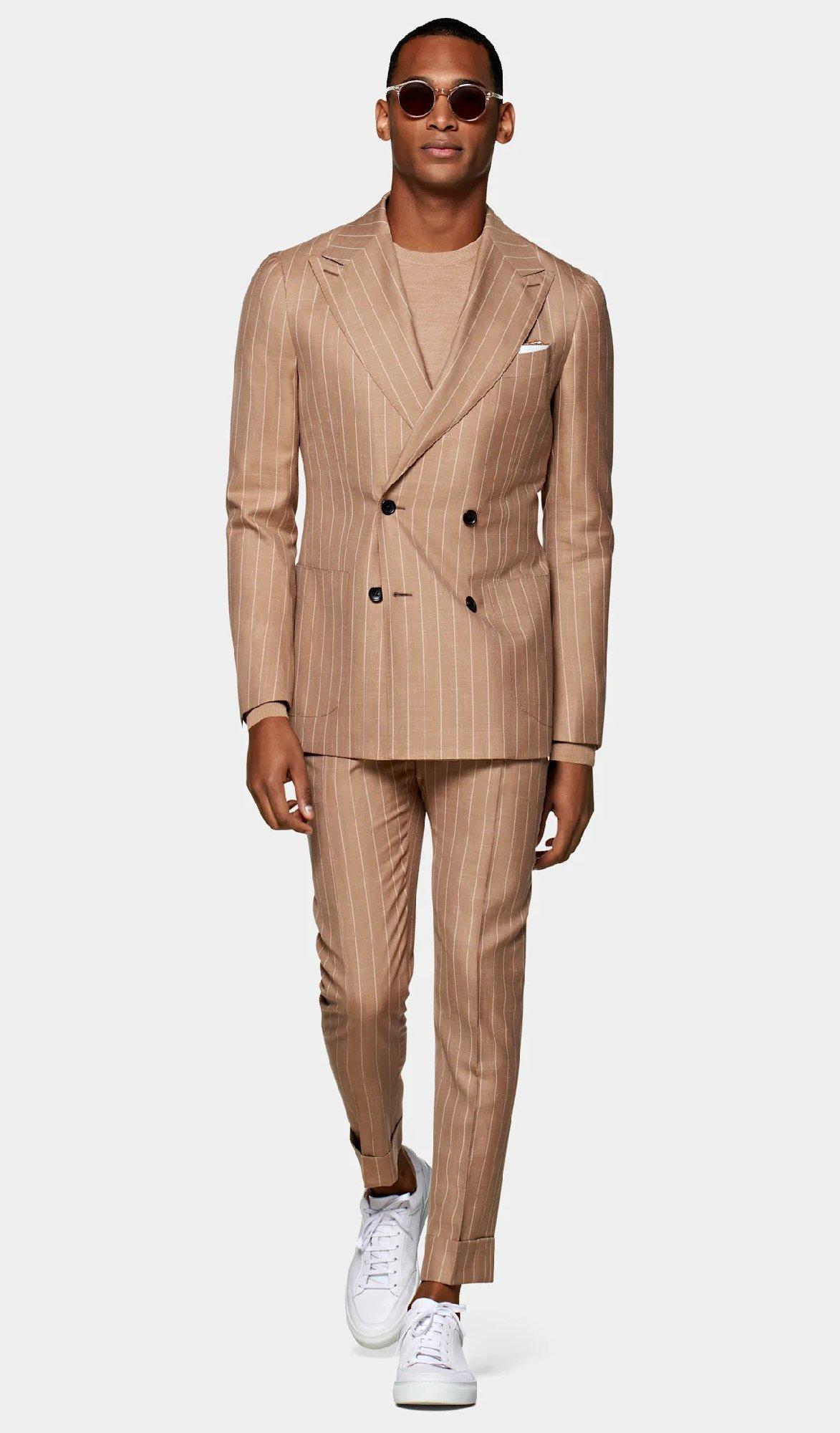 Here's a casual suit idea for a summer wedding. This edgy pinstripe look is the perfect way to show off your unique style. Bonus: It's made from a wool, silk, and linen blend so you can expect a lightweight feel.
Suitsupply mid brown stripe Havana suit, $599, Suitsupply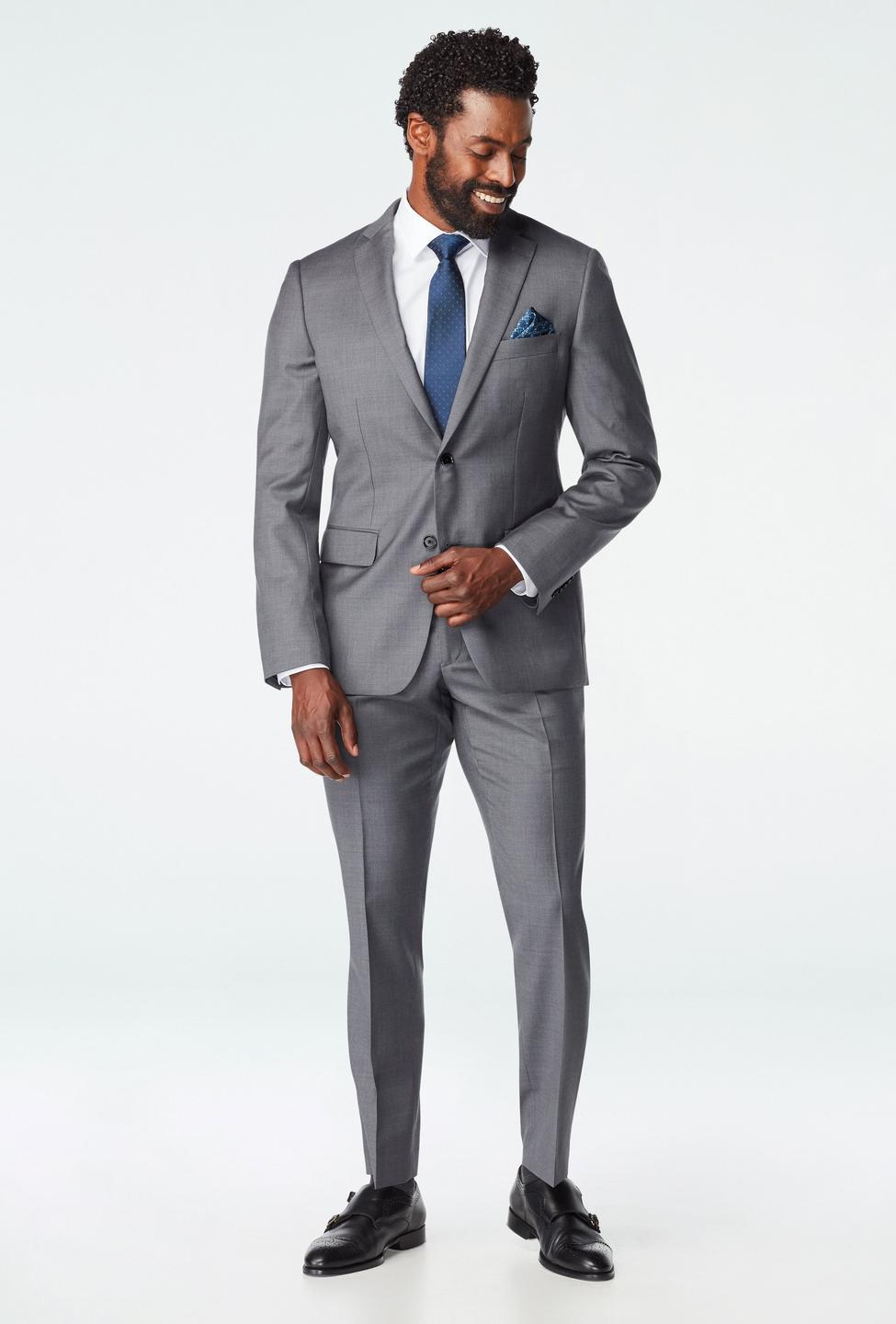 If you're not sure how warm it's going to be on the day, a midweight suit might be your best bet. This wool wedding suit comes in a versatile shade of gray you can wear to cocktail parties all year round. For the summer, try adding a fun patterned tie and matching pocket square.
Indochino Tipton gray suit, $399, Indochino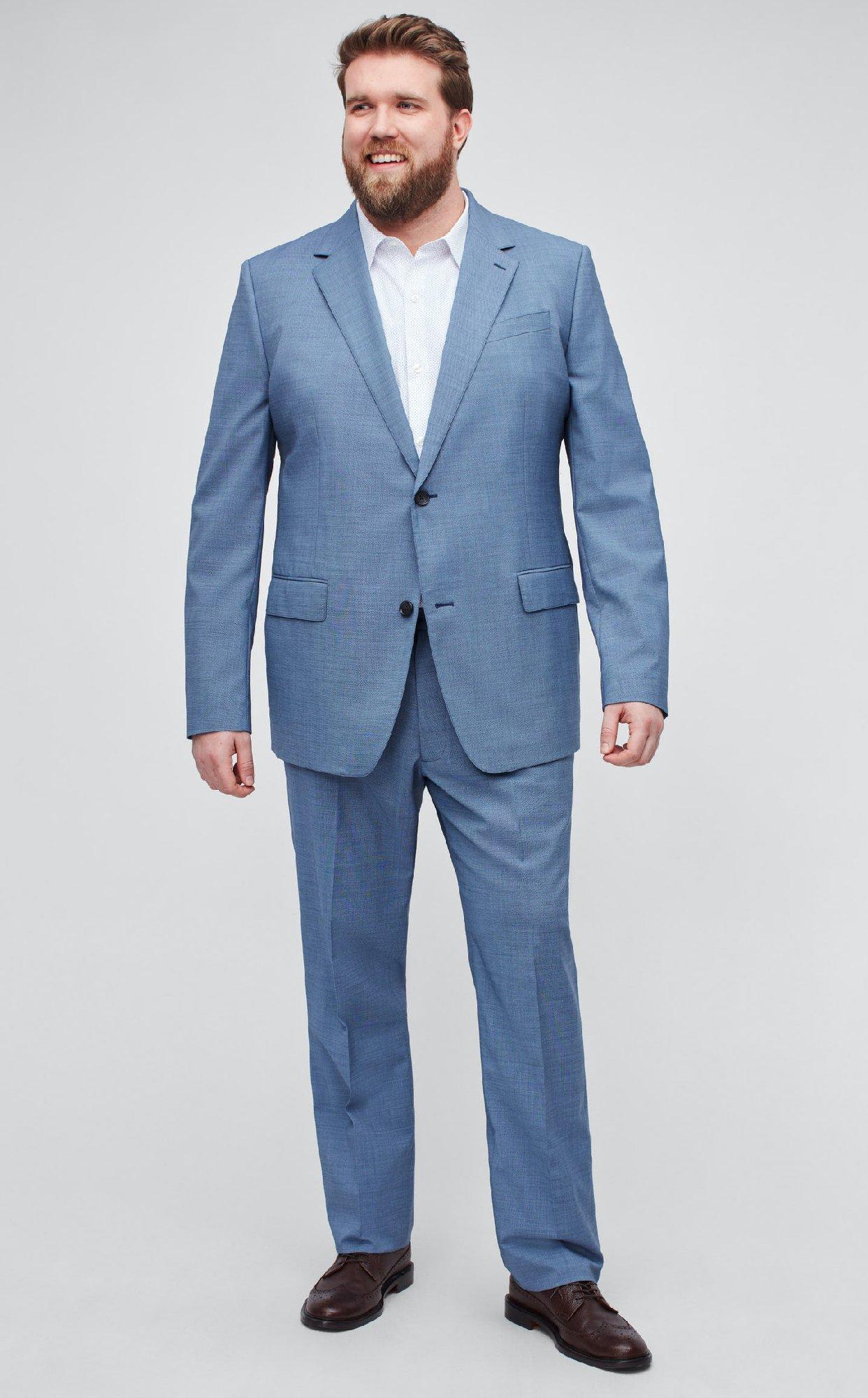 Here's another smart summery two-piece made with breathable, lightweight wool (that's also stain- and crease-resistant). Wear it with a sleek skinny tie and a polished pair of cuff links to elevate the look.
Bonobos extended sizes Italian performance suit in Light Blue Texture, $750, Bonobos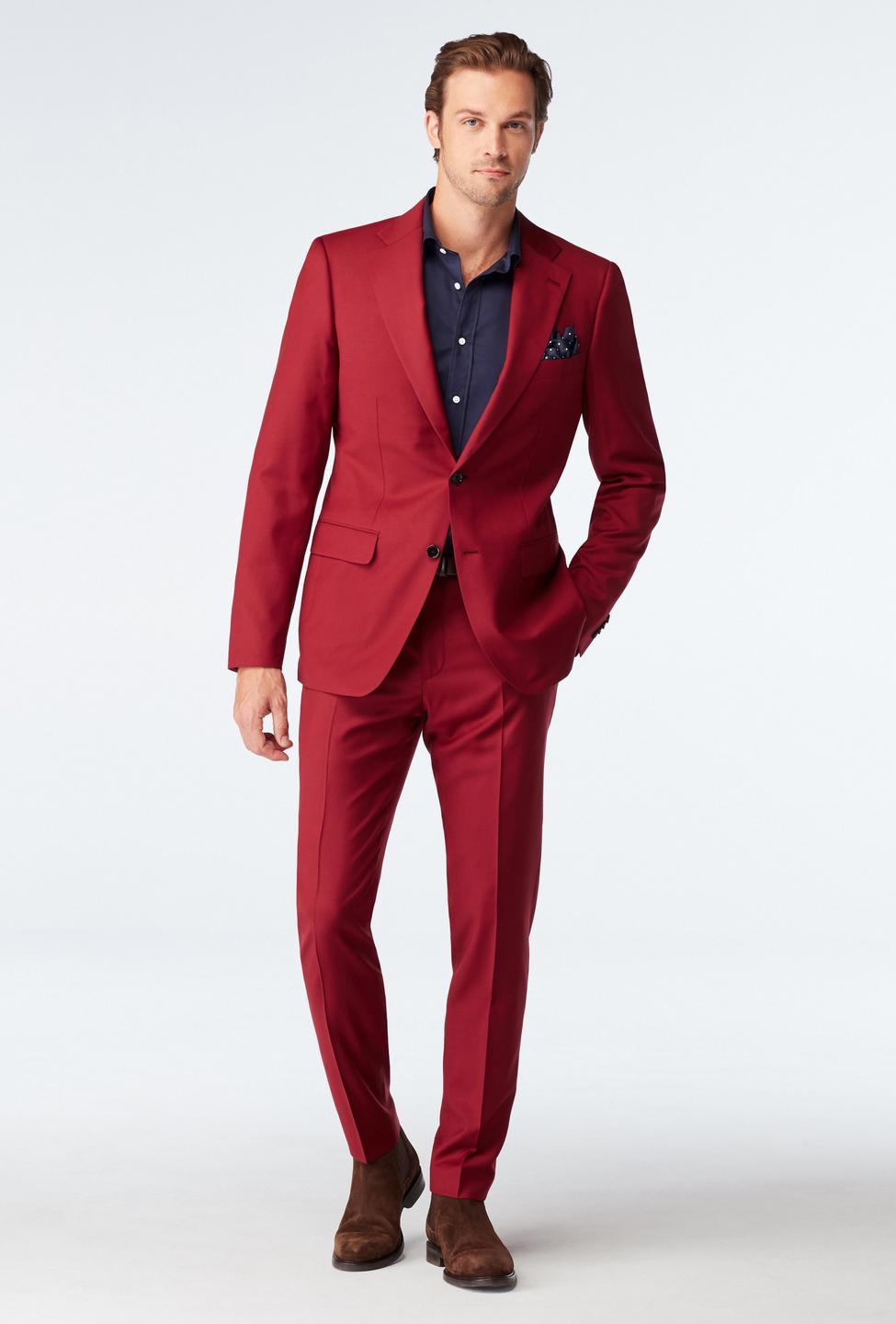 Speaking of elevated styles, this vibrant suit is a stylish pick for a summer wedding. It's made from a midweight wool material, which will keep you warm and cozy on a cool summer night. The bright and cheery hue is the perfect celebratory shade of red. (Just keep in mind that in some cultures it's customary for the bride to wear red, in which case you should skip the color.)
Indochino Hemsworth red suit, $449, Indochino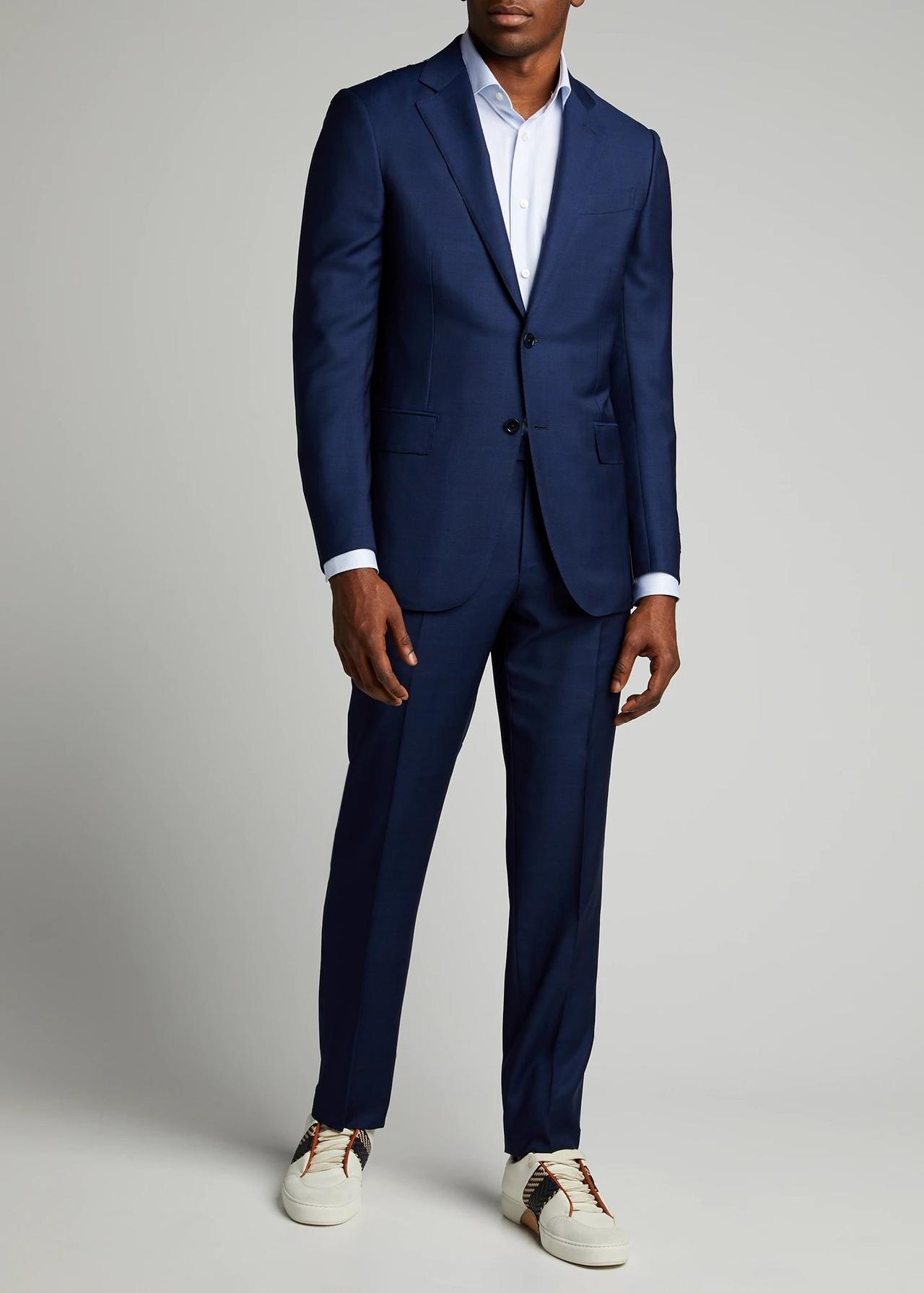 For those with a classic sense of style, check out this navy two-piece suit. From the subtle plaid pattern to the luxurious wool-silk blend, every detail is utterly timeless.
Ermenegildo Zegna men's tonal plaid two-piece suit, $2,995, Bergdorf Goodman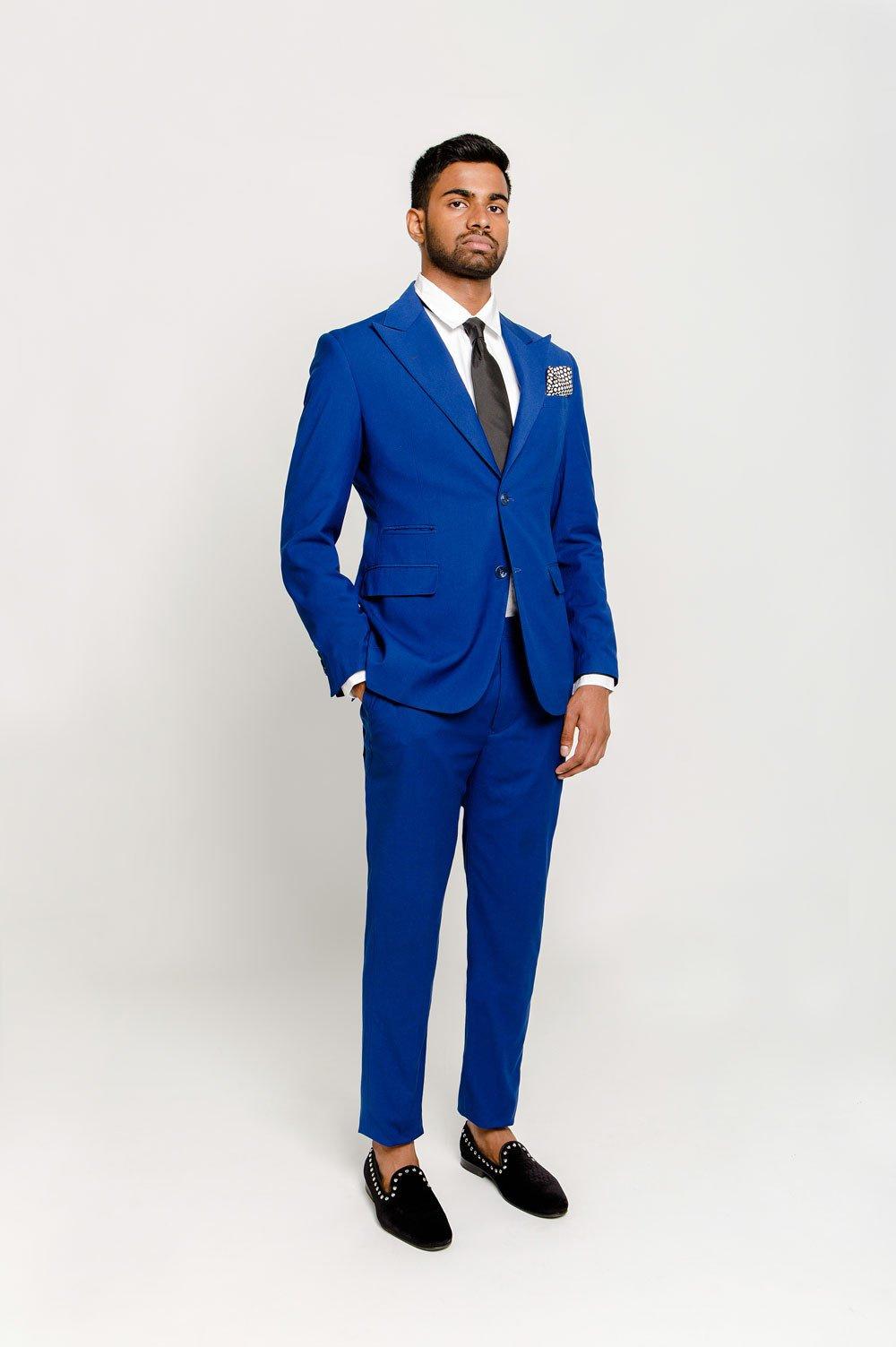 PSA: Not all beach weddings are super casual. If it's a formal affair, it's good etiquette to wear a nice suit with a proper shirt and tie. But that doesn't mean you can't have fun with it—this bold blue two-piece is one of the best men's summer wedding suits for a formal beach or tropical wedding.
IZOTTI Miami Blue suit, $550, IZOTTI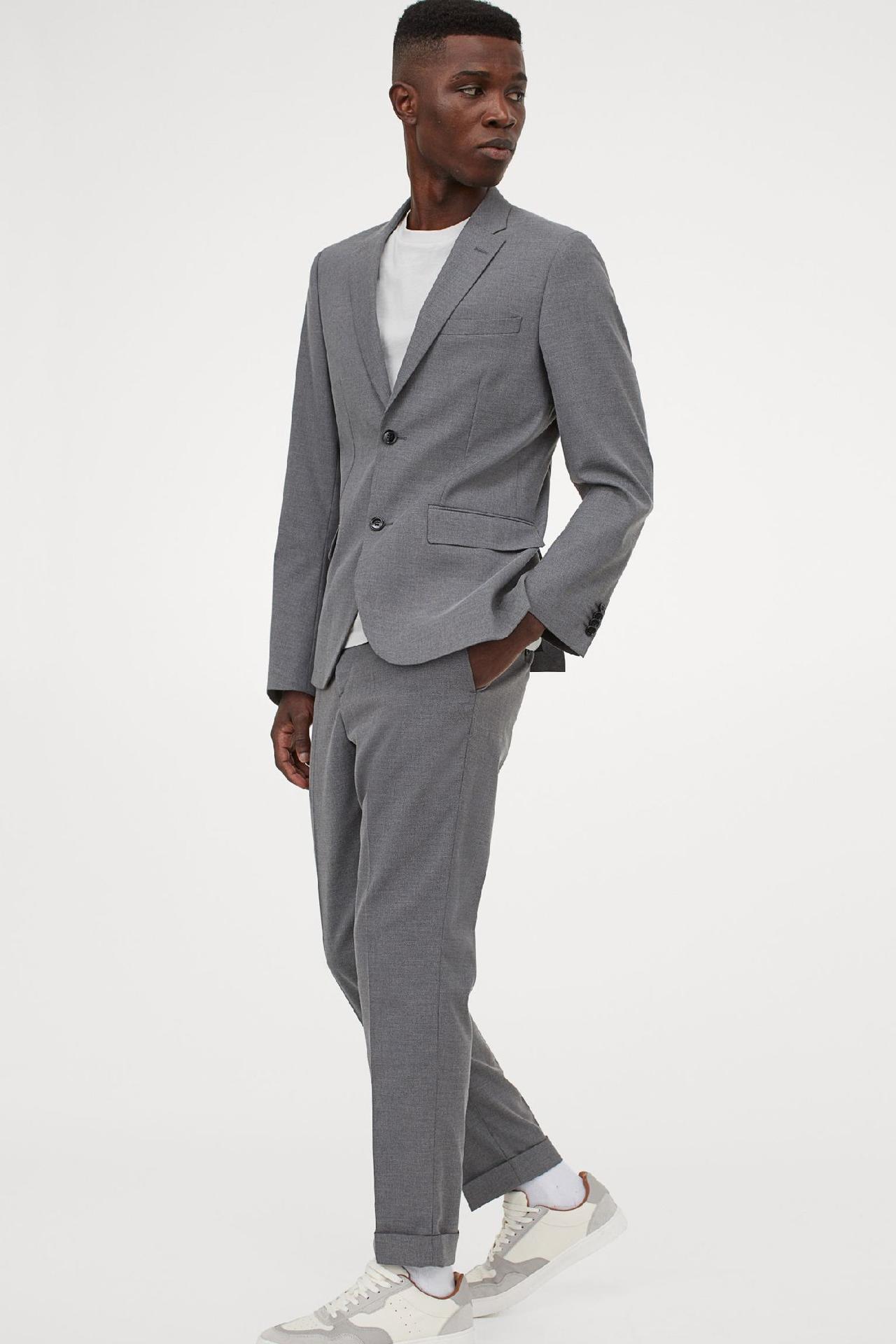 Men's summer wedding fashion isn't a million miles away from what you would typically wear at any other time of year. The main difference is that you get to be a little more playful with colors, prints, and accessories. If you're on a budget, pick out a suit in a classic gray or navy you can easily rewear at any time and use other details (think: a funky patterned dress shirt) to nod to the season.
H&M slim fit blazer in Dark Gray, $99, H&M; H&M slim fit suit pants in Dark Gray, $50, H&M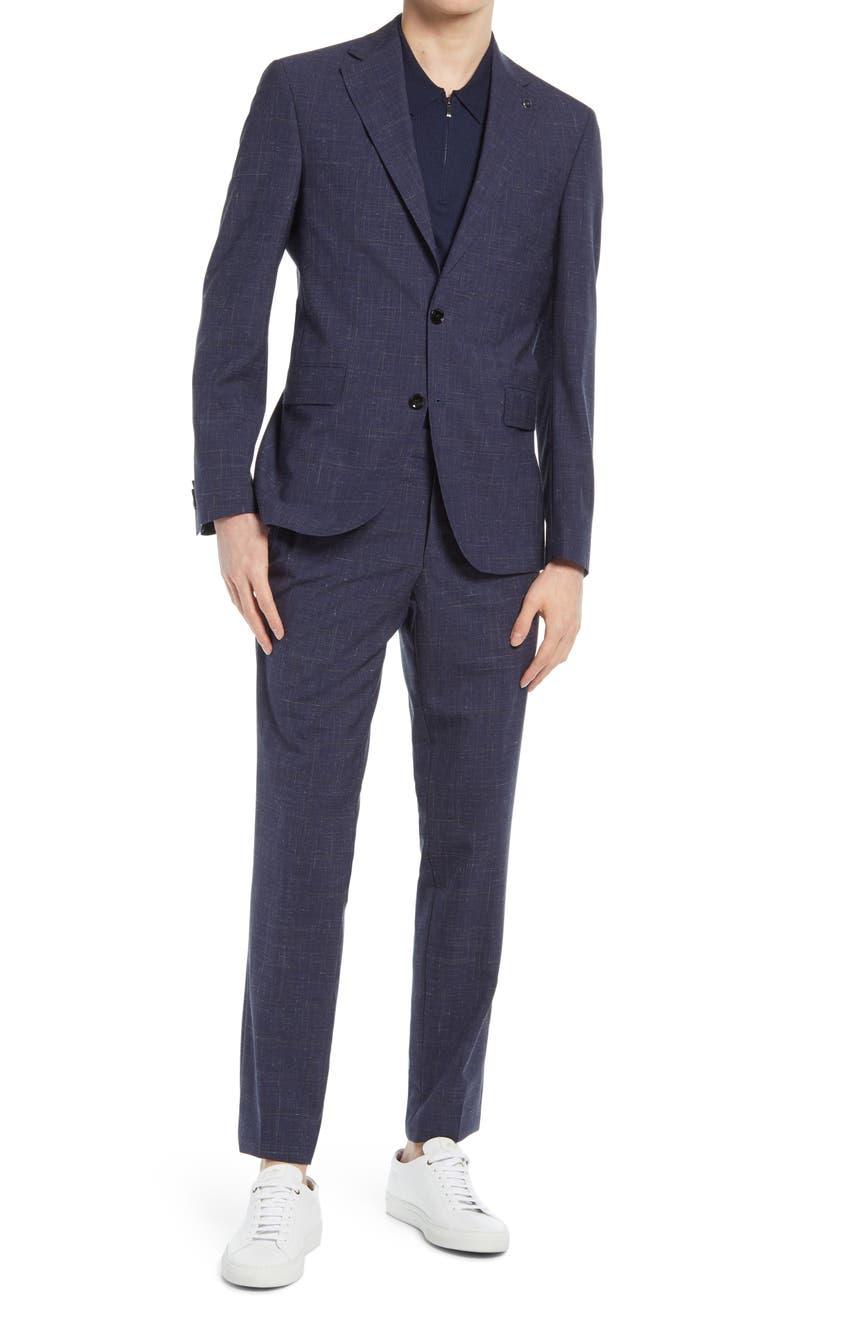 Two-piece suits are always a great choice because you can dress them up or down to suit the occasion. For semi-formal events, a tie, a dress shirt, and polished dress shoes will totally transform a two-piece. This one is made with a light wool and linen blend, making it an excellent summer wedding guest outfit for men.
Ted Baker London Ralph extra slim solid wool and linen suit, $898, Nordstrom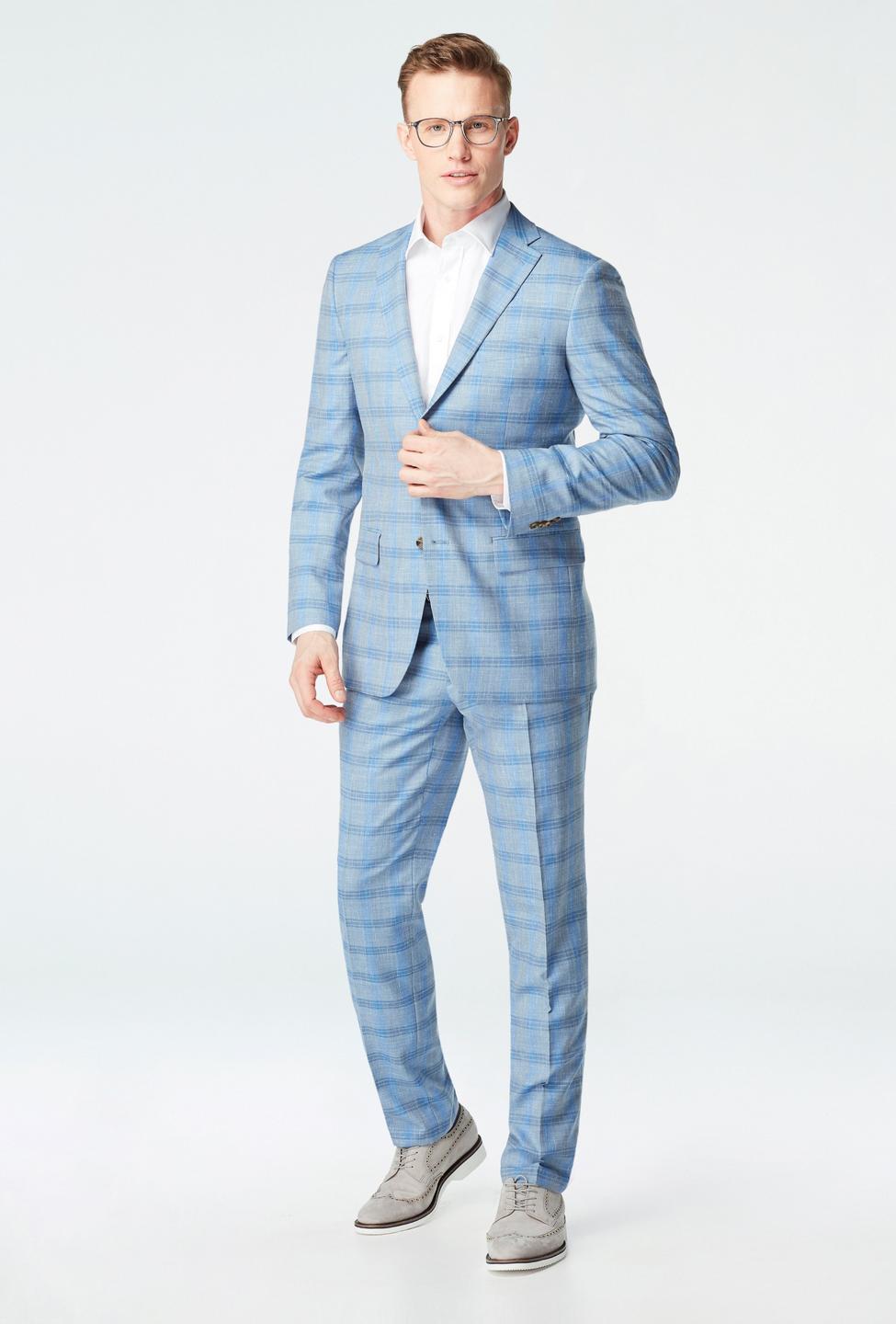 Blue is a pretty neutral color when it comes to wedding guest attire. Deeper hues like navy work well for formal occasions, evening events, and in the wintertime. For more casual celebrations, daytime events, and summer weddings, lighter shades fit right in. With a trendy plaid pattern and lightweight fabric, this fun two-piece is one of the best wedding outfits for guys in the summer.
Indochino Croydon plaid blue suit, $399, Indochino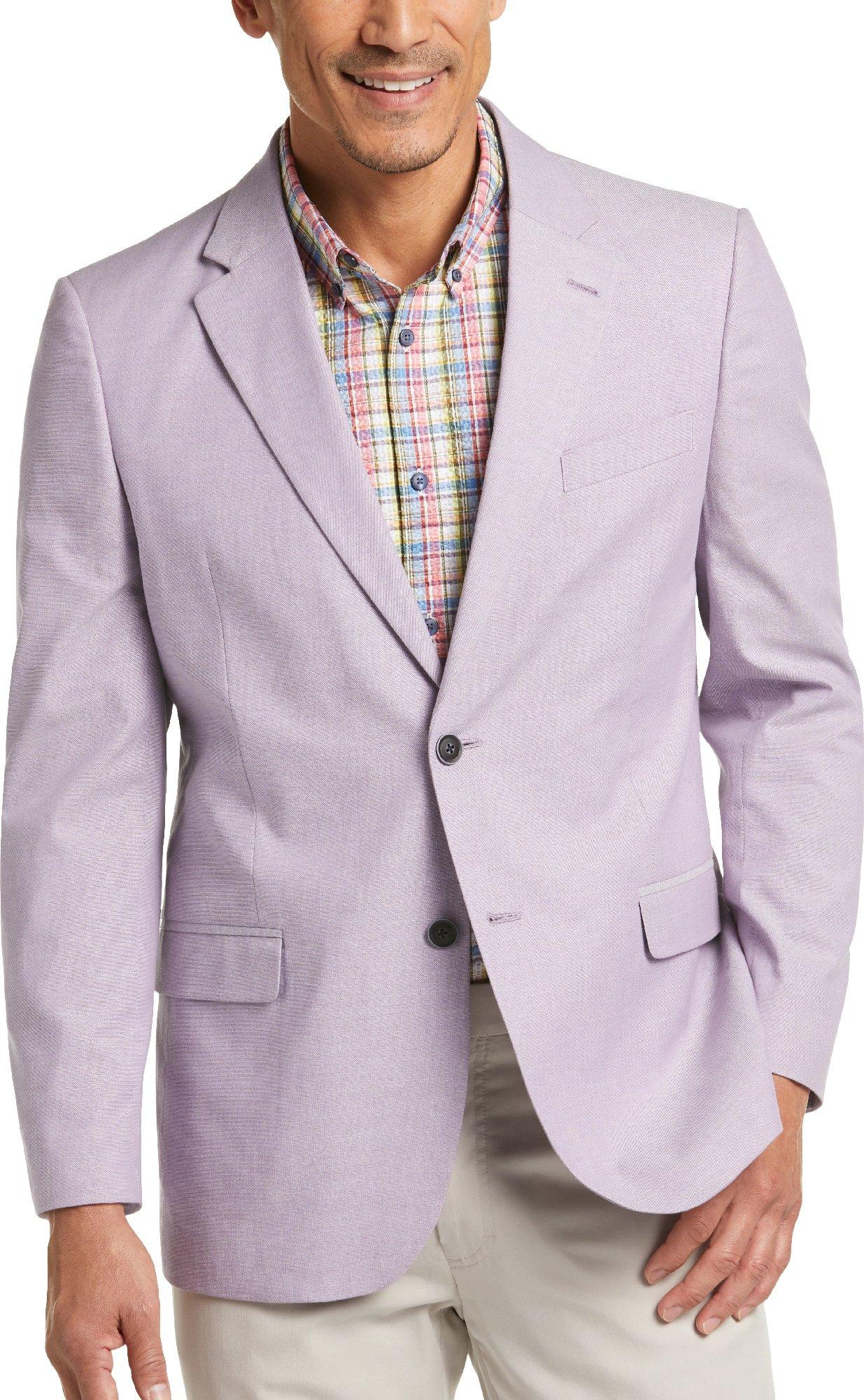 For a casual wedding (think: daytime on the beach) you can ditch the formal jacket for a blazer or sport coat. Feel free to play around with bright summery colors and patterns (just avoid wearing the couple's wedding colors as they're usually reserved for the wedding party). Wear this fun pastel purple sport coat with some classic chinos and a pair of loafers for a laid-back look that's still fully on trend.
Nautica lavender chambray modern fit sport coat, $100, Men's Wearhouse