30 Wedding Cuff Links That'll Earn Heirloom Status
A set of shiny new wedding cuff links will add the finishing touches to any suit or tux. We've rounded up our favorite options to help you find the perfect pair.
We have included third party products to help you navigate and enjoy life's biggest moments. Purchases made through links on this page may earn us a commission.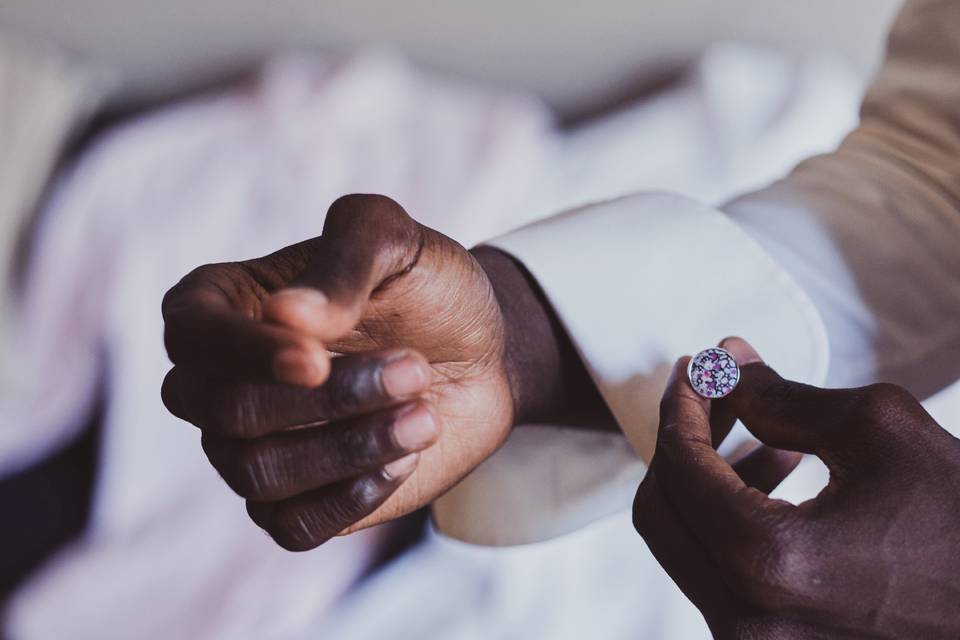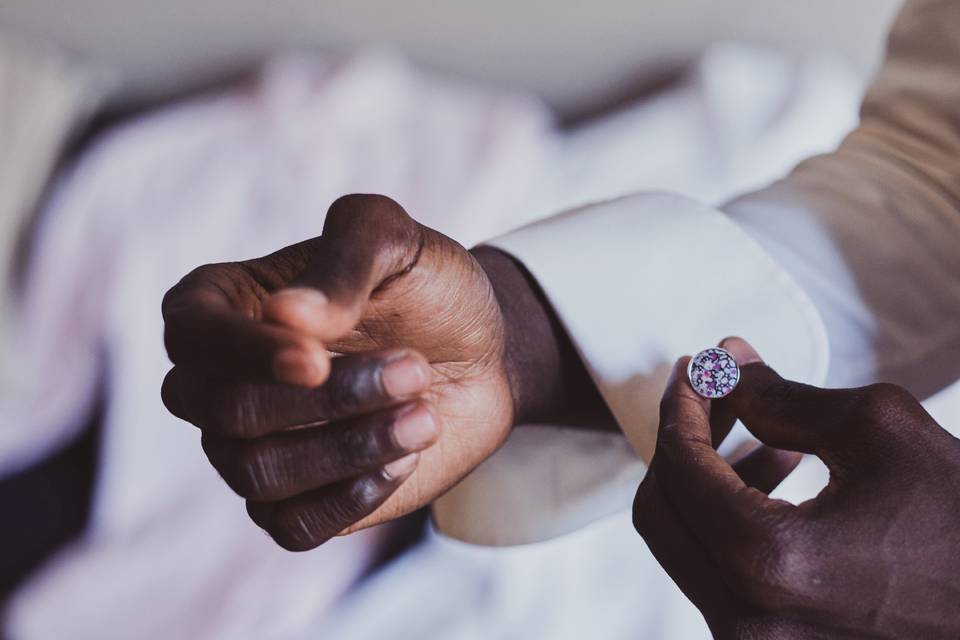 What you wear on your special day is totally up to you. That said, cuff links are generally considered staple wedding accessories, especially if you're planning a more formal event. There are lots of great reasons to add a stylish or sentimental set of wedding cuff links to your attire. For starters, they can be a fun way to showcase your personality. Choose a set based on your interests, like mini metal baseballs or the motif of your favorite superhero. Wearing wedding cuff links can also be a nice opportunity to honor someone you love. Some soonlyweds may choose a pair passed down from their parents or grandparents as a sweet way to include them in the celebration. Of course, your wedding accessories don't have to have heirloom status just yet. You're free to pick out your very own set that reflects your individual style and taste. We've gathered some of our favorite picks below, from the modern and minimalist to the wonderfully whimsical.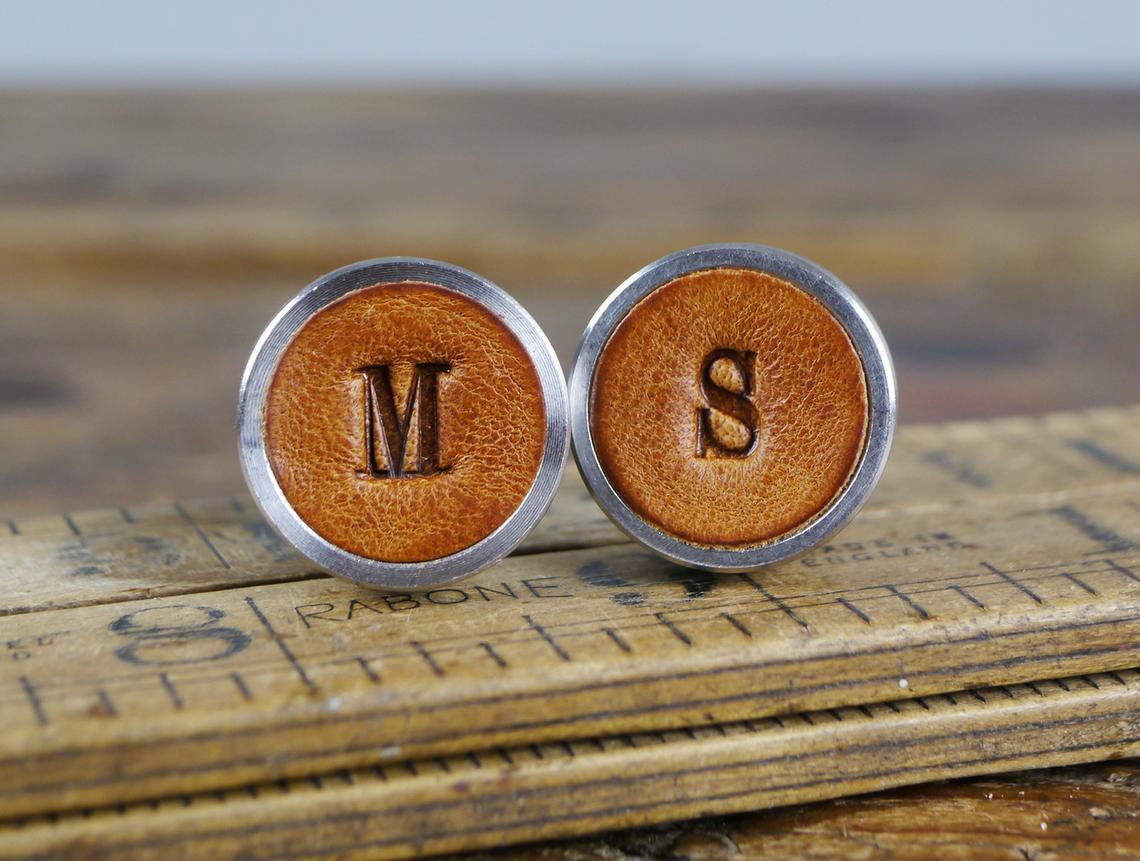 1. Monogrammed Leather
These personalized cuff links are perfect for the groom (or suit-wearing bride). Made from quality full-grain leather and durable stainless steel, they'll look just as good on future anniversaries as they do on the wedding day.
Kingsley Leather personalized cufflinks for wedding, $71, Etsy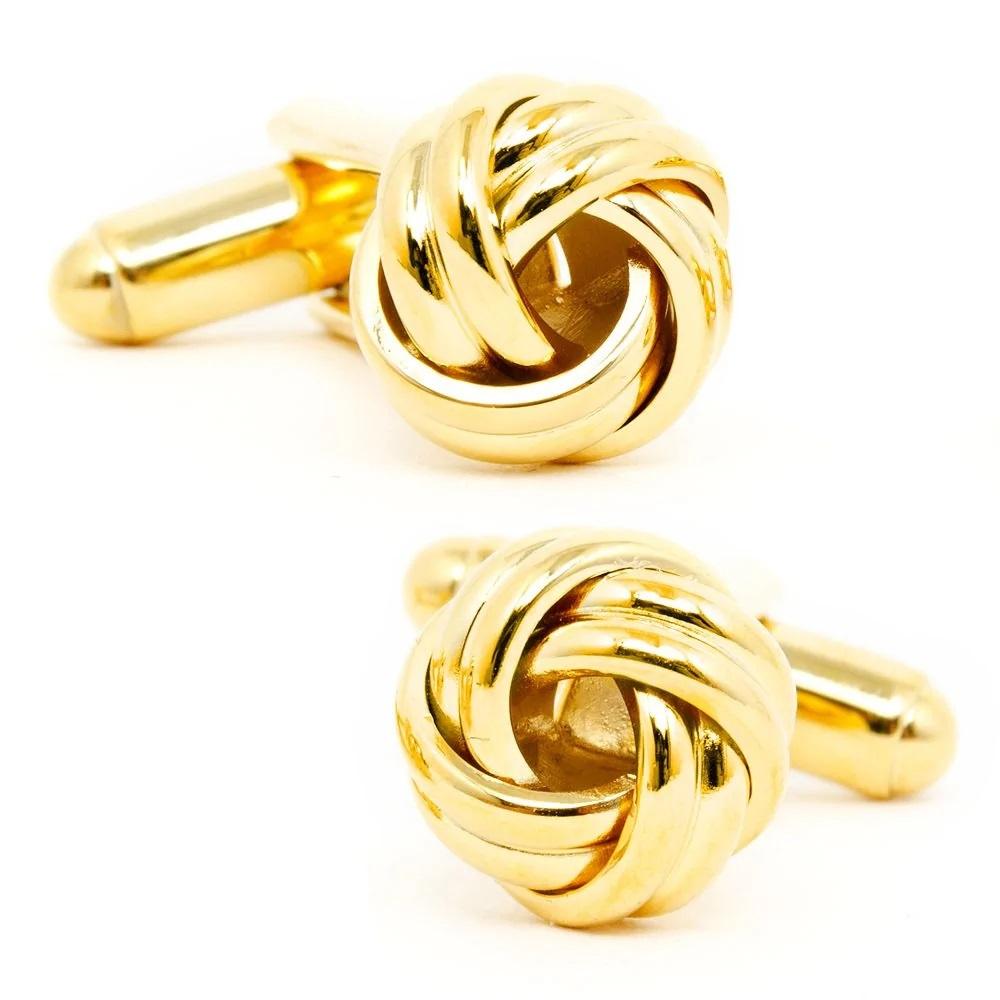 2. Love Knots
What better way to mark the occasion than with this stunning set of gold knot cuff links? They're a romantic symbol of your love and commitment to each other.
Ox & Bull Trading Co. gold knot cufflinks, $55, Cufflinks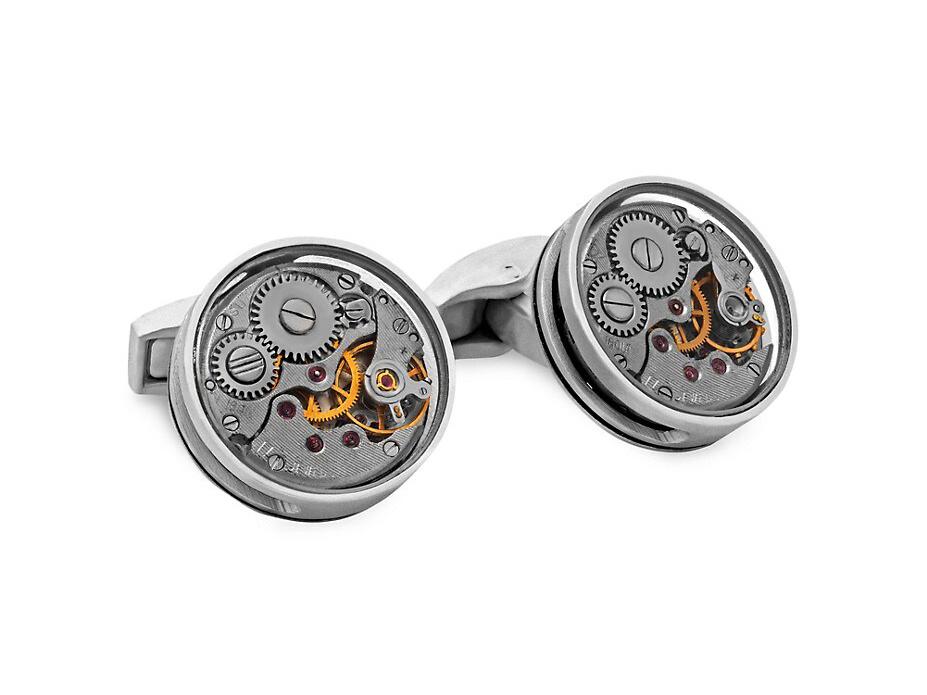 3. Watch Movements
If you're looking for something a little more unique, check out these vintage-style wedding accessories containing skeleton watch movements.
Tateossian slim skeleton round gear cufflinks, $315, Saks Fifth Avenue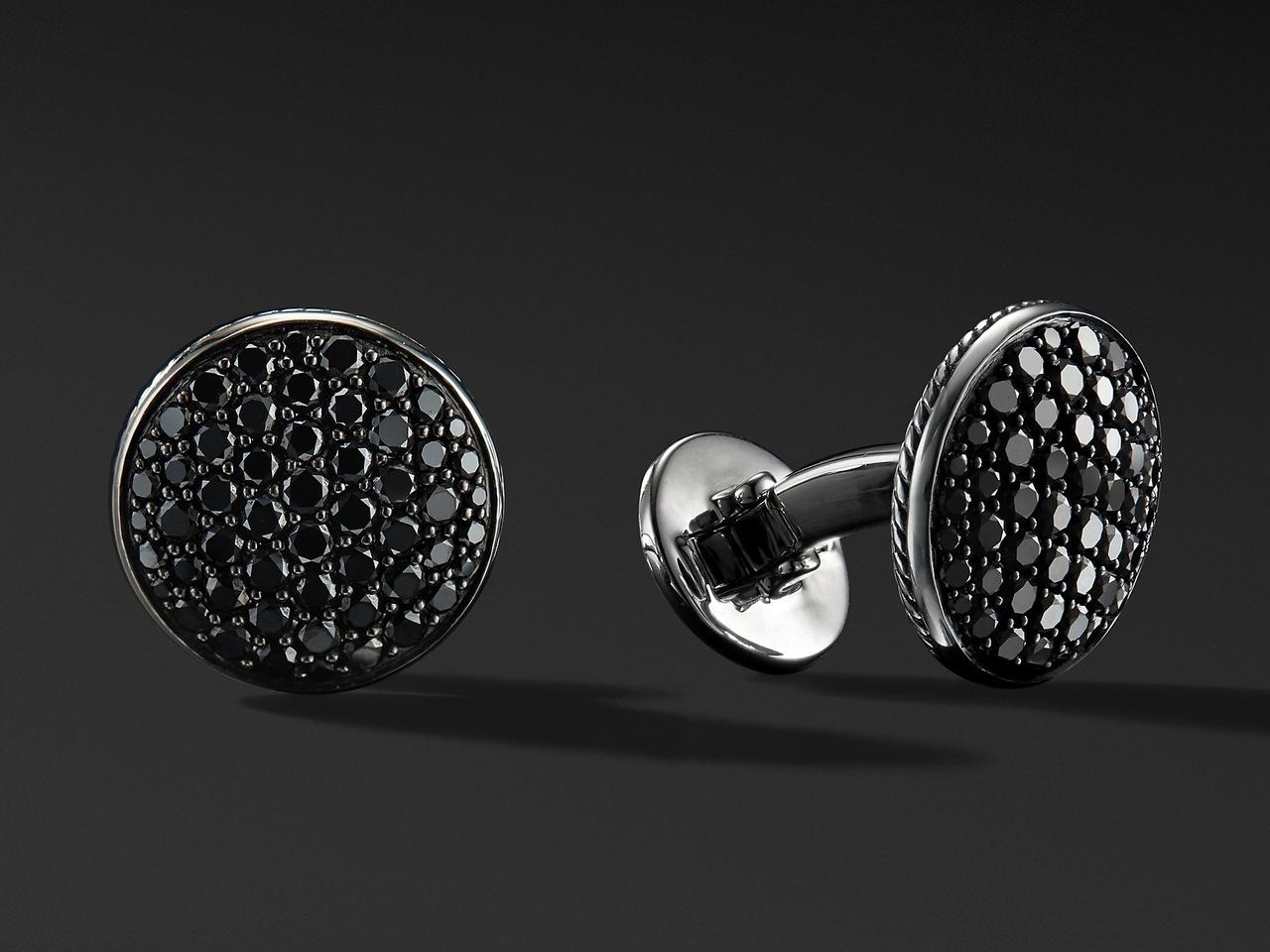 4. Black Diamonds
Purchasing wedding cuff links as a gift for your other half? Your partner will feel like a million bucks in this decadent pavé-diamond pair. Diamond cuff links are also an excellent alternative to an engagement ring.
David Yurman pavé cufflinks with black diamonds, $2,900, David Yurman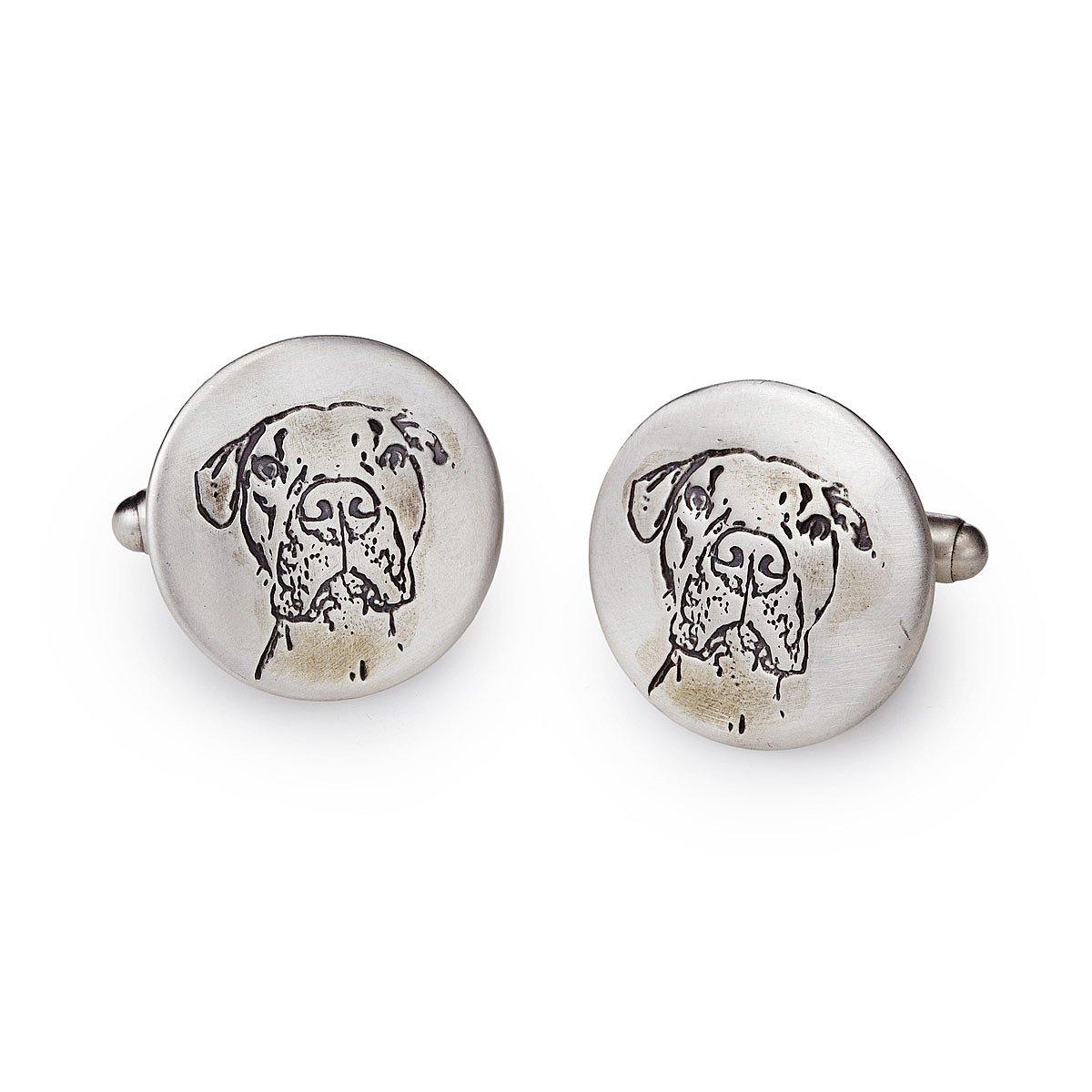 5. Pet Portrait
These days, more and more couples are choosing to include their pets in their weddings. If that's not an option, you can easily pay tribute to your furry best friend by wearing wedding cuff links engraved in their likeless.
Erin Harris custom pet portrait cufflinks, $260, Uncommon Goods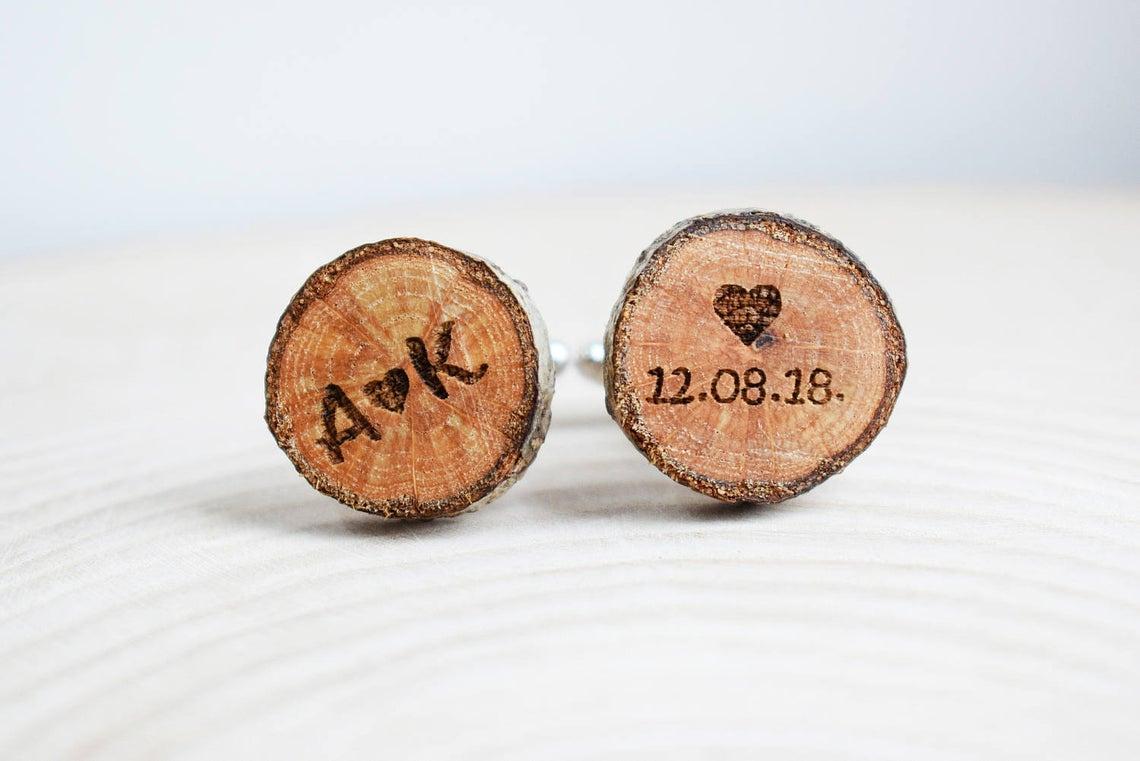 6. Rustic Oak
If a rustic celebration is in the cards, we've found the ones for you. These wedding date cuff links are made from natural oak and can also be engraved with your initials.
Shameless Accessories natural oak cufflinks, from $21, Etsy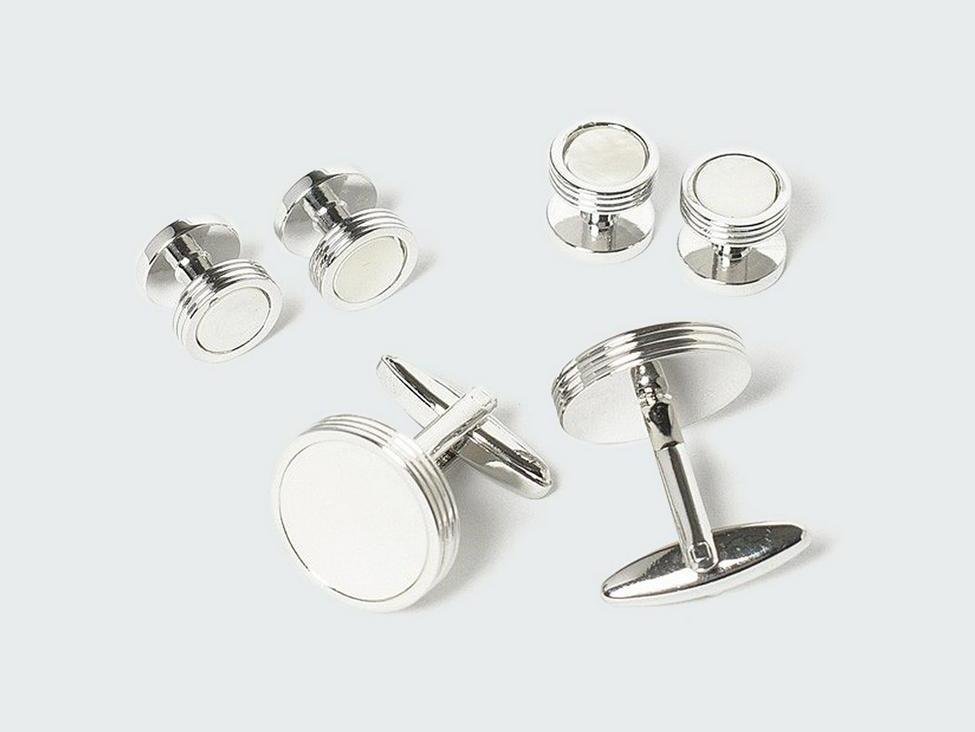 7. Classic White
Wearing a tuxedo on the big day? These groom-worthy cuff links are elegant and understated, making them an excellent addition to a statement outfit.
Indochino white tuxedo cufflinks set, $39, Indochino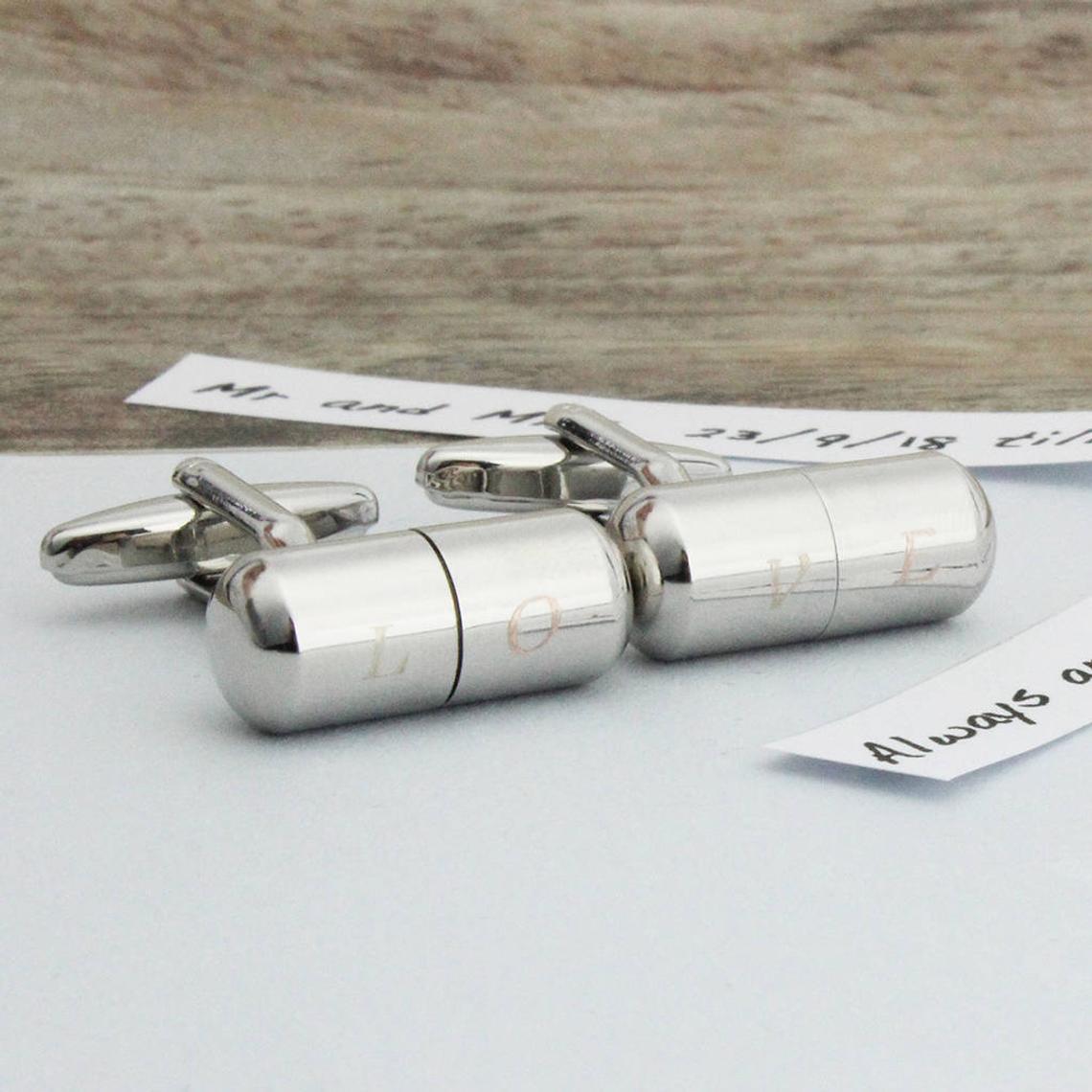 8. Secret Message
Tuck a secret message inside each of these engravable capsules for your S.O. to read on the morning of. They're a romantic pair of cuff links from the bride or groom to their soon-to-be spouse.
Charlie Boots personalized engraving capsule cufflinks, $37, Etsy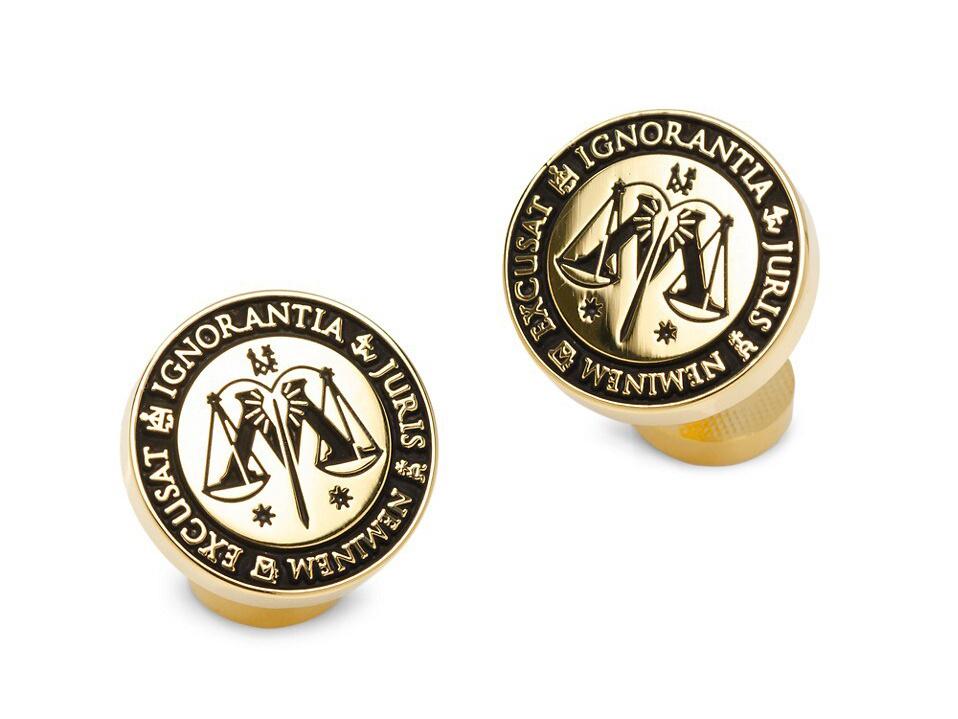 9. Pop Culture-Inspired
Like we said, wedding cuff links are a great opportunity to showcase your personality. These subtle Harry Potter-themed accessories are fun cuff links for the groom, groomsmen, or whoever.
Harry Potter Ministry of Magic Wizengamot cufflinks, $70, Saks Fifth Avenue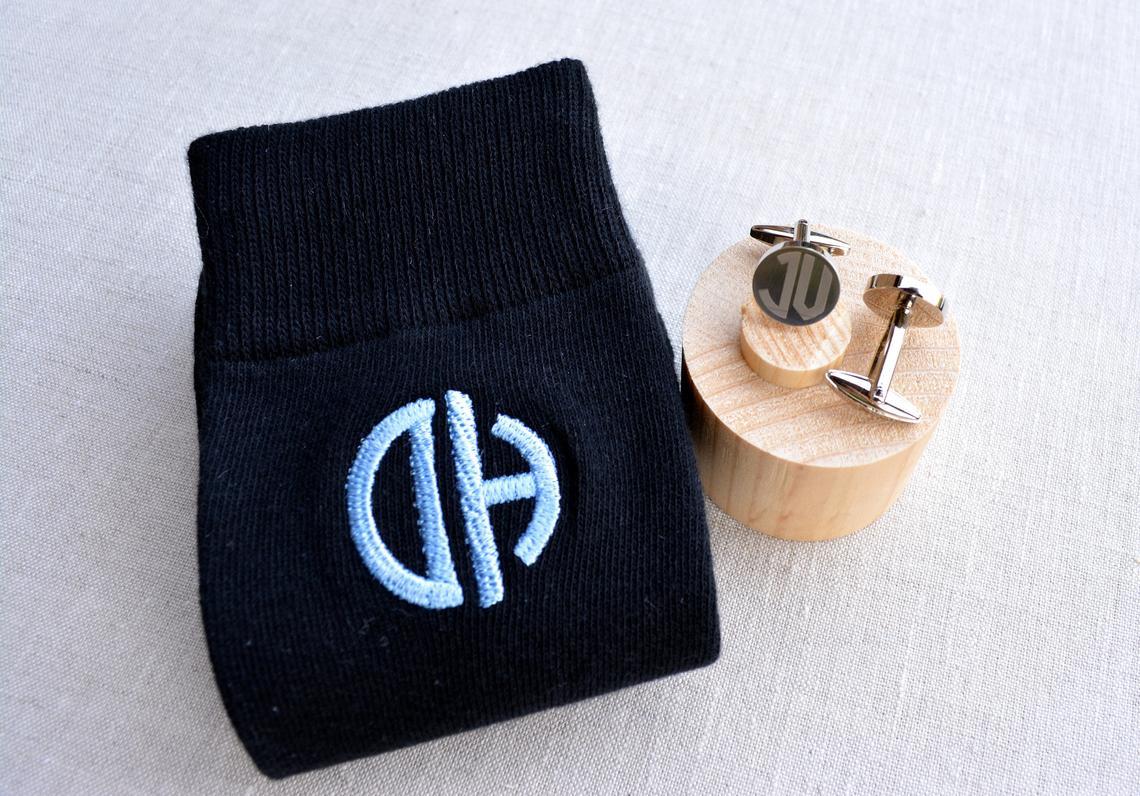 10. Modern Monogram
If you're shopping for someone else, a matching set of socks and cuff links adorned with their monogram will make for a thoughtful gift before the wedding.
Clip A BowTie personalized groom's cufflinks and socks, from $20, Etsy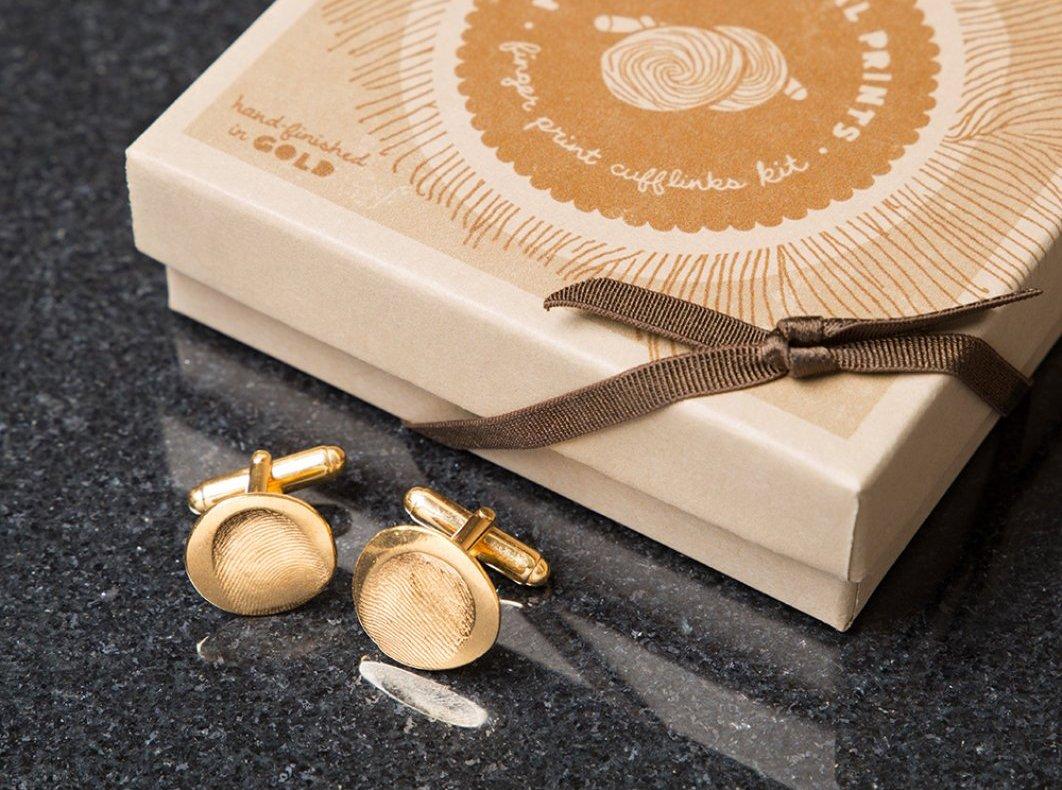 11. Fingerprint Impression
If you're set on finding something truly one of a kind for your S.O. to wear to the altar, these unique fingerprint cuff links are the perfect fit.
Precious Metal Prints fingerprint cuff links, from $140, The Grommet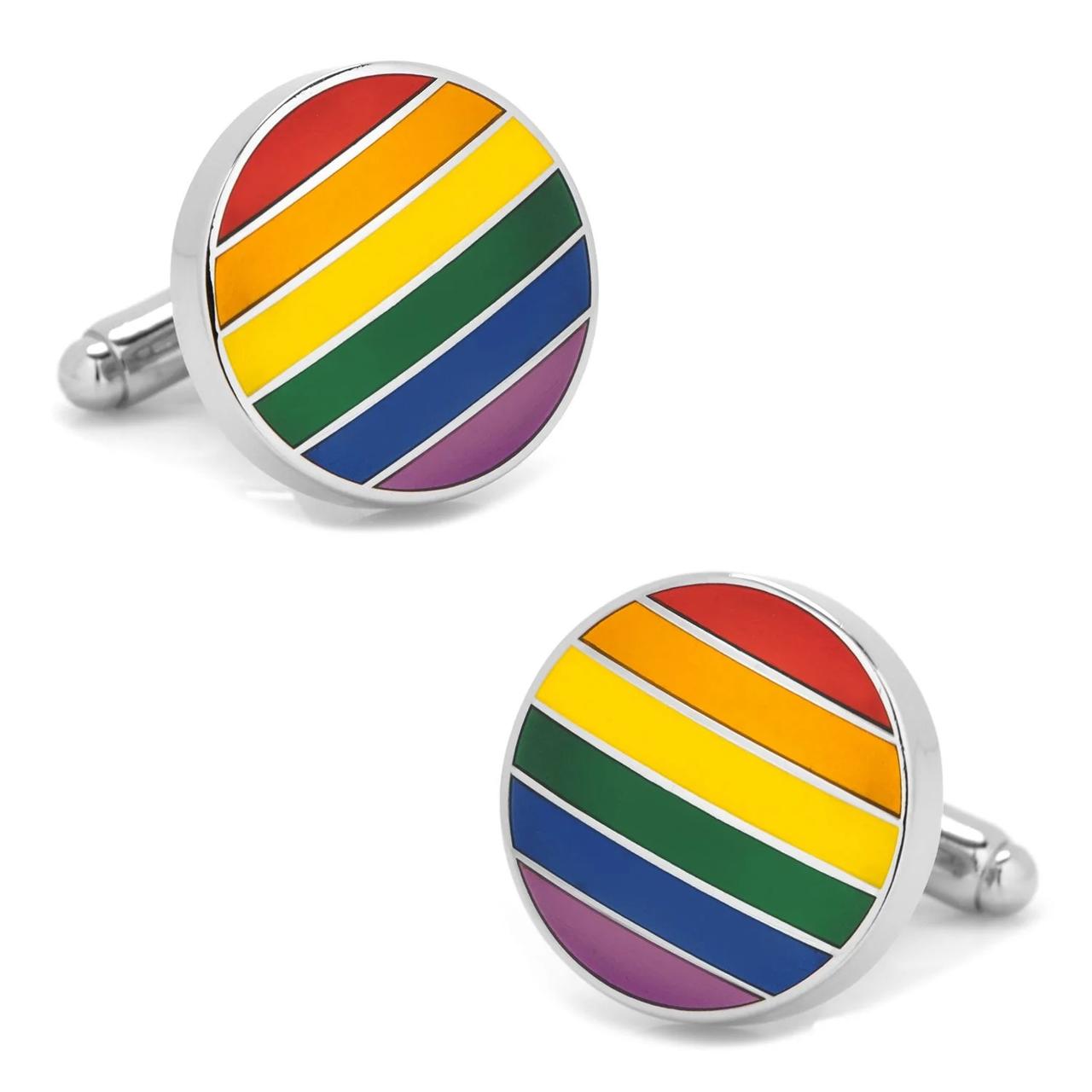 12. Rainbow Stripes
These brightly colored cuff links will let you wear your pride on your sleeve.
Cufflinks, Inc. rainbow stripe cufflinks, $55, Cufflinks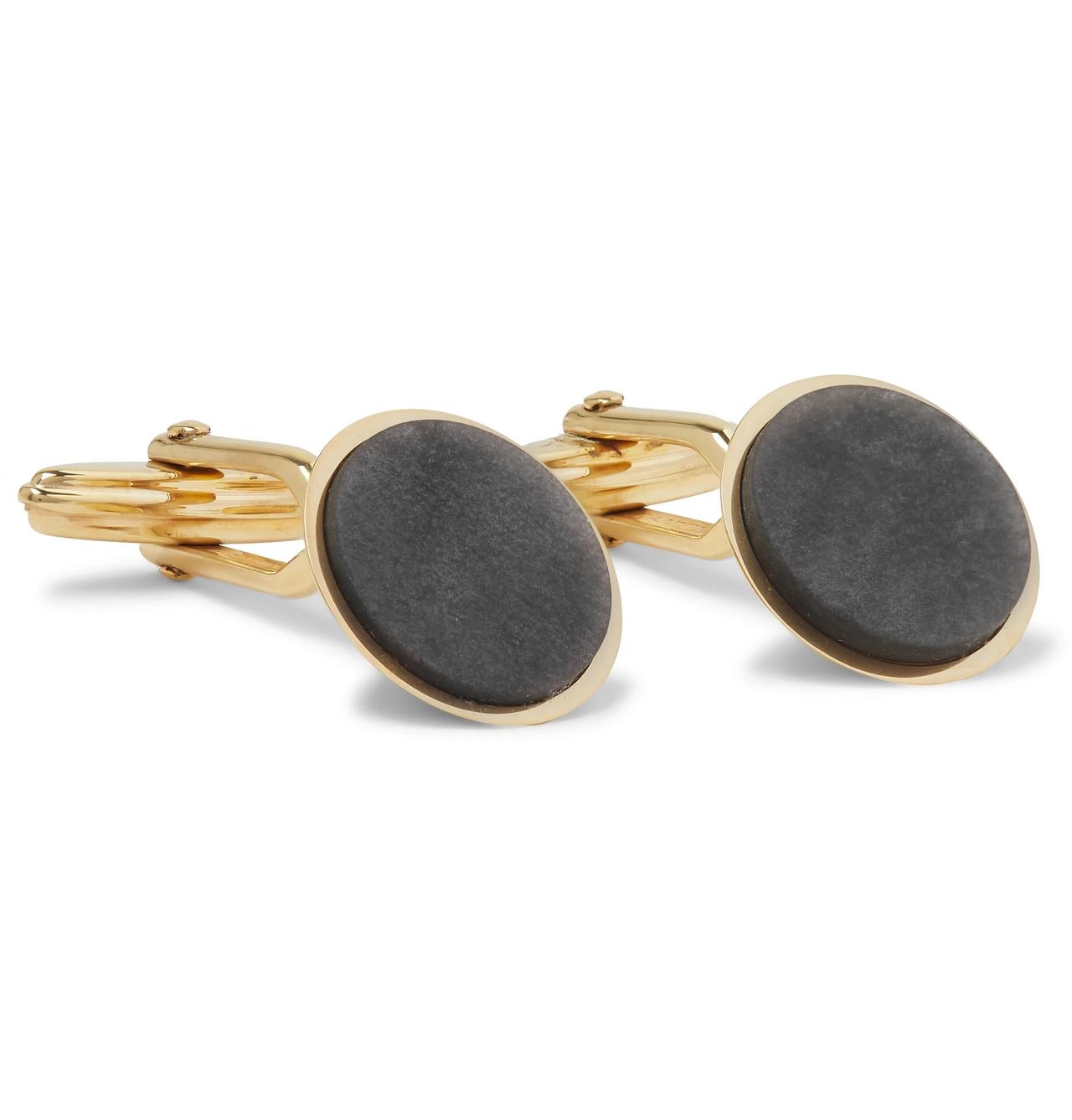 13. Opulent Obsidian
We love the fine, antique feel of these obsidian cuff links cast in gold-plated brass. They're a sophisticated choice for someone planning a formal affair.
Lanvin gold-plated and obsidian cufflinks, $320, Mr Porter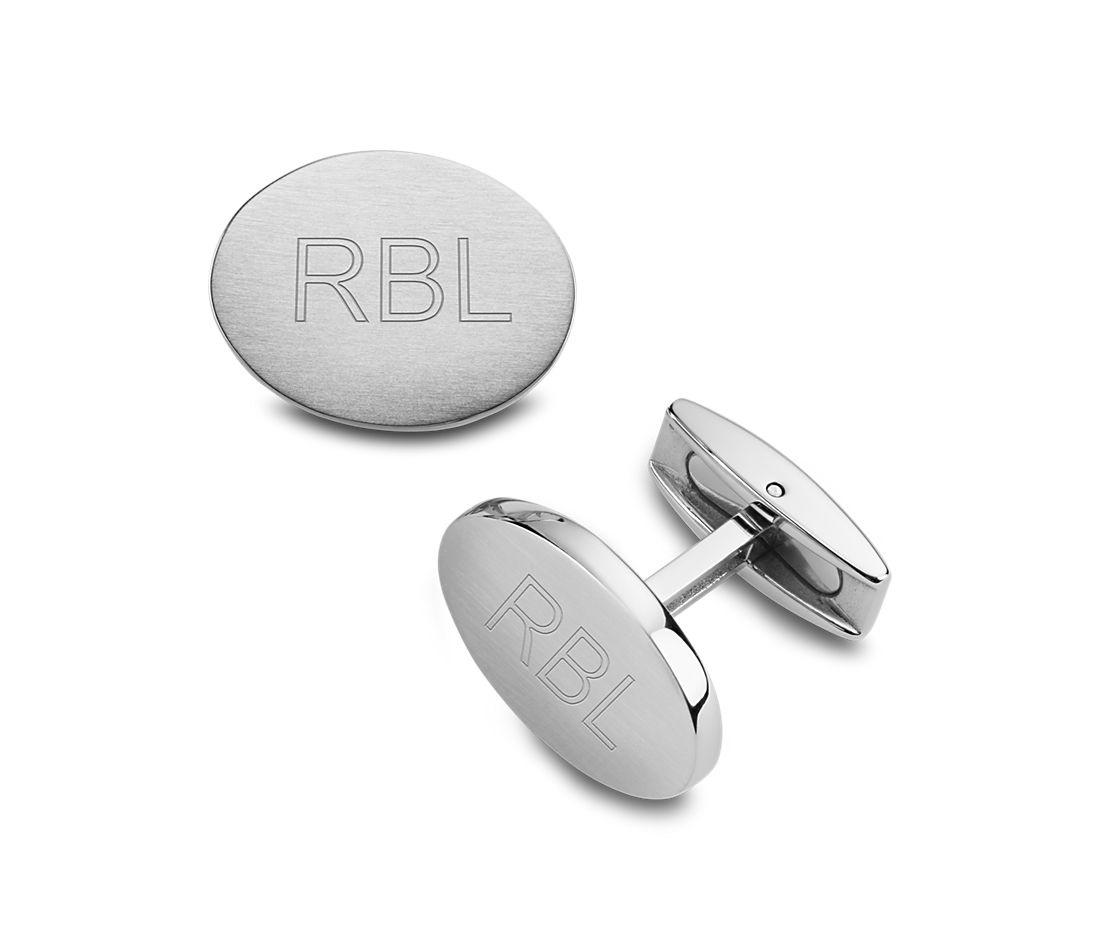 14. Engraved Steel
More of a minimalist? Keep it classy with a set of engravable oval cuff links in cool stainless steel.
Blue Nile oval cuff links, from $65, Blue Nile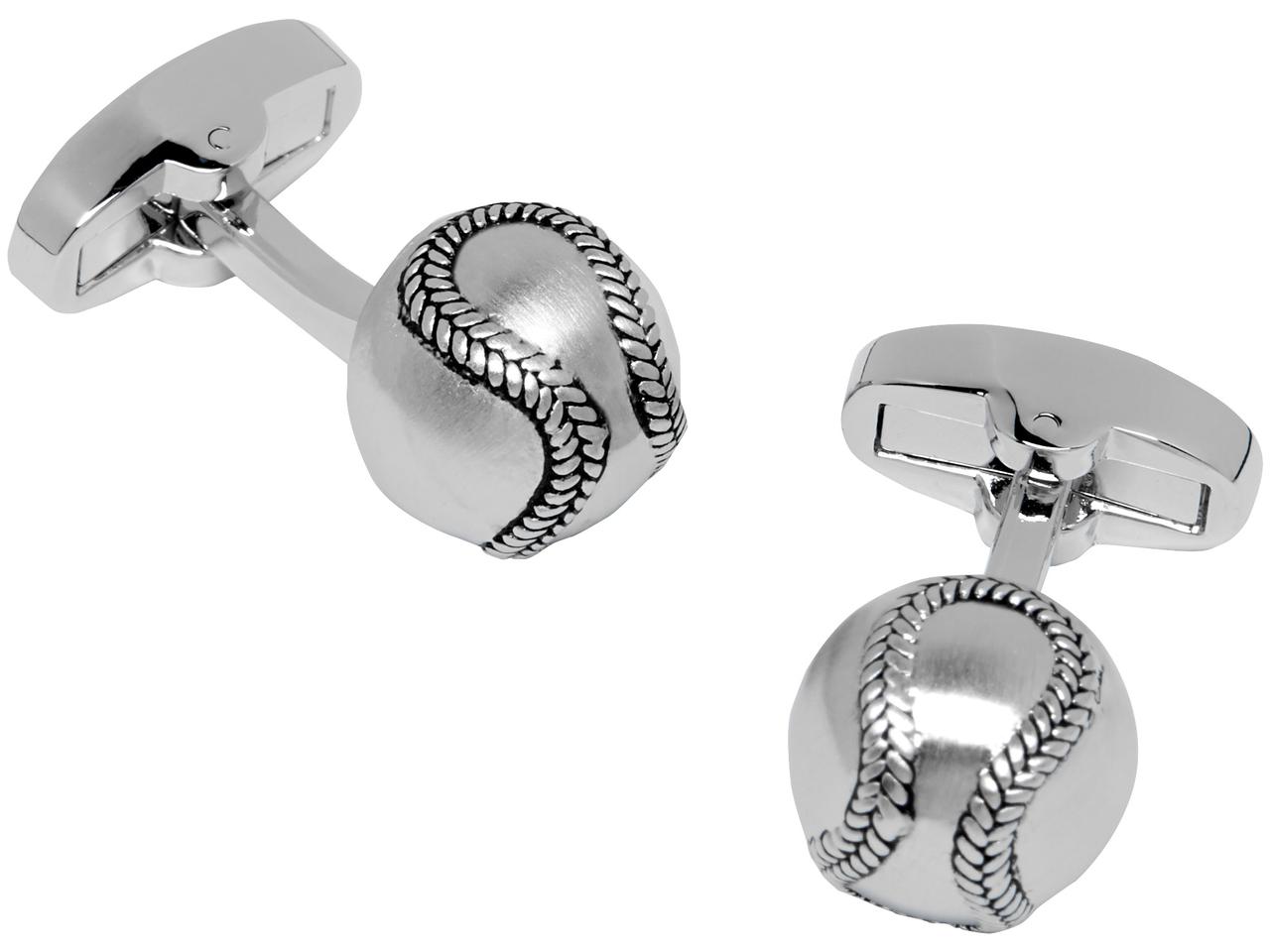 15. Mini Baseballs
Here's another fun option that'll let you show off your unique personality: tiny metal baseballs.
Joseph Abboud baseball cufflinks, $60, Men's Wearhouse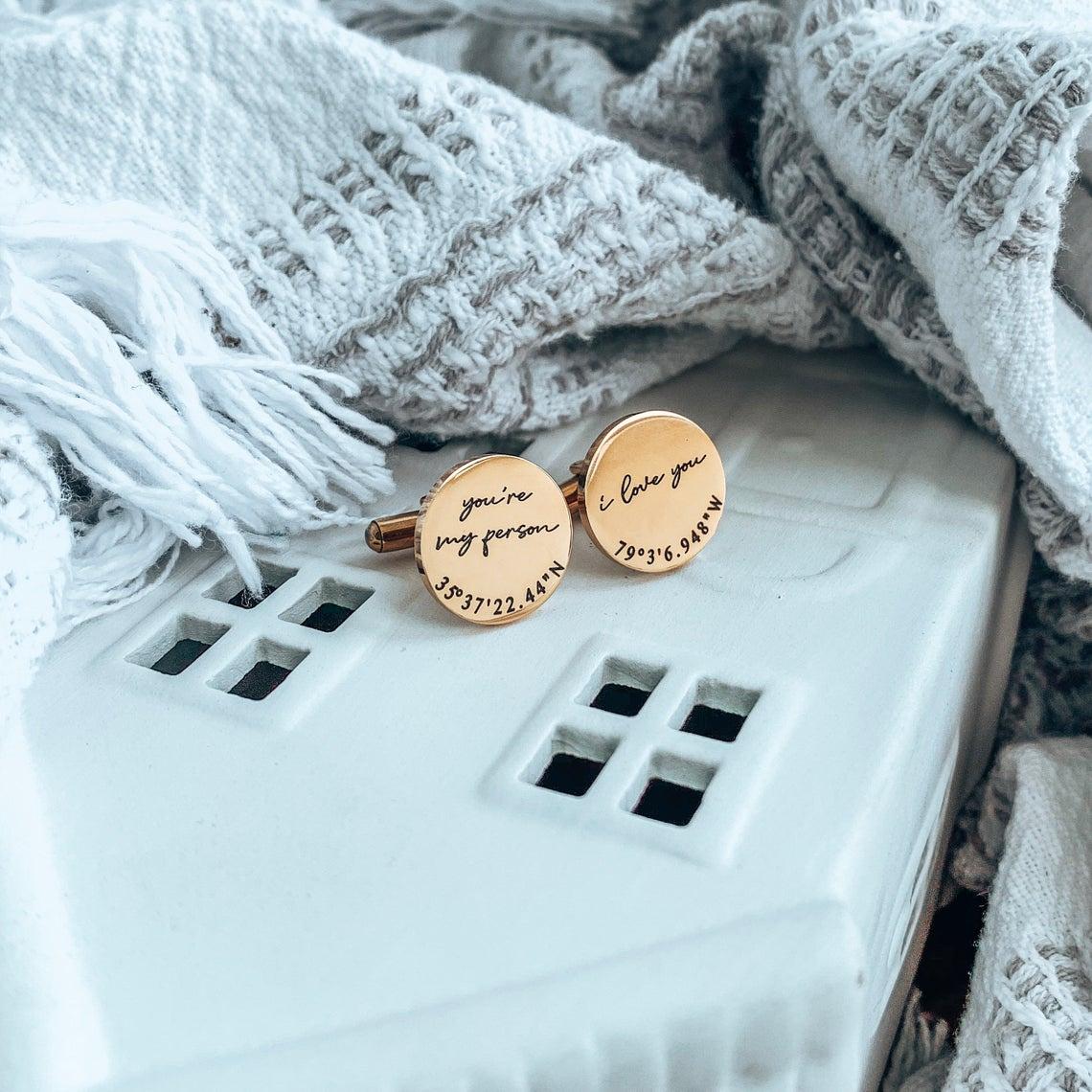 16. Heartfelt Message
These personalized cuff links are a meaningful gift for the groom from their other half. One reads "you're my person" and the other, "I love you." Have them engraved with the coordinates of where you first met, got engaged, or are tying the knot.
The Salty Hut wedding cufflinks for groom, $44, Etsy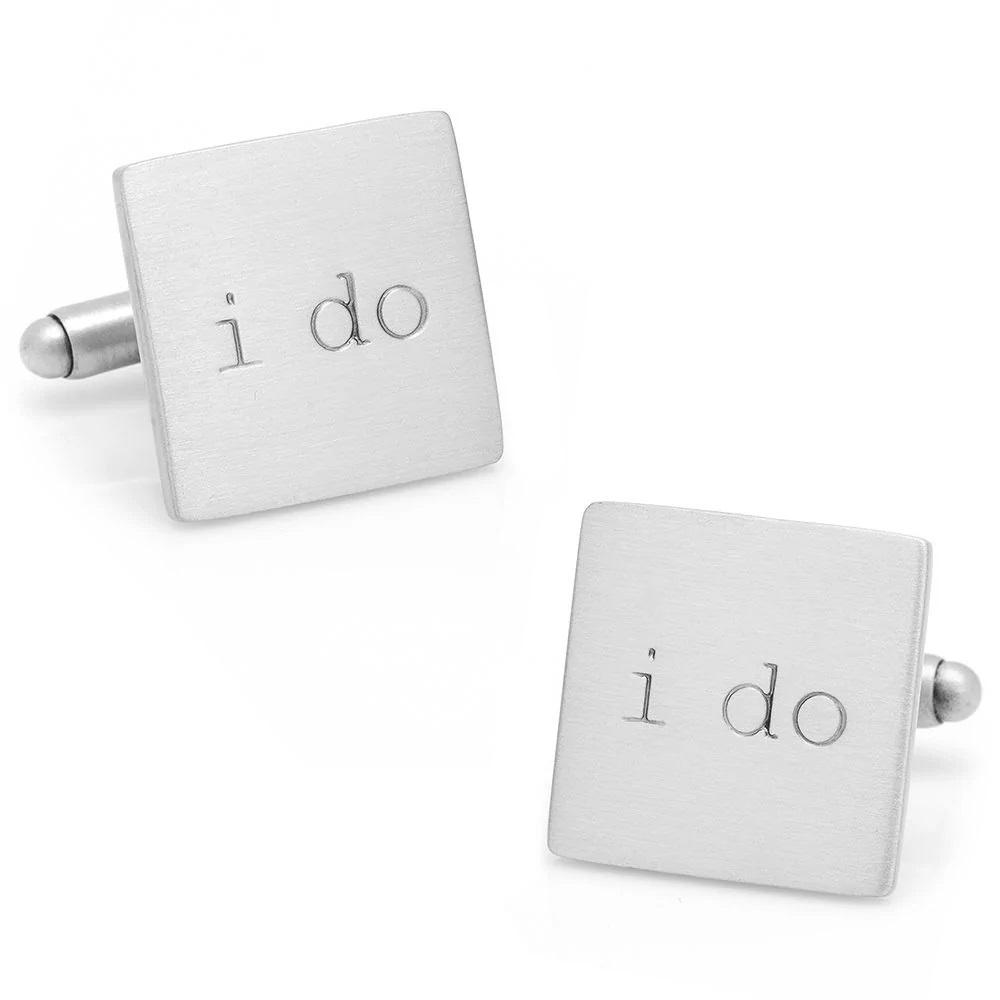 17. "I Do" Engravings
How sweet are these square-shaped cuff links engraved with the words "I do"? Wear them again on future anniversaries to show your other half you still do.
Cufflinks, Inc. Wedding Series I Do cufflinks, $55, Cufflinks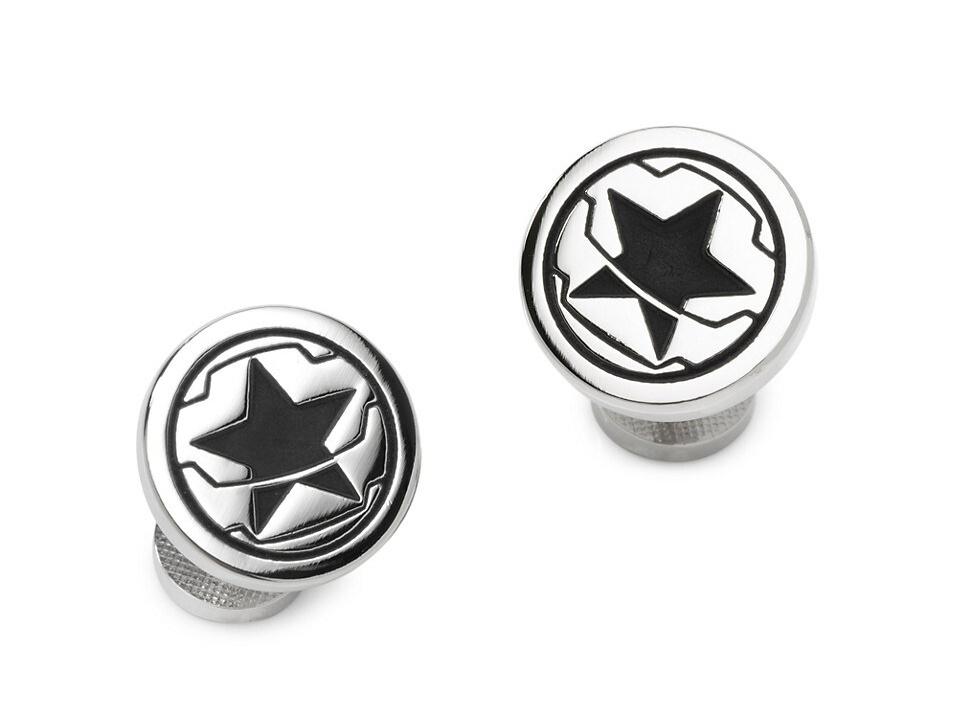 18. Superhero Style
Donning Marvel-themed accessories like these Winter Soldier cuff links is a fun way for the groom and his groomsmen to coordinate. We're also fans of this scaled-down version of Thor's hammer.
Marvel Winter Soldier cufflinks, $70, Saks Fifth Avenue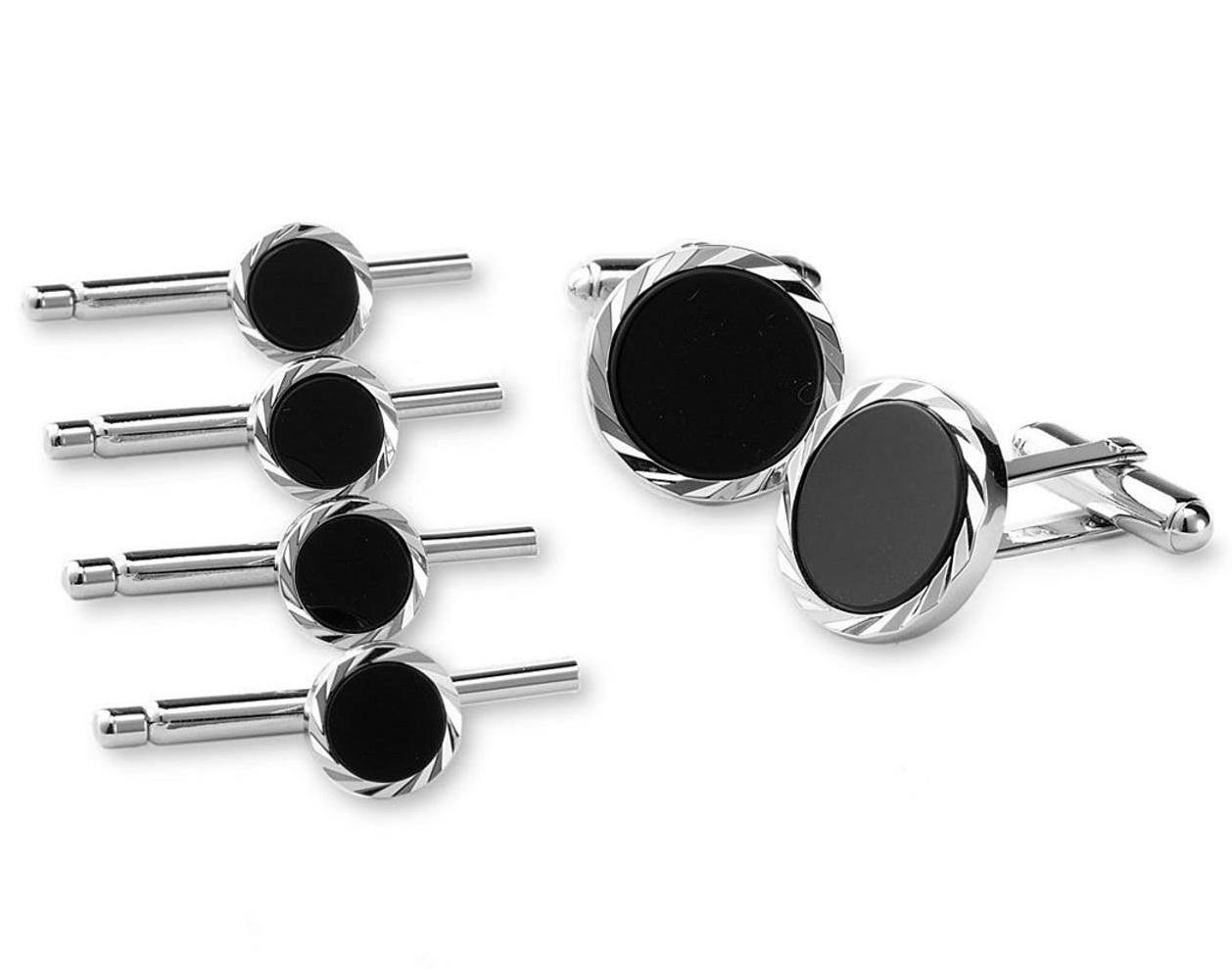 19. Classic Black
Trendy textured silver gives these traditional wedding cuff links a modern edge. They'll go with pretty much any formal suit or tux.
David Donahue onyx cuff link & stud set, $350, Nordstrom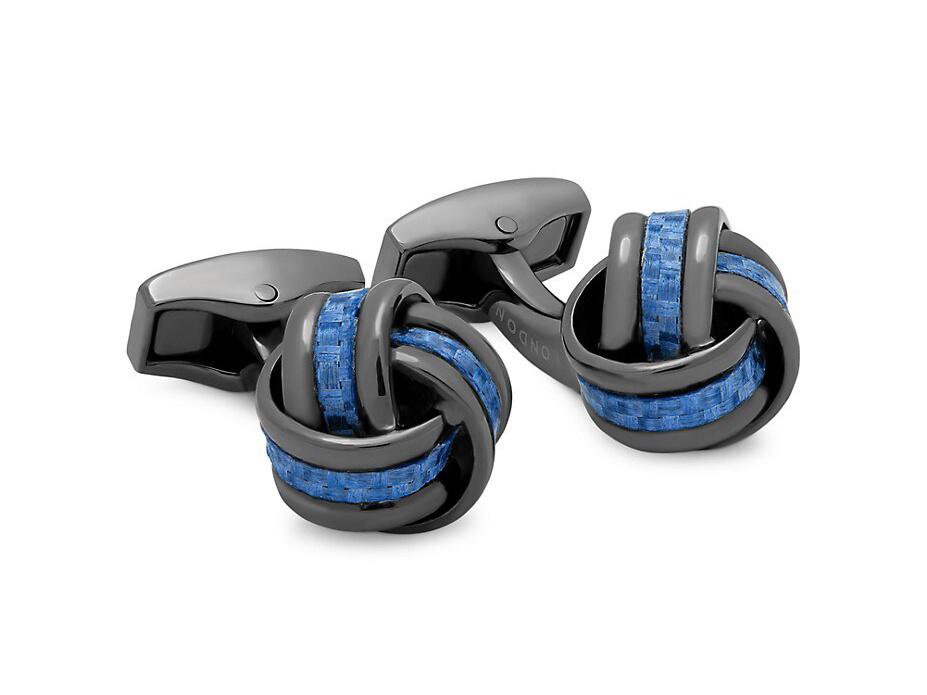 20. Something Blue
Blue accessories aren't reserved for traditional brides. We love these unique two-tone cuff links in a fitting love knot design.
Tateossian carbon knot cufflinks, $315, Saks Fifth Avenue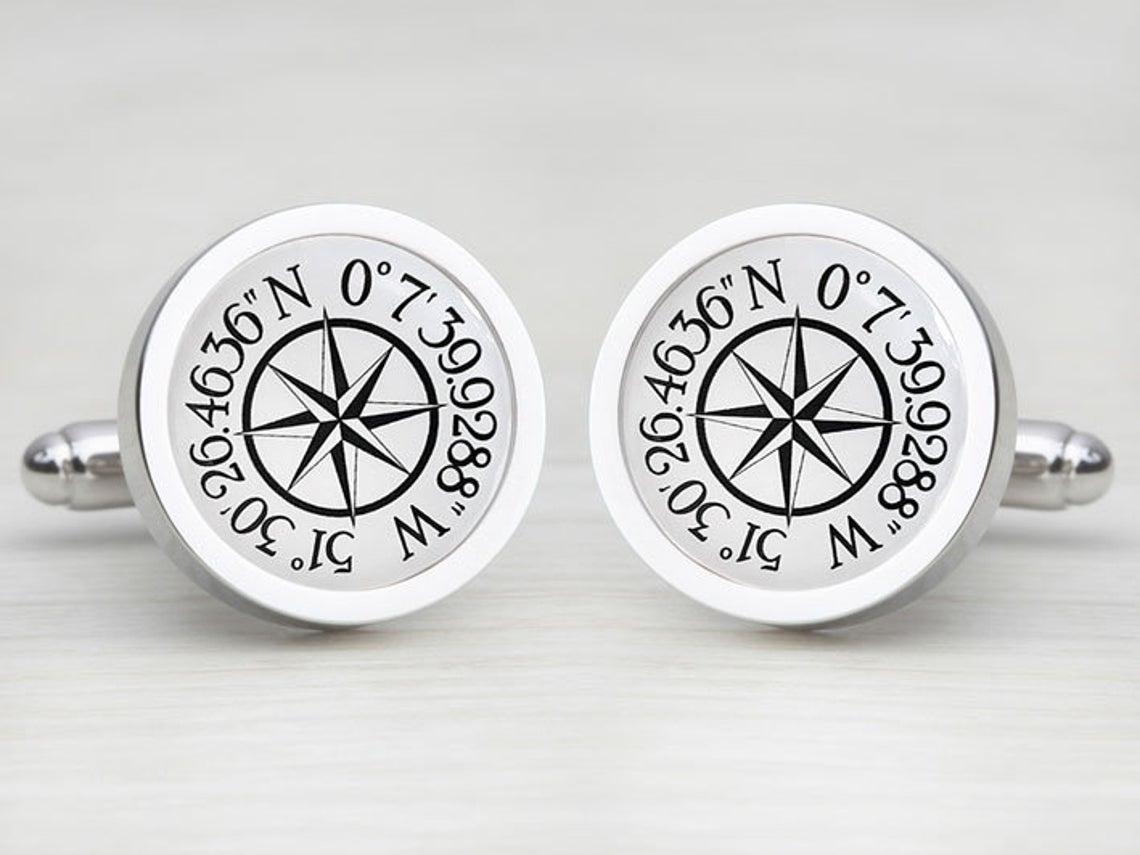 21. Custom Coordinates
Possibilities are endless when it comes to finding a special pair of cuff links for the groom. One way to make your gift extra meaningful is to include important details from your upcoming wedding day, like the date or coordinates.
Richard Cammish coordinate location map cufflinks, from $48, Etsy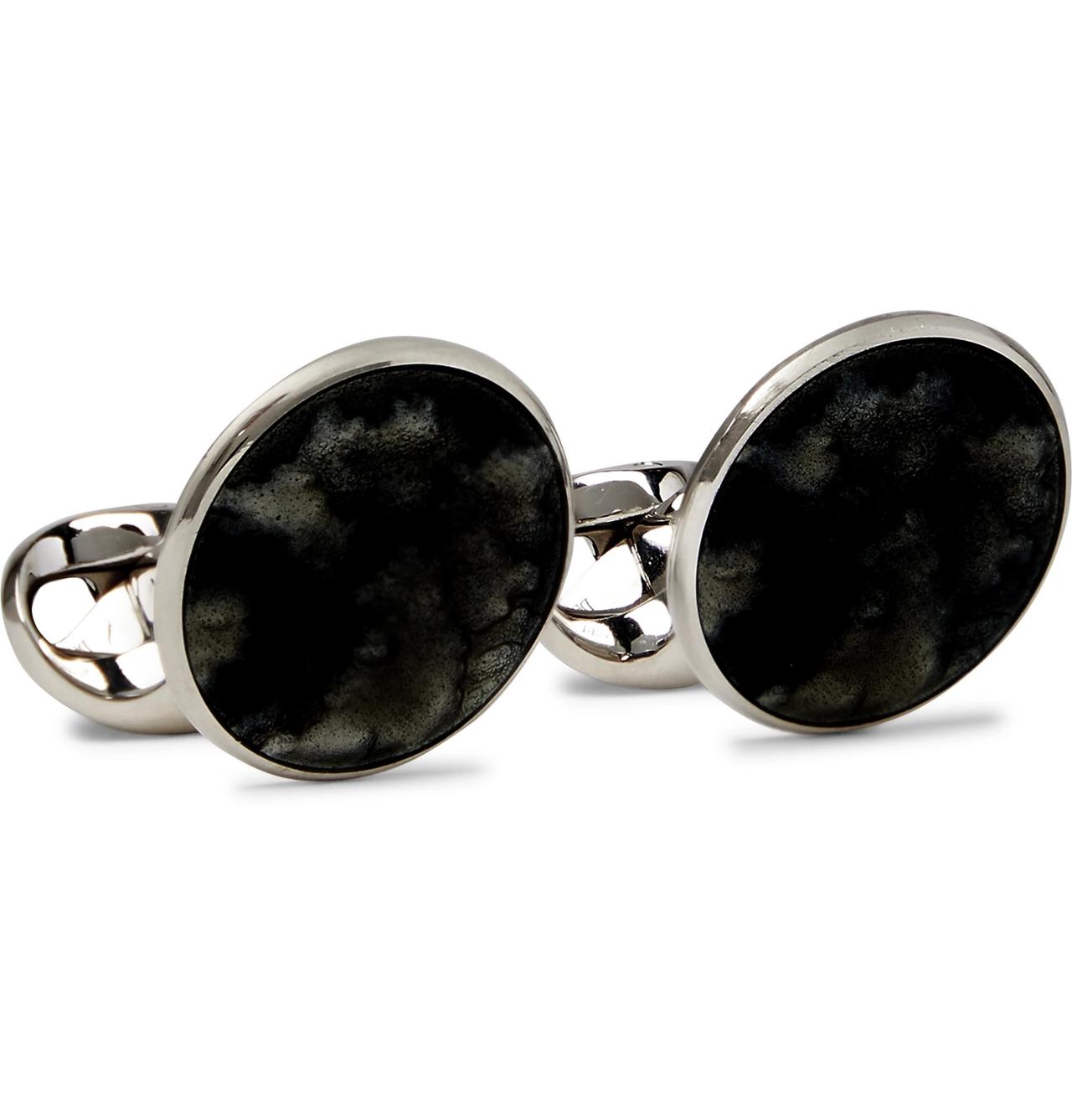 22. Unique Enamel
Grey-blue enamel gives these elegant cuff links a subtle shimmer. They're also cast in sterling silver, making them definite heirloom material.
Deakin & Francis sterling silver and enamel cufflinks, $395, Mr Porter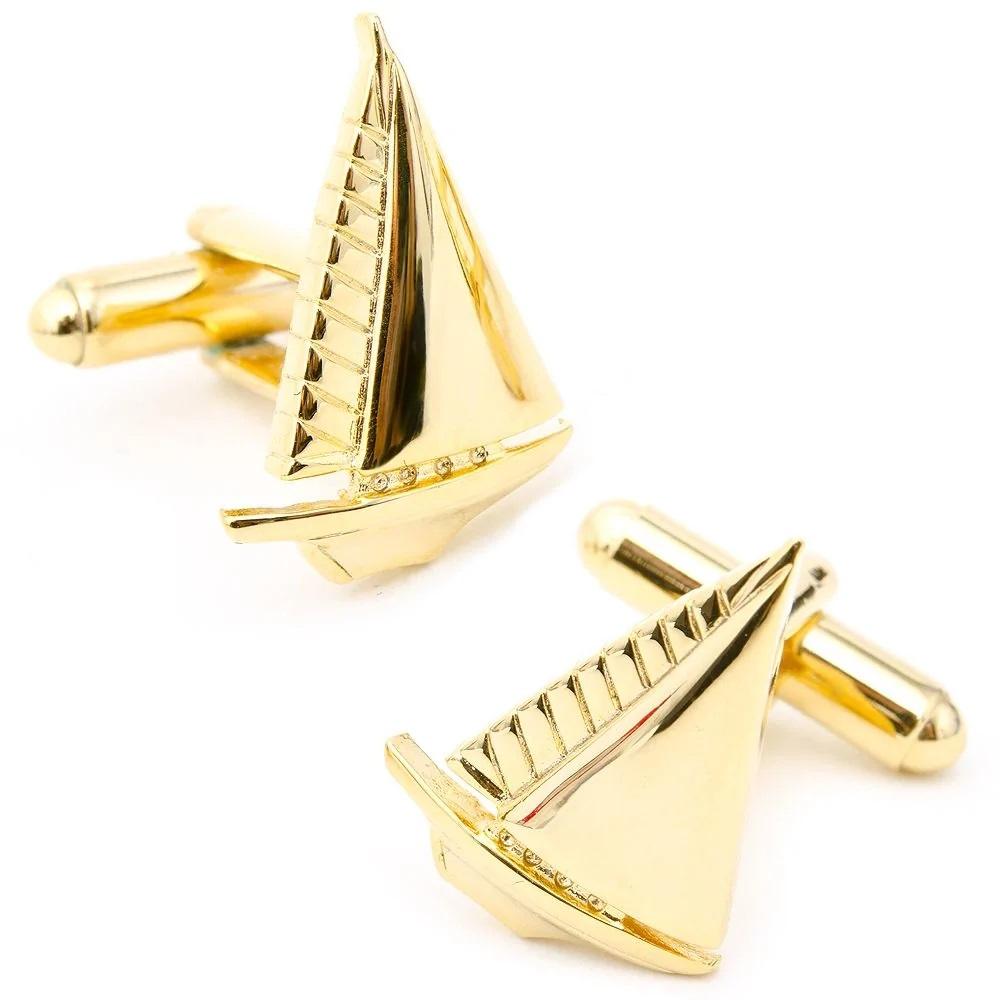 23. Gold Sailboats
Whether it's a nautical-themed wedding or you just love to spend your weekends on open water, these sailboat cuff links are a fun finishing touch.
JJ Weston gold sailboat cufflinks, $50, Cufflinks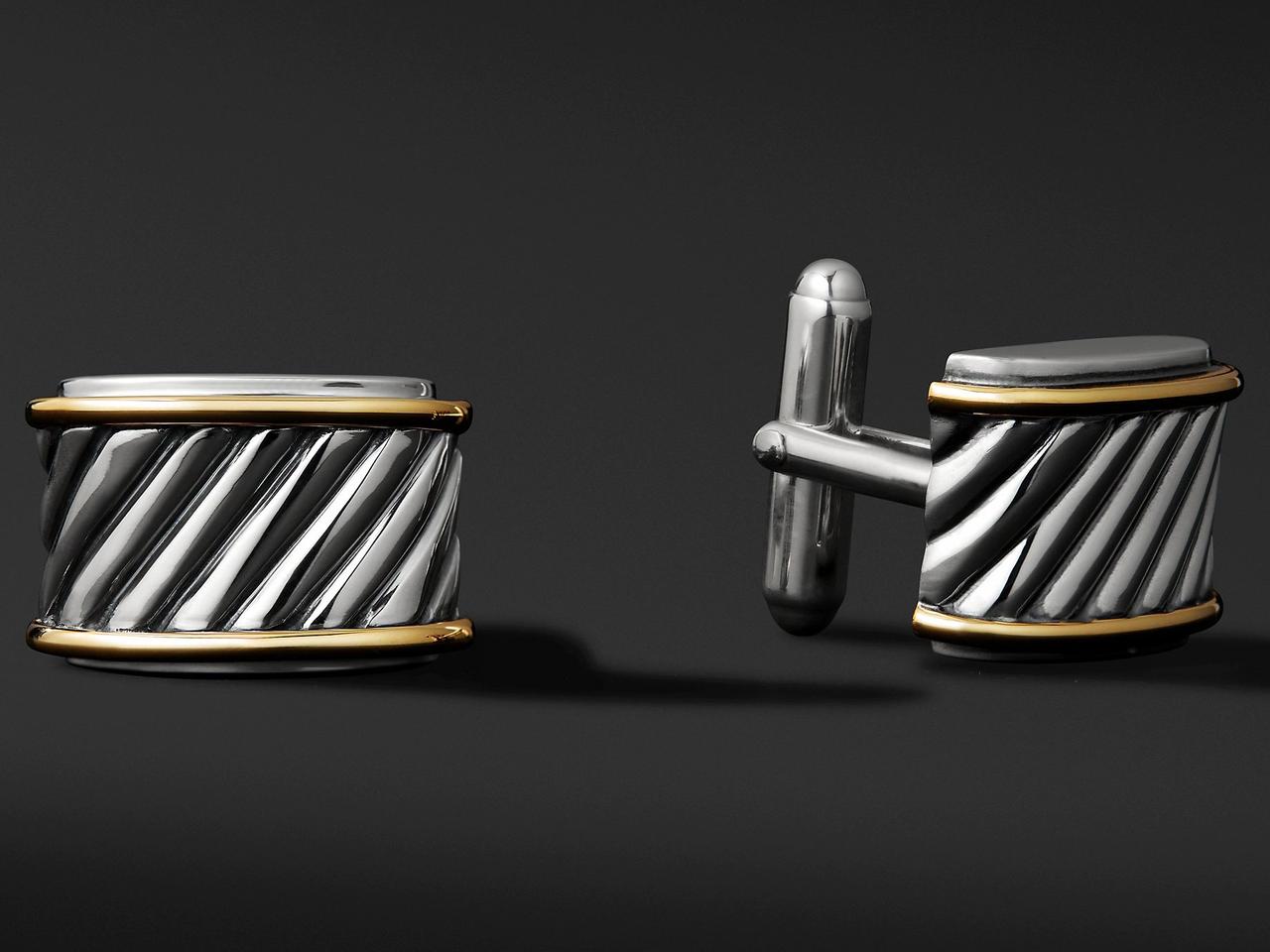 24. Elegant Twist
Anything from David Yurman's designer collection would make an awesome present. We love the idea of these gold and silver cuff links as a wedding gift for the groom.
David Yurman cigar band cufflinks with 14k yellow gold, $675, David Yurman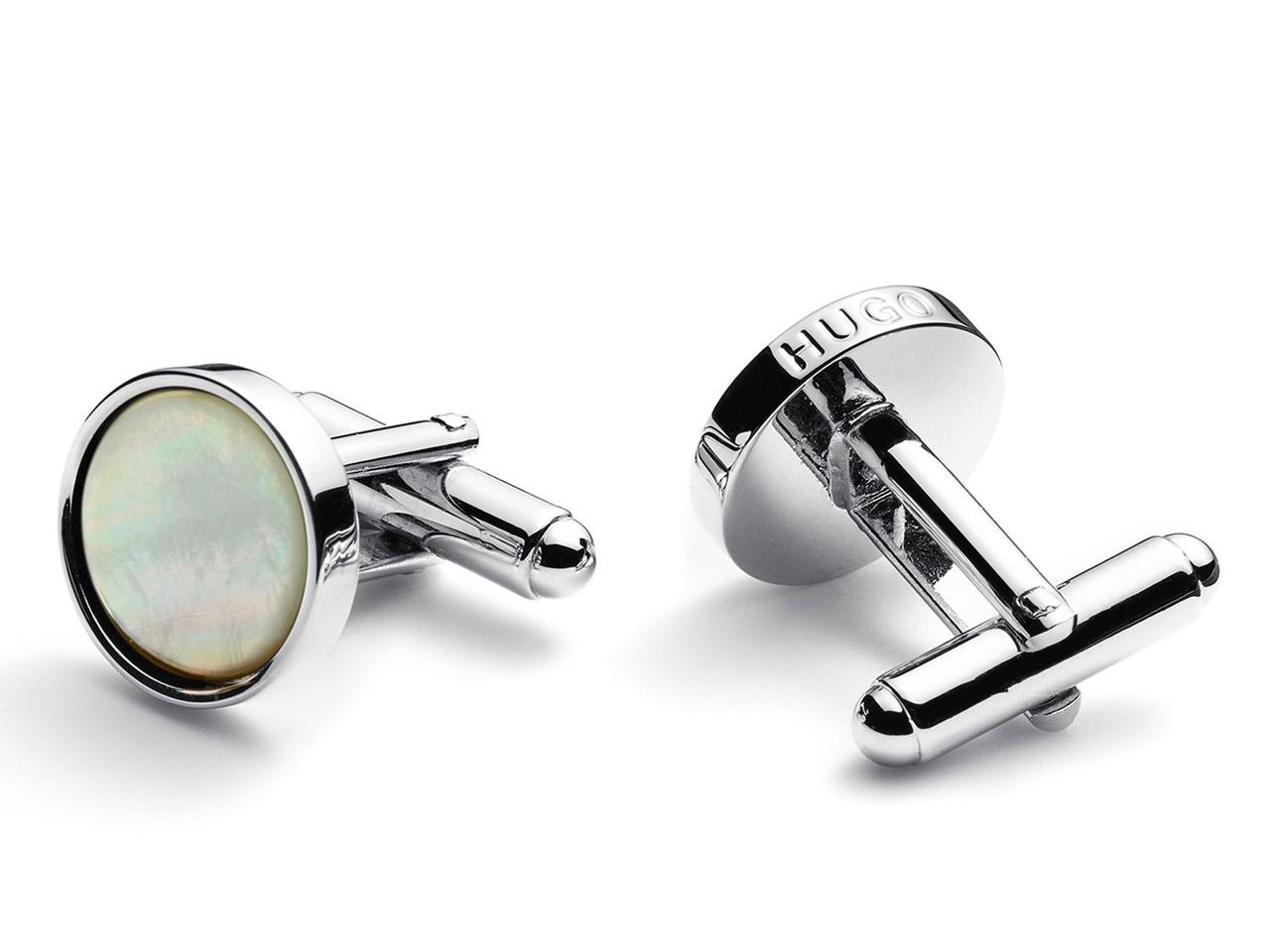 25. Mother-of-Pearl
An iridescent mother-of-pearl inlay in a polished metal setting will give your wedding attire just the right amount of shine.
HUGO BOSS round polished-metal cufflinks with mother-of-pearl inlays, $98, HUGO BOSS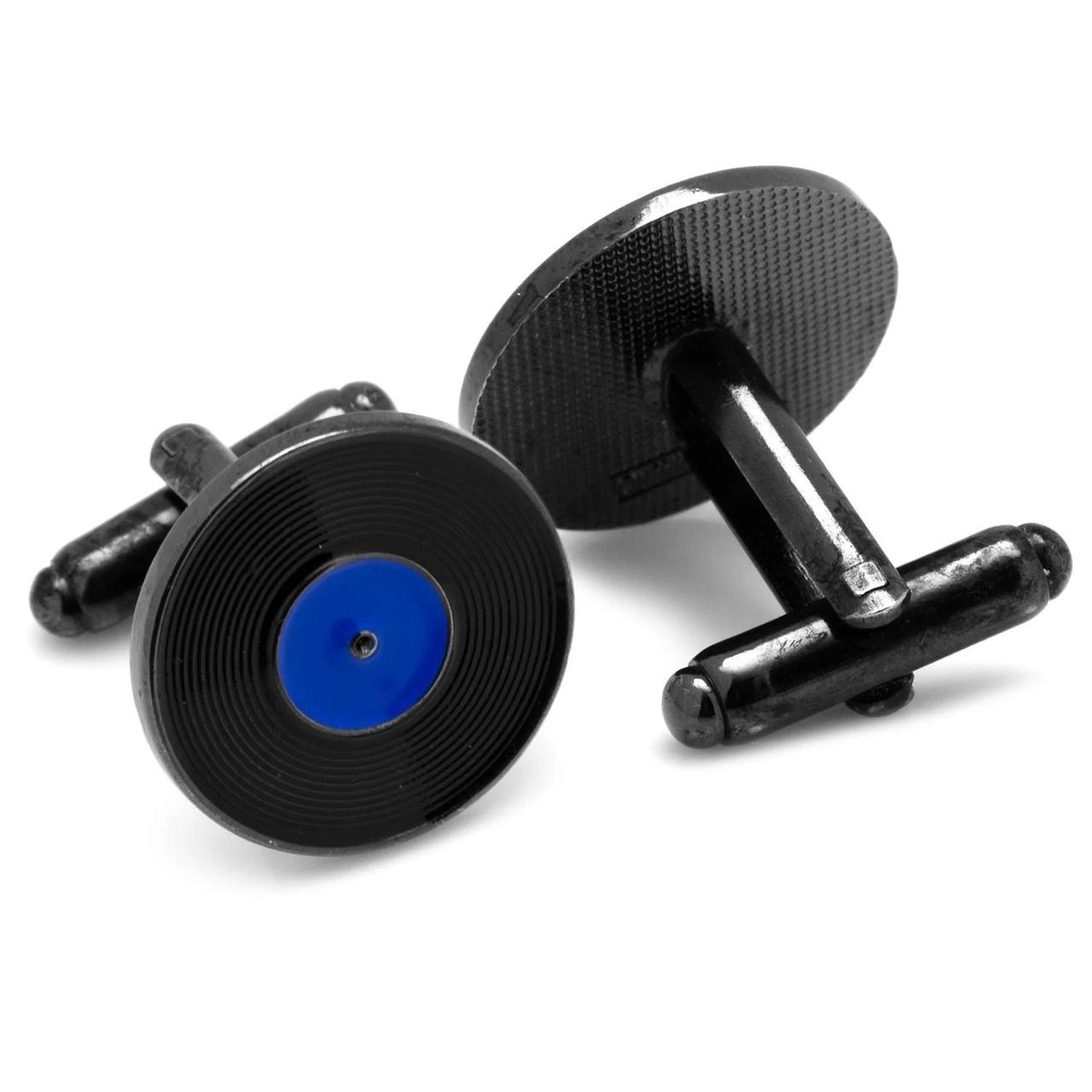 26. Vintage Vinyls
Some of the best cuff links for grooms showcase their favorite hobbies and interests. This vinyl-inspired pair is the perfect accessory for music lovers. It's all the more romantic if you and your S.O. bonded over your record collection.
Cufflinks, Inc. 33" record cufflinks, $55, Cufflinks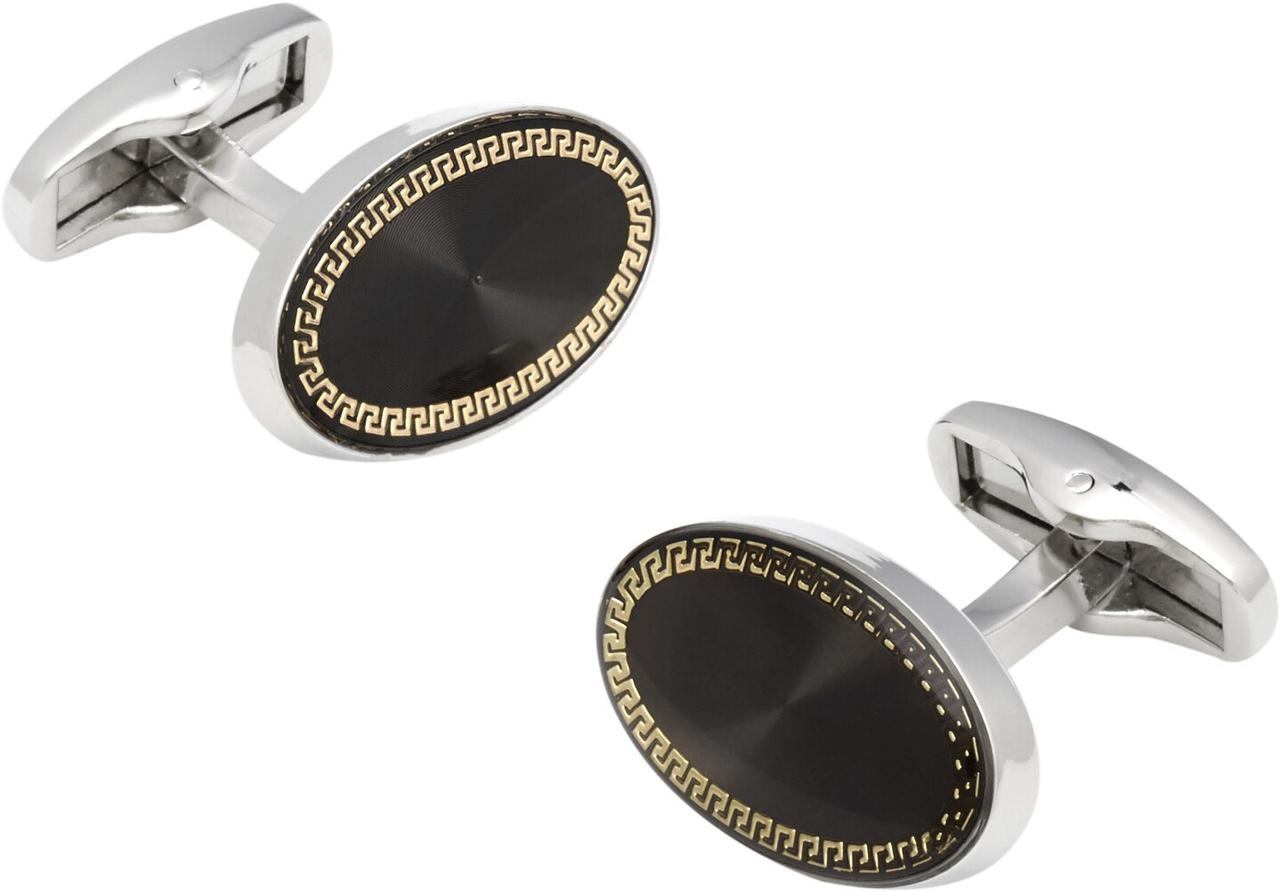 27. Ornate Ovals
These decorative enamel cuff links would look right at home at a Gatsby-inspired wedding.
Pronto Uomo gray & gold ornate cufflinks, $40, Men's Wearhouse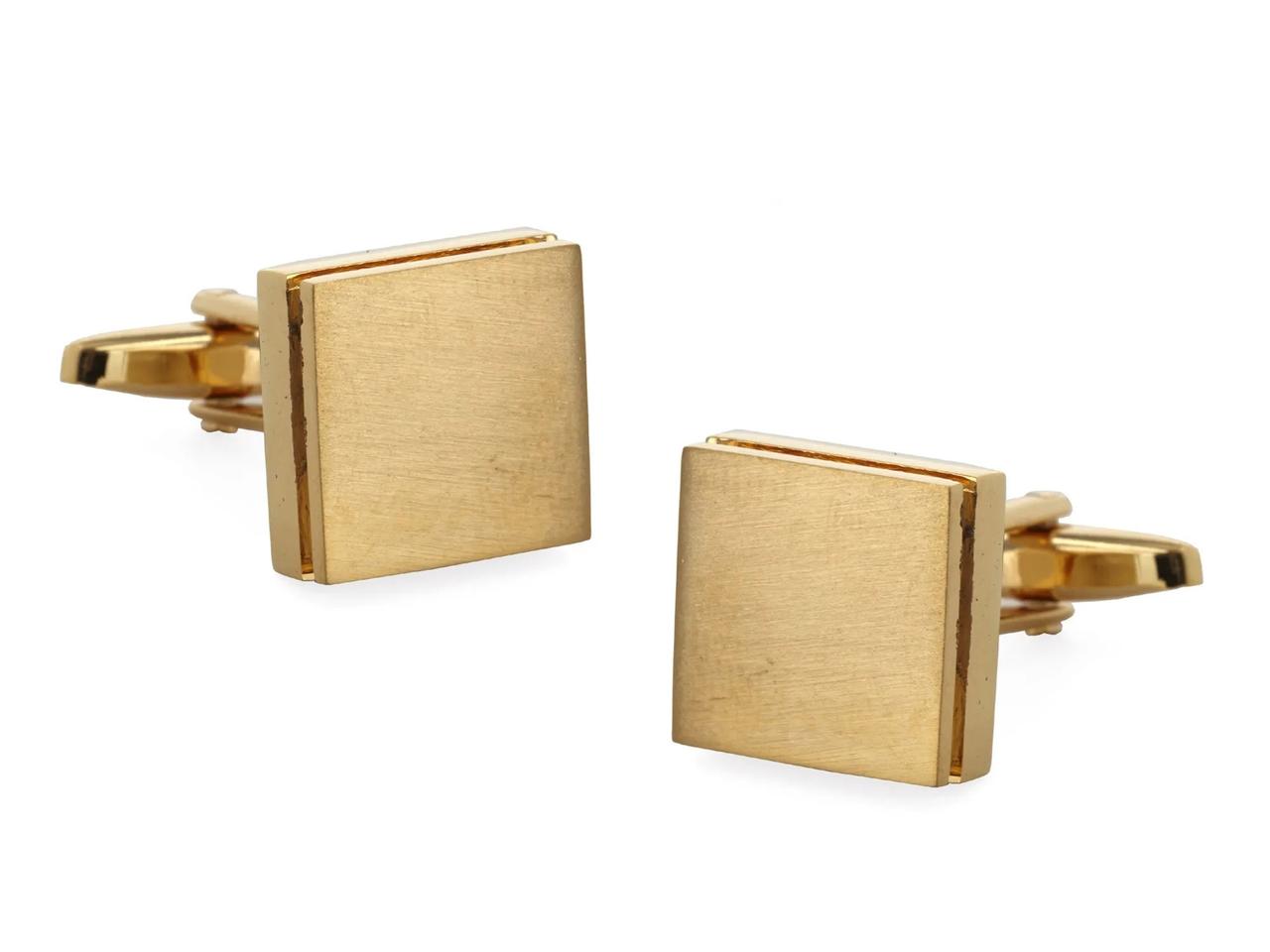 28. Modern and Minimalist
If you or your S.O. has a more understated style, you can't go wrong with a pair of clean and contemporary cuff links like this.
The Tie Bar textured sweep gold cufflinks, $20, The Tie Bar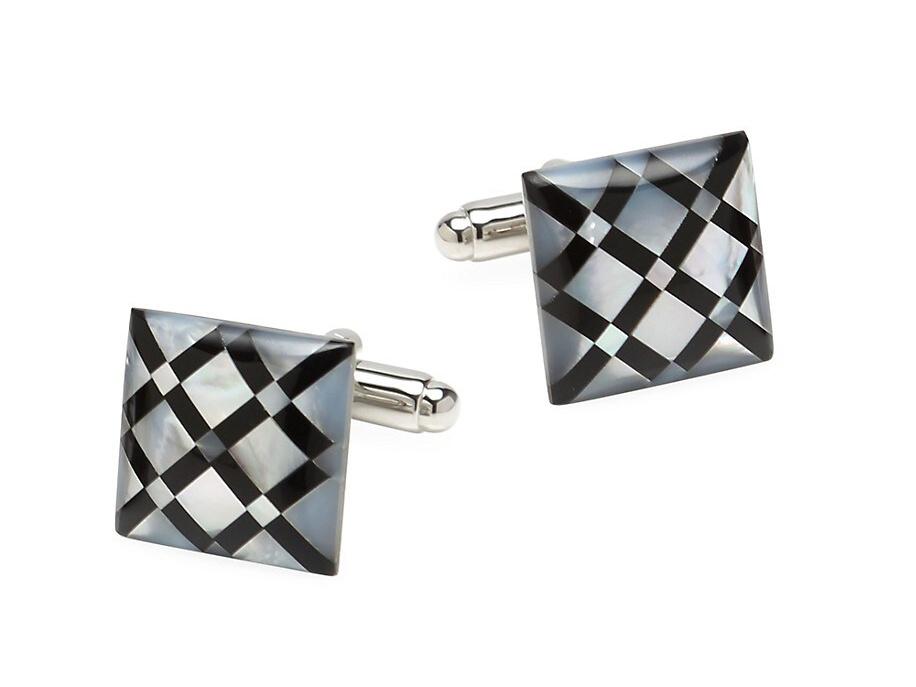 29. Diamond Argyle
Mother-of-pearl and onyx form an interesting argyle pattern on these unique wedding accessories.
Ox & Bull Trading Co. white mother of pearl diamond cufflinks, $80, Saks Fifth Avenue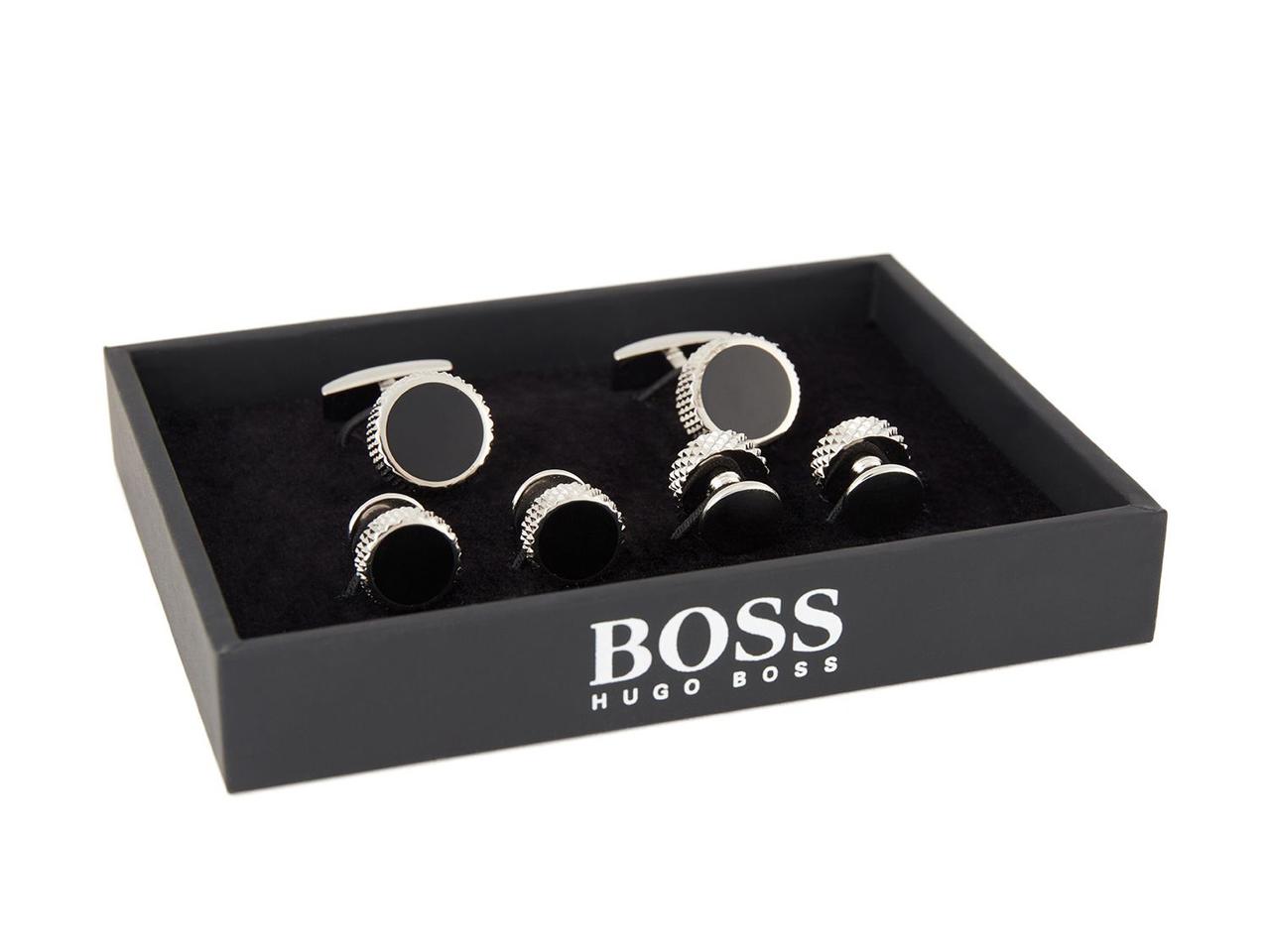 30. Textured Materials
Take your evening wear to the next level with this wedding-worthy cuff link set featuring sleek enamel faces and patterned brass settings.
HUGO BOSS cufflinks and stud set with black enamel core, $248, HUGO BOSS