How to Incorporate Family Heirlooms in Your Wedding
There are so many ways to add family heirlooms and mementos to your special day, from attire to decor, and much more.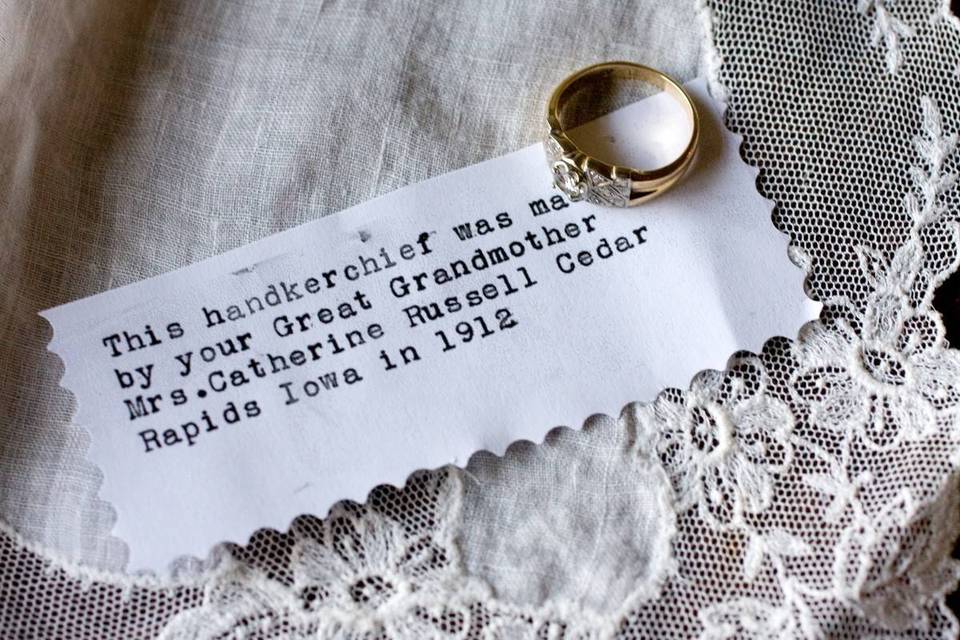 A wedding day is not only special for the couple, but also each of their families and extended families. It's a generational milestone that your parents, grandparents, great grandparents, aunts and uncles may also have experienced themselves. To honor the relatives who've come before you, you may be considering including certain family heirlooms that hold special meaning to you and your family in your wedding day plans. Whether it's a piece of your mom's veil or your great-grandmother's locket, honoring these items that have survived the test of time and have history and meaning behind them is what it's all about, explains Carly Rose of Orlando Designer Weddings in Winter Garden, Florida.
Family heirlooms can really be anything—from objects to written words—that hold some sentimental value. "They can be borrowed or gifted to the bride or groom, and by including them intentionally in your wedding, they can represent and honor a story, family legacy, or person's heritage," says Kristine Cooke, owner, event planner, and designer at Simply Charming Socials in Atlanta, Georgia.
How you choose to incorporate your family heirloom into your wedding day is totally up to you, however it deserves some careful thought and planning. First of all, you want to make sure that you're honoring the heirloom and your family in a meaningful way and second of all you want to make sure that you don't misplace it or neglect to use it when you were meaning to.
Looking for some inspiration for how to incorporate family heirlooms in your wedding? Follow these tips from planning pros.
Wear or carry an article of clothing or accessory.
This is one of the more common and easiest ways to incorporate a treasured heirloom, according to Cooke. "For brides, we've seen heirloom attire include veils, wraps or shawls, and wedding gowns, either in their original state or re-fashioned," she says. "Accessories include jewelry of all kinds, shoes, and clutches." If it's a groom trying to carry or wear a family heirloom, bowties, cufflinks, flasks, tie bars, and pocket squares are all great ways to subtly honor relatives on the wedding day.
Display family photos.
An heirloom can be as simple as a family photo. In fact, Cooke points out that generational wedding photography has become more and more commonplace at weddings and the surrounding celebrations. "These treasured snapshots into family history captures a sense of nostalgia and becomes a showpiece or installation of sorts for guests to admire," she says. She recommends incorporating framed photos into welcome tables or escort boards and advises couples to try to keep frame colors and aesthetics in line with the overall wedding design.
Reuse a family cake topper.
Do your parents (or grandparents!) still have the cake topper they used at their wedding? Why not put it to good use again? "Anything from a porcelain couple to rubber ducks, teapots, crystal figurines and even sports paraphernalia that have passed down for generations in their family can work as your cake topper," says Alexis Eliopoulos O'Mara of Unique Weddings by Alexis in Boston, Massachusetts.
Wear family jewelry.
Family jewelry is another common heirloom seen in weddings. "This could be grandma's string of pearls, auntie's favorite locket or mom's diamond stud earrings," says O'Mara. "The bride's great-grandmother may have handed down a brooch from generation to generation that would be the perfect accent to the bridal bouquet."
Cheers with family-owned glasses.
While you may not want to use special servingware for guests at your wedding, it is a special nod to family by using certain stemware that belonged to your relatives. If the newlyweds are sitting alone, they can toast with these glasses at their sweetheart table. If the couple is sitting at a table with their parents, O'Mara suggests mixing a set of special glassware from each family at every other place setting to share memories from both sides. "This is a great conversation starter that is bound to bring up wonderful memories of those that are no longer with the families," she adds.
However you choose to use your family heirloom, remember that you are doing something that means a great deal to your family. It's the ultimate tribute to the family legacy, notes Cooke. As such, she recommends making sure that you document the heirlooms and photograph how you used them in your day for future generations to see and incorporate themselves. "If something feels dated, it's okay to respectfully modernize the way you bring it into your wedding, like replating a recipe into a bite-size version for cocktail hour or pairing a vintage piece of jewelry with your new wedding dress," she says. "This is one of the reasons why something old so perfectly pairs with something new."