The Top 11 Types of Wedding Cake Toppers
We love the idea of couples turning their wedding cake toppers into a keepsake or family heirloom. Here are the top types of wedding cake toppers to help you decide which kind will work best atop your confection.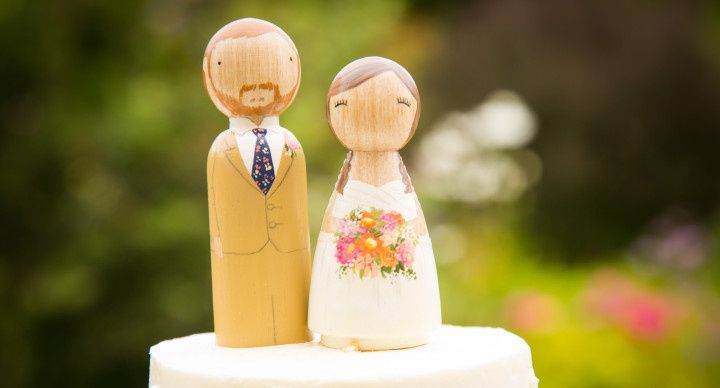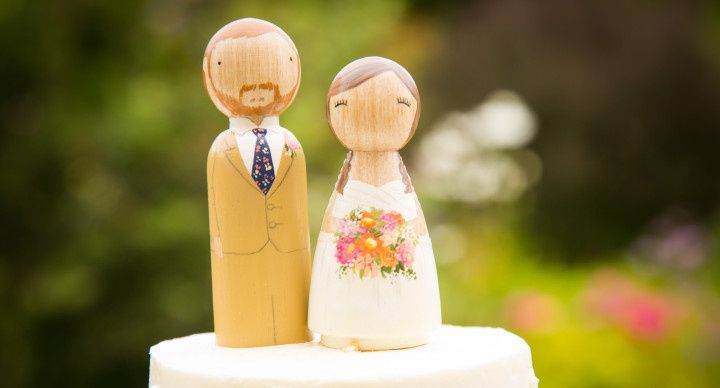 Photo: A. Blake Photography
Your wedding cake should look just as amazing as it tastes. Wedding cake toppers add a personal touch to your confection and even further highlight your wedding style—whether your big day is glamorous, modern, classic, or rustic. Sure, your wedding cake baker can add a few extra flowers to your cake's top or you could simply leave it bare, but we like the idea of adding a little something extra that can turn into a keepsake and family heirloom for generations to come. Whether you want to go traditional or love unique wedding cake toppers, there are lots of options.
Check out the most popular wedding cake toppers that couples love!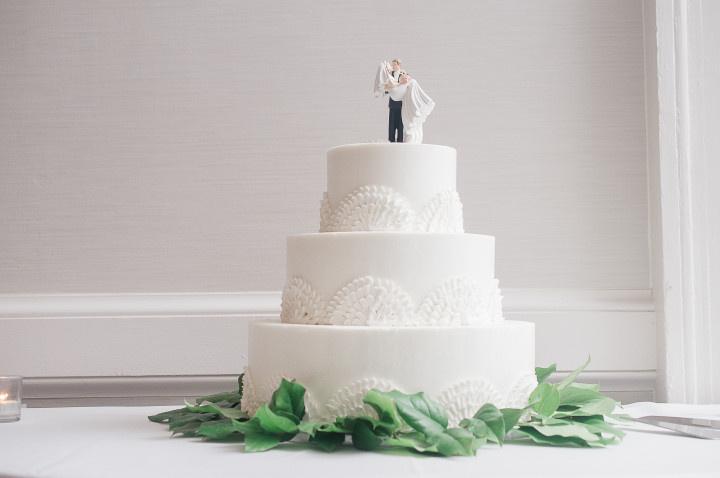 Photo: Artistic Imagez
The Classic Couple
This is the ultimate in traditional wedding cake toppers—and can add a vintage touch to your wedding confection. A couple standing side-by-side or embracing in their wedding finery, you can find a truly classic wedding cake topper at many antique stores or flea markets, or you can even reuse a family heirloom. This cake topper works particularly well atop an all-white wedding cake, or one decorated with just a few fresh or sugar flowers.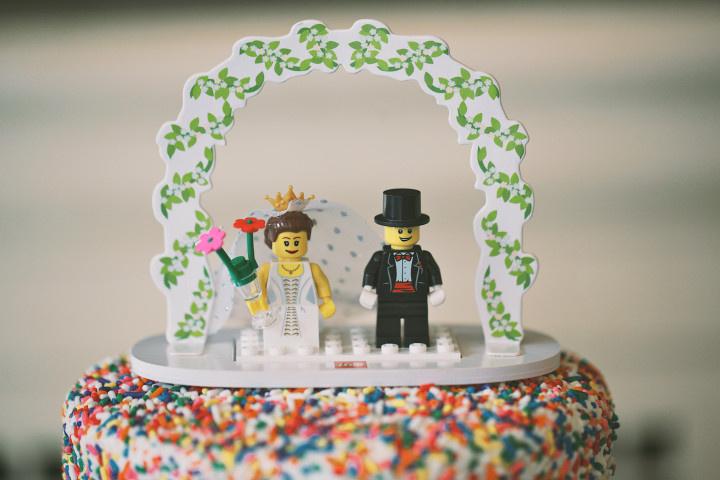 Photo: hotmetalstudio
The Cheeky Couple
Don't be afraid to have a little (or a lot of) fun with your wedding cake topper! Many couples want to take the classic wedding cake topper to the next level by adding a personal touch and a healthy dose of humor, too. Whether it's having your cake topper custom made to look like you and your spouse (either in wedding or other attire) or including a nod to a shared interest or hobby (hello, Star Wars, Legos, or your pets), these cake toppers will give your guests a chuckle and make your wedding cake completely, uniquely you.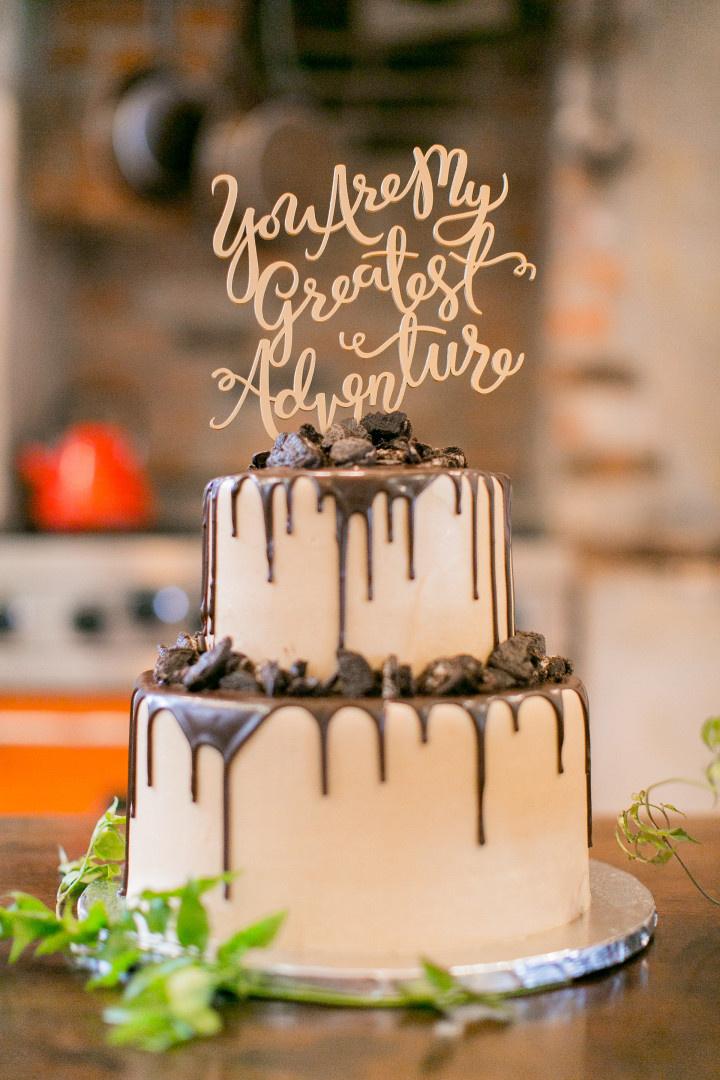 Photo: Arte De Vie
Laser-Cut Cake Topper
Featuring cut-out calligraphed words (usually in gold), this is one of the most on-trend wedding cake toppers at the moment. Whether the words spell out your names, monogram, or a phrase ("Just Married" or "Best Day Ever" are particularly popular), this toper is a great way to personalize your wedding day even more. The calligraphy adds an elegant and whimsical feel to any cake design.
Photo: Blue Jar Photography
Animals
If you love unique wedding cake toppers, this is a super-fun idea. A pair of animals (usually figurines made from wood, plastic, or china) represents the couple for an adorable twist on the traditional. We've seen a wide variety of creatures from bears to birds, owls to rabbits, dogs, cats, deer, and more. If you're an animal lover, why not celebrate it atop your wedding cake!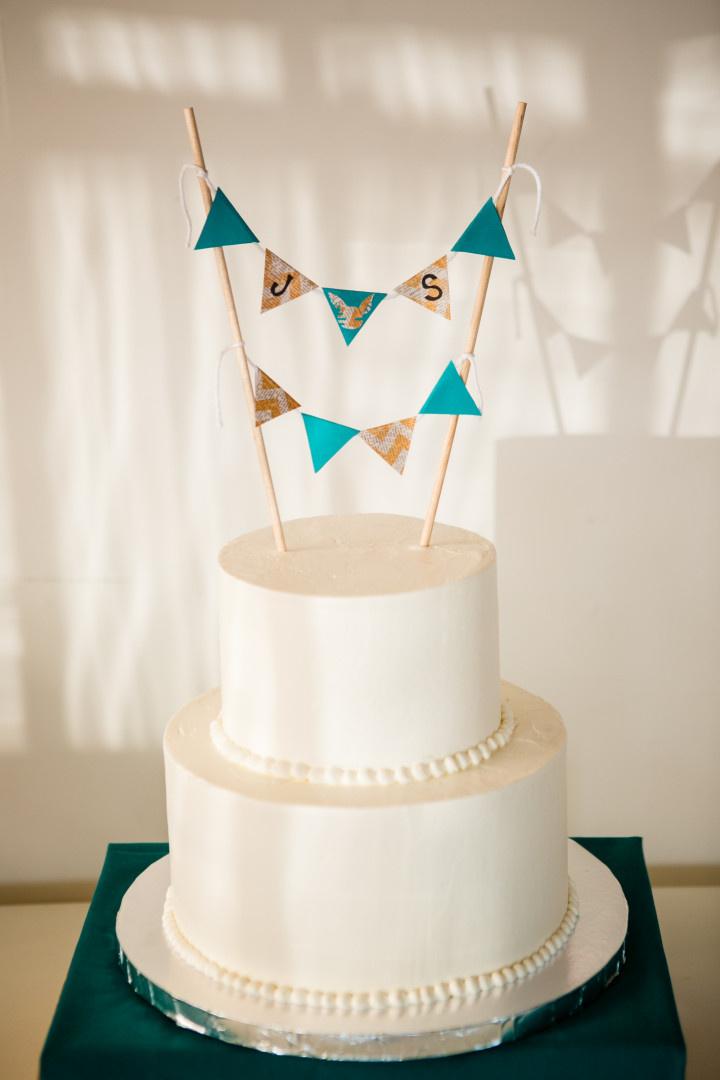 Photo: M&E Photo Studio
Bunting Cake Topper
Hosting a laid-back wedding with rustic or shabby chic flair? The bunting cake topper is a favorite for relaxed events and buttercream-frosted cakes. These toppers are either made from burlap or fabric flags, and can also include a message if desired (the word "Love" is popular). They can add a pop of color to an otherwise simple wedding cake—a really affordable touch.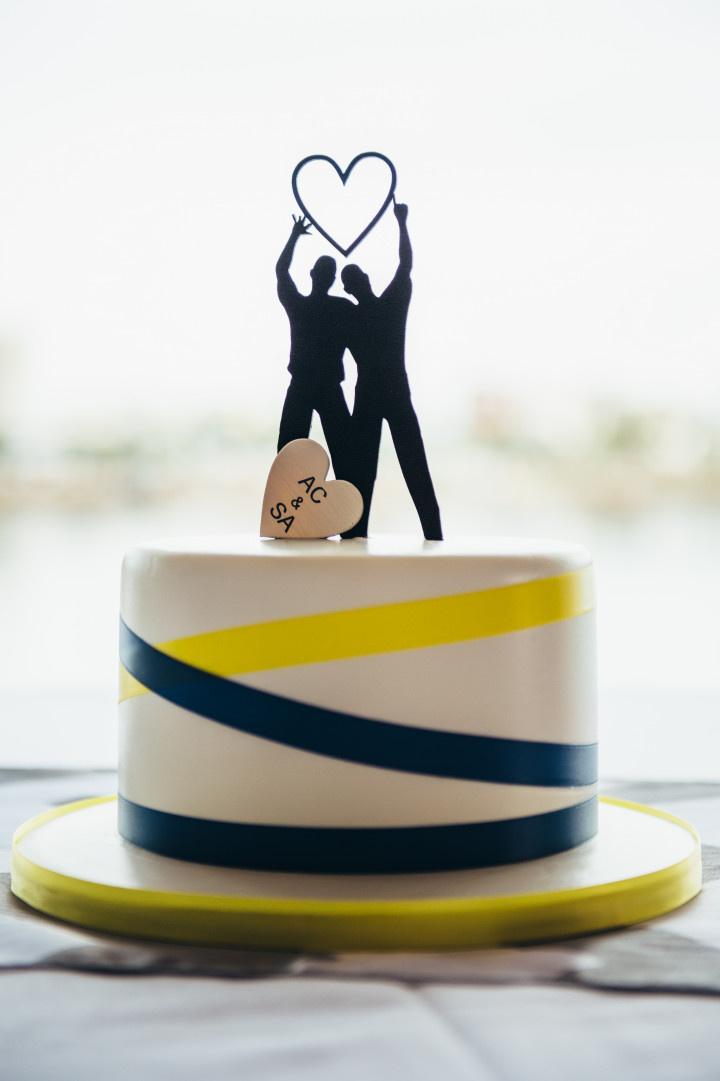 Photo: Derek Chad Photography
Silhouette Cake Topper
We love this vintage-meets-modern twist on the traditional wedding cake topper. An image of the couple is turned into a silhouette and set atop the cake. We love when couples can personalize their silhouette cake toppers by adding pets or special items. This type of wedding cake topper makes a fabulous keepsake to display in a couple's home (along with the top tier in the freezer, of course!).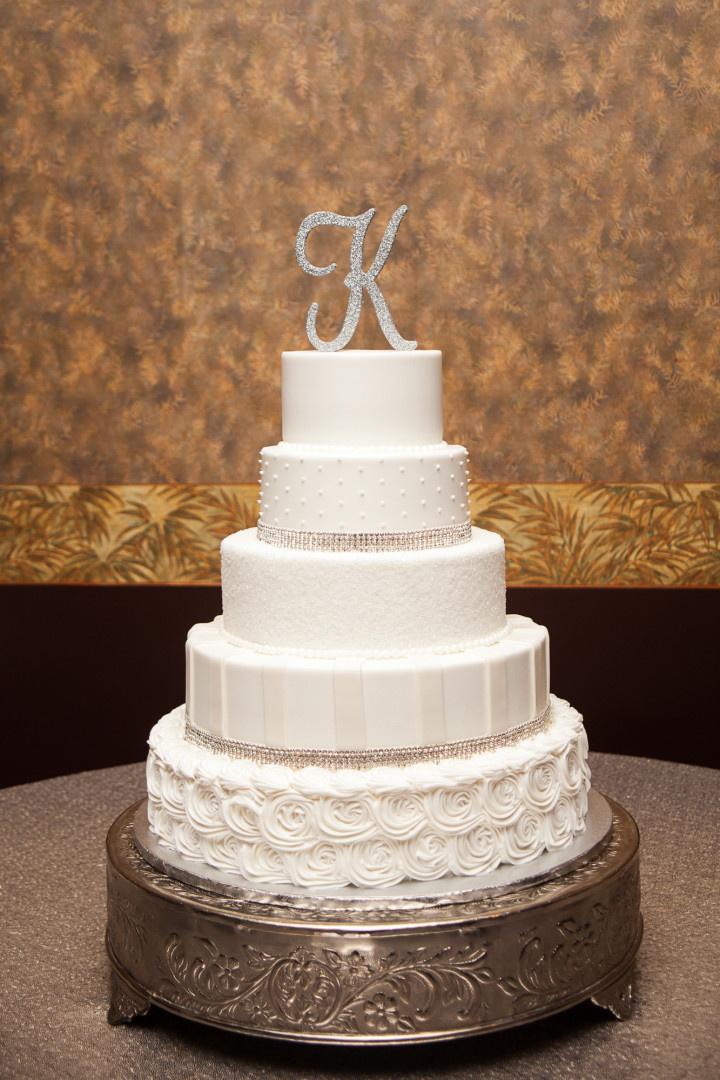 Photo: Fyrefly Photography
The Single Letter
A simple wedding cake topper that makes a statement, the single letter (usually the couple's new shared last initial). You can customize these toppers to fit your wedding style—we've seen single initials that are glitzy and bejeweled and those made from moss or other more natural materials. Work with your wedding cake baker to choose a topper that best suits your cake style.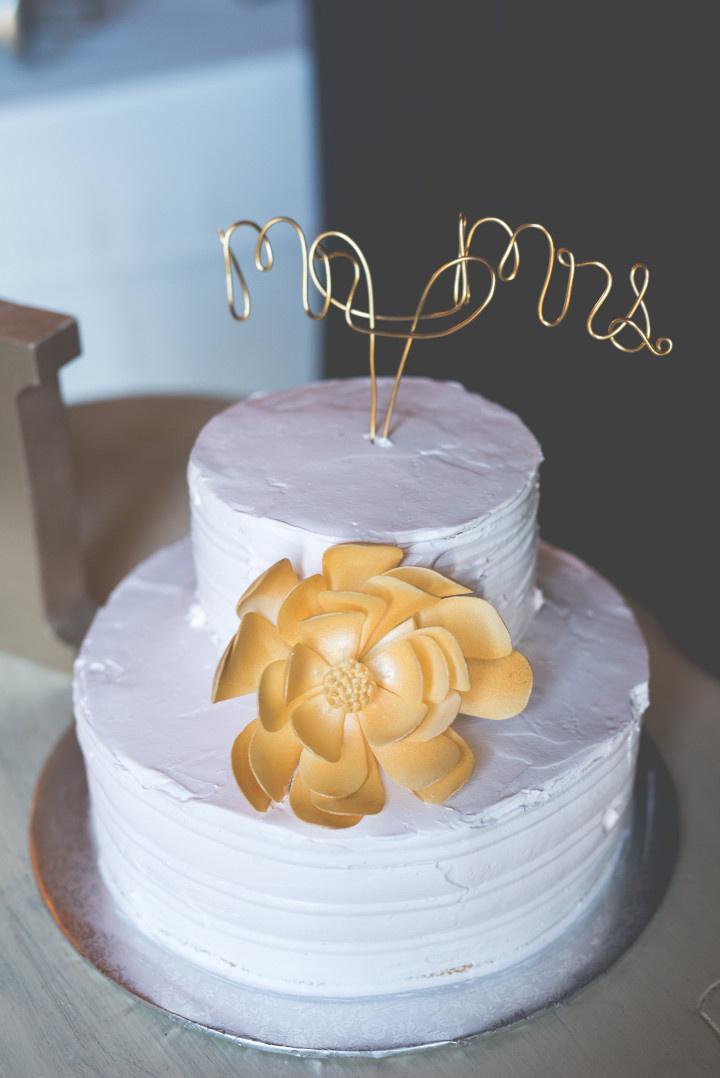 Photo: Brett Loves Elle Photography
Wire Topper
If you're getting married at an industrial chic venue (so on-trend these days!), a wire cake topper totally matches that modern vibe. The wire (usually in gold or silver) can be twisted to spell out a variety of different words or designs.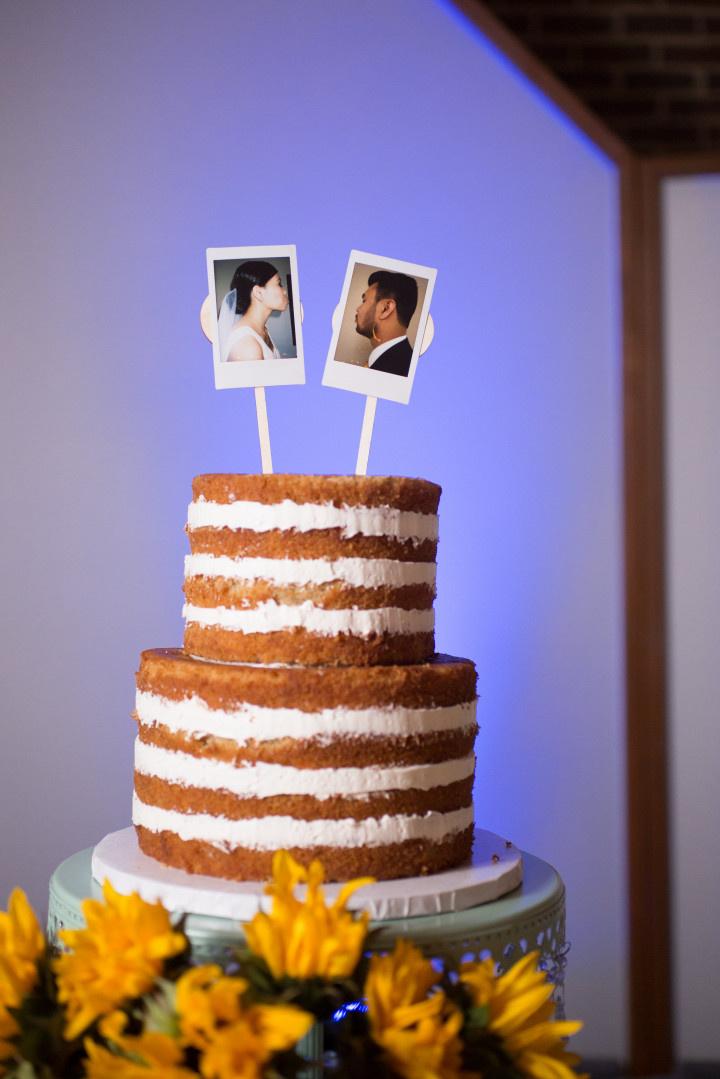 Photo: Cynthia Shipp Photography
A Pair of Photos
Another contemporary and unique wedding cake topper idea (and one that's pretty easy to DIY)—place two photos (of the bride and groom, bride and bride, or groom and groom) side-by-side next to each other atop the cake. It's so simple, but really makes a fun statement at a more laid-back wedding celebration. While any type of photo can be use, use Polaroid-style images for a retro touch.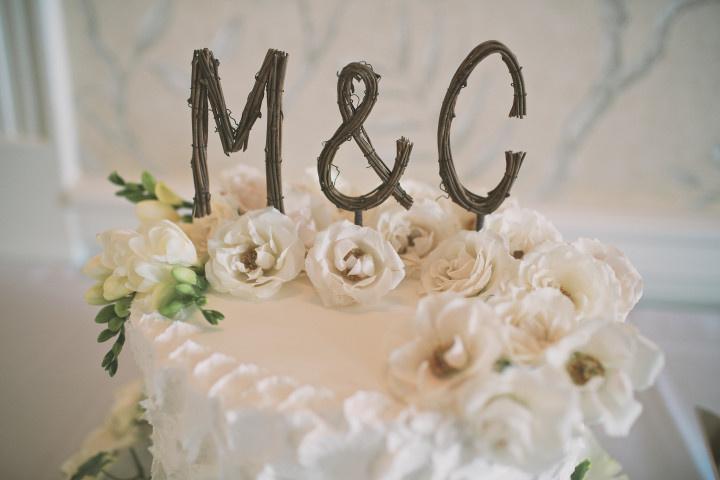 Photo: hotmetalstudio
Wooden Cake Topper
Hosting a wedding that celebrates nature? A wooden cake topper is just the ticket. We've seen messages burnt into wood or twigs twisted into letters or other shapes. This cake topper looks particularly great on a smaller, single-tiered cake.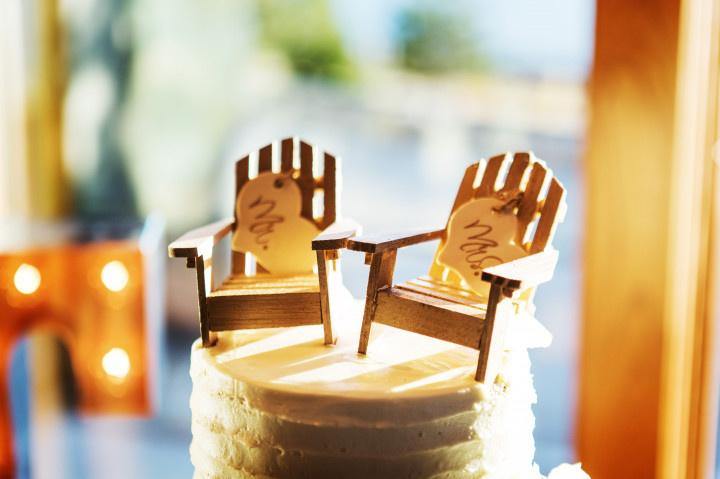 Photo: Jarvis Photography
Adirondack Chairs Cake Topper
Beach weddings are usually pretty casual events, and a pair of Adirondack chairs embraces that laid-back vibe and romance. The chairs can be decorated in a variety of ways or kept super simple with a bit of sugar sand.