16 Black Couple Wedding Cake Toppers to Personalize Your Cake
Looking for a wedding cake topper that looks like you and your spouse-to-be? Here are some of our favorite Black wedding cake toppers.
We have included third party products to help you navigate and enjoy life's biggest moments. Purchases made through links on this page may earn us a commission.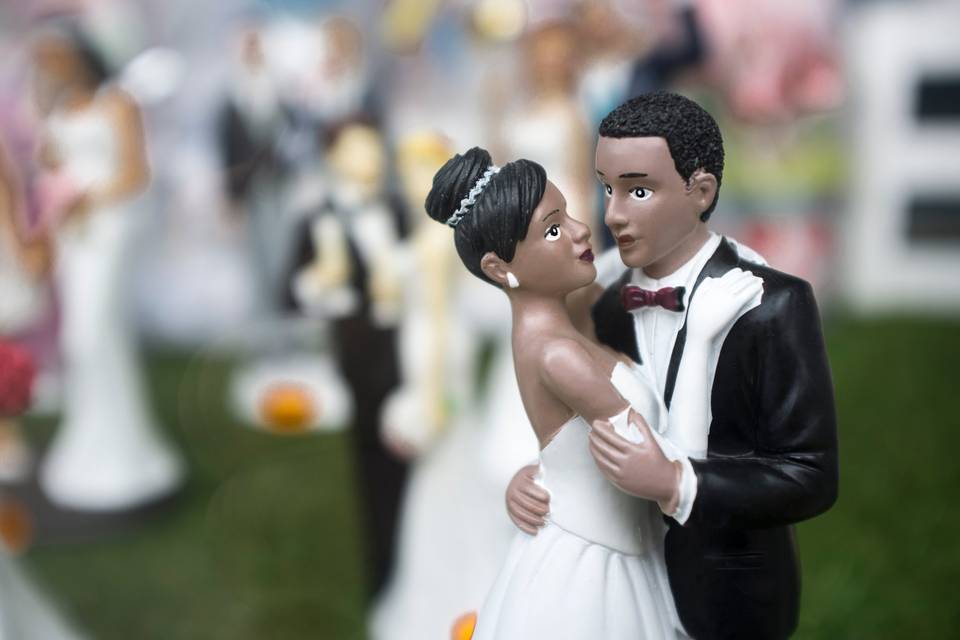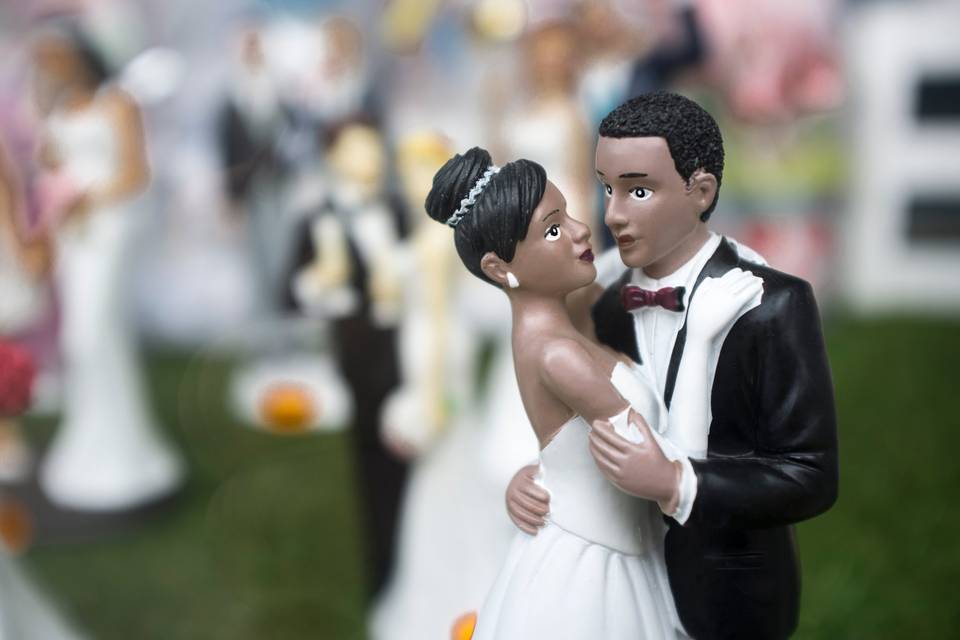 Your wedding cake should be an extension of your personal style, and so should your cake topper. If you're looking for a topper featuring a likeness of you and your partner, we'll be honest, there's a real lack of diversity out there. We researched and found a variety of Black couple wedding cake toppers for you to browse—and there certainly are creators on sites like Etsy who can design a custom topper for you. However, the lack of wedding cake toppers that feature BIPOC couples should be part of a bigger conversation about representation and inclusion in the wedding industry—one that is ongoing here at WeddingWire. Couples of all skin tones should see themselves in all types of wedding products and accessories—cake toppers included.
So check out these Black wedding cake toppers, as we continue the work toward more representation in every area of the industry.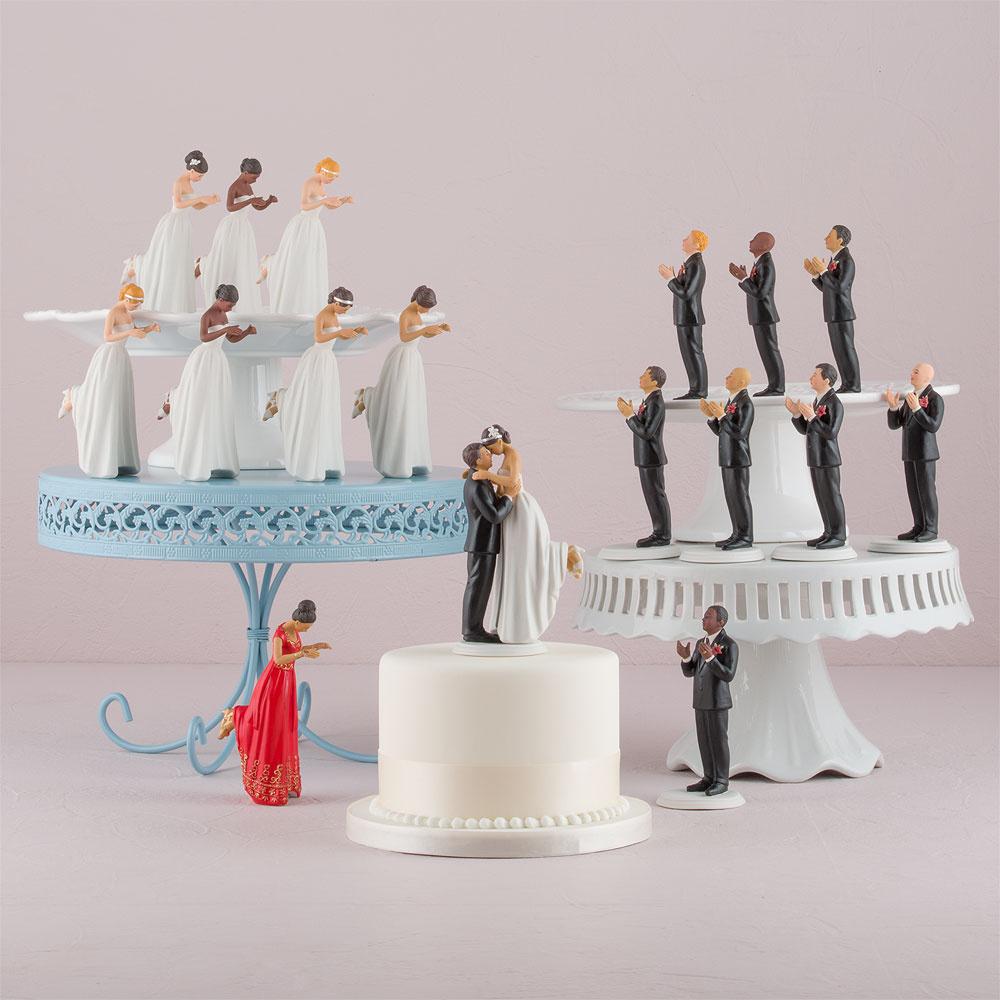 WeddingWire Shop allows you to purchase bride and groom cake toppers separately, so you can choose genders and skin tones to reflect you and your partner.
WeddingWire Shop interchangeable cake toppers, $28 each, WeddingWire Shop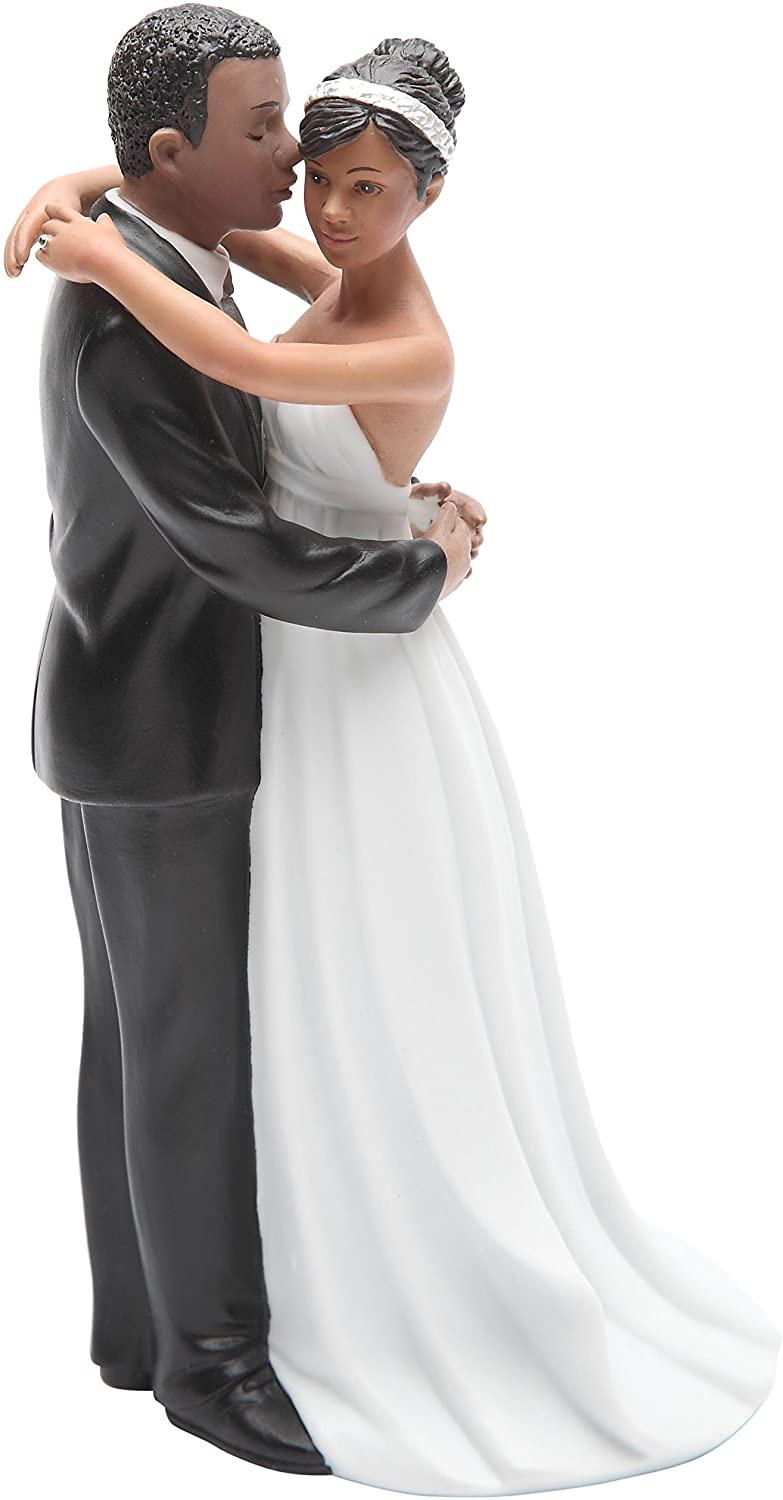 This beautiful ceramic Black couple wedding cake topper can be used on either a cake or a mantle for a sweet reminder of your special day. At seven inches tall, it's large without looking intrusive.
Cosmos Gifts African American wedding couple figurine, $30, Amazon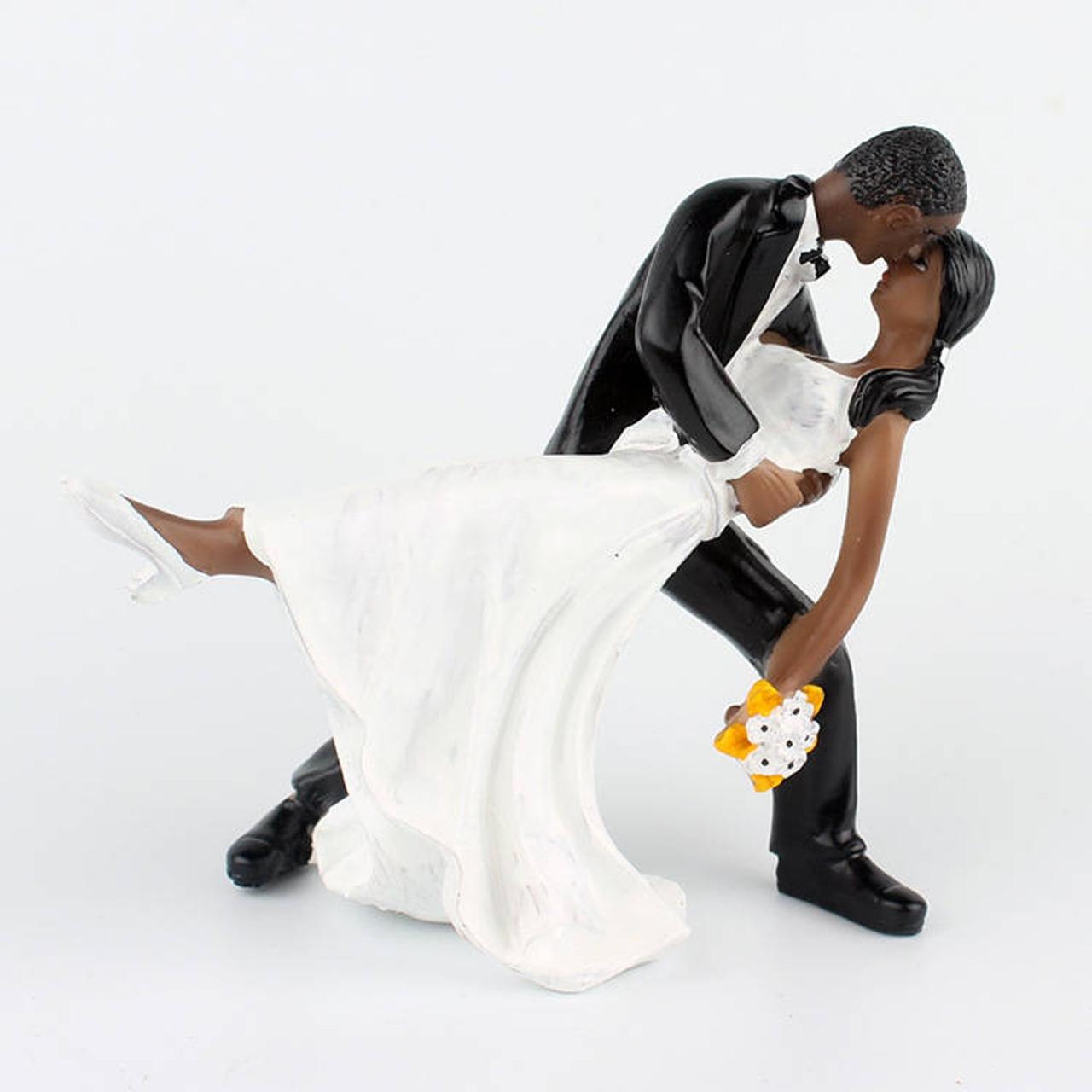 For the couple that loves to dance, this cake topper is so romantic—especially if you're planning on doing a dramatic dip during your first dance!
Party Flags cake topper, $29, Etsy
We love the casual feel of this cake topper, which features a bride and groom seated at the edge of the cake, with the groom's tie undone. It's definitely a less-traditional take on the standard cake topper.
WeddingWire Shop whimsical sitting bride and groom cake topper, $40, WeddingWire Shop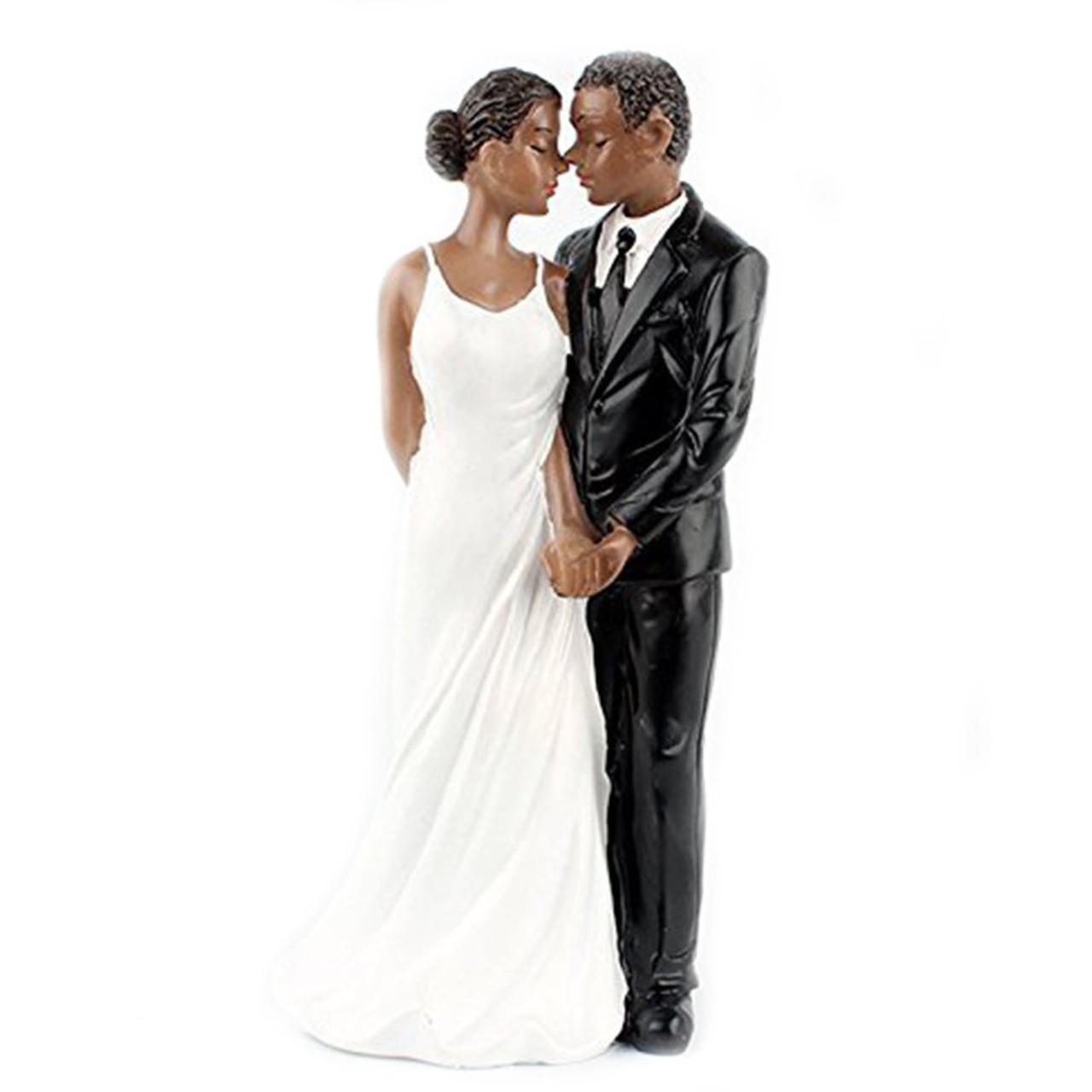 This Black couple wedding cake topper displays the happy couple sharing a special moment meant for just the two of them. Crafted from resin, it's a beautiful display to adorn your yummy wedding day confection.
Huajiaojiao resin wedding cake topper, $52, Etsy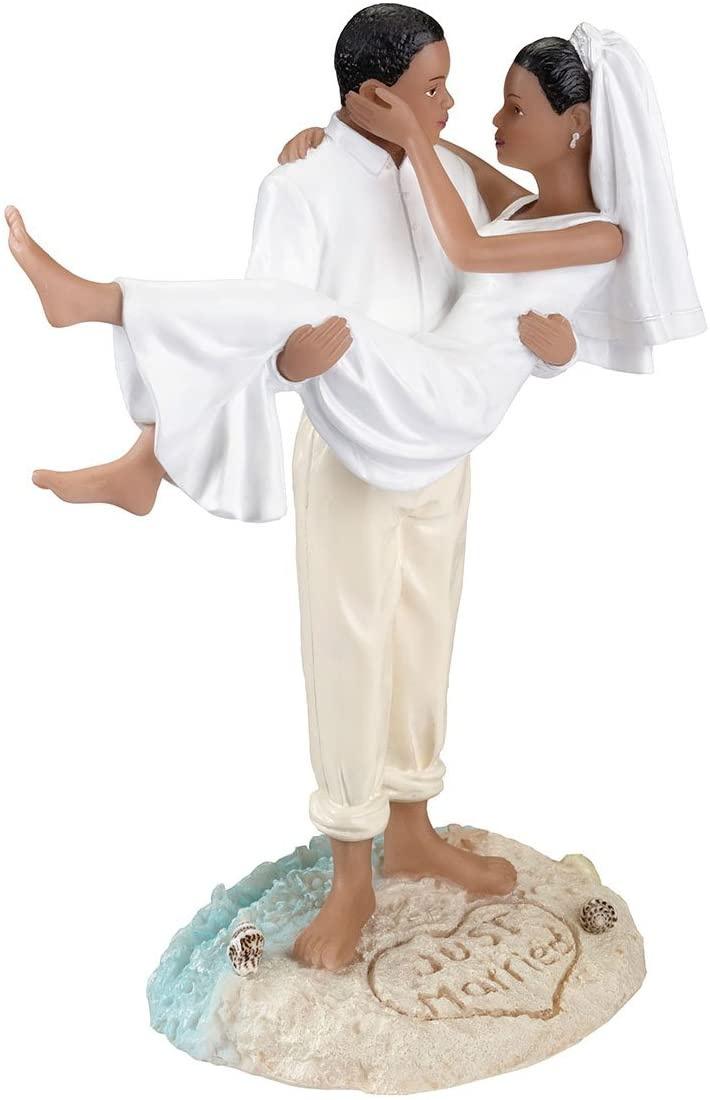 If you'll be exchanging vows seaside, this Black wedding cake topper is the perfect choice for you. Here, a happy couple holds a sweet pose in the sand after they've written "Just Married" in the sand.
Lillian Rose figurine, $28, Amazon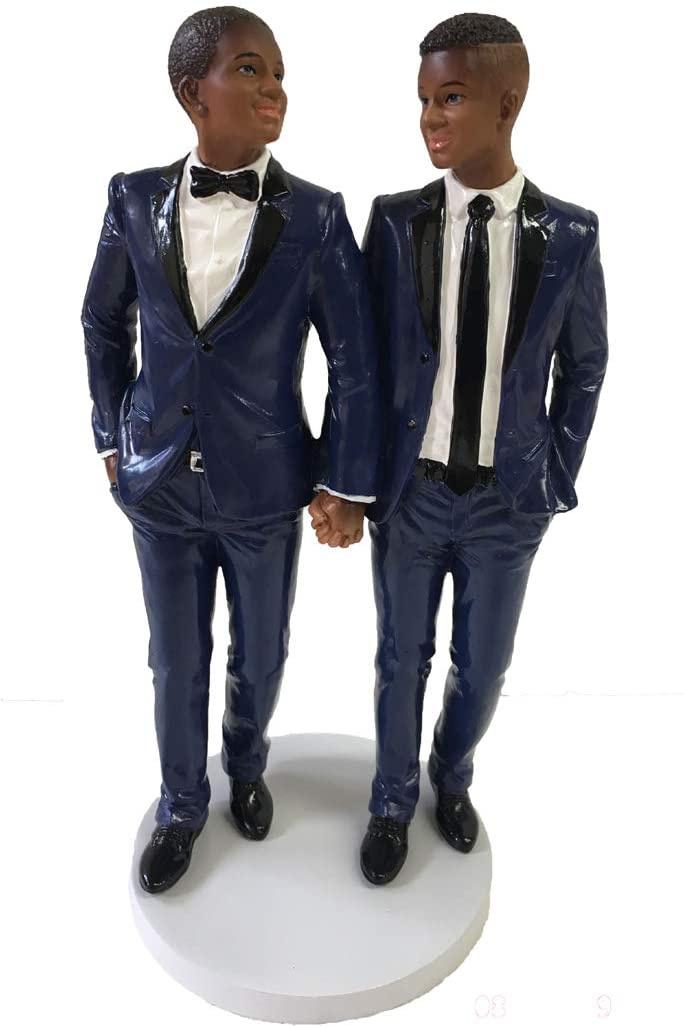 We love this simple and sweet cake topper featuring two dapper grooms wearing on-trend blue tuxedos walking hand-in-hand.
December Diamonds wedding figurines, $45, Amazon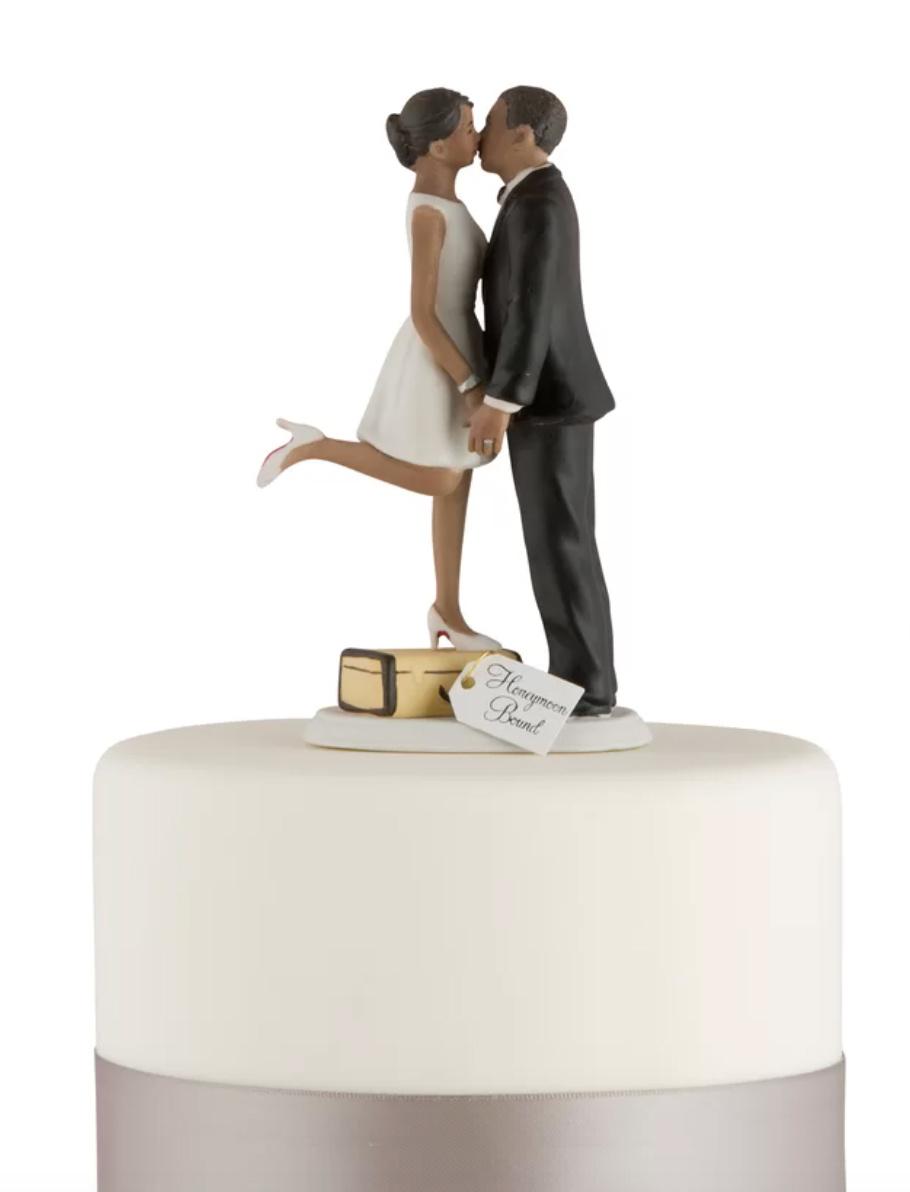 Got an exciting honeymoon planned? If so, this retro-inspired cake topper features a loving pair heading off on the adventure of a lifetime.
Weddingstar A Kiss and They're Off cake topper, $60, Wayfair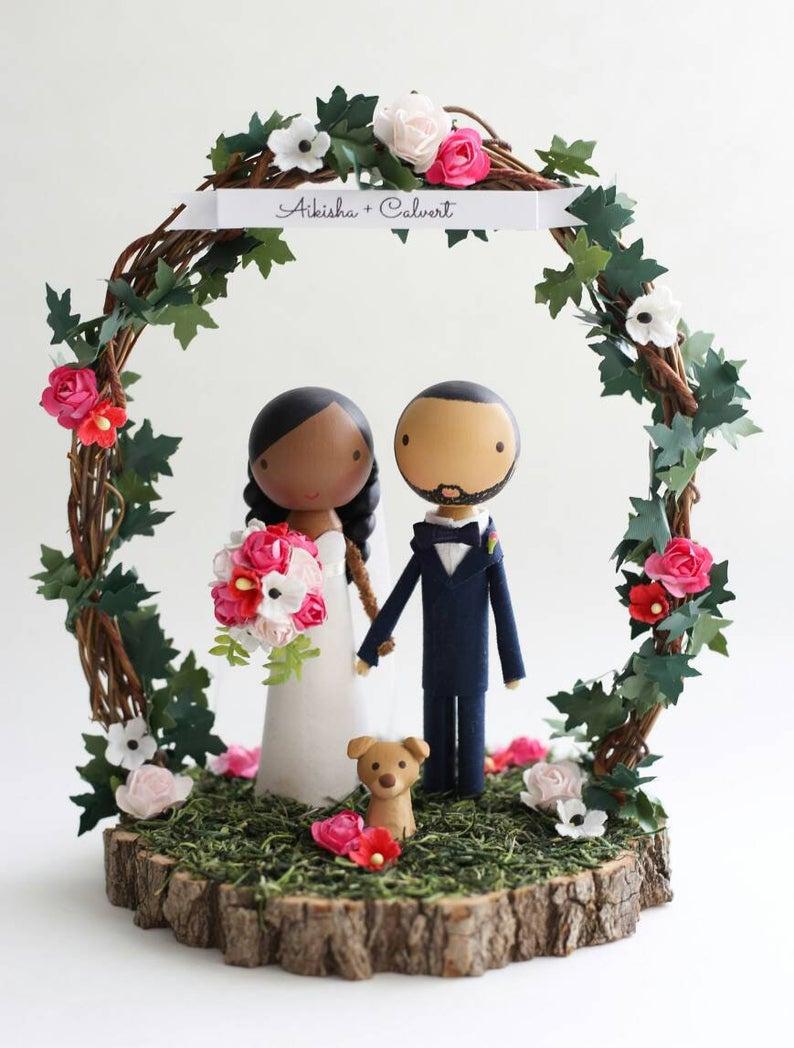 This bright and beautiful cake topper is ideal for a nature-inspired, garden wedding. The figures can be customized, and you can even include your pet in the design!
Lollipop Workshop Twiggy Arch cake topper, $235, Etsy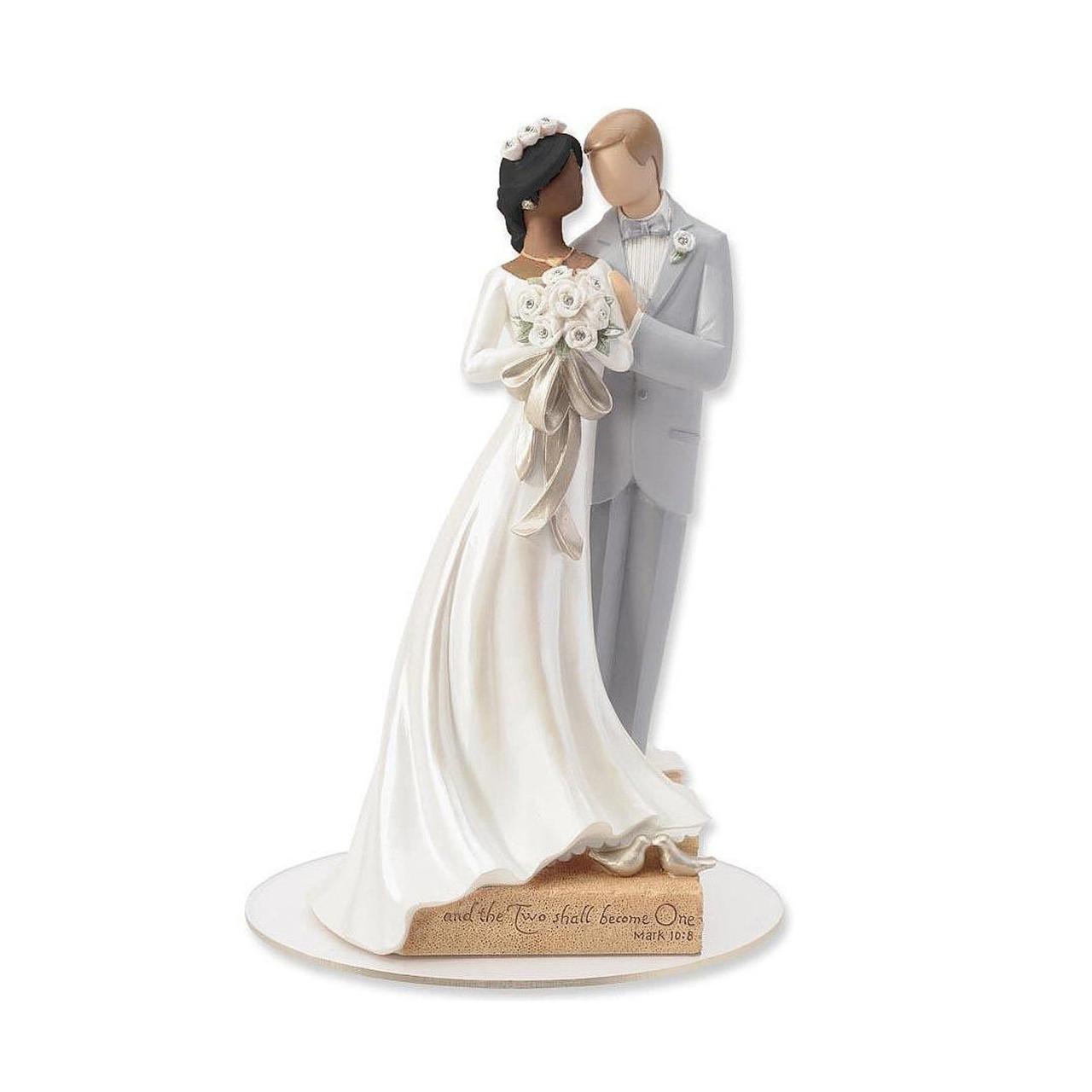 This beautiful figurine featuring an interracial couple includes the Bible verse, "and the two shall become one" scrawled on the bottom. What's more, this elegant piece will transition perfectly to your mantle or bedside table after your wedding has come and gone.
Wedding Collectibles Legacy of Love Interracial cake topper, $67, Etsy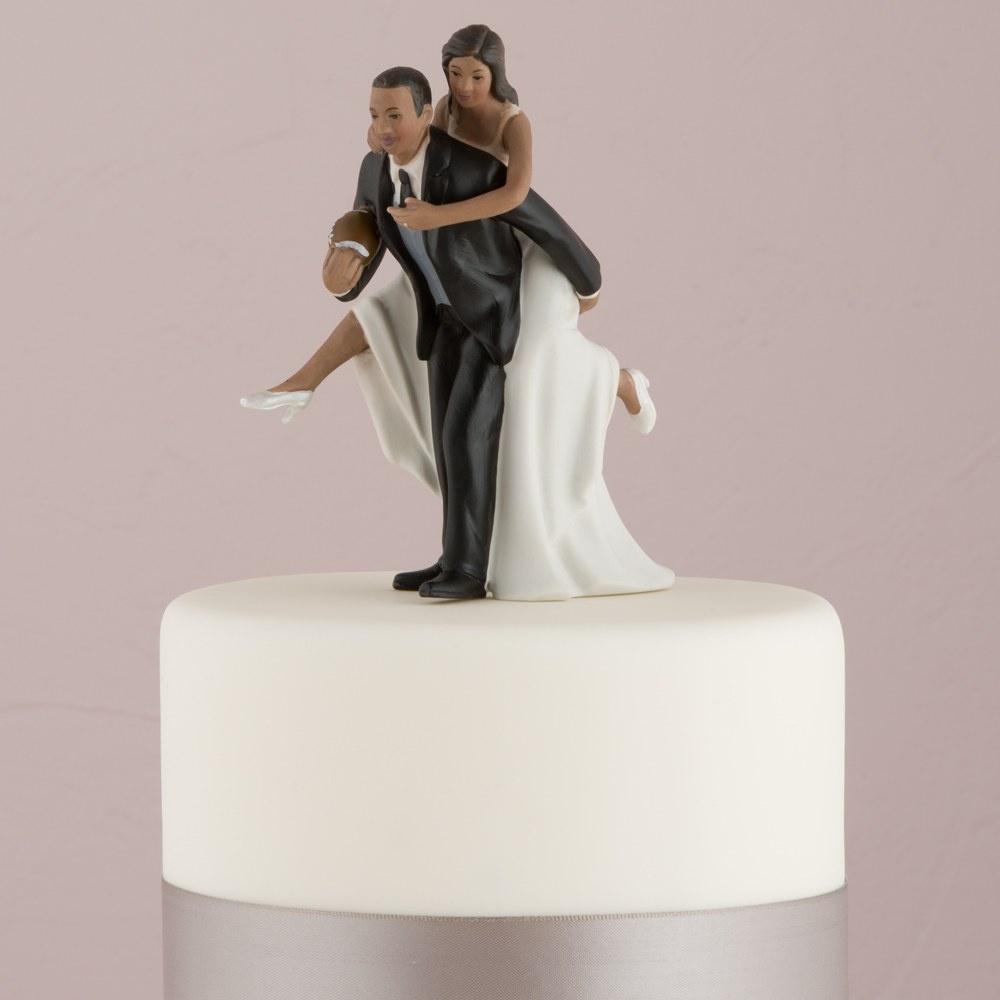 If you and your partner love football, this wedding cake topper might be just right to accessory your cake.
WeddingWire Shop football piggyback bride and groom cake topper, $50, WeddingWire Shop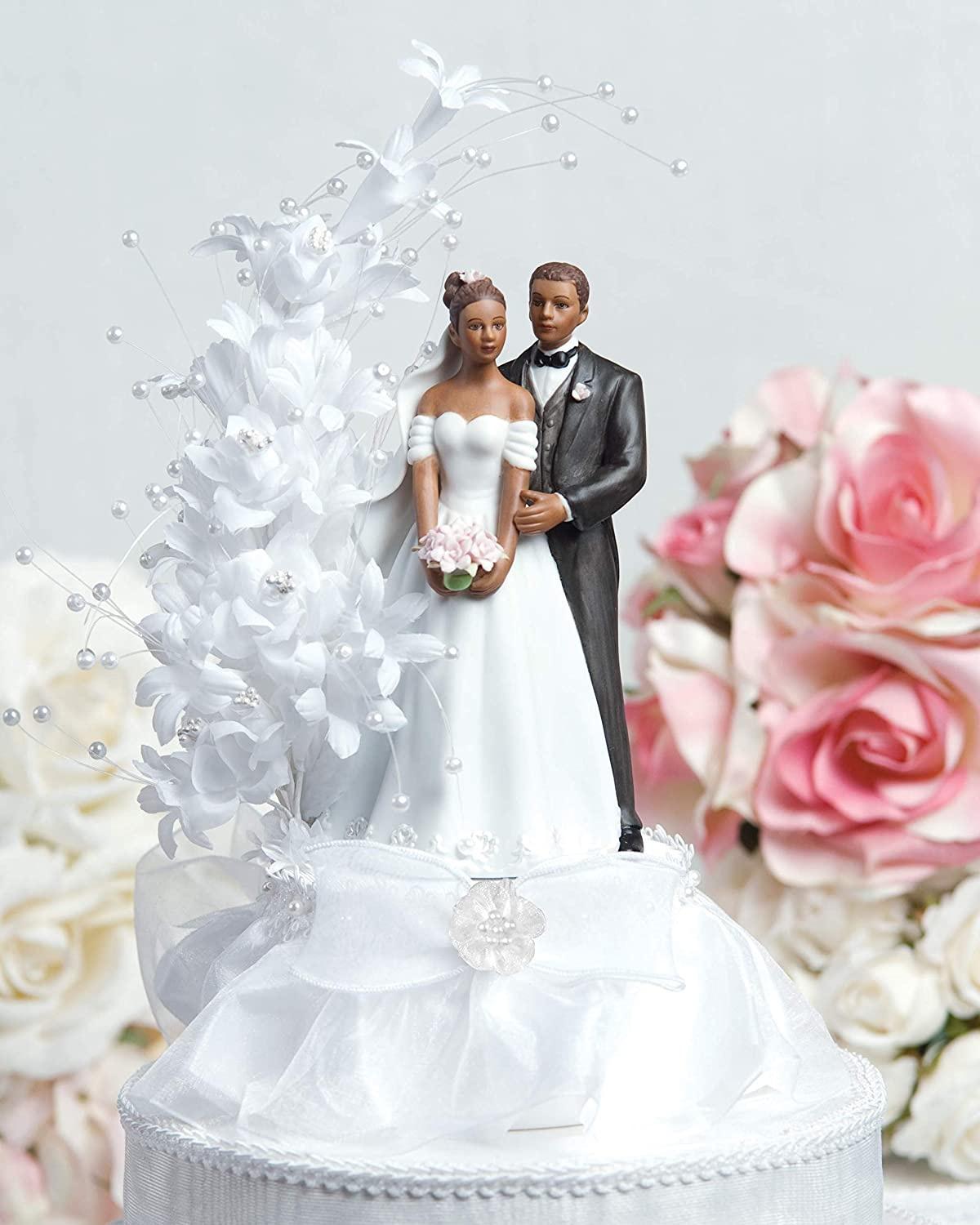 For something a little extra, take a look at this Black wedding cake topper. It comes complete with a pearl-encrusted side arch for a touch of classic glamour.
Wedding Collectibles pearl side arch cake topper, $50, Amazon
This adorable clay couple, which can be customized to look just like you and your partner, is just what you need if you're searching for a beachy wedding cake topper. Standing just five inches tall, it's a great way to add a touch of personalization to your cake.
Nicole W Clark custom clay cake topper, $145, Etsy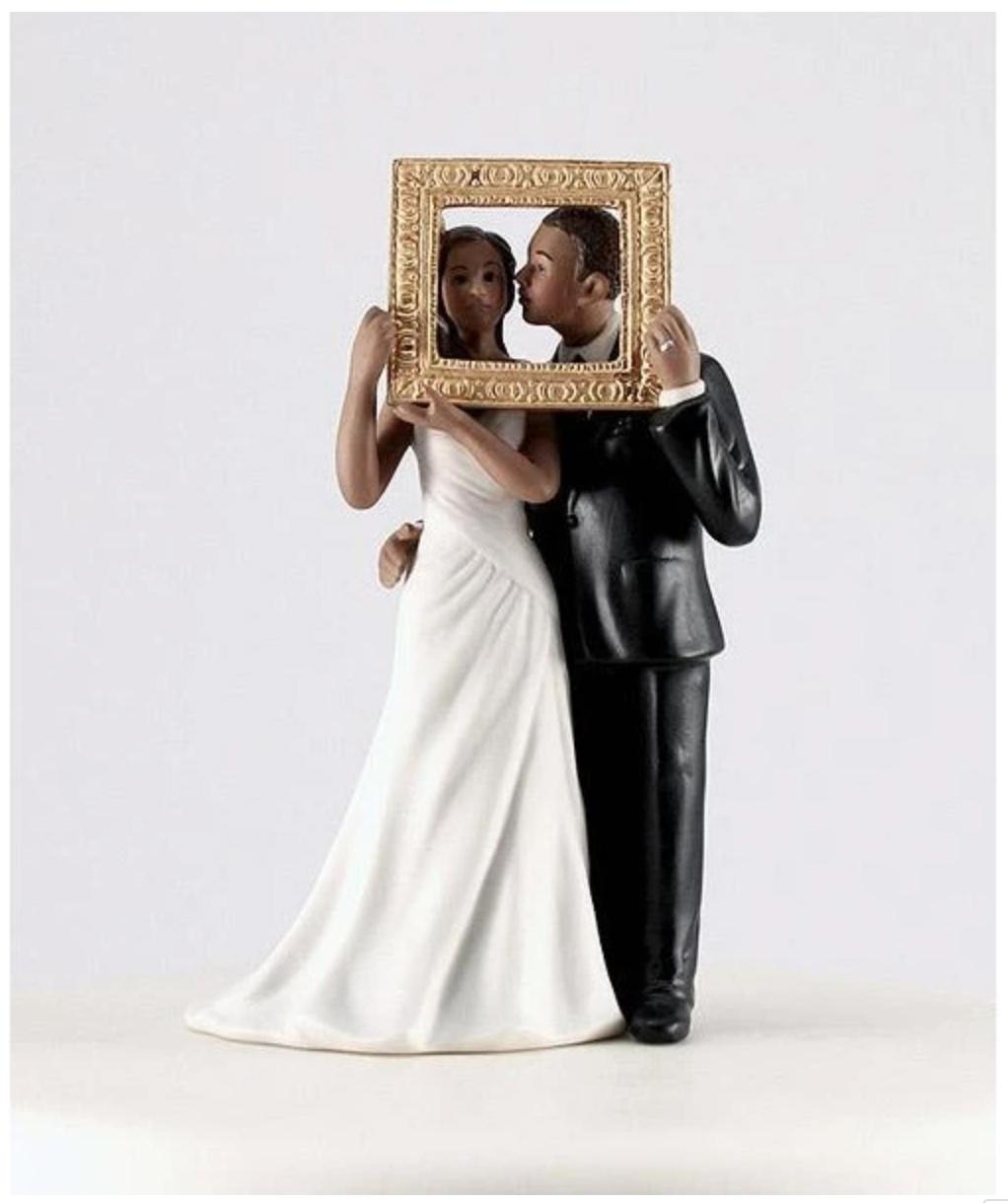 This Black couple wedding cake topper is "picture perfect"! It features a couple posing adorably inside a picture frame. Tons of customization options allow you to make this topper your very own.
Wedding Collectibles wedding cake topper, $47, Wedding Collectibles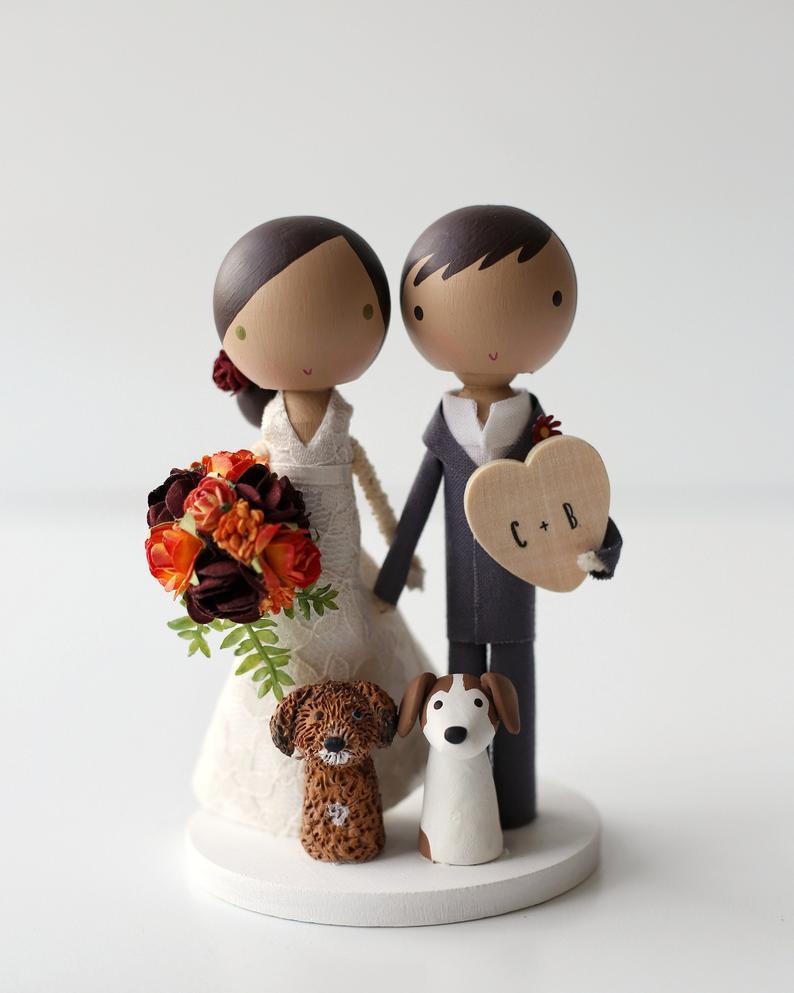 This adorable wedding cake topper is made from wood and clay and created for a same-sex couple. This whimsical couple is the perfect finishing touch for your special day.
Lollipop Workshop custom same-sex wedding cake topper, $150, Etsy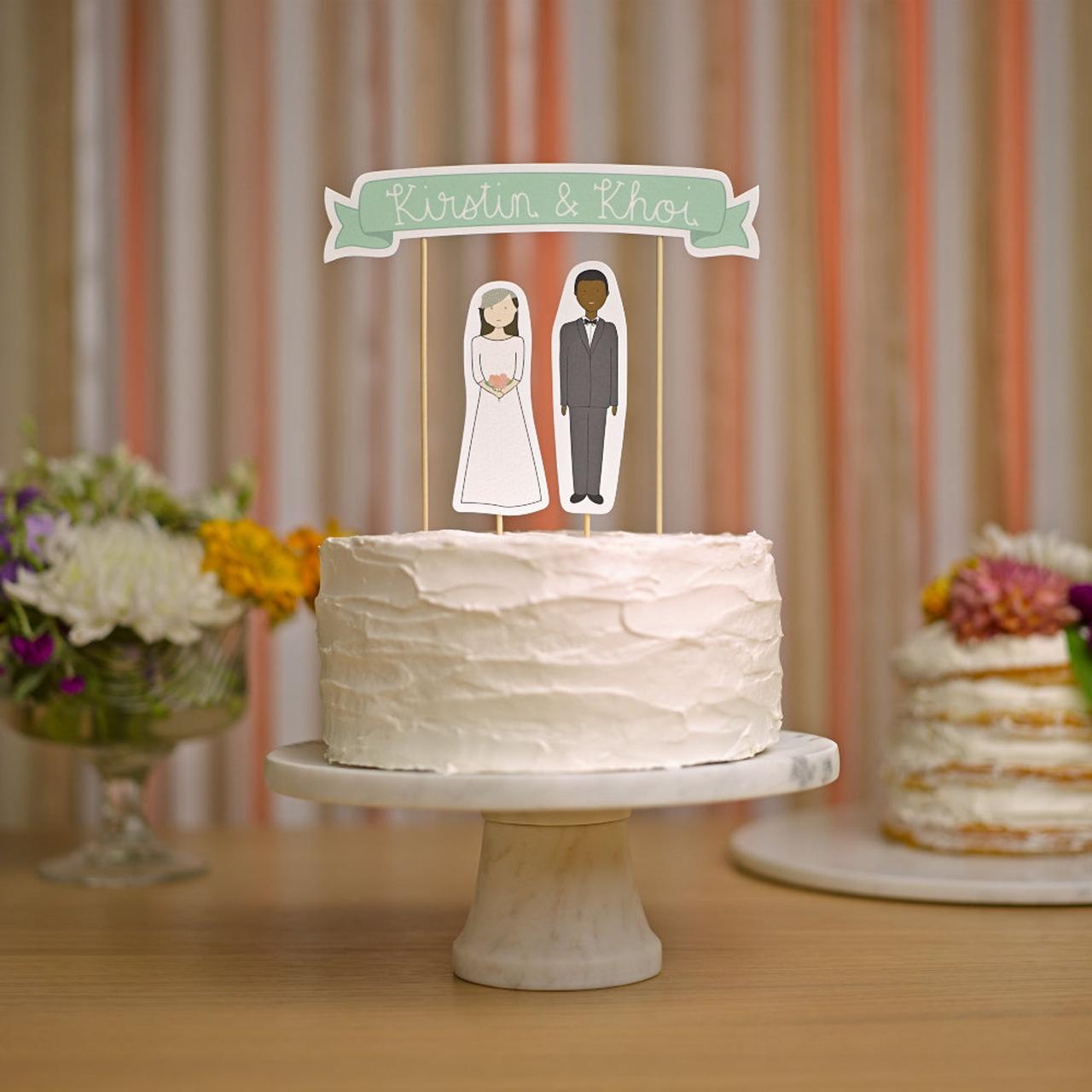 These sketch cake toppers are so simple, yet so sweet. They can be customized with a variety of skin, hair, and eye colors, body types, outfits, and more.
Ready Go cake topper set, $35, Etsy
Disclosure: This post contains affiliate links, some of which may be sponsored by paying vendors.