Black-Tie Wedding Attire Defined: What to (And What Not to) Wear
If you've been invited to a black-tie wedding and are struggling to figure out what to wear, we're here to help.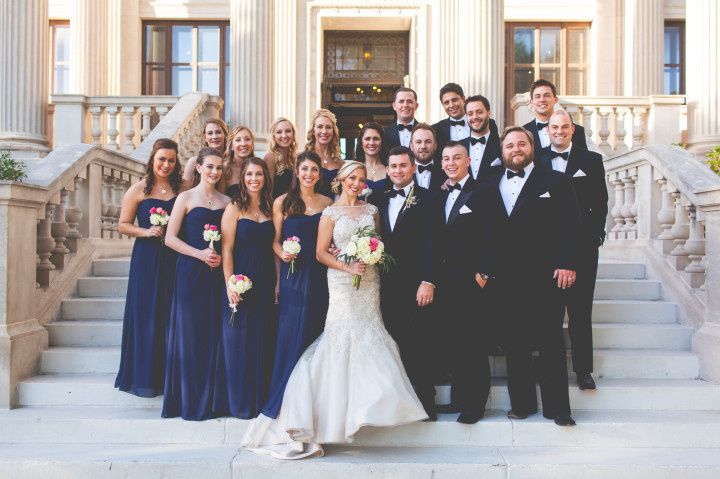 Believe it or not, but, as fancy as it sounds, black-tie wedding attire isn't the dressiest form of dress in the bunch. In fact, it signals a "semi-formal" dress code reserved for evening and social events such as dinners, balls, charities, weddings and parties after 6 p.m., according to celebrity stylist, Amber Padilla. "Black tie is less formal than white tie and consists of a black or navy tuxedo, white dress shirt with French cuffs and a turn down collar, silk black bow tie, onyx cufflinks and shirt studs, waistcoat or cummerbund and black patent leather shoes for men," she explains. "Women can consider formal dresses of any kind, from cocktail to full length gowns or other dressier silhouettes such as pant or jumpsuits." Unlike the strict policies of the white tie dress code, Padilla explains, guests have more leniency in terms of their options under these guidelines.
If you just got invited to a wedding or a pre-wedding affair that requests black-tie wedding attire, here's your go-to guide to the dos and don'ts so you're nothing short of dressed to impress.
Do: Pay attention to the details of the invitation
"The design of the invite, as well as the event details, will give clues which you should consider when deciding on your look," explains Padilla. "If the invite is shiny with a fun font and a great venue, it's viable to take more risks with your wardrobe choice, but if the invite is more minimalistic and muted, it's best to opt for traditional black tie wedding attire." She also suggests keeping in mind the host of the event. Are they more conservative or more laid back and casual? Their overall style is a good general indicator of what type of dress they might expect.
Don't: Forget accessories
For the guys, Padilla recommends accessorizing with white boutonniere with a matching white handkerchief, which she says is the norm in addition to black onyx cufflinks and shirt studs. "For a traditional look, forgo a wrist watch and opt for a pocket watch," she says. "Back in the day, men wore pocket watches instead of wrist watches as it was considered rude to check the time at such an important event." For ladies, Padilla recommends taking out your finest jewelry. "For both men and women, jewelry and accessories are an opportunity to add more personality to your look but remember to keep it classy and minimal."
Do: Take advantage of the opportunity to go all out
For most people, events that require black-tie wedding attire are few and far between, so Padilla suggests embracing the opportunity to get dressed up. In other words, always go with fancier option—for example, go for the full-length gown instead of the black cocktail dress you could wear to almost any occasion. "Guys, opt for a navy or black tux with a matching waistcoat or cummerbund rather than trying to get away with a casual dark suit option," she says. "You don't want to be the couple who did the least standing next to the couple that chose to embrace the full black tie dress code in pictures."
Don't: Match your date
Coordinating is one thing, but Padilla suggests avoiding matching outfits. "Instead of investing your time in finding garments and accessories in the same color, go for contrasting colors," she says. "If your date is wearing a navy tux for example, coordinate with a rich amethyst or orange sapphire jewel tone gown."
Do: Have a perfectly tailored look
If you don't already own a custom tux, it might be time to invest in one. "Even a $100 tux tailored to perfection can look like a $2,000 piece," says Padilla. "Ladies can absolutely bet on finding amazing black tie wedding attire options too that they can run to the tailor for a fraction of the investment of an entire new look."
Don't: Overlook your outerwear
"All that time and effort you put into creating a perfect look can be instantly ruined by throwing on the nearest jacket as you run out the door," says Padilla. "Depending on the season, women can consider a beautiful faux fur stole, shawl or tailored blazer to stay warm, and men should complement their look with a cashmere scarf, leather gloves, and/or a dark colored overcoat knee length or longer."
Do: Take risks
Fashion is taking risks. Just because you're not a supermodel, doesn't mean you should play it safe all the time. Even black tie wedding attire gives you the opportunity to do something super stylish, like swapping out a full-length gown for a striking pant or jumpsuit. "Fellas, consider going with a tux in a less traditional color or fabric such as velvet, and keep in mind that fabric, color, embellishments and accessories if opting for a less traditional black-tie look," says Padilla. "Just make sure your look falls in line with black-tie criteria, can hold its own next to fancier black-tie options in pictures and is also considerate of the event and host."