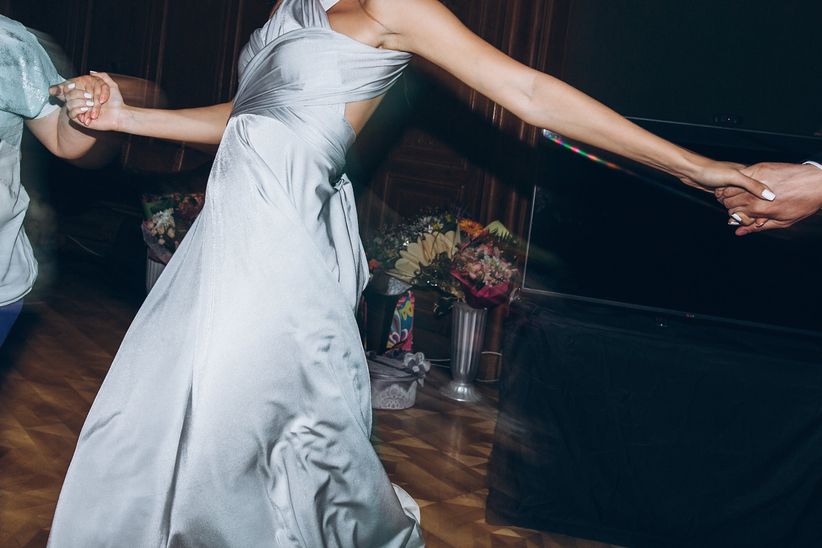 When it comes to wedding guest etiquette, there are lots of traditions and rules that have changed in recent years—including colors you can't wear to a wedding. It turns out that colors that were once considered taboo (black, for example) are now totally okay to wear to (most) weddings. However, there are still certain hues that you should stay away from—including some that might surprise you.
Here's a list of colors you can't wear to a wedding, and some you should think twice before donning.
Never wear…
White
White is still the main color you can't wear to a wedding. Eighty percent of brides wear white to their wedding, and it's important that a bride stands out at her wedding. Even if it isn't the intent, a guest wearing white can be seen as an attempt to upstage the bride—and that's definitely a no-no.
Ivory
We've heard it a million times: "But the outfit I want to wear isn't actually white, it's ivory." Ivory, off-white, cream, eggshell, vanilla, bone—call 'em what you will, but if it's close to white, don't wear it. Also, stay away from fabrics featuring patterns that are mostly white or ivory—for example, florals, polka dots, or stripes. Anything that could be construed as white or ivory is going to be frowned upon at a wedding.
Think twice before wearing…
Champagne or Gold
In recent years, champagne-hued and gold wedding dresses have become quite a trend. If you're attending the wedding of a bride who's the fashion-forward type, know that she might opt for a dress that's more gold than white. To stay on the safe side, we recommend avoiding ensembles that are predominantly gold or champagne-colored.
Super-Light Pastels
Usually pastel hues are considered not only appropriate but encouraged in guest attire, particularly for spring. However, we've seen one too many wedding guest dresses in barely-there pastel hues that end up looking white or ivory in photos—not cool. If you're considering a blush or pale mint look for a wedding, try photographing the ensemble in sunlight. If it retains its pink or green hue, it's fine to wear. If it looks white, skip.
Too-Sparkly Metallics
If you're attending a daytime or informal wedding, avoid wearing ensembles featuring too much beading or sparkle. Similar to wearing white, it will be seen as trying to steal the spotlight—not cool. However, if the wedding you're attending is formal or black-tie, sparkly gowns are usually okay—just don't go too overboard and wear something that could be construed as a wedding dress.
Bridesmaid Dress Color
If you're not a bridesmaid, wearing the same color as the 'maids can make you look like a wannabe. If you know the bride or one of the bridesmaids well, don't be shy about asking what color they're wearing so you can include that hue on the list of colors you can't wear to the wedding. But what if you don't know the bride or any of the bridesmaids? Use the wedding invitation as a clue—usually a invite is designed to match a wedding's color palette, so if you see a color prominently featured on the invite, don't wear it.
If you're attending certain cultural or religious weddings…
Black
Attending a Hindu wedding? Black is viewed as an unlucky color in Hindu ceremonies, so it's best to avoid wearing black at these weddings. White is also considered inappropriate to wear during Hindu ceremonies, as it's the color worn at funerals—but as we mentioned earlier, white is on the list of colors you can't wear to any wedding!
Red
Brides usually wear red at Chinese weddings, and often at Indian weddings, as well. If attending a wedding of one of these cultures, it's best to steer clear of wearing red to avoid upstaging the bride.