How to Attend Your First Chinese Wedding
Your first Chinese wedding will feature some traditions and customs you may not be familiar with, so be sure to prepare before the big day.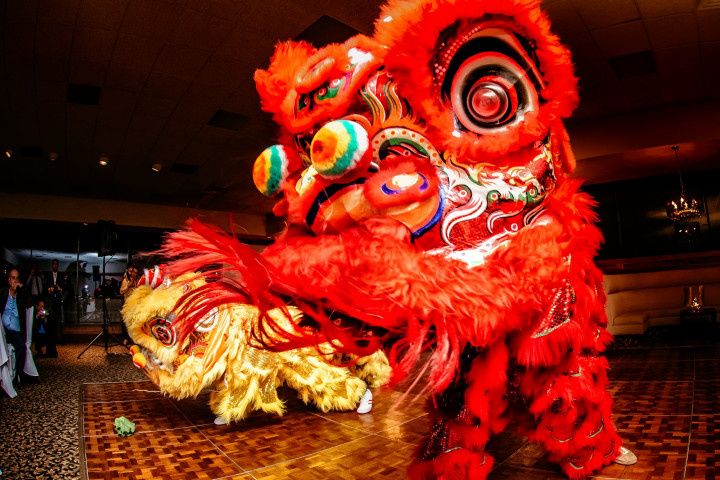 A Chinese wedding in the United States usually includes a blend of traditions from China and from the United States. While the more Western customs will be easy to spot, you're likely unfamiliar with some of the traditional aspects of Chinese weddings. Scroll down to learn about what to wear, what to gift, and what to expect at your first Chinese wedding.
Here are some Chinese wedding customs first-time guests should know.
What to wear to a Chinese wedding
There are a couple of rules when it comes to what to wear to a Chinese wedding. The first is to avoid the colors red, black and white. White is always a no-no at weddings for anyone but the couple, but at a Chinese wedding you'll want to also veto any clothing with red and black, too. Both white and black represent mourning in Chinese culture.
"You should also avoid red, as that is reserved for the bride," explains Katherine Hoggard of Events by Katherine. "Good colors are pink, peach, purple, orange and yellow."
You'll also want to dress modestly with your shoulders, chest and thighs covered.
What customs to expect at a Chinese wedding
The Tea Ceremony: This symbolic tradition is most closely associated with Chinese weddings, and many Chinese American couples choose to include it in their ceremonies. Dressed in silk gowns or dresses, the couple sits on mats on the floor and pours cups of tea for family member and important guests. This gesture is a way of honoring the couple's family and closest wedding guests.
Traditional food: Chinese weddings feature a traditional banquet with eight courses. Food is brought out to guests "family style" on large platters, and each guest is expected to plate their own meal from these platters. While Chinese-American couples might choose to mix traditional and Western fare, some of the customary Chinese wedding dishes are lobster and chicken to represent the yin and yang of the couple, scallops to symbolize the couple's fertility, duck to wish the couple a peaceful marriage and noodles as a symbol of longevity in their marriage. Chinese wedding etiquette dictates that guests do not leave before the last dish is served.
The Lion Dance: Lions symbolize good luck in Chinese culture and in the cultures of other Asian countries as well. The Lion Dance is often performed at important Chinese ceremonies, including weddings, and features two dancers in a colorful lion costume mimicking the movements of the animal. The accompanying music is festive with a distinct drum beat and cymbals. This custom will normally take place during the wedding reception.
Chinese wedding etiquette for guests
Beyond the etiquette rules surrounding what to wear and when it's considered polite to leave the wedding, there is also some etiquette around gift-giving at a Chinese wedding. While your friends may have registered for gifts, if they haven't the customary gift is a money in a red envelope. Feel free to fill the envelope with cash, a check or a gift card.