8 Wedding Reception Trends for 2020 That Your Guests Haven't Seen Before
We're talking food, drinks, and interactive experiences. Here are the 2020 wedding reception trends and ideas that will have guests remembering your big day as the best party of the year.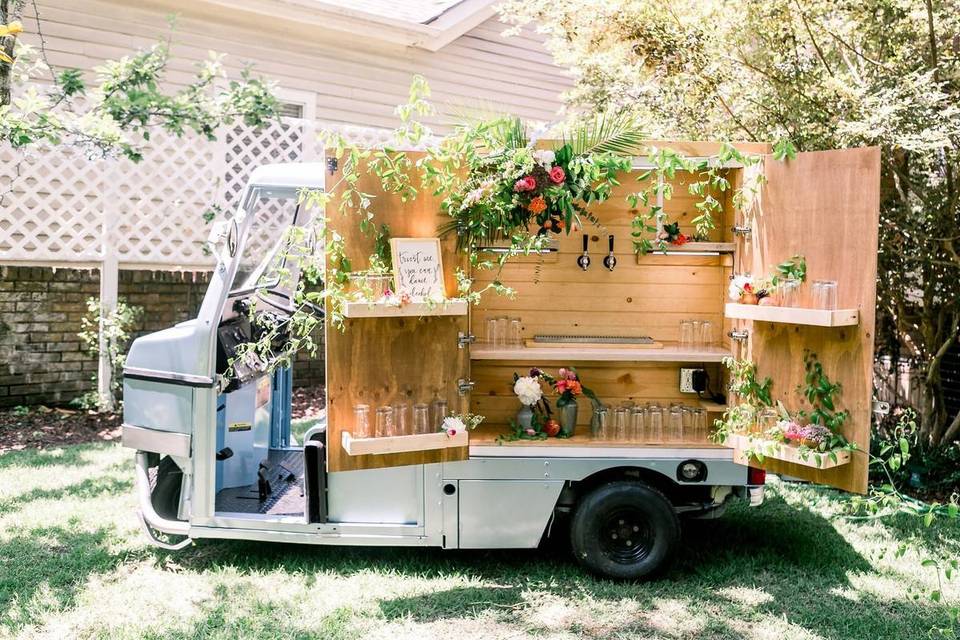 After your vows have been exchanged and the first kiss has been shared, it's time to party! If you're getting hitched in the next year, you can count on these 2020 wedding reception trends to make your big day a celebration that everyone will remember. Whether it's the decor, the menu, or other surprises you have in store for your guests (like a bar on wheels, perhaps?), your wedding reception is one of the few opportunities in life when you have the *perfect* excuse to plan a party that's exactly what you've always wanted. Fancy cocktails? You got it! Giant cheese board? Yep! Grown-up moon bounce? Count us in! But on top of celebrating your new "just married" status, your wedding reception is also a chance to show love and thanks for all of the friends and family members who are joining you on the big day. Take it as an opportunity to wow them with the latest food, drinks, and entertainment trends—because if your guests are having an amazing time at your wedding, you will be, too!
Bookmark these 2020 wedding reception trends to host a totally unforgettable and fun celebration.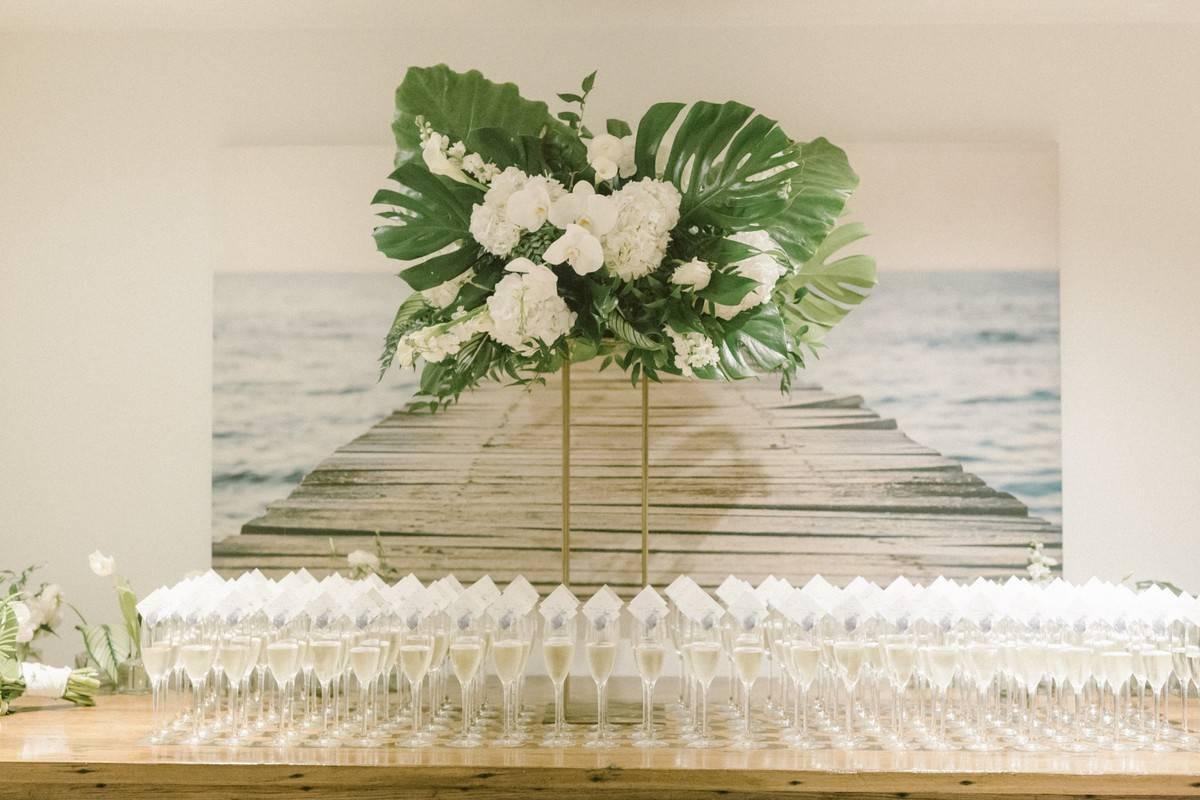 Drinkable (or edible) escort cards
If you're not displaying a seating chart for your guests, you'll need to provide them with escort cards instead so that everyone can easily find where they're supposed to be sitting. And while escort cards are, first and foremost, a practical detail, you shouldn't stop yourself from getting creative with yours! Drinkable—or edible—escort cards will be more popular than ever in 2020, and we couldn't be more thrilled about this bourgeoning wedding reception trend. Pairing your escort cards with a drink or a bite-sized snack is an excellent way to surprise and delight your guests before they've even made it to their tables. Use it as a chance to treat everyone to your signature cocktail (no standing in line at the bar required!), or give guests a taste of the meal to come by serving personal hors d'oeuvres with your escort cards. A few ideas we've seen so far: tequila shots, custom hand-piped cookies, glasses of bubbly, mini baguettes, macarons, and sliders.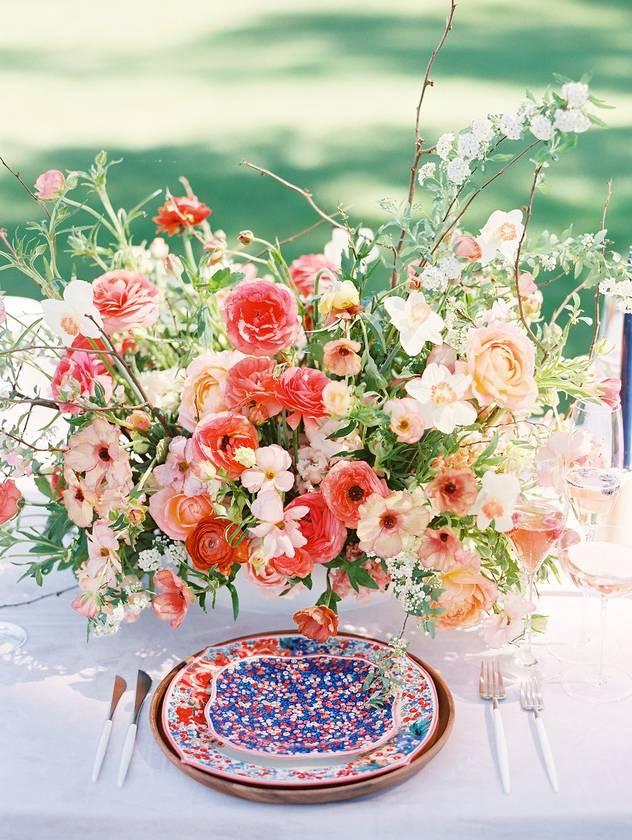 Flowers by Rockrose Floral Design
Bursts of color
2019 brought the return of bold wedding color palettes and technicolor decor, and we're only expecting the trend to grow as we head into the new decade. Couples will continue to embrace vibrant colors, like rust orange, marigold, cobalt blue, and coral. Even pastel color palettes are getting an update in 2020—instead of soft blush and neutrals, the must-have pastel hues will be lilac and lavender purple, mint green, and butter yellow. We're definitely anticipating brighter tones being tapped as accent colors in wedding centerpieces, tablescapes, wedding cakes, and other reception decor throughout 2020.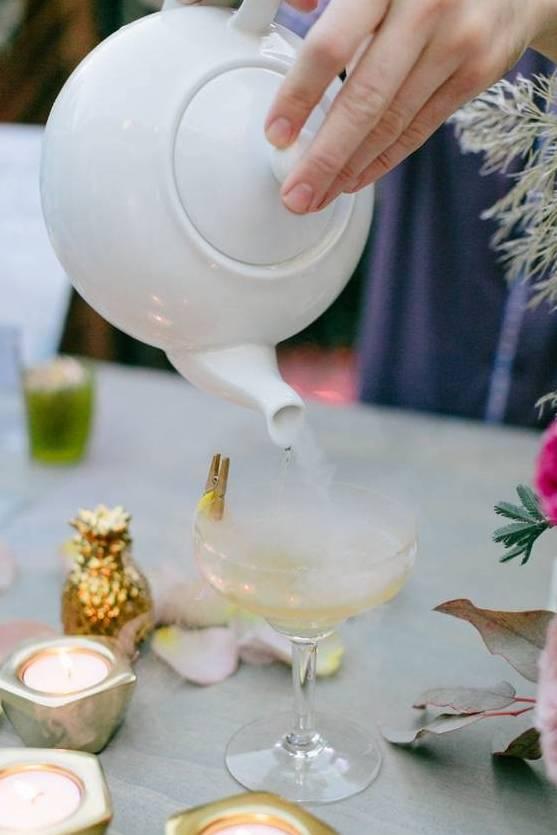 Mixology
You might be wondering what the difference is between a bartender and mixologist, so before we go any further, allow us to clarify. A bartender works hard on perfecting (and serving at lightening speed) all of the go-to drinks you already love, from vodka sodas and bloody marys to aperol spritzes, daiquiris, and margaritas. They're the horsepower behind the open bar at your wedding!
On the other hand, mixologists generally take a more imaginative, experiential approach to their cocktail-making by combining unexpected ingredients and effects—in other words, you can thank a mixologist if you've ever seen a cocktail served in a terrarium, lit on fire right in front of your eyes, or poured down an ice luge and into a glass. In 2020, we're expecting mixology to be a huge wedding reception trend as more couples are looking for unique ways to personalize their celebration. Hire a mixologist if you want to create a one-of-a-kind experience for your wedding guests and wow them with cocktails that are equal parts delicious and entertaining.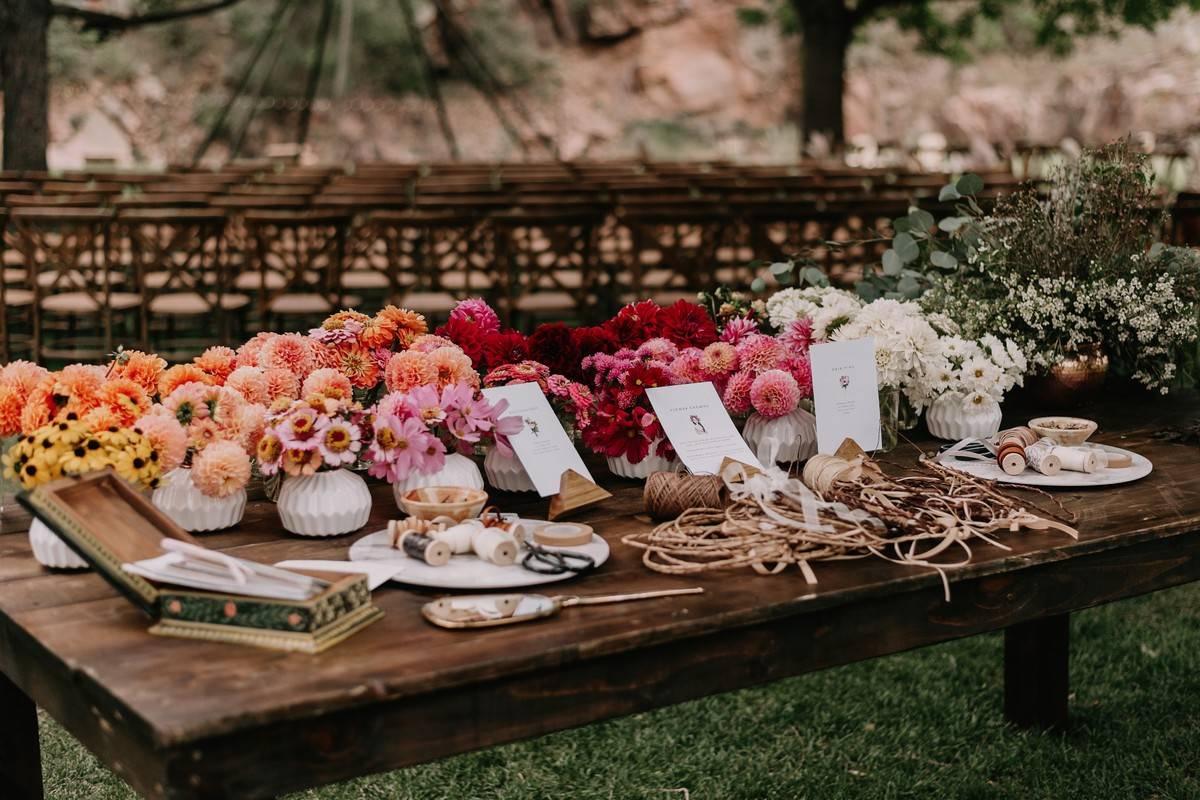 Experiential favors
Bespoke and Instagrammable moments are bigger now than ever at weddings, and not even your wedding favors are exempt from this latest trend. Experiential favors—think DIY bouquet bars, build-your-own terrariums, custom perfume blending, and aura photography—are the newest way for you to get creative with the gifts that people take home at the end of the night. This wedding reception trend is a fun alternative if you've been feeling underwhelmed by other wedding favor ideas, and whatever you choose, it's guaranteed to get your guests on their feet and mingling with each other!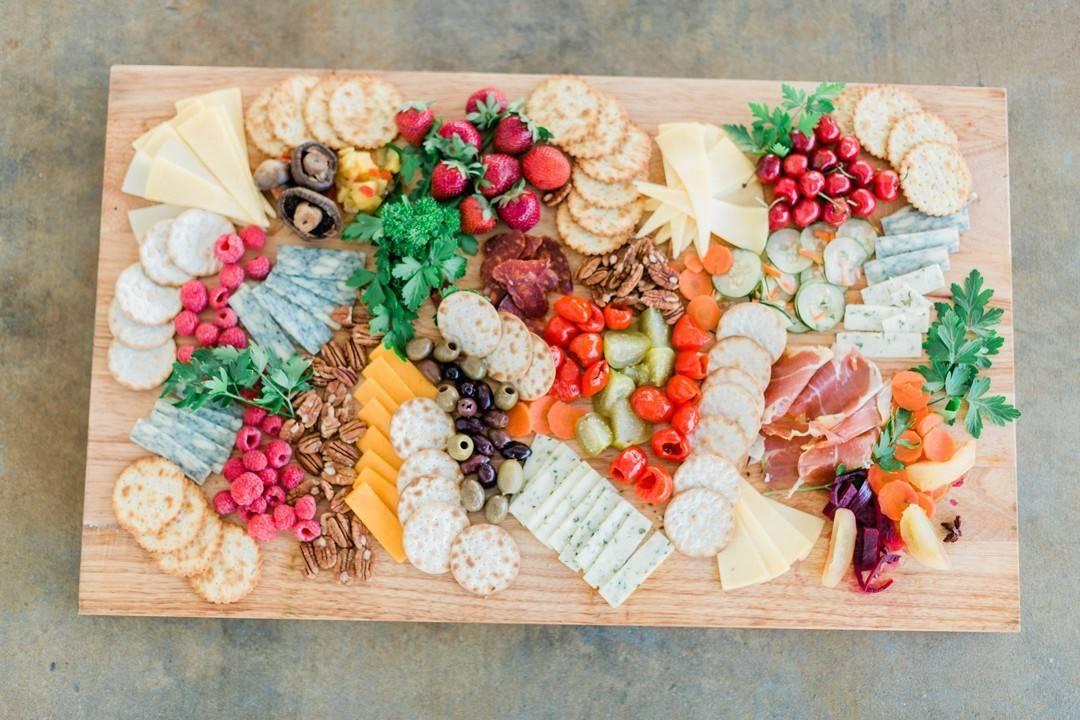 Food boards
Even though wedding food displays aren't exactly breaking news anymore (we've seen so many dessert bars over the years, but we still love 'em), presenting your food in a creative way will be more important than ever in 2020. Whether you're a serious foodie or you simply want to provide an interactive conversation starter for your guests, using food as part of your decor will continue to be one of the major wedding reception trends next year. Tastefully arranged food boards are the most popular interpretation of this trend—present one during cocktail hour to appease hungry guests, or use food boards as alternative centerpieces on each of your reception tables.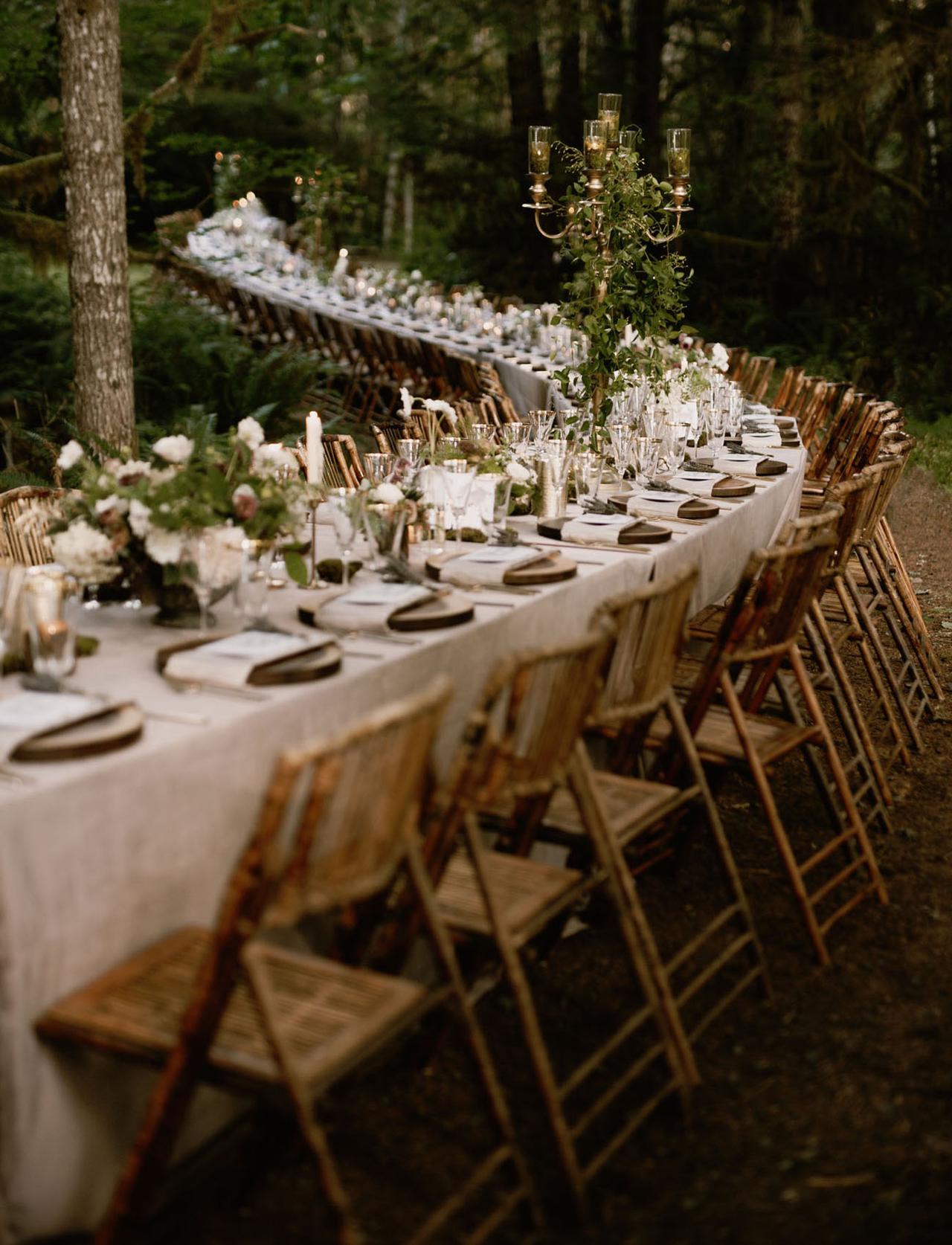 Creative seating layouts
Who says your banquet tables have to be neatly lined up in horizontal rows? If your reception venue has the space for a flexible layout, don't be shy about thinking outside the box when it comes to arranging your tables—the end result can impact the overall vibe of your wedding more than you think! From winding serpentine setups to communal u-shaped or circular groupings, this wedding reception trend is one that can easily be adapted for any aesthetic or budget.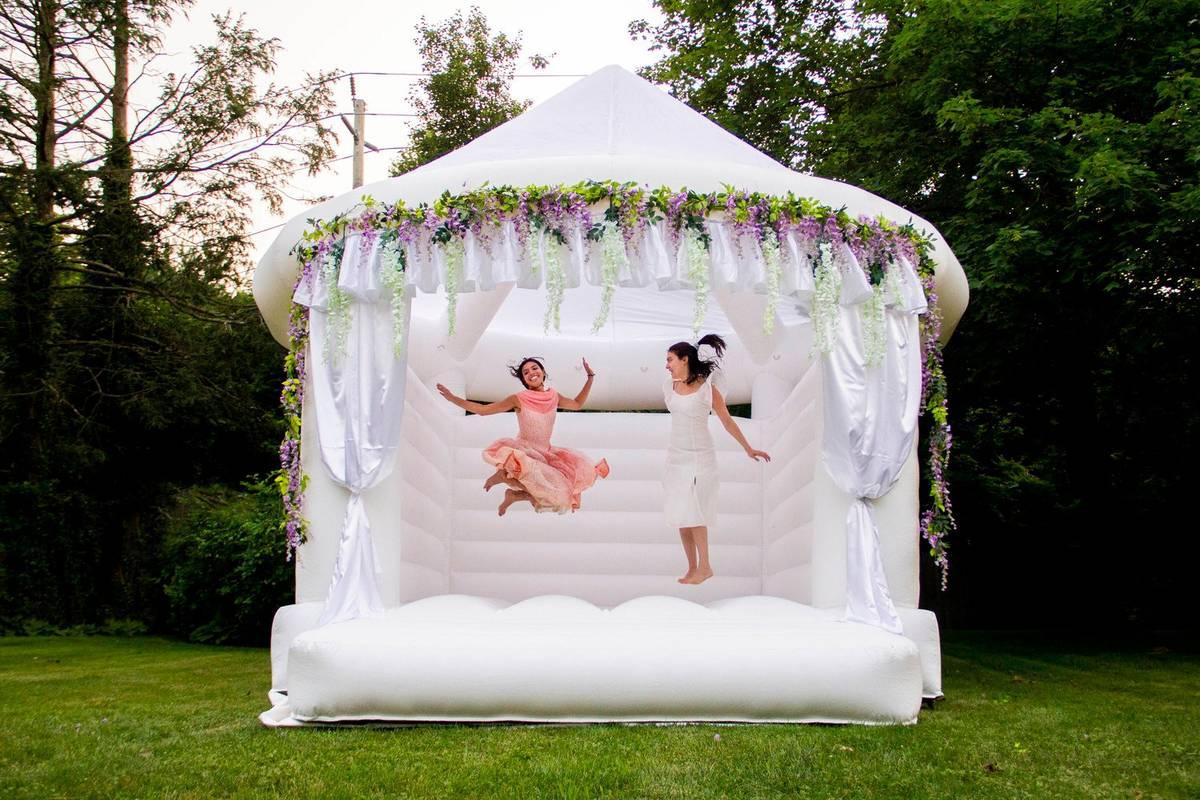 Moon bounces
Stealing the show as one of the most unexpected wedding reception trends for 2020 are *drumroll please* moon bounces. Yes, really! We've already seen a handful of real couples incorporate this childhood throwback into their wedding days, and there are special rental companies across the country who supply all-white moon bounces specifically for weddings. Of course this idea is perfect if you're inviting a lot of kids to your wedding, but it's surprisingly fun for adults, too! If you're not totally sold on having a moon bounce at your wedding, consider it for your engagement party or rehearsal dinner instead. The photo ops are bound to be hilarious.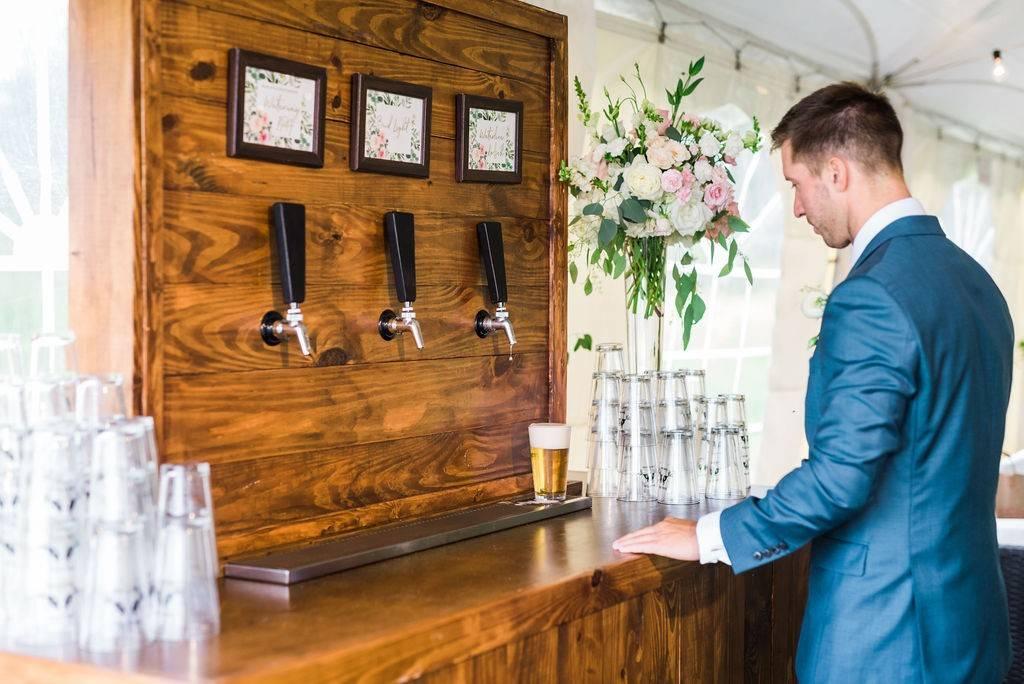 Hands-on refreshments
Along with mixologists and drinkable escort cards, self-serve refreshments are another trend you can expect to see at wedding receptions everywhere in 2020. According to a WeddingWire study, nearly one-third of guests say that the bar is important to them when attending a wedding (same), and this is another opportunity for you to make their experience a memorable one. Tap walls, prosecco trucks, and sangria bars are just a few ways for guests to try their hand at achieving the perfect pour.