After your vows have been exchanged and the first kiss has been shared, it's time for the party. If you're getting hitched this year, you can count on these 2019 wedding reception trends to ensure that your big day is a celebration to remember. Your wedding day is about showcasing your personalities as a couple, and there's no better time to do so than at the reception.
Whether it's the decor, the menu, or the surprises you have in store for your guests, your wedding reception is one of the few (if not the only) chances in life when you have the perfect excuse to plan an event that's exactly what you've always wanted. It's also an opportunity to give back to your guests by throwing the best party ever, since they'll be spending time — and money — to celebrate with you on the big day. And let's be honest: if your guests are having fun, you will too!
Use these 2019 wedding reception trends to host a totally unforgettable big day.
Colorful decor
We're kicking off our list of 2019 wedding reception trends with something that we're super excited about: the return of colorful decor. In 2019, couples will be personalizing their weddings more than ever before, which means that many will break away from the airy neutrals and pastels that can sometimes feel a little too been there, done that. We expect to see more couples using non-traditional wedding color palettes and unexpected hues, like rust orange, canary yellow, and even dramatic black. This doesn't mean that neutrals and pastels are gone forever — they're a major element of minimalist wedding style, which is very much still in — but we're definitely anticipating brighter hues being tapped as accent colors in floral designs, tablescapes, wedding cakes, and other decor throughout 2019.
Since color will play such a huge role in this year's wedding trend scene, we partnered with the Pantone Color Institute to create four exciting, brand-new color palettes. If you're on board with statement-making hues, don't miss our favorite wedding colors for 2019.
Food boards
Wedding food displays aren't exactly breaking news anymore (although we've seen so many doughnut walls and we still love 'em), but presenting your food in a creative way will be more important than ever this year. Whether you're a serious foodie or simply want to provide an interactive conversation starter for your guests, using food as part of your decor is one of the major 2019 wedding reception trends. Tastefully arranged food boards are one of our favorite takes on this trend, and with the right composition, your food board will be a seriously impressive (and edible) work of art.
Offer a decorative food board during cocktail hour to appease hungry guests, or use food boards as alternative centerpieces on each of your reception tables for a truly mouthwatering touch.
Quality vs. quantity
Say goodbye to the "more is more" mindset when it comes to wedding planning in 2019. Call it the Marie Kondo effect if you will, but this year, there's a major shift in how couples are prioritizing quality versus quantity when it comes to things like wedding decor, guest experience, and reception menus. Because of this new approach to planning, it's becoming less likely to see weddings that are overly themed and filled with by-the-book trends (we promise there are other ways to have a rustic wedding if you don't like mason jars and hay bales). Instead, creating the perfect wedding will be all about combining mix-and-match elements — trendy or not — for an event that feels genuine, bespoke, and only features the things that legitimately *spark joy* for you and your spouse.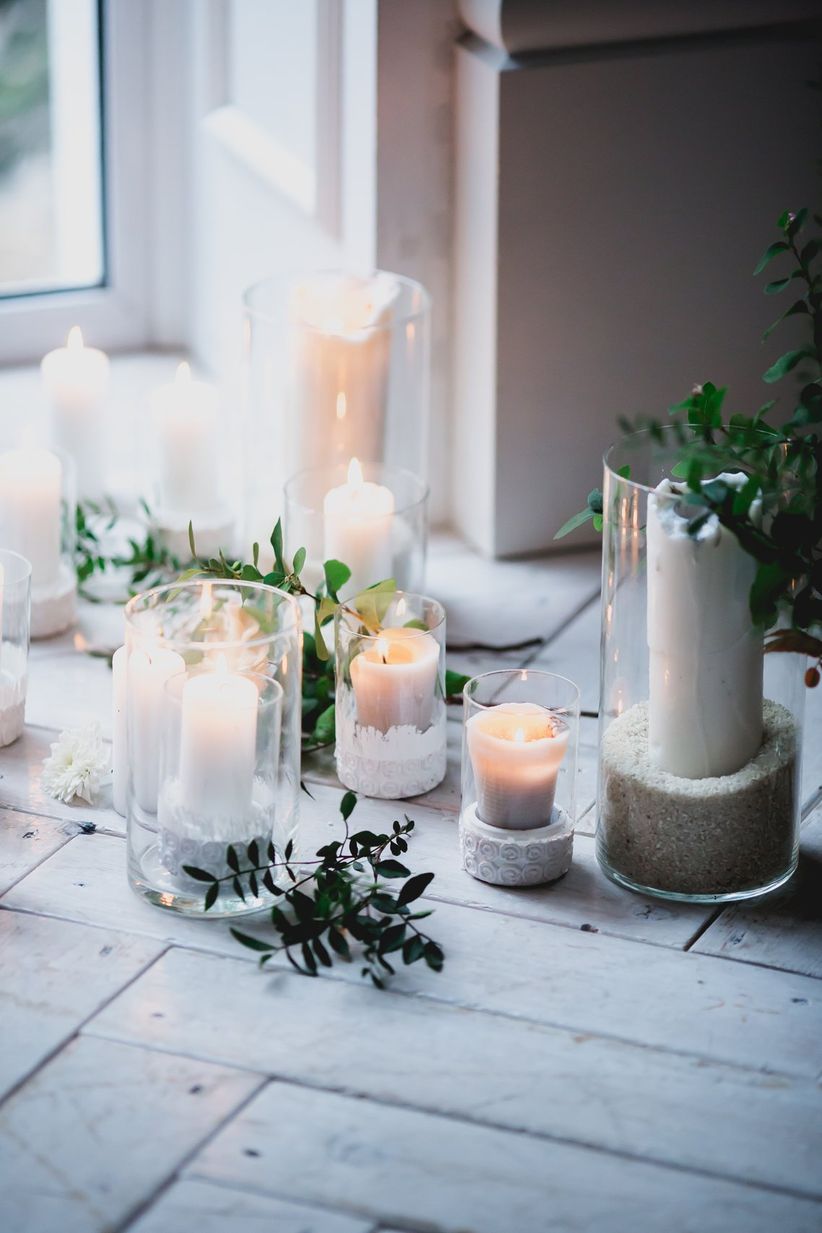 Custom wedding scents
Speaking of personalization, creating your own wedding scent is the latest way to customize your big day. Aromatherapy is already a huge deal in the #selfcare movement, and we're loving this idea as a 2019 wedding reception trend. From scented candles to essential oil diffusers, filling your reception venue with a specific scent can instantly change the ambience of the space. Choose a lavender or citrus-based scent to make guests feel rejuvenated, or opt for something musky or floral to really play up the romantic vibes of the day.
If you're looking for an interactive experience to wow your guests, how about a perfume bar? Hire a perfumologist to help your guests blend their own scents as unique wedding favors — and give them something to talk about for years to come. You can also use a custom scent to make candles and handmade soap favors, which will help your guests remember your big day whenever they use them.
Smoke bomb exits
Sparkler send-offs are romantic, but smoke bomb exits are next level coolness. They come in a rainbow of colors, and you only need a few of them to really make an impact. This 2019 wedding reception trend is best for daytime events, since the colored smoke won't be visible if you're making your exit after dark. But if that's the case, you can still get in on the fun by posing for a few smoke bomb portraits with your wedding party before the sun goes down.