The Fashion Advice You Need If You're Attending a Winter Wedding
Attending a wedding in December, January, or February? Read our top fashion and etiquette tips for picking out winter wedding guest attire.
We have included third party products to help you navigate and enjoy life's biggest moments. Purchases made through links on this page may earn us a commission.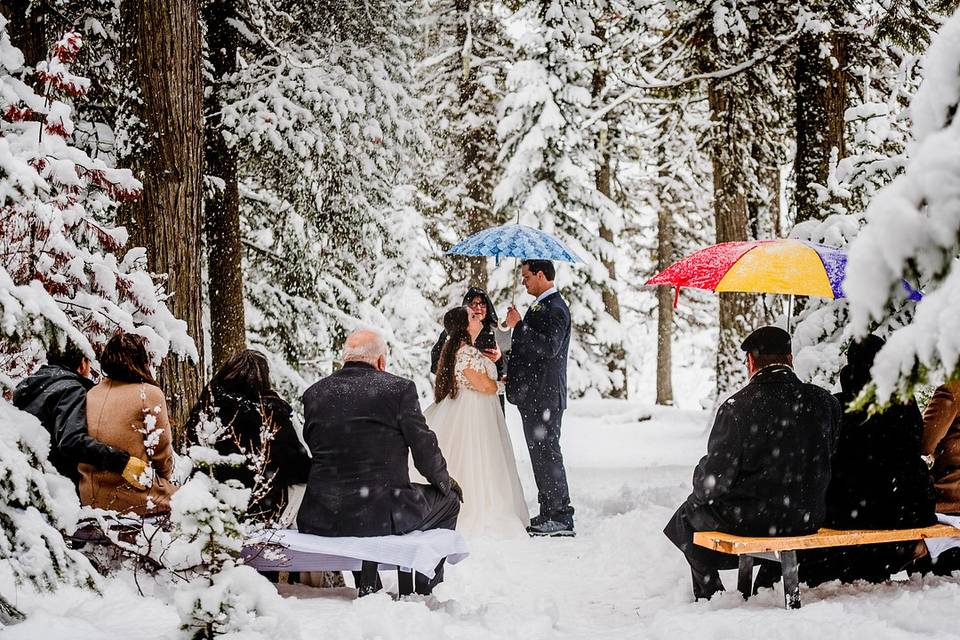 While winter may not traditionally be the most popular season for a wedding, there are a lot of things that make it a special time to tie the knot. Our favorite? The inimitable celebratory atmosphere. If you're not sure what to wear to a winter wedding that lives up to that celebratory vibe, let us help you out. We're sharing our top tips for finding the perfect winter wedding attire for any guest. Keep reading for answers to the biggest FAQs, including how to style a dress for a winter wedding, what jacket to wear to a winter wedding, and what to wear to an outdoor winter wedding.
"Winter provides a really underrated opportunity to sport some killer statement pieces, allowing you to play with long sleeves, length, materials, and bold metallic colors," says Melissa Sullivan, founder of bridal atelier Maison Sully. And if you're wearing a suit, the sentiment is similar. "There are numerous ways to inject some fun and character into a formal look without sacrificing the respectful presentation to the ceremony," says Sharmila Sudhakar, general manager of the rental business at Tailored Brands (the company behind leading menswear retailers Men's Wearhouse, Jos. A. Bank, and Moores Clothing). Whether you're figuring out what to wear to a wedding in December, January, or February, consider this your cheat sheet.
What's Different About Winter Wedding Guest Attire?
There are a few things that set winter apart from other seasons. When it comes to the dress code, winter weddings typically tend to be a bit formal in nature, says Sullivan. Many couples opt for a formal, black tie optional, or black tie dress code. In many ways, this reflects the location of the celebration, as winter wedding venues are generally on the formal side (think: country clubs and banquet halls).
Another wonderful aspect of winter wedding guest attire? The beautiful seasonal colors. "There are a multitude of color options guests can wear to winter weddings," says Sullivan. "Classic deeper hues such as navy, burgundy, and black are ever popular and ultra re-wearable," the designer continues. A black dress or emerald green pant suit are both great options. Leave lighter colors and patterns (think: a floral print dress or pastel pink jumpsuit) for the warmer seasons.
Planning on wearing a tux? "A black tuxedo will forever be a safe bet," says Sudhakar. "However, various blues, from midnight to navy to jewel tones (think: lapis), are becoming just as popular due to their approachability yet uniqueness," she continues.
Whether you're looking for women's or men's winter wedding attire, jewel tones aren't the only way to make a seasonal statement. "Guests should also feel empowered to go bold with metallics—after all, what better time than the holiday season?" says Sullivan. A glittering gold maxi dress or silver sequin cocktail dress will perfectly complement the jubilant mood. Similarly, a blazer or dinner jacket with metallic details joyfully salutes the season.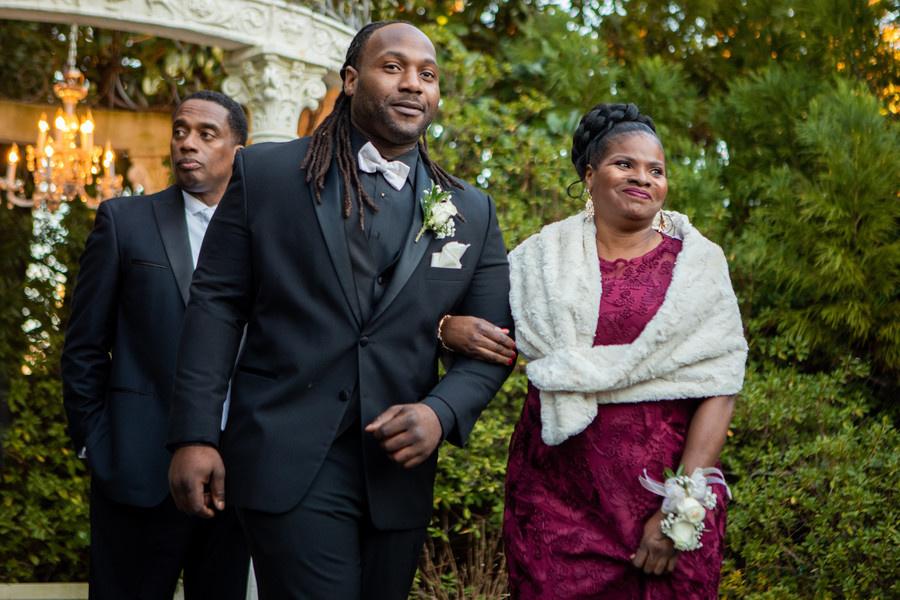 How to Choose the Right Winter Wedding Outfit for Cold Weather
The biggest challenge when deciding what to wear to a winter wedding as a guest is the weather. Thankfully, we've got some tips on picking out an outfit that's appropriate for chilly temperatures. "Guests of winter weddings should consider fabric types, outerwear, and footwear carefully to protect from the elements," says Sullivan. She recommends choosing an outfit with thicker fabric made from natural fibers, such as wool. Consider avoiding outfit ideas that have short sleeves or are sleeveless, like a slip dress, unless you're planning to layer a jacket or sweater on top.
Whether you're searching for a formal tuxedo or semi-formal suit for your winter wedding attire, Sudhakar also suggests turning to wool. "Heavier textiles such as wool flannel in a solid color are just as elegant as basic wool, but with that added texture and warmth for the colder months," she adds. Wondering what to wear to a casual winter wedding? For casual or daytime winter wedding guest attire, a nice suit is still a must. That said, feel free to play around with accessories depending on the dress code, such as adding a fun holiday-themed tie or pocket square.
Velvet is another popular fabric for guests seeking cocktail, formal, or black tie winter wedding attire. A velvet dress or suit in a rich seasonal hue will help any winter wedding guest to make a statement while also providing warmth. "Not only is velvet considered fashion forward, it also lends an air of refinement with classic sensibility," says Sudhakar. Sullivan suggests avoiding lightweight materials like chiffon, which is more suited to warm weather.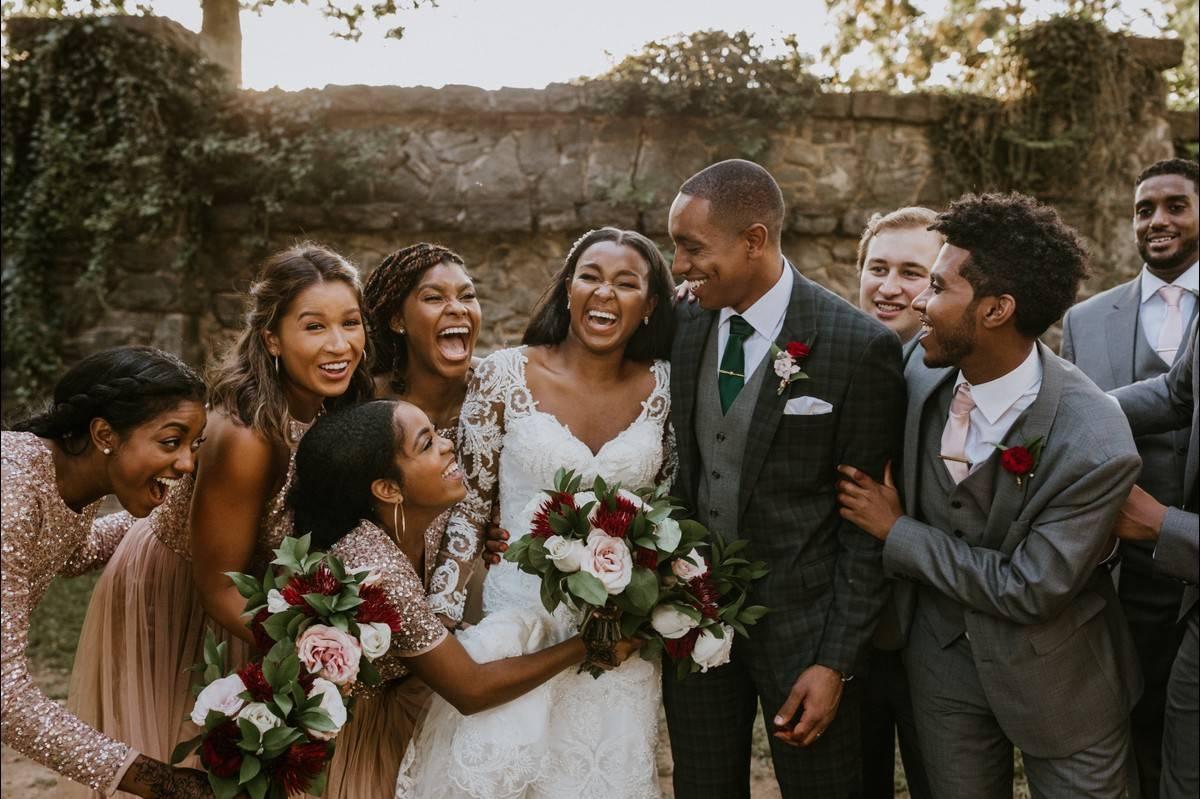 What to Wear Over a Dress to a Winter Wedding
Searching for outerwear as a winter wedding guest can be challenging. You want something that's practical and warm without taking away from your outfit as a whole. So what's appropriate to wear to a winter wedding over a dress? "Outerwear choices can vary greatly given the venue and dress code," says Sullivan. But, since winter weddings are generally on the formal side, a classic long wool coat always does the trick, she adds.
If you're attending an indoor wedding that doesn't require transportation between venues, a shawl or light cover-up might be enough to keep you warm. Depending on your outfit, the location, and the weather forecast, use your best judgment to determine whether or not you need a full-blown coat. Whatever you decide, make sure that your outerwear is befitting of a formal event. Even if the dress code is casual, you definitely don't want to show up in a hoodie or your everyday puffer coat. An overcoat, topcoat, or faux fur jacket is more appropriate.
What to Wear Over a Suit to a Winter Wedding
Not sure what coat to wear to a winter wedding over your suit or tuxedo? When in doubt, an overcoat is the way to go. "Overcoats can absolutely be worn with a tuxedo or suit so long as they are slim enough to fit over the suit or tuxedo without looking too bulky," says Sudhakar. "Parkas or down coats will generally look too casual over a formal look," she continues. Want a little more inspiration? "A classic wool topcoat in a dark navy, charcoal, or perhaps a cashmere blend in black will complement a suit or tuxedo perfectly with its tailored silhouette."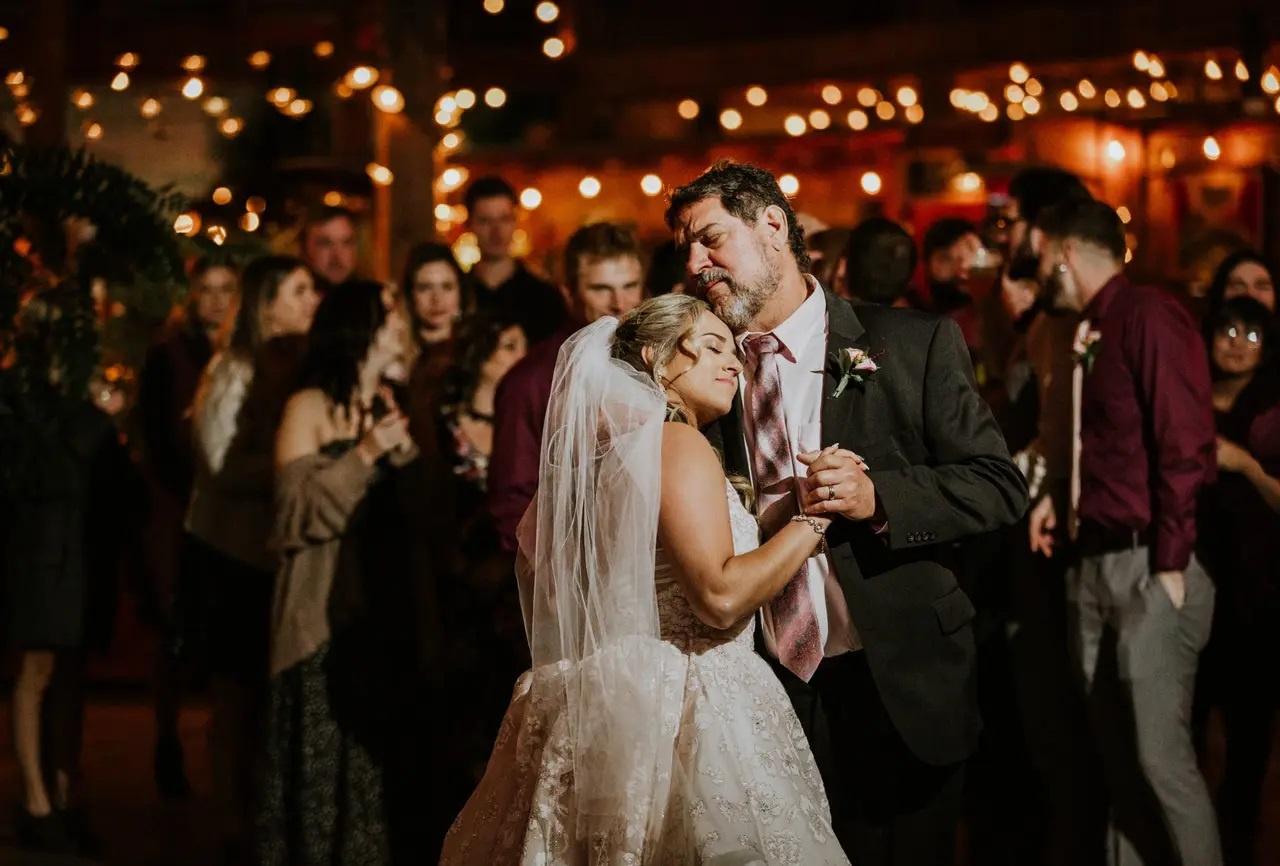 What Shoes to Wear to a Winter Wedding
Shoes are an important part of your winter wedding guest style. And believe it or not, there are some special considerations to take into account for the winter season. "Winter weddings are a great excuse to break out your favorite classic footwear—closed-toe, rounded, and pointed pumps are very popular given their elegance and warmth," says Sullivan. "Alternatively, in warmer seasons, we tend to see more strappy open-toe looks to keep cool."
Similarly, there are some seasonal differences in menswear when it comes to choosing the right shoes. "It's true that lighter tan or light brown shoes in leather or suede tend to lend themselves more toward summer weddings," says Sudhakar. "Fall and winter, however, call for boots, and while a classic black or dark brown cap-toe shoe is a safe bet, don't be afraid to rock a dress boot with your suit," she continues. Your boots should also be polished, clean, and free of embellishments so that they won't draw away from the rest of what you're wearing, Sullivan says.
If dress boots aren't your thing, Sudhakar suggests wearing "a simple plain toe, a clean dress Venetian, or a stylish monk strap." Or, if you're wondering what shoes to wear to a black tie winter wedding, Sudhakar recommends a pair of classic black patent or evening shoes.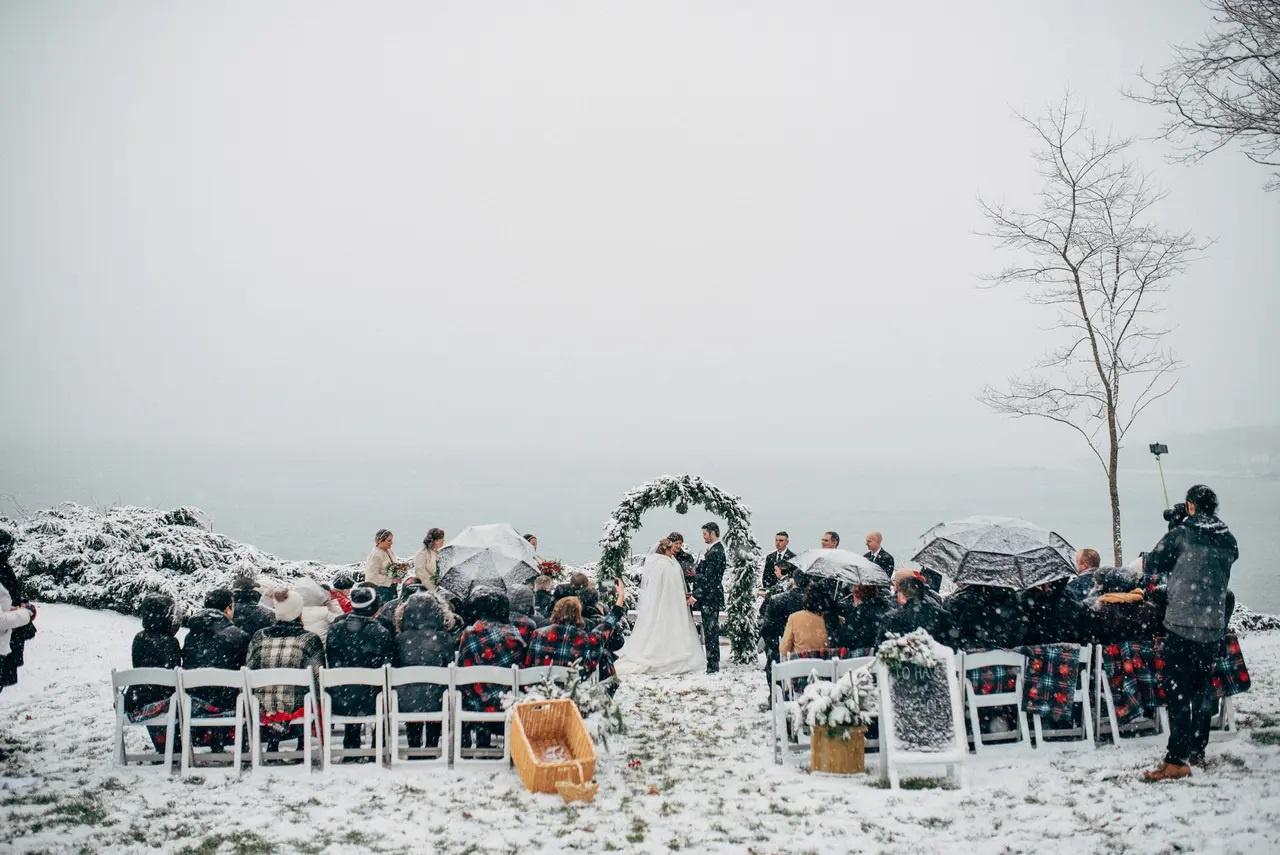 How to Prepare for an Outdoor Winter Wedding
Typically, winter weddings are held indoors, but it's not unheard of for some couples to choose an outdoor venue (especially if they're dreaming of a white wedding). With outdoor winter wedding guest attire, it's even more important to wear a warm coat that offers plenty of coverage from the weather. "Guests attending an outdoor event in winter should keep the temperature and elements top of mind," says Sullivan. "There are plenty of fabulous pieces that are also comfortable and warm," she continues.
For example, a long-sleeve floor-length gown will offer plenty of coverage, but you can play around with details like a V-neck design and a pleated or ruched skirt to add a touch of glam. Layered winter wedding guest dresses are another great way to keep warm. Consider choosing a dress with ruffles or layers of tulle—anything with extra fabric will help you stay warm (and whatever you do, leave the mini dress at home). For those planning on wearing a suit or tuxedo, Sudhakar suggests pairing your overcoat with "a colorful cashmere and wool or silk patterned scarf."
When deciding what to wear to an outdoor winter wedding—whether it's a garden, a woodland setting, or a beach—Sullivan recommends researching the temperature for both day and night. "Temperatures can vary greatly in the evenings, and there's nothing worse than being cold," she says. While a velvet midi dress might be warm enough during the day, you'll definitely want to have a coat on hand for the evening.
Barns and another popular venue, especially for soonlyweds seeking a rustic celebration. If you're trying to decide what to wear to a barn winter wedding, treat it the same as an outdoor venue and be sure to bring a jacket. "Even with heating, there's always the possibility of a draft," says Sullivan. Of course, it's not all about staying cozy. Sudhakar encourages guests to use the venue as inspiration for their attire. She suggests adding a pair of cowboy boots to your ensemble for a barn wedding, or placing a fresh winter bloom in your lapel for a garden soirée. However, if it's a black tie wedding, stick with minimalist details and classic styles.