Here's Exactly What to Wear to a Fall Wedding As a Guest
Got a loved one tying the knot this autumn? Before you pick out a new outfit, check out our guide to fall wedding guest fashion.
We have included third party products to help you navigate and enjoy life's biggest moments. Purchases made through links on this page may earn us a commission.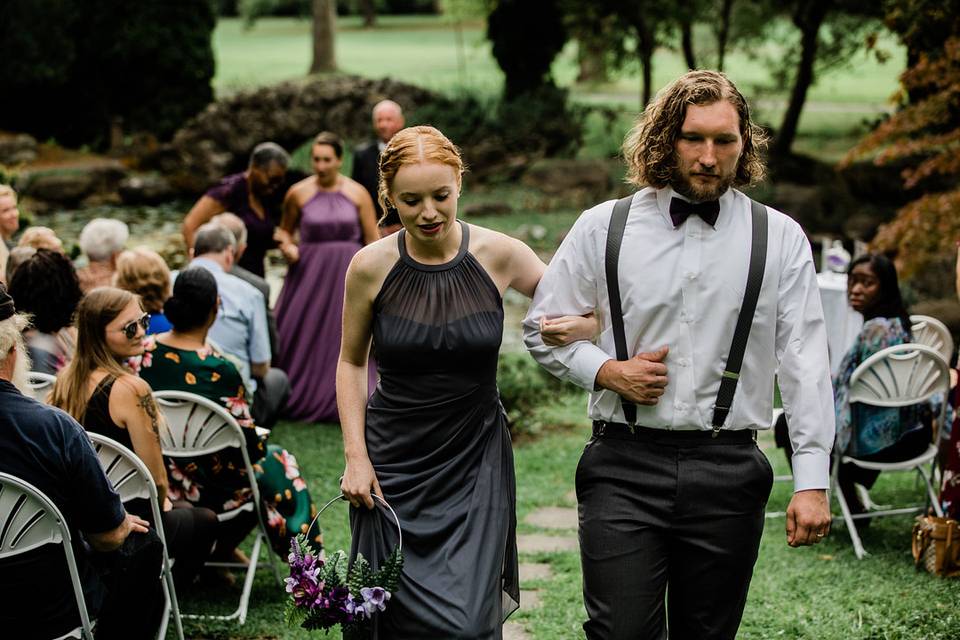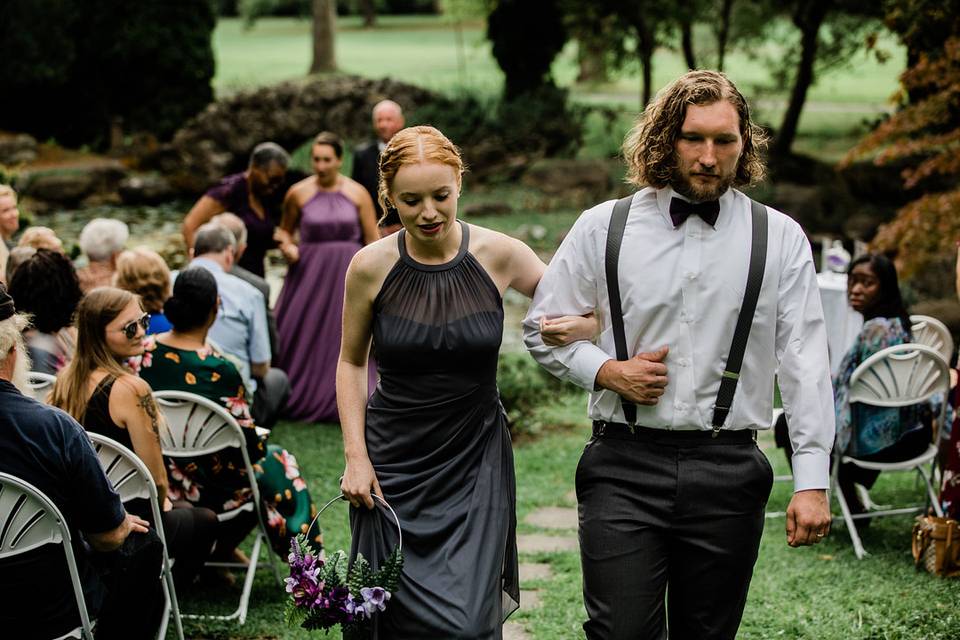 There's a reason why fall weddings are so popular. From the colorful changing leaves to the refreshingly cool weather, it's a beautiful time of year to tie the knot. But when it comes to wedding guest attire, a new season brings new challenges. Wondering what to wear to a fall wedding? That's exactly what we're here to help you with. This style and etiquette guide is your key to unlocking the title of best-dressed guest with your fall wedding attire. Keep reading for expert tips that'll help you bring your fashion A-game on the big day, whether you plan on wearing a fancy frock or a seasonal fall suit.
Nail the dress code.
Whether you're figuring out what to wear to a wedding in September, October, or November, your first port of call should be the dress code, which will be listed on the invitation or wedding website. (But keep in mind that dress code etiquette can be affected by other details, like the time of day an event is taking place and the venue.) We're sharing tips on how to follow some of the most popular dress codes specifically for fall weddings.
Casual fall wedding guest attire
When deciding what to wear to a casual fall wedding, feel free to prioritize comfort more than you might with formal dress codes. "Casual fall weddings offer guests a bit of relief and comfort as it allows them to wear styles that are not overly formal," says Blaire Walsh, Style Director at Rent the Runway. She recommends a nice floral midi paired with dress sandals or a fun fall-inspired jumpsuit with a low block heel.
When it comes to men's casual fall wedding guest attire, Walsh suggests pairing khaki pants with a button-up shirt and sport jacket. Dean Handspiker, Vice President of Retail at Indochino, suggests a similar ensemble. "Opt for a sport jacket with chinos or an unconstructed two- or three-piece suit without a tie," he says.
With all that in mind, a casual dress code doesn't just allow room for a little more comfort—it's also your golden ticket to play around with bold autumnal colors and prints, instead of sticking to neutrals and dark tones. Don't be afraid to make a statement that really salutes the season, like wearing a suit or dress in a gorgeous rust orange color.
Semi-formal fall wedding guest attire
The rules for wearing semi-formal or cocktail attire don't really change from season to season. That said, there are a few tweaks you can make so that your outfit works well with fall surroundings. While men's semi-formal fall wedding attire should consist of a darker-hued suit (especially for evening events), it doesn't necessarily have to be black. Feel free to get creative with some of the season's other dark hues, such as navy blue, burgundy, or brown.
Another great way to level up men's fall wedding guest attire for a semi-formal event? "With a more strict dress code, you can add an extra flair by switching up your shoes or tie to something more fun and unexpected," says Moti Biya, founder of bespoke tailoring company, IZOTTI. There are lots of unique ways to add a subtle seasonal touch to men's fall wedding suits, like incorporating a plaid pocket square.
Planning on wearing a dress? A typical cocktail dress, which should be knee- or tea-length, will look right at home. Opt for lighter fall colors, such as mauve or dusty blue, for a daytime event, and darker jewel tones, like emerald or amethyst for an evening wedding.
Formal and black-tie fall wedding guest attire
For a formal dress code, don't get too carried away with fall prints and patterns. Instead, it's respectful to wear a suit or dress in a darker, solid-colored hue. "A formal wedding is the perfect moment for a floor-length gown," shares Grace Lee, founder and CEO of Birdy Grey. She also recommends simple styles and silhouettes, such as a crepe or slip dress. Choosing seasonal colors and understated accessories will make these year-round styles look on point for a formal fall wedding.
If you're on the hunt for men's formal fall wedding attire, Biya recommends pairing a dark suit with black dress shoes. And if it's a black-tie affair, a tuxedo is a must. Of course, you're still welcome to make a stylish seasonal statement within reason, but avoid bright colors, flashy accessories, and too-casual sport coats. "A midnight blue tuxedo is a way to stand out without breaking any rules," says Handspiker. "Less subtle options include teal, burgundy, or navy dinner jackets in tonal patterns or velvet paired with black tuxedo pants."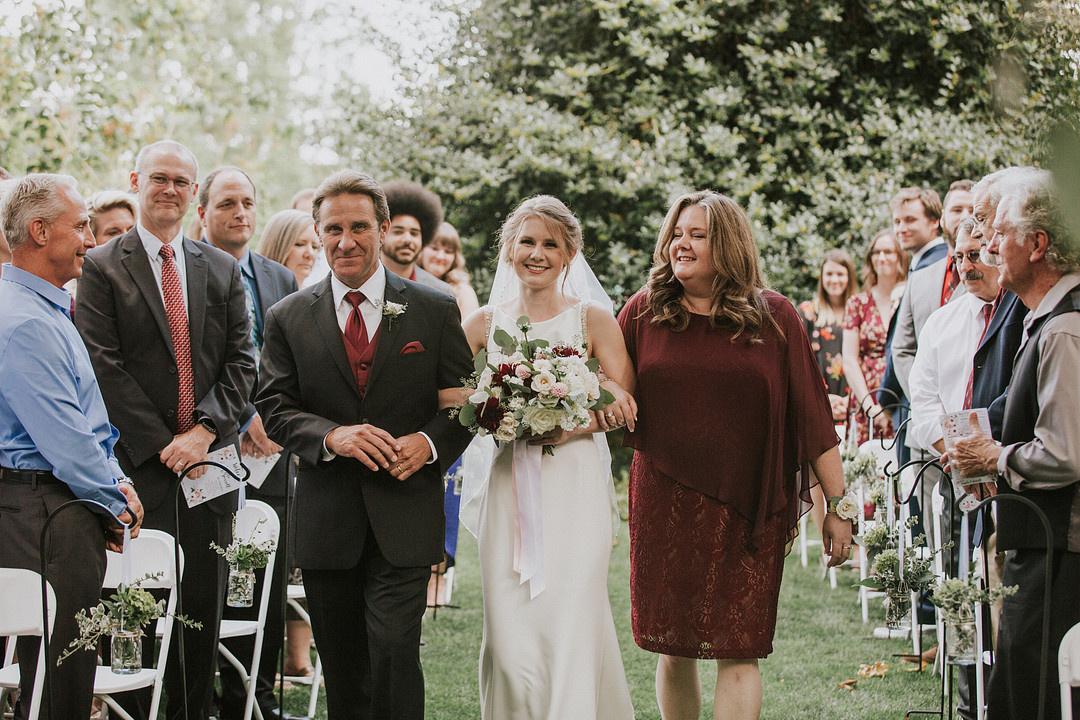 Play around with seasonal colors.
If you're stuck on what color suit or dress to wear to a fall wedding, there are lots of places to draw inspiration from. "Fall is a time for richer tones that mimic what we're seeing outdoors," says Lee. The Birdy Grey founder isn't the only one who suggests using the great outdoors to inspire your look. "Shades that match the autumnal landscape, like burgundy, brown, and olive, are stylish seasonal options," says Handspiker.
Of course, deep browns, oranges, and greens aren't the only way to go. If you're someone who appreciates a bright pop of color, Walsh suggests muted yellows and flirtatious fuchsias. She says these "warm but cheerful" hues are the perfect transitional colors between summer and fall. Similarly, you don't have to leave pretty prints and patterns behind with the summer months. According to Lee, florals can work all year round. For fall, she suggests prints anchored in autumnal colors (think: rust or marigold) or a floral brocade with metallic details.
Dress for the weather.
While summer calls for light, breezy fabrics and winter definitely commands a few extra layers, fall can be a little trickier to figure out. There are so many different factors to consider before you decide on an outfit. Is the wedding taking place earlier or later in the season? Where is the venue located? Is it indoors or outdoors? Will the celebration be held during the daytime or in the evening? These are all important questions that'll help you properly plan for the occasion.
If you're attending an outdoor fall wedding, the possibility of chilly temperatures should be top of mind. Outdoor fall wedding attire should be a little more versatile, meaning layers are your new best friend. "Dress in layers for any outdoor wedding—you might be shivering outside one minute and sweating on the dance floor the next," warns Lee. A dressy pashmina, cropped blazer, or bolero could work depending on the look you're going for.
When it comes to choosing a suit fabric, location is a big deciding factor. Handspiker recommends sticking with lightweight fabrics, including cotton or a wool-linen blend for warmer destinations, like the Southern states. "As temperatures cool further north and the weather becomes less predictable, all-season options are a good idea, as well as textured, brushed fabrics such as flannel," he adds.
You'll also want to pay attention to the time of day the wedding is set to take place. When deciding what to wear to an evening wedding in the fall, you may need a little extra help keeping warm, especially if the venue is fully or partially outdoors. A nice scarf or pair of gloves might just be your saving grace from the evening chill. If you're wearing a suit, cold weather calls for a heavier-weight fabric such as tweed, wool, or cashmere.
Finally, you don't want to wear the same outfit for a November wedding as you would in September. "Early fall weddings can be tricky as the weather is still a bit warm," says Walsh. "Look for styles that fit the season's vibe but also provide some breathing room in case of a last-minute heatwave." She suggests playing around with different sleeve types, such as an asymmetrical shoulder or balloon sleeve, to help strike the right balance.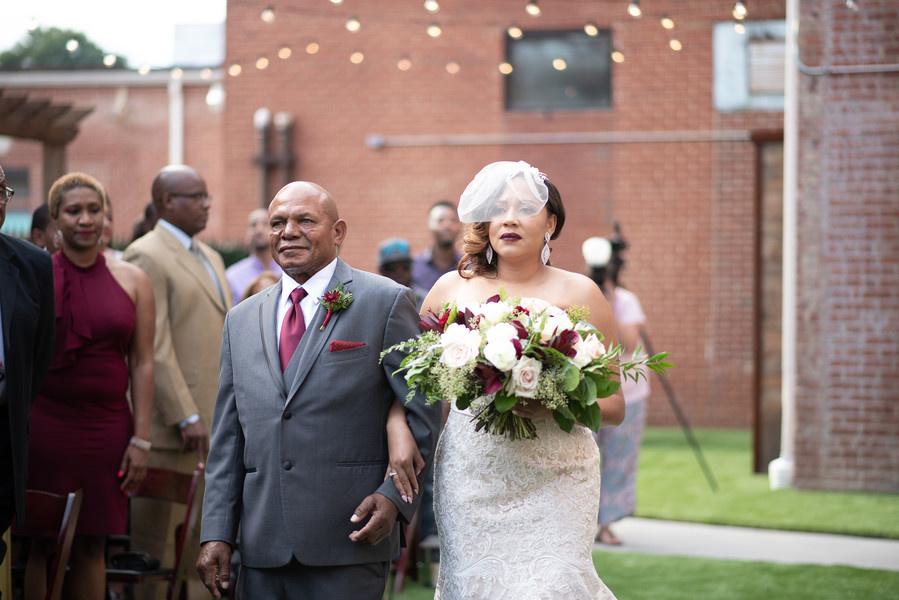 Don't forget about the venue.
As we mentioned earlier, dress code rules can change slightly with the venue. For example, a rustic barn or farm location is almost always going to be more casual than an elegant ballroom wedding. We're sharing some tips on how to style your fall wedding attire to suit some of the season's most popular venues.
What to wear to a fall wedding in the mountains
Specific venues come with their own unique requirements, especially if it's in a remote location. According to Lee, "A mountain wedding feels more grand and luxurious by nature of the scenery." She believes a faux fur jacket is a great way to level up your attire.
For a mountain wedding, there are a few functional aspects to take into account too. "Typically, climates in the mountains tend to get a bit cooler as the sun goes down," shares Biya. He recommends adding an overcoat, scarf, and/or gloves to your ensemble to help keep warm. If it's a destination wedding, Handspiker advises picking out a suit that's designed to travel well without getting too creased.
What to wear to a fall wedding at a barn
Need some help deciding what to wear to a barn wedding in the fall? "A barn wedding lends a rustic vibe, so you're free to go a little more casual, like a long-sleeve floral maxi," says Lee. Handspiker agrees that a barn wedding signifies a more casual dress code. The menswear expert states that pairing a solid or tweed suit with a nice pair of brogues is a great look that's also practical for the venue.
For an intimate farm-style celebration, Walsh suggests upping the romance vibes with a softer silhouette and flirty details like ruffles and lace. "When you're thinking through your look, consider what will complement the candlelit ambiance and avoid any harsh colors," she says. Remember: The venue is almost as important as the dress code when it comes to choosing an outfit.
What to wear to a fall wedding at a place of worship
Guests attending a wedding at a church or another place of worship should be respectful with their outfit choices no matter the season. Feel free to play around with some of the brighter fall colors like marigold and fuchsia, but keep modesty in mind as you do it. Depending on the religion or culture, you might want to avoid off-the-shoulder styles, plunging necklines, and skirts that could be considered too short. Instead, stick with pants or a flowy skirt that falls below the knee. It's also a great idea to invest in a nice coverup. That way, you can conceal a strapless or off-the-shoulder look until after the ceremony.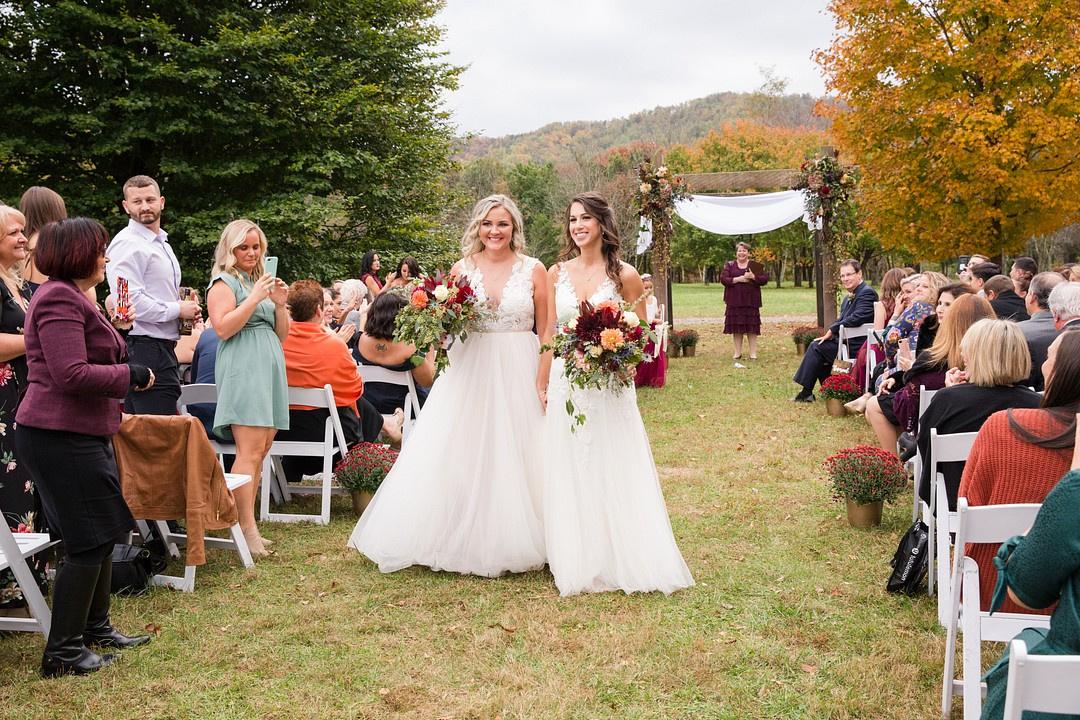 Add the finishing touches.
As if deciding what suit or dress to wear to a fall wedding isn't enough, you've also got to take accessories into consideration. For chillier fall evenings (we're looking at you, November) a cozy overcoat, trendy leather jacket, or elegant bolero is essential. If the wedding is taking place outside, shoes are another important part of your ensemble—the last thing you want is to end up sinking in the grass, so avoid stilettos and choose flats or block heels instead. Finally, think about elevating your look with statement jewelry, a fun seasonal hat, or a playful pocket square.
Fall wedding guest attire: outerwear
Deciding what to wear to a fall wedding over a dress or suit can be tricky. You want something that'll keep you warm (especially in the colder half of the season) without taking away from your overall look. "Everyone should own a smart trench or wool overcoat to wear with a suit," says Handspiker.
If you're wearing a dress, use the dress code to help you decide how to accessorize. For casual celebrations, a leather or denim jacket is appropriate. Cocktail attire, formal, and black-tie events will call for a nice bolero, romantic waterfall jacket, glamorous faux fur wrap, or dress coat.
Fall wedding guest attire: shoes
Stuck on what shoes to wear to a fall wedding? We get it—making the right shoe choice can be confusing, regardless of the dress code or time of year. "Metallic-colored, nude, or black heels are a safe bet for any wedding occasion year-round," says Walsh. She adds that heels, a dress shoe, or flats are expected depending on the formality of the wedding. When it comes to menswear, the guidelines are a little more straightforward. "Unless otherwise specified, freshly polished dress shoes are a must at any wedding," says Handspiker.
If you plan on wearing heels, think about the wedding venue first. Stilettos won't be practical for most outdoor locations, especially farm and mountain venues. "Instead, opt for a classic block heel style," advises Lee. That way, you'll avoid sinking in the grass. You can also wear boots or open-toe heeled shoes to a fall wedding if that's more your style. But again, Lee urges to "think about where you'll be walking."
"Open versus closed-toe heels are simply a style choice and matter of personal preference," says Walsh, but they're generally better suited to indoor events. Boots, on the other hand, "can look incredibly chic with a midi dress whether you choose a pointy-toe or a killer knee-high," says Lee. But they should be reserved for informal dress codes. If you're attending a black-tie or semi-formal wedding, "try and stick to a dress heel or flat if possible," says Walsh.
Fall wedding guest attire: accessories
While it's certainly not a necessity to zhuzh up your attire with anything other than shoes and—in the case of a suit—a nice tie, accessories are a great way to express your own unique style. Walsh suggests adding a little drama to your look with some bling that reflects the celebratory atmosphere. And according to Lee, a pair of sparkly earrings or a vintage hairpin are great ways to level up your look, especially if you're going to be huddled up inside a coat or jacket a lot of the time.
For men's fall wedding attire, "adding a felt hat, pocket square, or scarf are popular ways to add a touch of color to your outfit or layer on pattern," says Biya. However, the men's fashion expert warns against going over the top. "For guys who want to play it safer, a bold or patterned tie is a more traditional way to add some extra excitement."