6 Underrated Benefits of a Winter Wedding
Here's why couples should definitely consider hosting a winter wedding, from amazing photos in the snow to cost savings, and much more.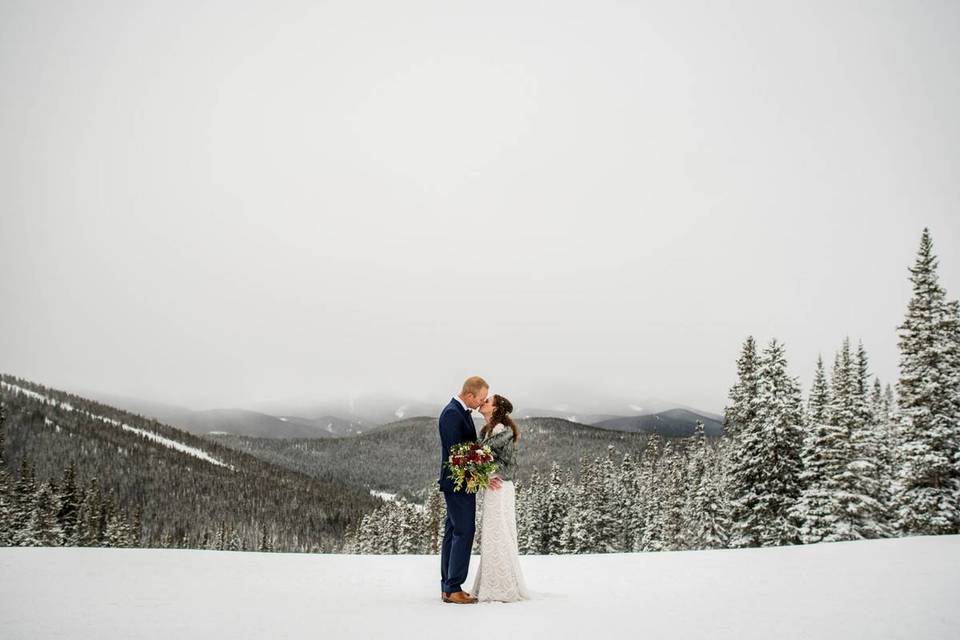 While fall is the most popular wedding season, winter weddings are definitely on the rise, according to wedding planner Kristen Gosselin of KG Events & Design in Edgartown, Massachusetts. Why? There are some undeniable — and totally underrated — perks of saying "I do" from November until early March. "In northern regions, the 'innovator' market is choosing to host off-season weddings, and they may even choose the winter season out of their love for winter," she continues. "In the South, winter weddings are obviously more common given the insubstantial change in climate and the bearable temperatures. Destination weddings in tropical locations during the winter are extremely popular for this reason as well."
If you and your partner are considering a winter wedding, these benefits from pros may convince you to book a date, stat.
You'll save money.
What's most important about a wedding is the two people deciding to spend their life together. But what's also exciting for many duos is the opportunity to share their love and commitment in front of those they hold near-and-dear. Not to mention: any excuse to have a hell of a party, right? Sadly though, weddings do not come cheap, and many will find any and every opportunity to save. Joan Wyndrum of Blooms by the Box in Watchung, New Jersey, says a noted and common motivation for engaged couples to pick winter is financial savings. "You can potentially snag a beautiful venue, great food, and all the add-on's at a fraction of the price," she raves.
Gosselin also says that vendors tend to be a little more flexible with minimums and such, since demand isn't as high. "Capitalizing on this will allow you to get the most out of your wedding budget," she adds.
You'll have an amazing backdrop if you're in a snowy location.
Instead of creating fake snow, if you host a winter wedding, Mother Nature can provide it, free of charge. Wyndrum says for couples who enjoy the white, grays and blues of this season, you can save on ambiance by picking a place with big, beautiful windows. You can also worry less about weather, too, which relieves stress for many. As Gosselin explains, if you're planning an outdoor wedding in the summer, you have to worry about excessive heat or humidity, as well as rain. But in the winter? Everything is held indoors, guaranteeing not only your comfort but that of your guests, too.
You will have something to look forward to — now and forever.
Seasonal depression is a grim reality for those of us who live in a part of the country where the sun sets around 5 p.m. — or even earlier. Little sunlight can leave anyone feeling less stellar than usual, and having something exciting to look forward to is a major mood-booster. As Gosselin explains when one of the biggest days of your life occurs during this time, it can change your attitude from dreadful to hopeful. "The wedding anniversary will also carry on for years to come, so there will be anniversary trips, nights out, staycations, to plan," she adds.
You will get more 'yes' RSVPs.
Since summer is another popular time of year for weddings, many people have to choose between attending some celebrations and skipping others. And, since your friends with children have to figure out childcare options and when to take their kiddos out of school, they may decline an invite if it isn't compatible with their lifestyle. Generally speaking, Jen Avey of the Destination Weddings Travel Group says winter weddings often have a stronger RSVP list, especially when you're exchanging vows somewhere tropical. "Destination weddings are hard enough on most couple's guest list numbers. But, winter weddings can be more feasible for more guests to attend. And, they'll appreciate a built-in vacation from the cold weather at home," she shares.
You may get your first-pick vendors.
You've been drooling over one wedding photographer's albums for years. And that caterer your friend hired? You're still dreaming about the cocktail hour spread. Highly-rated and sought-after vendors feel impossible to snag — but there may be a strategic work-around, according to Gosselin. "Couples often have to sacrifice their first option and rethink the structure of their vendor team. Not only may vendors offer a lower cost for their services during the off-peak time of year, but they might also be available on your date, with the added bonus of not being burned out," she explains.
You can have more fun with menus.
When it's 90-degrees at your garden gala in June, the mere thought of a hot toddy probably leaves you feeling sweaty. And that buttercream cake you love? It may, well, melt under the summer sun. In the winter, however, Heather Jones of Wente Vineyards in Livermore, California says couples have more creative freedom with menus, and more control over the temperature, allowing for certain foods. "Winter menus can be quite creative, and a great deal of fun to plan! Couples are offering hearty soups and stews, hot beverage stations, root vegetables and other comfort foods," she continues. "Winter wedding couples give themselves the green light to expand beyond the typical chicken or beef options."