How to Safely and Efficiently Collect Wedding Gifts
It's something couples rarely think about, but it's actually super-important—how to keep their cards and gifts safe at their wedding. Here's some expert advice to ensure that your gifts head home with you and your new spouse.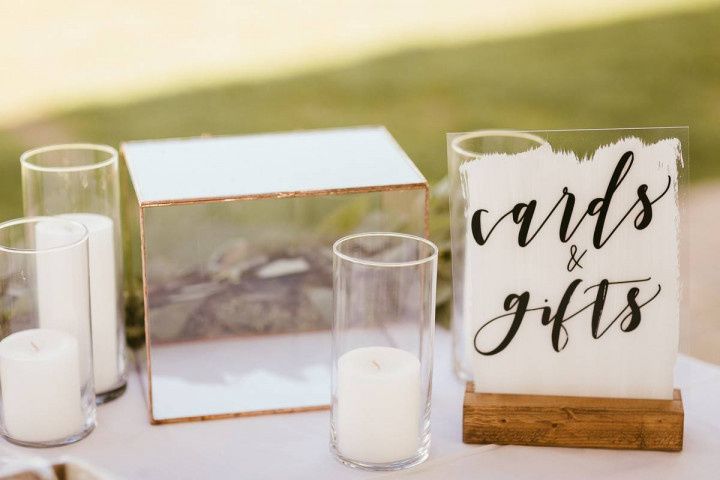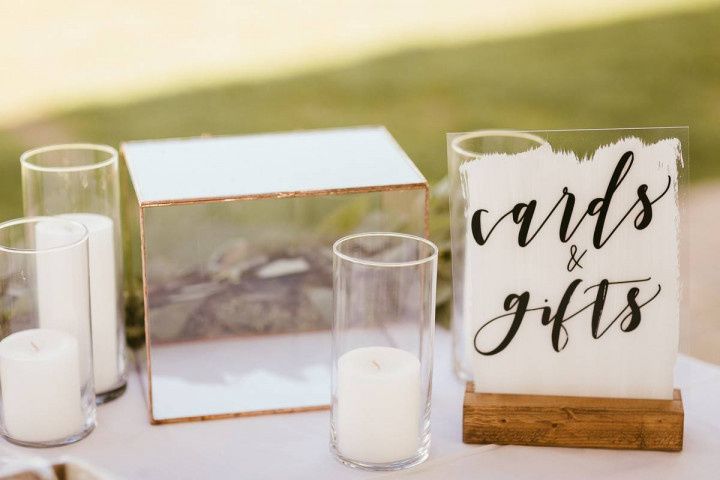 As if you didn't have enough to think about in the months, weeks and days leading up to your wedding, there's another important one to add to your list: collecting your wedding gifts and figuring out how to keep those cards safe at your wedding. Though many of your guests will likely buy you gifts from your registry (hopefully you've set one up already!) and have them sent to you directly before the wedding, some prefer to bring their cards or gifts to the actual event. Wedding professionals agree that it's vital that brides and grooms have a plan in place for collecting these gifts in a safe and efficient manner. This not only instructs and directs guests on where they can leave their gifts, but also ensures that nothing gets misplaced or, worse, stolen.
"Many couples make the assumption that wedding gifts are automatically safe in a wedding venue, regardless of their location," explains Jenny Orsini of Jenny Orsini Events in Berkeley Heights, New Jersey. "This is not to say that venues are unsafe, but the truth of the matter is theft and loss are an unfortunate part of life, and weddings are no exception to the rule." In fact, according to Orsini, unwanted guests are always on the prowl and unattended wedding gifts and money are big temptations!
Leah Weinberg of Color Pop Events in Long Island City, New York, requests that her couples bring some kind of vessel to collect cards, so that guests have one central location to leave them instead of handing them to the couple or family piecemeal. "At the end of the night, you want everything in one location, rather than scattered about in multiple people's jacket pockets or bags," she says. "Having one location for cards and gifts also makes it easier for a designated person to keep an eye on everything throughout the night."
To help figure out how to keep cards and gifts safe while you're busy enjoying your wedding, we asked wedding planners to share their tips for collecting them.
Choose the collection area wisely.
The first step in keeping your wedding gifts safe is to determine where the card and gift table will be located at your venue in advance of your big day. "It's a good idea to keep the card and gift table away from doors to prevent theft, and it's also a good idea to have it in a location where there will be eyes on it all night," says Weinberg. "For example, if there's a separate room for the ceremony, cocktail hour, and reception, don't have the card box out as guests arrive for the ceremony and then leave it there for the rest of the night where no one is present."
Have a clearly marked gift card holder.
Whether it's a wooden or satin card box, birdcage, glass vase or another type of collection receptacle, Orsini recommends having something that is clearly marked or defined so your guests are not left wondering where to place their gift. "If possible, try to use a large box that has a small opening so that it's harder to walk away with the actual box and envelopes cannot be removed easily from the box," she says. "Also, try not to relocate the collection box during the night so guests don't get confused."
Have a table for large gifts, too.
Some guests still prefer to bring actual tangible gifts, for example from your wedding registry, as opposed to envelopes or cards with money. To keep these gifts safe at your wedding, Orsini recommends organizing a small table near the gift box to accommodate larger gifts and to make sure the gift collection is in one central location.
Appoint a responsible party to keep an eyeful watch.
As the bride, groom or member of the wedding party, you should not have to worry about how to keep cards safe during the wedding—all of this should be planned out beforehand so that your only to-do is to enjoy yourself! A planner or day-of coordinator is an ideal person for ensuring the box is always in place during the festivities. "If you have a very large wedding, it's not a bad idea to have that responsible party empty the contents periodically throughout the night and place the money envelopes in a locked room such as a bridal suite," says Orsini. "Many venues now have safes in their bridal suites just for this reason."
Have a transportation plan.
If your ceremony and reception are in different locations, or even different rooms, it's smart to have a plan in place for moving the card box and gift table around. "Generally, it's a good idea to have a card and gift table at the ceremony location so that guests can unload any cards and gifts immediately upon arrival rather than carrying it with them all night," says Weinberg. "Once the ceremony is done, the planner can then move the table to cocktail hour and then again to the dinner and dancing area if need be."
Leave the gift table out longer than the wedding.
After the wedding is when many guests remember to leave their gift. For this reason, it's a good idea to have a plan for how gifts will be collected after the wedding. Just be sure to have a trusted individual keep a close eye on the gifts until they are moved to a safer place for storage.
Store in hotel's security box or in-room safe.
Find out if the reception venue has a security box behind the front desk, or perhaps an in-room safe that you can store the cards in immediately. "Many hotels have security boxes that can only be accessed with a key from both the desk manager and the guest that opens the security box, which would allow quick access to lock up cards throughout the evening rather than waiting until the end," says Alexis Eliopoulos O'Mara of Unique Weddings by Alexis in Boston, Massachusetts. "If your hotel suite has an in-room safe, not only will the cards be locked up, but couples will remember where they stashed the cards in their hotel room so they do not forget to pack those up in the morning when they check out." If the venue does not have on-site accommodations, she suggests selecting a guest's vehicle (or the bride or groom's car) to act as a safe for the cards and gifts throughout the night.