6 Rooftop Wedding Venues in Los Angeles
Southern California couples searching for a scenic setting for their special should check out these rooftop wedding venues in Los Angeles.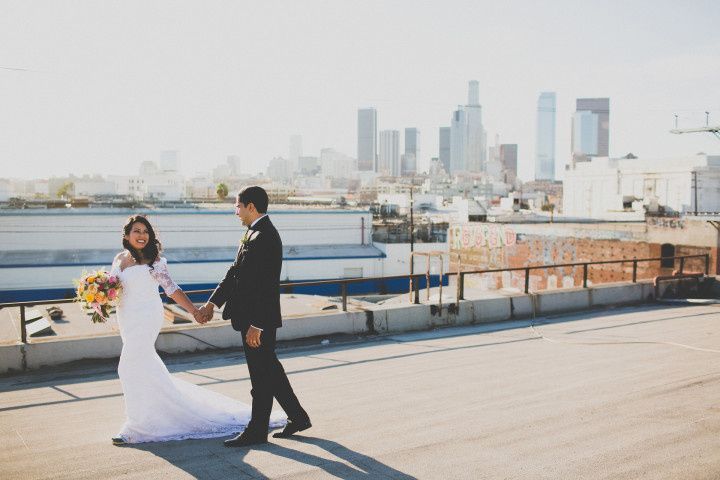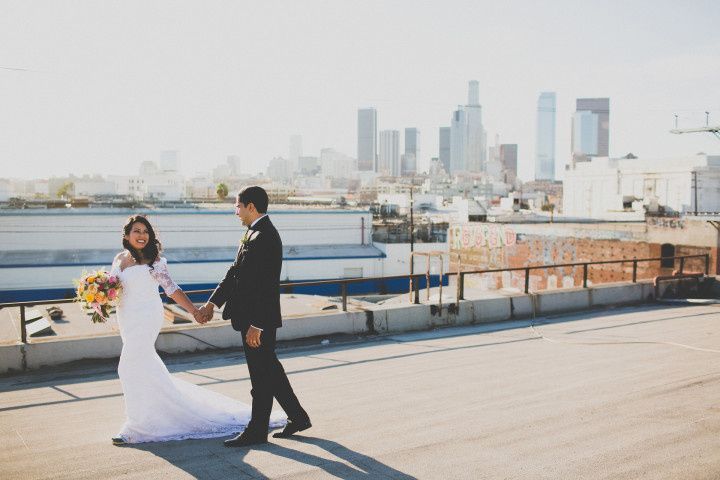 Planning a rooftop wedding in Los Angeles? Rooftop wedding venues in Los Angeles not only provide couples with breathtaking views of the city, but they also create a chic setting to celebrate the night away. So, if you're browsing rooftop wedding venues in Los Angeles and want to find the perfect aesthetic for your big day, we've got your back. From an all-inclusive penthouse to a modern industrial event space, we've narrowed down the top rooftop wedding venues in Los Angeles that are ideal for any type of wedding.
Here are a few of our favorite rooftop wedding venues in Los Angeles.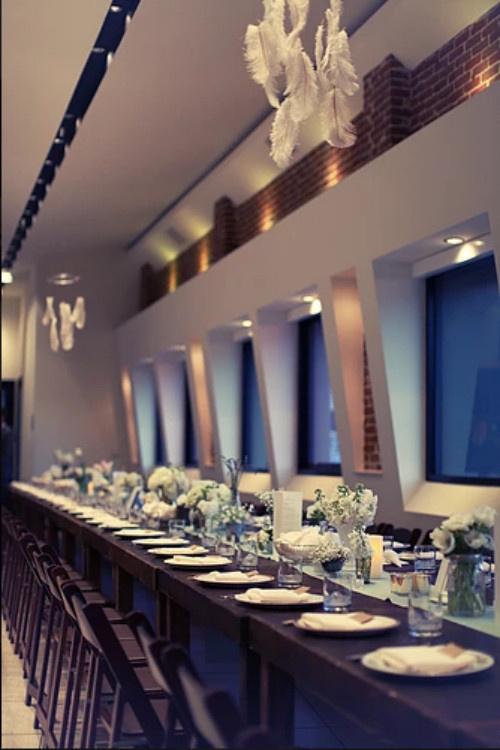 loftSEVEN Penthouse
The loftSEVEN Penthouse evokes a modern setting for couples to spend their wedding day and is one of our favorite Los Angeles rooftop wedding venues. It steers away from a typical ballroom venue by offering a private 12th floor penthouse and rooftop for brides and grooms to use. This rooftop venue overlooks downtown Los Angeles, which creates a scenic backdrop for wedding portraits, vows, first dances—the list goes on and on. It has over 16,000 square feet to utilize where couples can set up a dance floor, position their formal seating and more. The two levels can also easily accommodate up to 200 guests. So if you're a couple looking for a rooftop venue space for a larger scale wedding, then you'll fall in love with the loftSEVEN's spacious penthouse and rooftop. The venue also provides its clients with a full service professional team who can help take care of wedding details and make sure your day runs smoothly. The loftSEVEN takes pride in their preferred vendor professionals and we can see why. From catering to valet this rooftop Los Angeles venue creates an unforgettable experience for not just you but for your guests, too!

Learn more about loftSEVEN Penthouse here»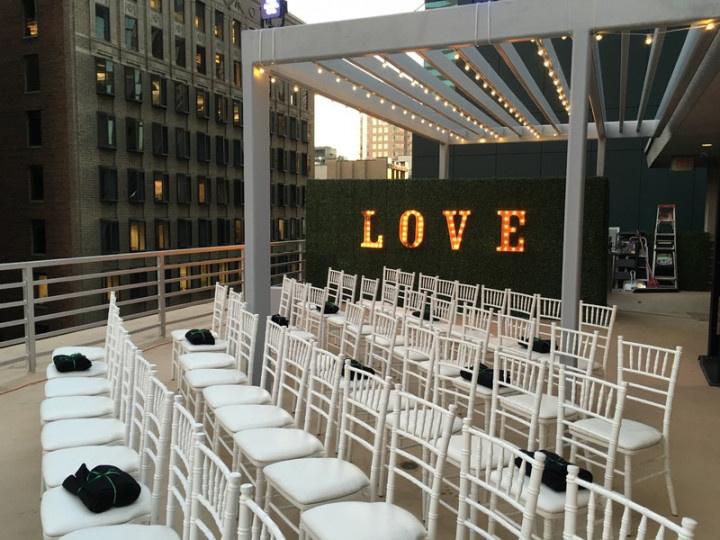 Wilshire Loft
Located in Downtown Los Angeles, the Wilshire Loft creates an urban and romantic setting for your special day. The venue's rooftop area is perfect for hosting your ceremony out on the terrace and can easily be used as a reception space, too. Couples looking for an indoor option to also celebrate their wedding day will find that the Wilshire Loft has a spacious banquet room that can be used for a formal sit down dinner or be turned into a space for dancing. The modern space is also filled with Art Deco decor, such as funky light fixtures and bright and bold carpets. With an onsite manager and a preferred venue list to use for support throughout your day, the Wilshire Loft is a rooftop venue that will work with you and your future-spouse to personalize and create a swoon-worthy wedding day. The loft can also accommodate up to 200 guests, which makes it a great pick for all wedding sizes. It even includes artisan bars, signature cocktail options, international menus and a standard up-to-date catering menu for you to go through and choose (and even customize) your food selections.

Learn more about Wilshire Loft here»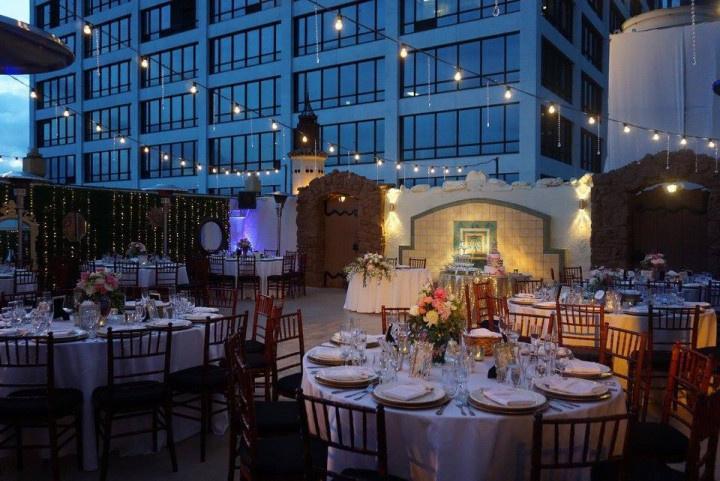 The Oviatt Penthouse
The Oviatt Penthouse was the first Art Deco building in Los Angeles and was built back in 1927. The Penthouse which was known as "a castle in the air" was used to host parties for decades and is now still holding up to its tradition. Filled with Napoleon marble, chandeliers and even a large panel clock, Gatsby loving couples will swoon over this high rise wedding venue. The Oviatt's rooftop is a wonderful setting for saying "I do" because it overlooks all of Downtown Los Angeles. If you and your future-spouse know you want to be surrounded by skyscrapers and twinkling lights, then the Oviatt Penthouse is a dream rooftop venue for you! Not only does it provide an indoor option, but the rooftop can easily accommodate a tented reception, as well. So if you are worried about the weather, you can feel at ease with this versatile outdoor venue. The Penthouse also provides couples with catering services, bar services and many other professional services for your big day. Sample menus are even offered to couples where they can choose between a formal plated dinner, buffet dinner as well as a family-style service. So if you and your S.O. are looking for a rooftop venue with a roaring twenties vibe, you should definitely visit The Oviatt Penthouse.

Learn more about The Oviatt Penthouse here»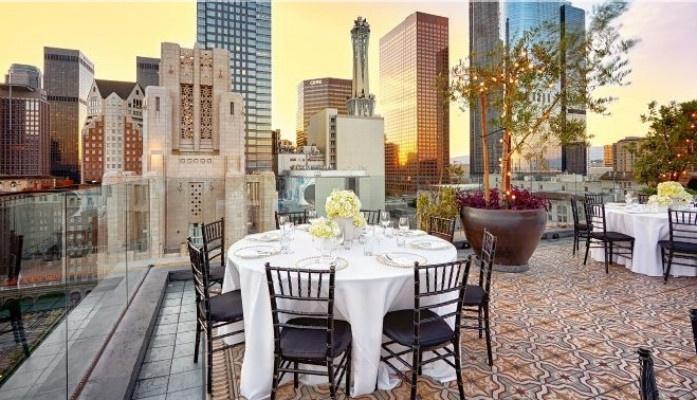 Perch
Couples opting for a wedding venue that's both offbeat and fun should add Perch to their must-see venue list. This French-inspired bistro is located up in the clouds (literally), which provides brides and grooms with unparalleled views of Downtown Los Angeles. As you enter the 15th floor, the restaurant venue is filled with antique furniture, detailed woodwork and other dainty Parisian-inspired elements that create a relaxed ambiance for wedding vows and celebrations. The 15th floor also includes several outdoor patios and ornate fireplaces that are great for setting up a lounge area for your guests to relax by during your reception. Couples looking for intimate spaces can also utilize the 16th floor rooftop lounge for a smaller ceremony space. The rooftop features fire pits and even more breathtaking views of Los Angeles that both you and your guests will love snapping pics of. Perch also has an Executive Chef that is known for crafting mouthwatering culinary French classics that can make sure your food selections meet your expectations and wishes.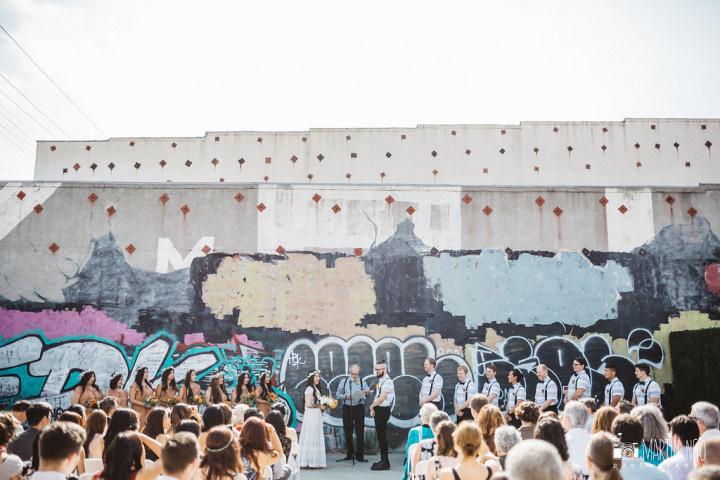 The Unique Space
The Unique Space is an open 3,500 square foot event space that is another one of our favorite Los Angeles wedding venues. The venue is housed in a historic factory and creates an industrial chic vibe with the help of its high vaulted ceilings, brick walls and handmade decor. If you and your future-spouse are looking for a Los Angeles skyline backdrop for your big day, then you'll definitely obsess over The Unique Space's rooftop patio. The rooftop patio space is perfect for wedding portraits and swoon-worthy first look photo ops, which will make your wedding album that much more memorable. Along with the scenic rooftop patio, The Unique Space includes an indoor space known as the grand room for couples to utilize as well. This modern space is great for larger weddings, since it can easily hold over 300 guests if you choose to use both the rooftop and indoor grand room. Couples who know they want a unique wedding venue that is both indoor and outdoor will love how easily this event space can be dressed up to evoke any wedding style.

Learn more about The Unique Space here»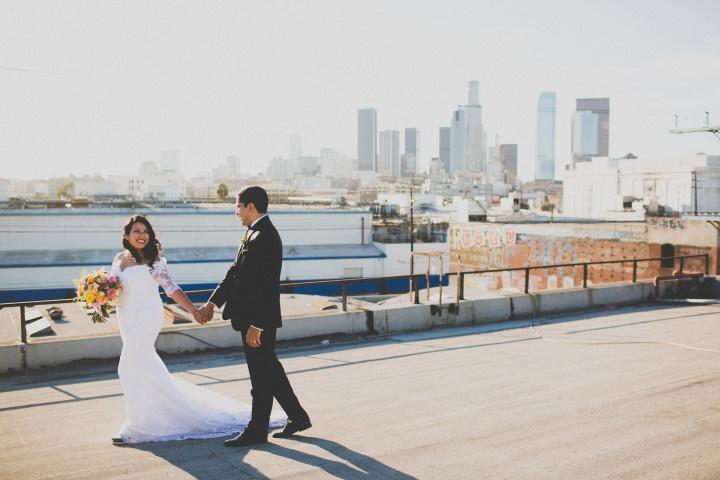 440 Seaton
If you and your S.O. have your heart set on a Los Angeles wedding venue that features industrial elements, (such as exposed wooden beams and concrete floors) and also provides a rooftop option, then we have the venue for you! 440 Seaton is a 100 year-old interior space that features much of its original structures and details. Originally used as in indoor lumberyard, this modern space has made a name for itself in the wedding industry due to its eclectic charm. It is nestled right in the middle of the Arts District in Downtown Los Angeles, which couples can check out on the property's scenic rooftop. The warehouse venue is perfect for couples who really want to dress their venue up, too. The vaulted ceilings and brick wall backdrops can easily be used to drape fabric, greenery or hang light fixtures. With the right decor, this venue can be transformed into a wedding aesthetic that you and your future-spouse have always envisioned. The main room, known as the Great Hall can accommodate over 1,000 guests, which makes this venue perfect for a lavish event, as well.

Learn more about 440 Seaton here»