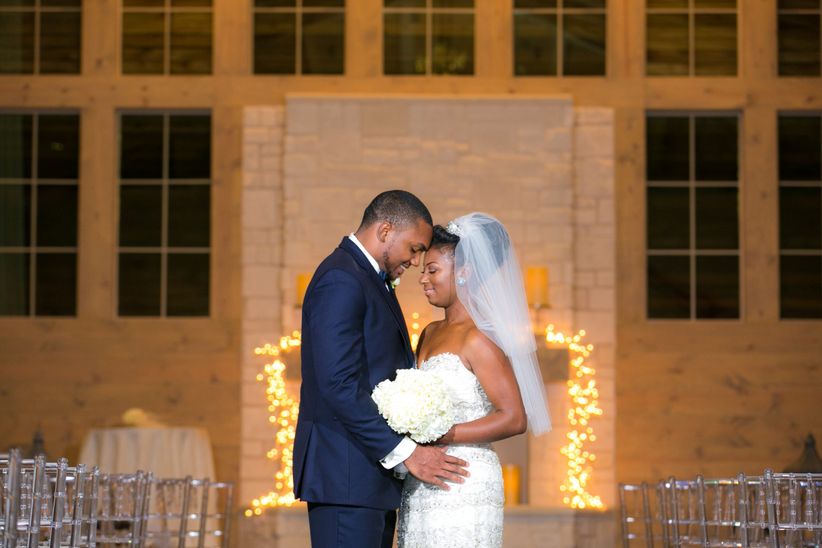 Photo: New Seasons Photography
In a region as expansive and diverse as North Texas, planning the ultimate Dallas wedding or Fort Worth wedding can take about a million forms. You can go ultra chic and glamourous with one of the many museums that double as Dallas wedding venues and Fort Worth wedding venues. You can keep it traditional and host your wedding ceremony at a sweet little DFW wedding chapel. You can take advantage of nearly perennial sunshine and select an outdoor event venue for your wedding day. The options are just about endless in this bustling Metroplex of about 7 million people. This guide will help you find the perfect venue and sort out important details (like, um, a marriage license) before your wedding day.
Check out our essential advice for planning your ideal Dallas wedding!
Wedding Location Options
Here's an advantage to searching for a venue in Dallas-Fort Worth — just about the entire region, which includes Dallas and Fort Worth, Texas along with humongo suburbs like Arlington, Irving and Plano — is up for grabs. Let's talk about some of our favorites, though.

Downtown Dallas

2616 Commerce: This events center wedding venue is a behemoth that's, as the locals say, "Big as Dallas." Located on Commerce Street (as its name implies), 2616 is three levels of unique venues that really show off the city's famous skyline. Learn more about 2616 Commerce »

Dallas Museum of Art: The heart of Dallas' arts district, the DMA is singularly situated to host your ceremony and wedding reception regardless of size. Whether you choose one of the chic outdoor spaces or the gorgeous, open-concept atrium, guests are guaranteed to be wowed by this wedding venue. Learn more about Dallas Museum of Art »
Outdoor Wedding Venues

Fort Worth Japanese Garden: Seven and a half acres of Japanese stroll garden space makes this Fort Worth wedding venue totes perfect. Part of the Fort Worth Botanic Gardens, the Japanese Garden features ponds with hundreds of Koi fish, cherry trees, bamboo, magnolias and Japanese maple trees for the most verdant wedding experience in DFW. Learn more about Fort Worth Japanese Gardens »

The Filter Building: Situated on White Rock Lake in Dallas, The Filter Building is a chic converted building with the industrial chic stylings modern couples love. Best of all, couples have the option to be married lake-side and then head indoors for an updated take on a banquet hall reception. Plus, Filter is very LGBTQ friendly — just check out Heather and Kristy's yellow wedding for proof. Learn more about The Filter Building »


Country Clubs

The Tribute at the Colony: Situated on Lewisville Lake, this massive 7,500 square foot wedding ceremony and reception venue is home to both indoor and outdoor spaces. The Tribute's lush garden is perfect for idyllic ceremonies near the vintage gazebo, while the Royal Ballroom is the place to gather and dance with up to 200 of your closest friends. Learn more about The Tribute at the Colony »

Stonebridge Ranch Country Club: Tucked away from the hustle of Dallas in McKinney, Stonebridge offers two distinct indoor event spaces to fit your wedding needs. The Victorian-Style Stonebridge Clubhouse is an elegant outdoor-adjacent ballroom that fits up to 180 wedding guests while the Rustic Chic Stonebridge Clubhouse is a sparse room with exposed features for up to 200 wedding guests. Learn more about Stonebridge Ranch Country Club »
Unique Fort Worth Venues

Stockyards Station: Don't let the name fool you! This stunning wedding venue in the Stockyards National Historic District is incredibly versatile and perfect for couples who are chic, country and anywhere in between. Crafted from a restored Stockyards warehouse, this venue is four event spaces with coveted features like brick floors, wood beam columns and high ceilings. Learn more about Stockyards Station »

Thistle Hill House: If you ever wondered what life was like in Fort Worth circa 100 years ago, just take a step into Thistle Hill House. This Georgian Revival style mansion is now a restored museum dedicated to documenting life in early 20th century Texas. It also moonlights as a beautiful historic home wedding venue with capacity for up to 250 guests across its expansive 11,000 square feet. Learn more about Thistle Hill »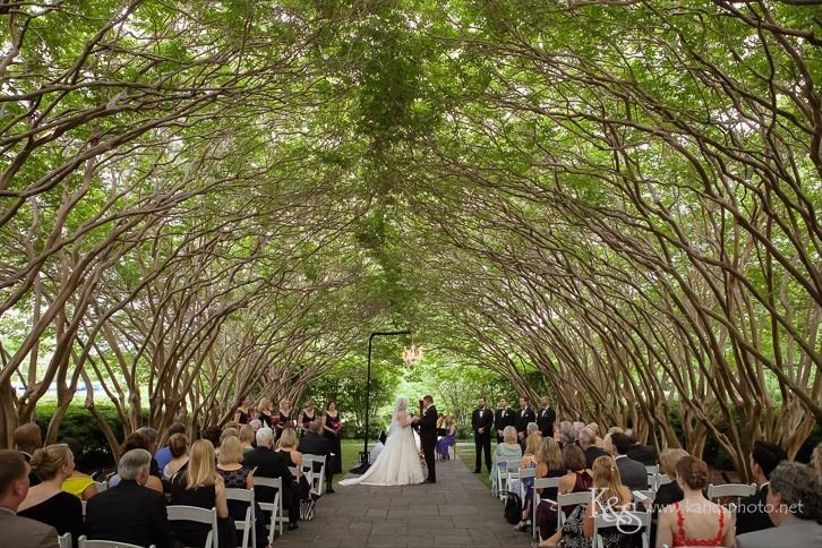 Photo: K & S Photography
Weather
North Texas enjoys a humid subtropical climate with hot summers and mild winters. While rainy weather is rarely a threat, summer thunderstorms are common. Summer months can be pretty sweltering with triple-digit temperatures not uncommon. From November to February, highs only reach low 60s and lows dip into the 30s. March, April and October are the most pleasant months with temps in the high 70s and 80s. (No wonder October is the most popular month for a Dallas wedding!)
Guest Accommodations
Trust us, you'll want to make it easy on your out-of-town guests by working with a hotel that offers room blocks for weddings and is near your wedding location. The Dallas-Fort Worth region is large and full of confusing freeways that even natives have trouble navigating. If your room block is more than a short walk or quick Uber away from your venue, consider finding shared transportation options for your wedding party and guests.
Dates to Avoid
Cowtown Marathon, Feb. 23 to Feb. 28, 2018: The Cowtown is the largest multi-event race in North Texas and draws nearly 30,000 participants over the course of a weekend. The race course begins at Will Rogers Memorial Center in Fort Worth's museum district, so expect road closures and congestion in this area.

Megafest, late June 2018: Hosted by T.D. Jakes, a world-famous minister, Megafest is a spiritual conference that takes place at Kay Bailey Hutchison Convention Center in downtown Dallas in late June each year. Attendees travel from all around the world for this event, so lodging downtown may be a bit tight during this time.
Marriage License
Great news! It's pretty simple to obtain a Texas marriage license for your Dallas wedding. You don't need to be a state resident, but both partners will need a valid photo ID (like a passport or driver's license). There's a 72-hour waiting period between the date of issue and the ceremony, so build this time into your wedding week plans. Other than that, no blood tests or witnesses needed.
DFW Wedding Inspo
You'll definitely want to check out some Dallas/Fort Worth wedding photos as you plan for your big day. Here are a few of our absolute favorite North Texas weddings from real couples:

Glamourous Texas Chapel Wedding: Ashley & Corey: Crisp white with navy and metallic gold accents turned a rustic chapel into an elegant oasis for this elegant North Texas wedding.

Formal Texas University Wedding: Kelly & Gerry: College sweethearts, it was only fitting that this Fort Worth returned to Texas Christian University's idyllic campus chapel for their traditional nuptials.

Lakeside Yellow Texas Loft Wedding: Heather & Kristy: Bright yellow and white were the shades of the day for this laidback wedding on Dallas' White Rock Lake. Yellow roses, fresh lemons and table cards inspired by exotic vacation locales completed this wedding's sunny aesthetic.
Disclosure: This post contains affiliate links, some of which may be sponsored by paying vendors.