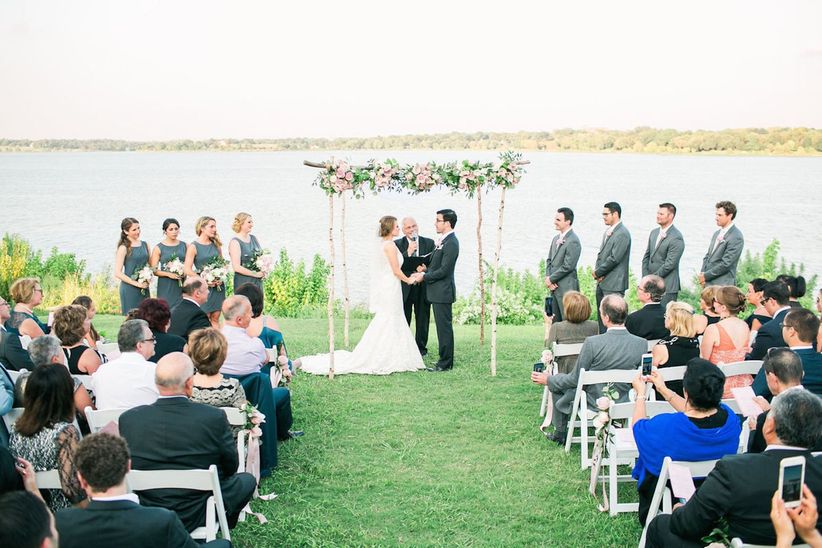 Photo: The Filter Building
With its nearly perennial warmth and famously dry skies, the Dallas-Fort Worth metroplex was practically made for outdoor wedding celebrations. Dallas outdoor wedding venues are perfect for couples who want a wedding location where they're surrounded by natural light, gorgeous flowers and vibrant greenery. While rain is rarely a threat for Dallas wedding venues and Fort Worth wedding venues, the spring months do bring sporadic thunderstorms that you'll want to think about before deciding on a wedding date. From lush gardens to waterfront properties, Dalls, Fort Worth and surrounding areas are bursting with stylish outdoor wedding venues.


See our favorite Dallas outdoor wedding venues!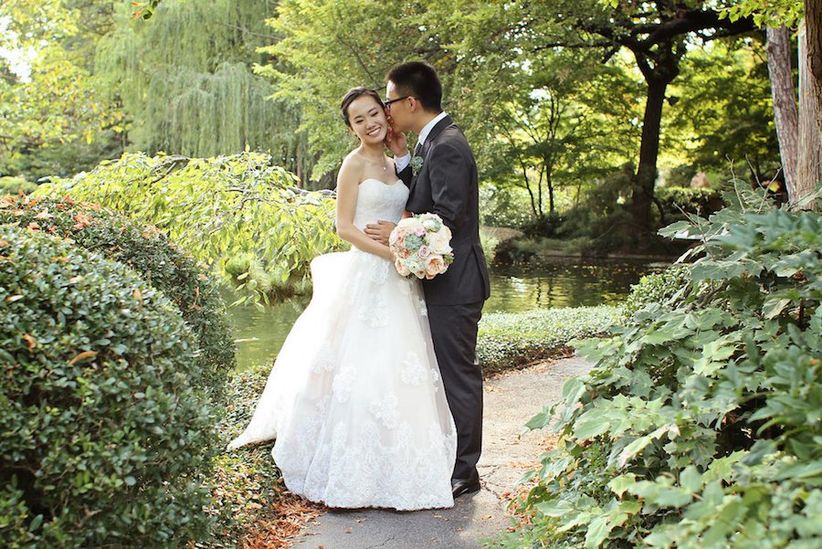 Photo: Swan Photography
Fort Worth Japanese Garden
Housed within the larger Fort Worth Botanic Gardens, the Japanese Garden is one of the most verdant Fort Worth wedding venues. The 7.5 acre event space is designed to mimic Japanese stroll gardens with plenty of ponds—complete with more than 1,200 Koi fish, cherry trees, magnolias, bamboos, Japanese maple trees and bridges. Couples hoping for lots of photos with the rare Texas cherryblossoms should know that most of the flowers in this garden only bloom in spring. The garden follows the Japanese "Mono no Aware" philosophy, which limits blooms so that they're more appreciated when they do arrive. Two decks serve as perfect locations for wedding ceremonies — Moon Viewing Deck and the smaller Mikoshi Deck. But, the Japanese garden isn't just great for ceremonies. Xing and Mengchao chose a beautiful
Fort Worth wedding chapel
for their ceremony and held their reception at the
Japanese Garden
.
Learn more about Fort Worth Japanese Gardens »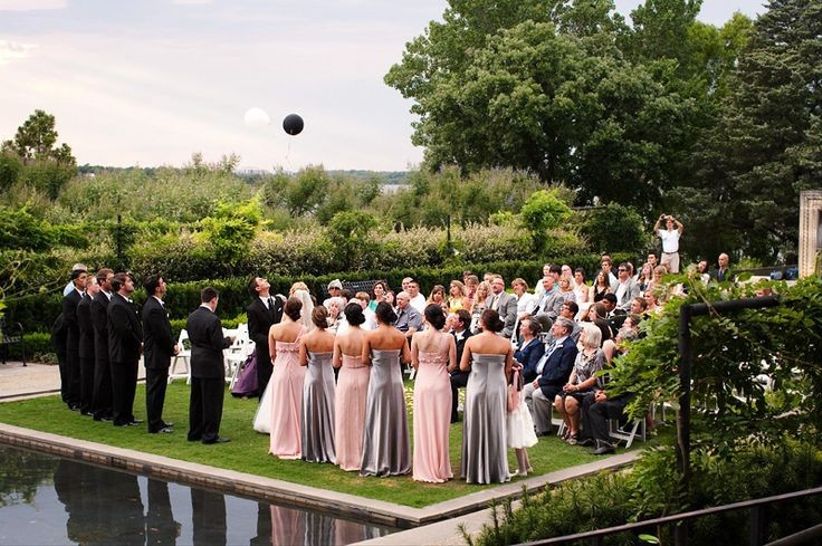 Photo: Dallas Arboretum
Dallas Arboretum
Perhaps the most well-known of Dallas outdoor wedding venues, Dallas Arboretum offers the best of both worlds for couples looking for equal elegance outdoors as indoors. Conveniently located in Northwest Dallas, right near White Rock Lake, this Dallas venue is 66 acres of event spaces, with the largest accommodating up to 350 for seated dinners. The Arboretum maintains 20 different garden spaces, although all of them aren't available for ceremonies. Many couples choose to wed during Dallas Blooms, an annual spring flowering of more than half a million flowers, including thousands of tulips and azaleas. While the gardens are popular for outdoor ceremonies and gorgeous photos with blooms, a little shelter is normally preferred for night of
wedding dancing
. Three indoor or covered outdoor spaces are available at the Arboretum as well, including the 5,000 square foot Rosine Hall; the 21,000 square foot DeGolyer House and the furnished, two-story Alex Camp House.
Learn more about Dallas Arboretum »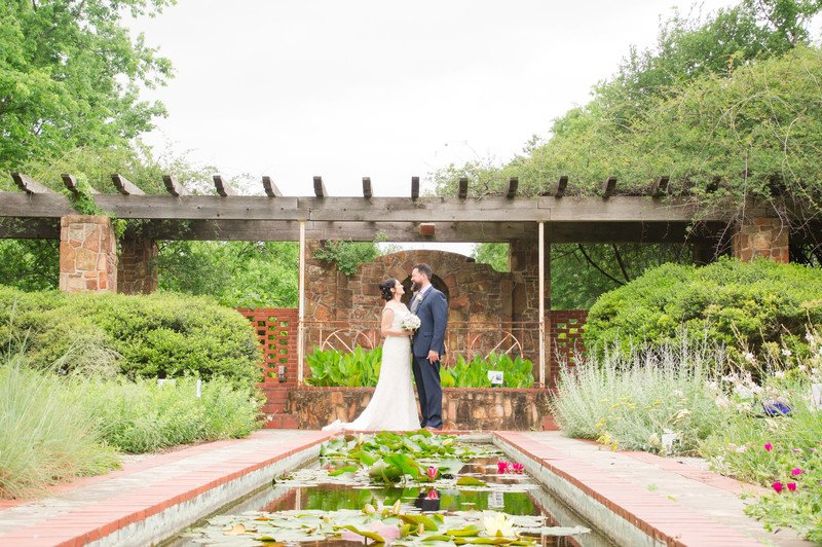 Photo: Weston Gardens in Bloom
Weston Gardens in Bloom
Nestled in Southeast Fort Worth, this gorgeous garden is hidden gem of a North Texas venue. A privately owned historic site, Weston Gardens in Bloom is an English-style garden on more than four acres with plants native to Texas, including one of the largest assortment of antique roses in the South. Retaining many of the original design aspects from its past as a horse stable and arbor, couples love the stone masonry that serves as natural, decorative wedding ceremony backdrops. The gardens are also full of beautiful ponds and stone paths that make for gorgeous wedding settings.
Learn more about Weston Gardens in Bloom »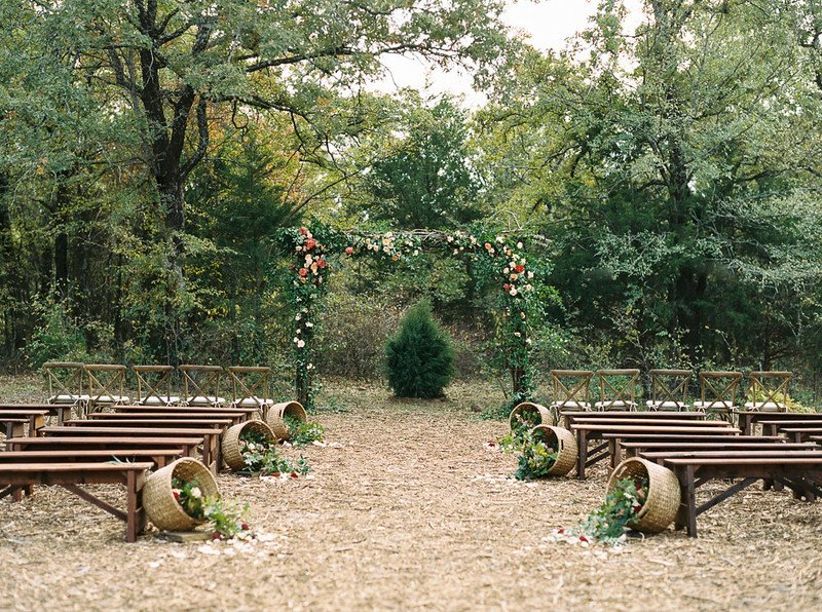 Photo: The Grove
The Grove
Couples searching for the perfect venue to host a modern and
on-trend Dallas wedding
need look no further than The Grove. From the fields full of wild daisies that are as great for
pre-wedding photo opps
as they are for post-wedding frolicking, to the dark wooden branch altar to the rustic benches that take the place of seats, thoughtful details are what make this wedding venue stand out. Located north of Dallas near the town of Denton, The Grove is set on a rolling meadow and spread across 45 acres of tended green space. An elegant barn offers an indoor option with just as much style as the gardens, including coveted exposed, low wood beams, chic dark-stained dance floor and elegant chandeliers.
Learn more about The Grove »
Photo: The Filter Building
The Filter Building
A gorgeous and versatile Dallas outdoor wedding venue in the heart of the city, The Filter Building is a restored
industrial building
steps away from White Rock Lake. Give your guests the gift of proximity to the lake (and its cooling breeze) as you wed on the waterfront, like
Heather and Kristy's sunny spring wedding
. While many couples choose to let nature speak for itself at The Filter Building, the venue is a blank canvas for
creative altar ideas
. When it's time to eat, dance and be merry, this venue's sparse aesthetic continues indoors with exposed brick walls and low beam ceilings that act as their own wedding decor, or jumping off points for a more elaborate vision.
Learn more about The Filter Building »