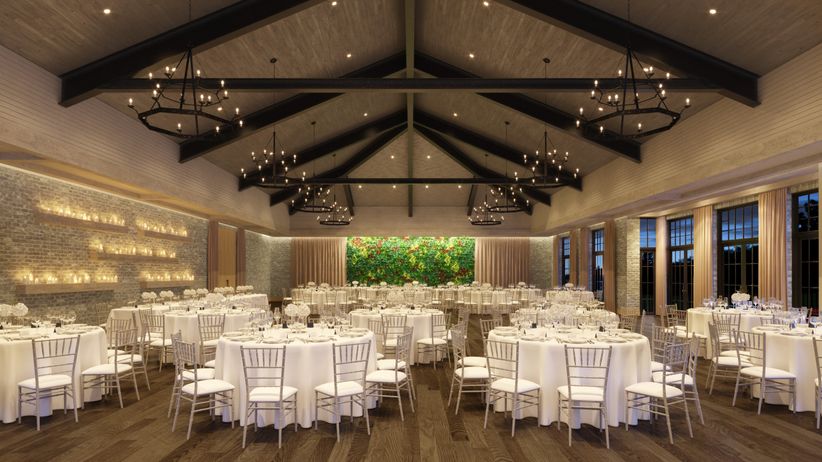 Photo: Natirar
Your wedding venue will influence many of your wedding details. Beyond the color scheme and the style of your wedding, it will also direct the wedding's floor plan, food service and can even inspire your choice of wedding dress. Rustic chic weddings may have reigned supreme for the past few years, but modern "blank slate" spaces as well as formal, grand ballrooms are picking up in popularity with brides and grooms.


WeddingWire spoke with several wedding planners and venue managers across the country to discover what the hot new trends in wedding venues are to help you in your search to find the right one for your wedding.
Blank Slate Spaces
Couples who have a vision for their wedding are looking for a venue that is a blank space which they can truly make their own. "Almost every couple wants to adjust the look of the venue to what they think is better for them," explains Ahmad Alzear of
Hashemites Event Hall
in Duluth, Georgia. "They do not want to feel like they have been assigned a décor and would rather choose their own look." Ahmad recommends that couples ask to see a sample album of previous décor at the venue to get a better understanding of all the possibilities. With rental companies offering everything from velvet upholstered furniture to vintage bar carts to antique tabletop items, a couple can create their dream wedding design and bring it to life without having to fight a venue's wallpaper, carpeting or other décor details that may clash with what they want for their wedding day. Nadia Huerta at
The White Sparrow
in Union Valley, Texas adds, "Our space is a blank slate and you can make it as earthy, glam or country as the bride needs or they can be minimal and let the venue speak for itself."
Natural Light
Thanks to Instagram everyone is looking for a venue that allows for natural light to ensure "likable" photos. Airy locations with floor-to-ceiling windows or skylights will guarantee that as long as there is daylight, your wedding ceremony and reception will get plenty of natural light for both your photos and the overall ambiance of the day.
Moveable Accent Walls
For years couples have been finding multiple uses for different design elements. Think bridesmaid bouquets adorning the wedding cake table and ceremony aisle décor being used as centerpieces too. A beautiful moveable wall can be decorated with flowers or draped in fabric and placed at the altar for your wedding ceremony's backdrop, and then moved into the cocktail hour to decorate the bar, into the reception to be the backdrop for the wedding cake, and even as a photo booth. "One of the biggest trends we have seen is a floral wall installation, typically placed behind the altar," says Marisa Malgieri, the Event Sales Manager at
Brooklyn Winery
in Brooklyn, New York. Working with an event designer or florist couples can decorate it in the best way to enhance their wedding's overall look and feel.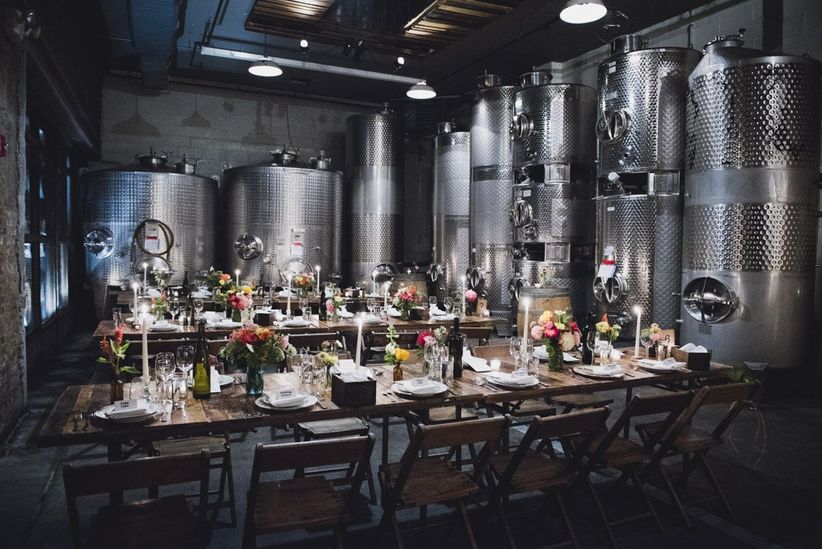 Photo: Brooklyn Winery
Lounge Areas

Instead of setting up traditional tables and chairs, couples are looking to create a more comfy, even home-like atmosphere, with furniture that would more closely resemble a living room or evening lounge for their cocktail hour, dancing portion or after party. "Brides love little sitting areas in the grass areas or upstairs on our balcony," shares Nadia. "It's a great way for guest to feel the style of the wedding and picture ops is a huge plus." As for what you can rent, there are countless rental firms that specialize in furniture around the country, both retro and modern, and you can work with them to find the right styles that complement your venue and theme.

Industrial Spaces

Old brick buildings that used to be a warehouse or factory, or in some cases still are, offer couples a unique setting unlike most of the weddings they've been to. Exposed brick walls, metal accents and, in many cases, a vast amount of space, allow a couple to have a wedding in both a rustic setting that is also quite modern. "Brooklyn Winery is a working winery so our event space is a mix of rustic and industrial elements, including accents of unfinished wood, steel and brick," explains Marisa. "The Winery has the vibe and style of a raw space, but with the full-service elements couples need to execute their wedding with ease and minimal stress!" Working within such a space can allow a couple to go rustic vintage or rustic modern in their design depending on the colors, flowers and table arrangements they select. "I think that rustic is still in, although the trend has now taken a rustic-modern approach with big open spaces with minimal décor," says Josiah Loyarr, Co-Founder and Executive Designer at Ninth & Everett, a design firm that works in Nashville, Atlanta, New Orleans and Charleston.

Less is More

In 2017 wedding planners and event designers are seeing a more curated design scheme for weddings. "Couples are taking the 'less is more' approach when it comes to décor," says Josiah. Some simple but statement-making décor ideas include flowers and greenery on the wall or hanging from light fixtures he shares. Mixing and matching centerpieces, monochromatic arrangements and geometric shapes are also quite popular. When designing your wedding keep this thought from Josiah in mind: Curated tablescapes over a ton of stuff just taking up space on the table is key.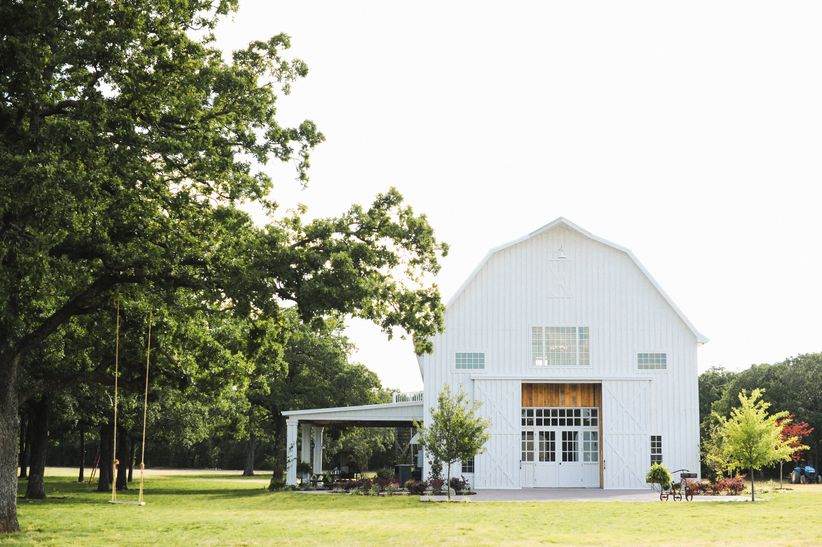 Photo: The White Sparrow
Outdoor Space

An outdoor space can be a great option, as long a Mother Nature doesn't fight you. Couples can use it for any part of the wedding from their first look and portraits to their ceremony and reception. Talk to your wedding planner and venue manager about what you can use the space for and then decide which part or parts of the wedding you want to be outdoors. For example, you can recite your vows as the sun sets, go indoors for dinner, and then back outside to dance under the stars. As long as you have a Plan B in place you should feel safe and secure that your wedding will go off without a hitch.

Rustic Formal

While couples may still be looking for a rustic look over all, there is definitely an increase in rustic-style weddings that have a bit more formality than a barefoot in a field bride and groom. "The term rustic is no longer synonymous with plain and simple fashion," says New Jersey based wedding planner Joanna Lenck of Square Mile Events. "I've seen a shift in rustic wedding trends from barns sprinkled with mason jars and bales of hay to more formal affairs featuring wrought iron architectural installations, decor vignettes showcasing cloches with meticulously styled potted seasonal blooms and row upon row of mixed material votives and pillar candles."