Photo: Tracy Autem & Lightly Photography
So you're interested in wedding chapels in Dallas or Fort Worth for your wedding venue? Very smart choice! Wedding chapels are among the most popular venues in North Texas (along with chic museums) because the region offers a wide variety that suit just about every taste. From large and ornately decorated chapels that seat hundreds of guests to more intimate and community-oriented spaces, wedding chapels are some of the most coveted Dallas wedding venues and Fort Worth wedding venues for good reason. While many wedding chapels are in the heart of the city of Dallas or Fort Worth, the suburbs and further flung rural areas offer up even more potential for the rustic elegant look Texas chapels are known for, if you're willing to travel a bit.


Check out 6 beautiful wedding chapels in Dallas and Fort Worth!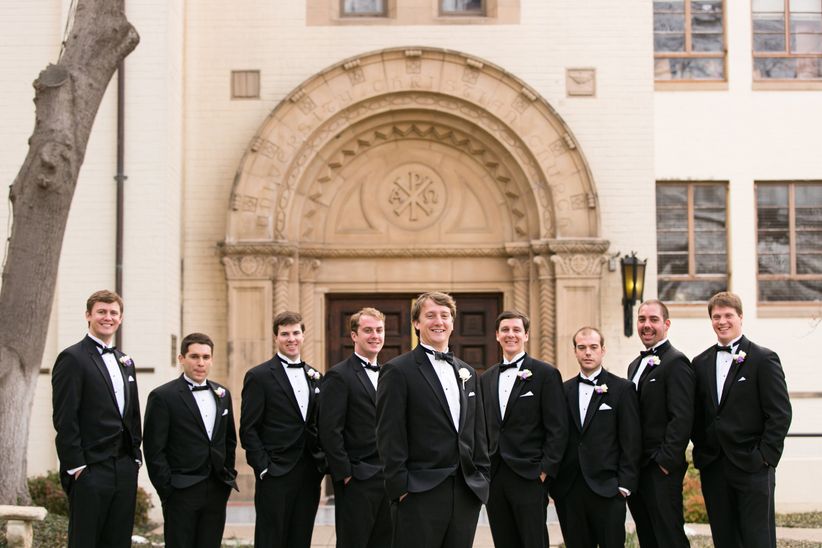 Photo: Tracy Autem & Lightly Photography
University Christian Chapel
Nestled on the idyllic campus of Texas Christian University, this Fort Worth, Texas venue is a favorite for couples who met while attending the school, like
Kelly and Gerry
. Don't worry, though, TCU attendance isn't a pre-req for c
hecking out
this gorgeous and spacious wedding venue. Couples choose between three distinct event spaces at University Christian Chapel: The Sanctuary, which seats 1200 including balconies; the Chapel of the Good Shepherd, which seats about 90 to 100 guests or the outdoor courtyard, which seats 75 people. Most couples choose the brick-walled sanctuary for their ceremonies, which is full of elegant decor, including golden lanterns, exposed wood beams and stained glass tapestries.
Learn more about University Christian Chapel »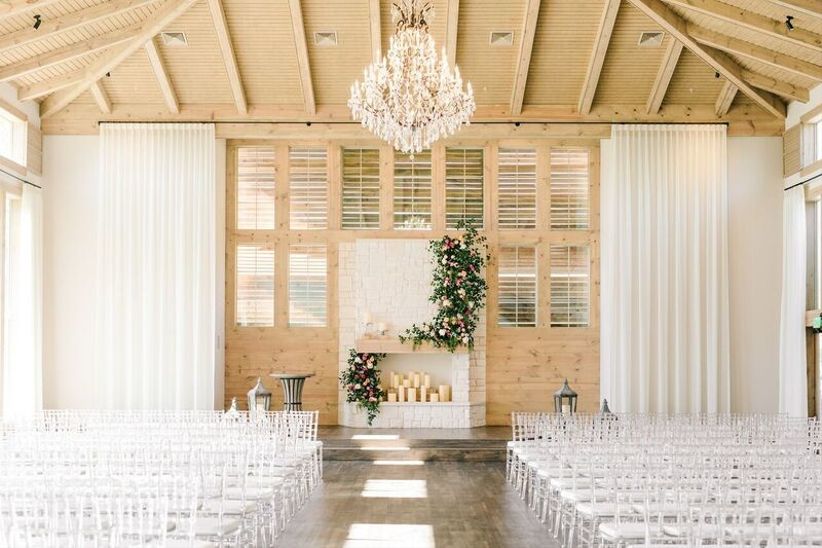 Photo: Hidden Pines Chapel
Hidden Pines Chapel
Located north of DFW in Lewisville, Hidden Pines is one of the most unique wedding chapels in Dallas Fort Worth. Awash in natural light and eschewing the traditional, more formal ambiance of chapels, Hidden Pines' sanctuary is walled in bright, exposed wood, decorated with trendy white drapes and filled with individual chairs instead of pews. The North Texas venue takes its cues from the hipster haven
Hill Country
, much to the excitement of stylish couples like
Ashley and Corey
. Accommodate up to 325 guests in this spacious, elevated rustic space. Straddling Southern refinery and Texas cowboy, Hidden Pines features sliding barn doors, 40-foot ceilings, a grand staircase and Austin stone and wood finishings. It's the perfect Dallas venue for couples who want to feel like they've stolen away to the remote countryside, while actually being only about 30 miles from downtown.
Learn more about Hidden Pines Chapel »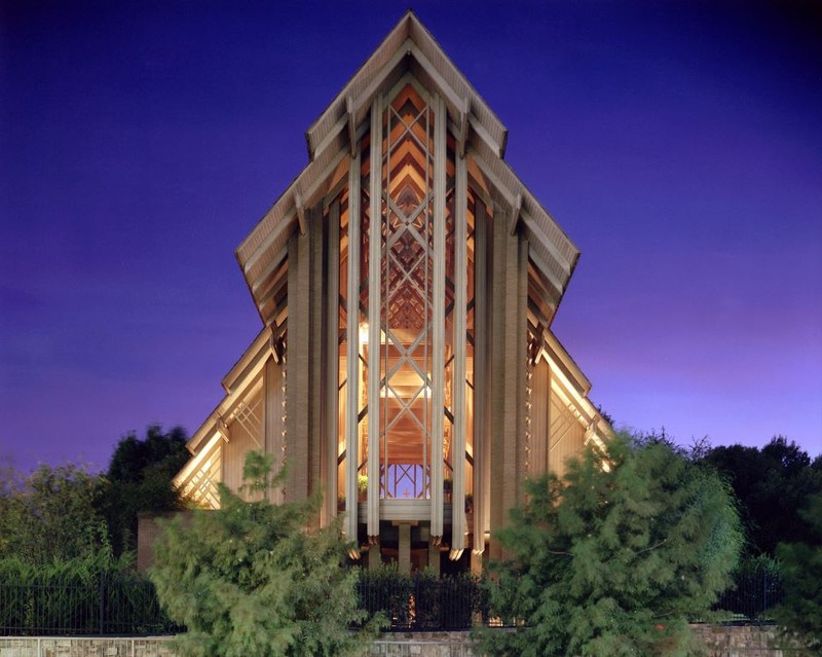 Photo: Marty Leonard Community Chapel
Marty Leonard Community Chapel
This Gothic revival cathedral-style chapel was initially created to serve as an interfaith place of reflection for the students and families of a Fort Worth counseling service, but soon found a second purpose as one of the most popular Fort Worth wedding venues because of its striking appearance. The light dappled sanctuary features dramatic crossbeams, elegant light fixtures and a 60-foot skylight that ensures a steady flow of natural light. Couples may choose from three event spaces for their wedding, including one uncovered outdoor space, the largest of which holds up to 200 guests.
Learn more about Marty Leonard Community Chapel »
Photo: Rustic Grace Estate
Rustic Grace Estate
A classic, white wedding chapel with an adjacent red barn, Rustic Grace Estate is ideal for couples looking for a
rustic vintage Dallas wedding
. Located on a 25-acre ranch north of the city, this wedding location provides a classically styled chapel with an elegant mix of dark wood and bright white finishings for the wedding ceremony and the expansive barn with twinkling string lights for a rustic-inspired reception. Rustic Grace Estate accommodates up to 200 wedding guests.
Learn more about Rustic Grace Estate »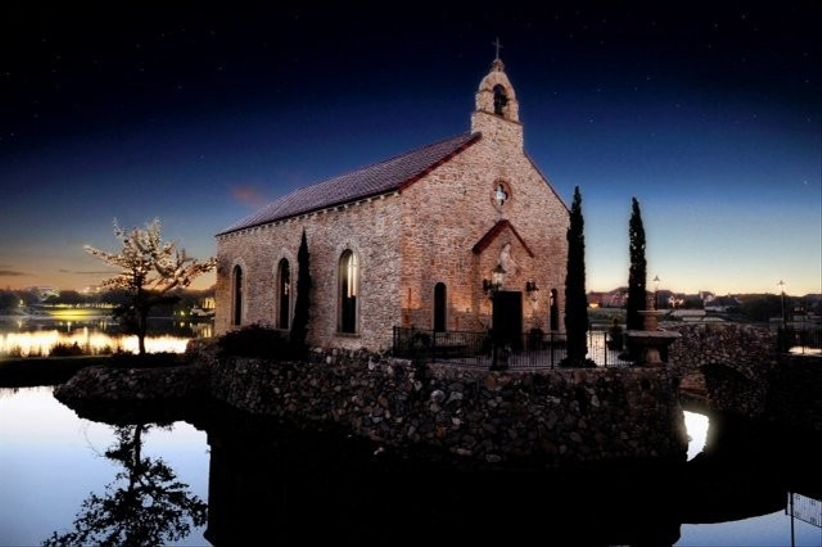 Photo: Bella Donna Chapel
Bella Donna Chapel
For couples who want to transport their guests to 18th century Europe by only traveling as far as McKinney, Bella Donna Chapel is the perfect wedding venue. The regal stone structure embodies the Romanesque architectural style while the chapel's location — it's the only building on an island in the Harbor of the Adriatica Village and therefore only accessed by footbridge — guarantees a dramatic entrance and lasting impression on your wedding guests. Inspired by village chapels in Italy, Bella Donna (literally "pretty woman" in Italian) can feel more like an ancient cathedral or castle than a neighborhood chapel. Centuries-old fixtures, like an ancient limestone carving salvaged from Tuscany, a domed fresco painted ceiling and antique pews, further contribute to the feeling that you've stepped into the past. Ornate chandeliers and the sun's reflection through floor-to-ceiling stained glass windows keep the chapel well-lit while the unique design touches, like the diamond-patterned floor, offer unexpected pops of color. Indoors, this venue seats up to 185 guests and there's also a terrace that overlooks the harbor.
Learn more about Bella Donna Chapel »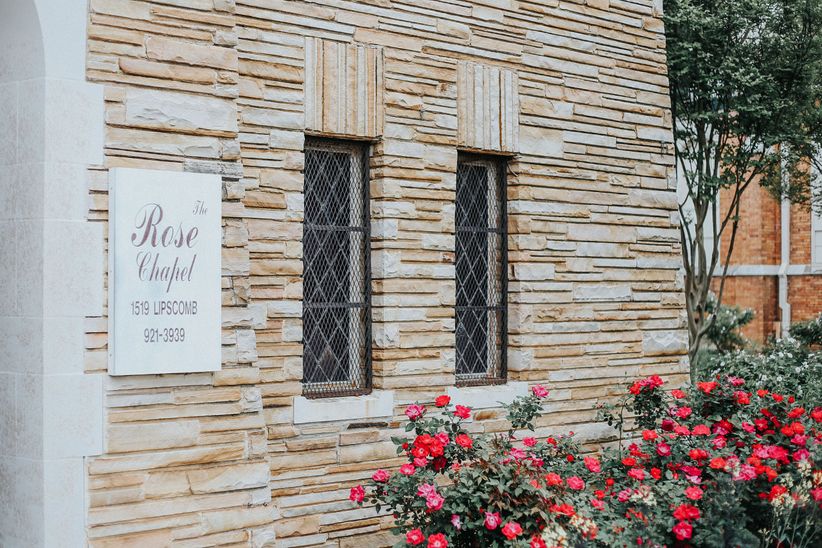 Photo: Double You (W) Photography
Rose Chapel
A beautiful
wedding chapel
in Fort Worth's Hospital District, Rose Chapel is a popular option for couples with a variety of wedding aesthetics. Although it's located in the center of a bustling city, Rose Chapel feels like a charming, quaint small town wedding chapel with its dark wood beams, wooden church pews and intricate chandeliers. Little additional decor is needed to make this gem shine and most couples choose to only add a little razzle dazzle to the aisle to complete their wedding vision, like
Amber and Kasey's rose garden wedding
. Indoors, up to 125 wedding guests will fit in the chapel's pews, while a connected ballroom can accommodate up to 200 guests for the reception.
Learn more about Rose Chapel »