The Best Hill Country Weddings and Ideas from Real Couples
Getting married in Texas? Use these real Hill Country weddings and ideas to inspire your own big day.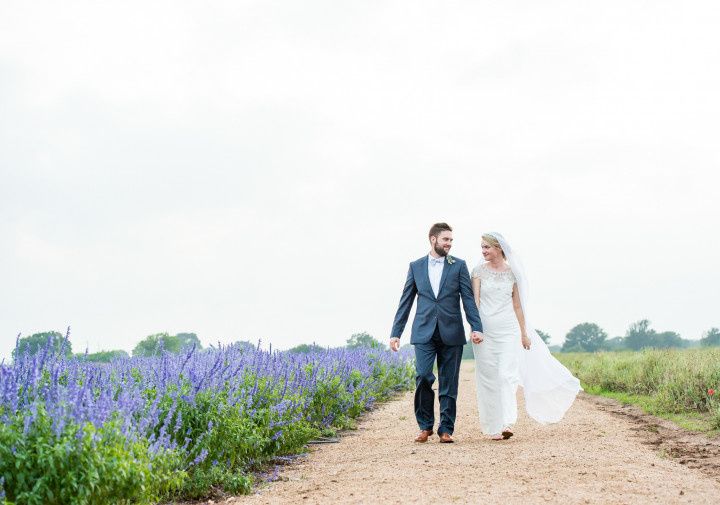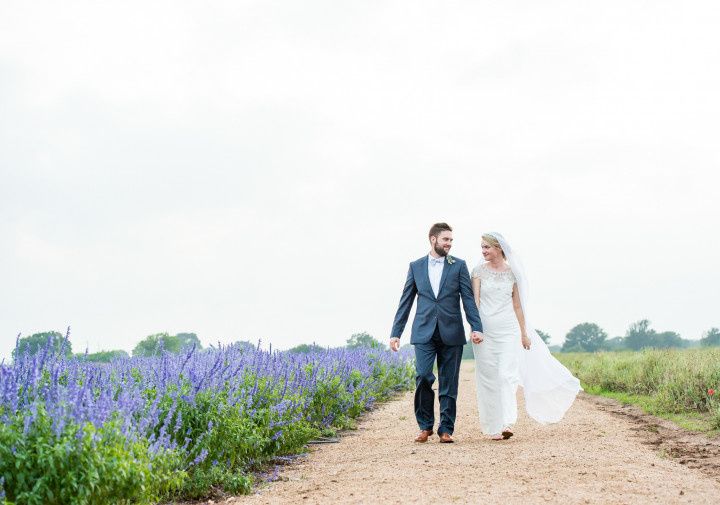 The central Texas countryside is known for its untouched natural beauty, charming small towns, and one-of-a-kind scenery — just some of the things that make Hill Country weddings so special. This region is full of hidden gems, from secluded grottos and swimming holes along the Colorado River, to the winding dirt roads and fields of bluebonnets that fill the landscape in the summer. If you couldn't tell already, Texas Hill Country weddings are basically like living in a dream!
If you're getting hitched in central Texas, here are some of our favorite Hill Country weddings and ideas from real couples.
Victoria & Evan: Fiesta Inspired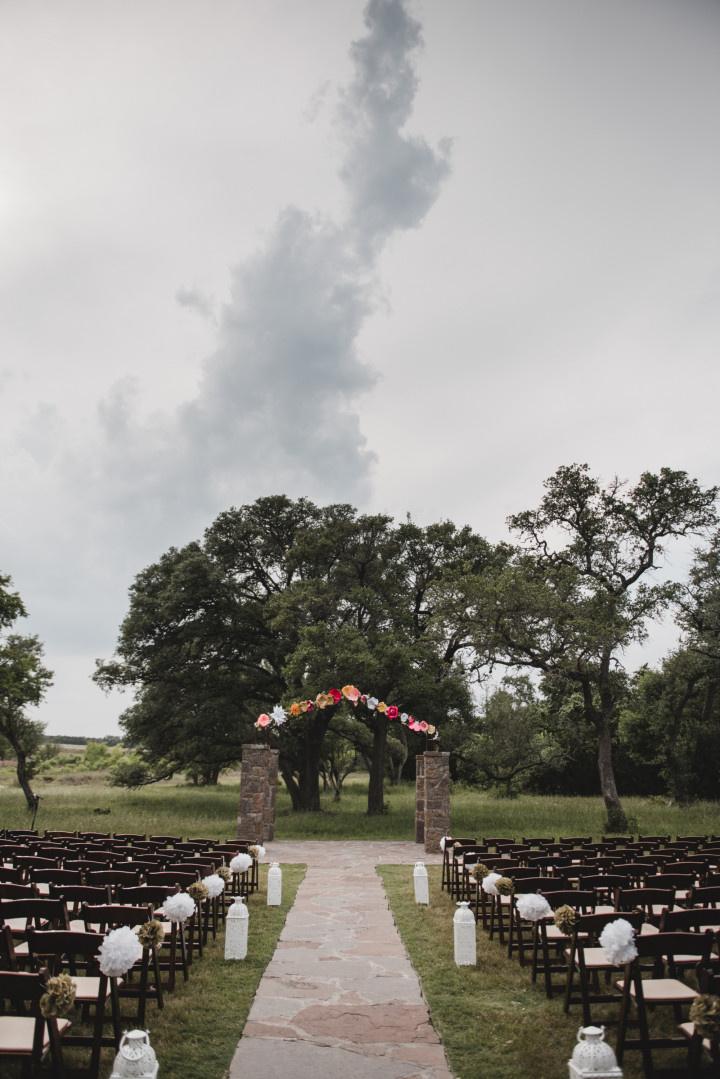 The Venue: Ma Maison
This gorgeous 23-acre property strikes the perfect balance between European elegance and Southern hospitality. French for "my house," Ma Maison offers five unique event spaces for Hill Country weddings, with both indoor and outdoor options. The Grove, pictured above, is the wedding venue's most popular location for ceremonies, and it's easy to see why. Another favorite spot at Ma Maison is the Green Cathedral—an authentic, reclaimed antique gazebo from France that makes the perfect backdrop for an intimate outdoor ceremony or first look.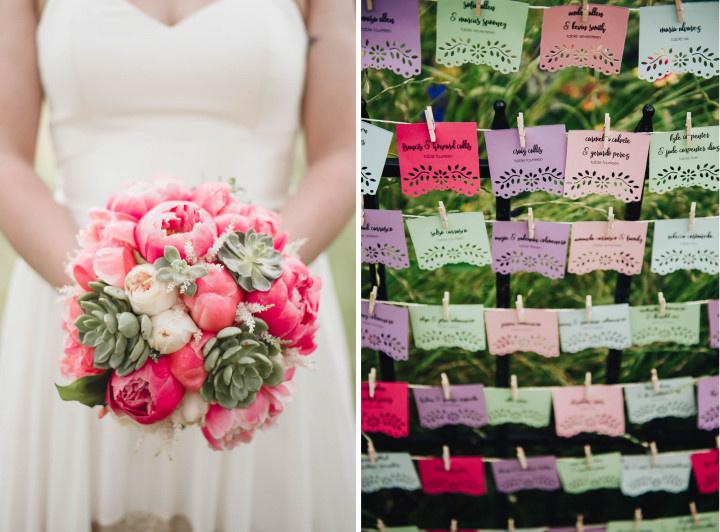 How They Styled It:
From the bride's gold sequined wedding dress to the miniature piñata centerpieces and papel picado escort cards, this wedding was all about playful, whimsical details. The couple, Victoria and Evan, wanted their day to feel like one big fiesta in honor of their Mexican and Cuban heritages.
See more of Victoria & Evan's wedding at Ma Maison »
Lindsey & Darrell: Modern Glam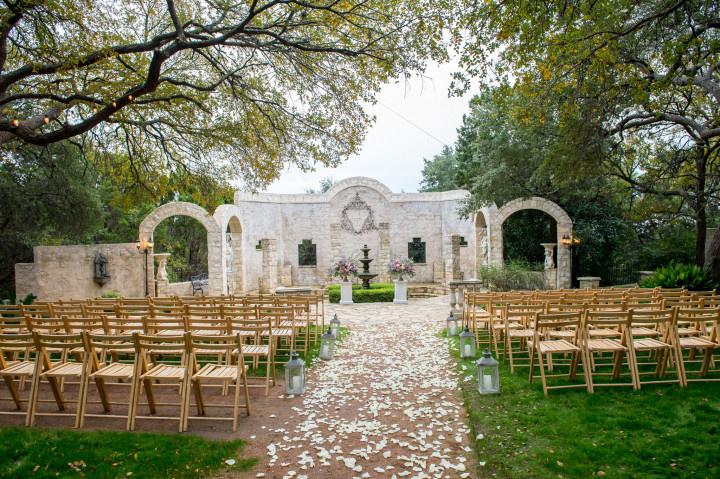 The Venue: The Vista On Seward Hill
Located just 10 minutes from downtown Austin, The Vista On Seward Hill feels like a secret garden in a different world—with all the convenience of a central location. A tranquil terrace surrounded by oak trees is just one of the many spots to choose from for your wedding. Brides and grooms can get ready in private suites on the property, and the venue itself can host events for up to 200 guests. Wedding packages automatically include a DJ, chairs, dance floor, wi-fi, and reception tables, among other perks.
Learn more about The Vista On Seward Hill »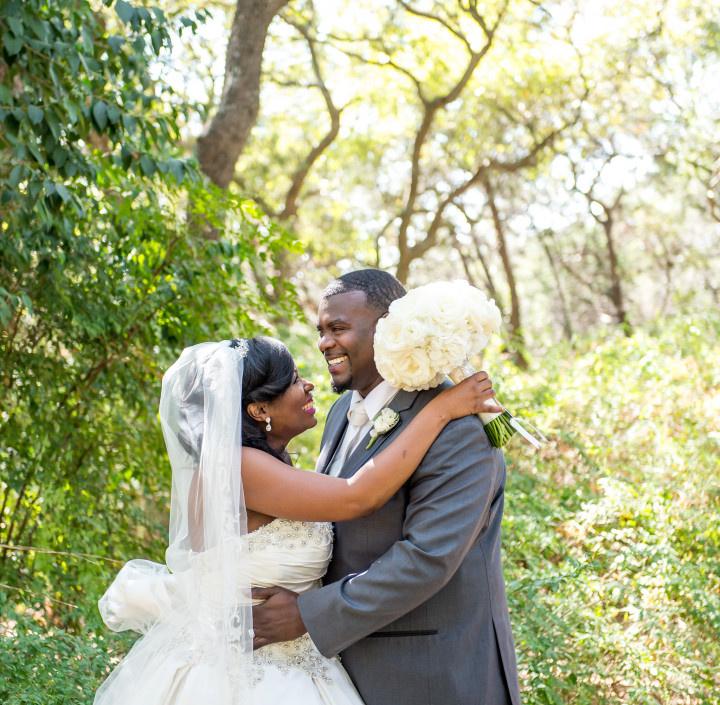 How They Styled It:
Lavish and glamorous are two words to describe Lindsey and Darrell's fall wedding. The couple chose a kelly green and ivory color palette that blended beautifully with the outdoor event spaces at this Texas Hill Country venue.
See more of Lindsey & Darrell's wedding at The Vista On Seward Hill »
Niusha & Andrew: Boho Chic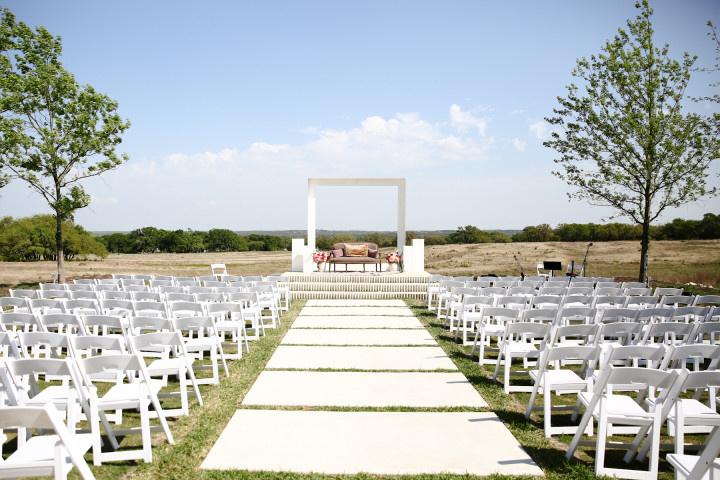 The Venue: Prospect House
If you're searching for a modern, trendy wedding venue in Texas Hill Country, there's no better spot than Prospect House. The giant gallery-inspired building sits on a hilltop in scenic Dripping Springs, just 25 minutes outside of Austin. Prospect House is one of the best venues for Hill Country weddings if your style is more artistic than rustic. The ceremony lawn (pictured above) offers unbeatable views of the Texas hills, but there's also an airy banquet hall with high ceilings and exposed rafters, in addition to a breezeway and getting ready rooms.
Learn more about Prospect House »
How They Styled It:
Niusha and Andrew's wedding was a modern bohemian dream. Their bright pink and orange color palette was a perfect contrast against the venue's all-white finishes. We can't get enough of this amazing macrame seating chart!
See more of Niusha & Andrew's wedding at Prospect House »
Shannon & Ryan: Garden Romance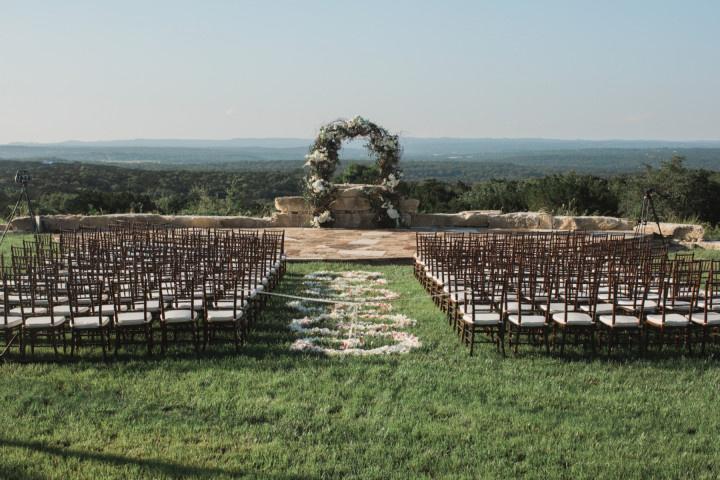 The Venue: Rancho Mirando
When it comes to scenic Hill Country wedding venues, the breathtaking view at Rancho Mirando can't be beat. This 50-acre ranch is located about an hour from Austin and less than four hours from Dallas. Rancho Mirando is consistently named as one of the top Texas wedding venues for destination weddings, thanks to the property's luxury guest accommodations. The venue's in-house florist creates beautiful arrangements using the ranch's own perennials, herbs, and roses.
Learn more about Rancho Mirando »
How They Styled It:
Shannon and Ryan paired classic details with glam accents for their wedding. The bride had her 'maids wear mix-and-match dresses, while Ryan and the groomsmen looked debonair in gray tuxedos. Banquet tables were adorned with rose gold sequin linens for an ultra-luxe touch.
See more of Shannon & Ryan's wedding at Rancho Mirando »
Kari & Braden: Country Charm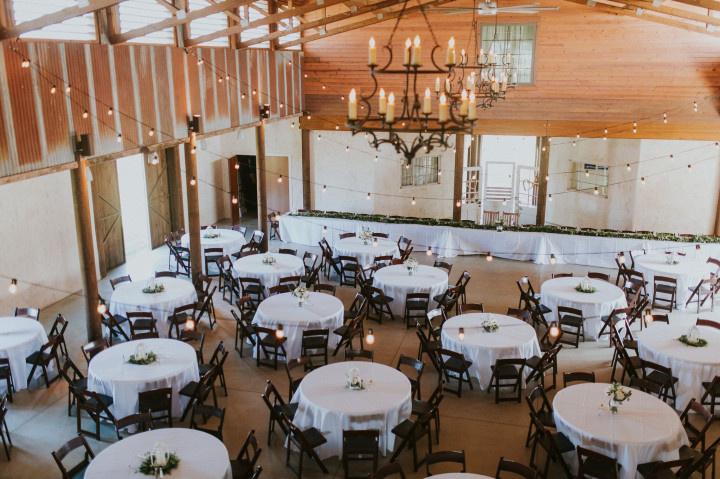 The Venue: Lone Oak Barn
This Southern chic venue is one of our favorites for rustic Texas Hill Country weddings. Located in Round Rock, a short 45-minute drive from Austin, Lone Oak Barn offers the feel of a country wedding without requiring you to venture far from downtown. The inviting property is perfect for couples who love rustic decor but want to add a bit of elegance to their big day. Built in 2014, the barn offers updated amenities and upscale features, including polished concrete floors, a wedding suite, and beautiful Tuscan-style chandeliers.
Learn more about Lone Oak Barn »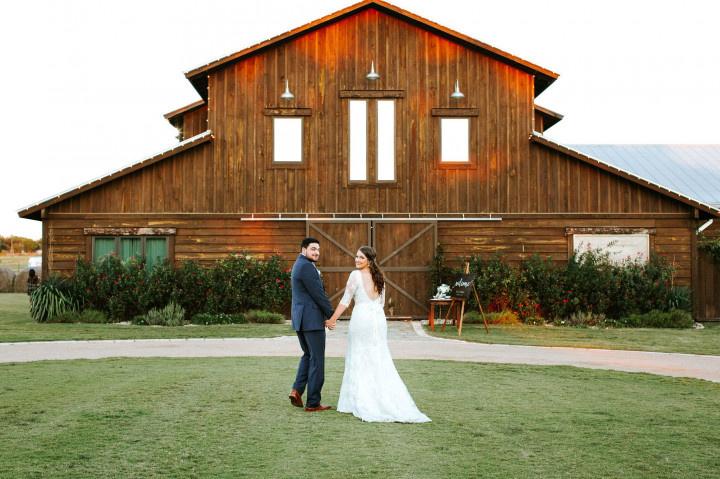 How They Styled It:
If you're wondering how to pull off a country chic wedding, take a cue from Kari and Braden. Overall, they kept their decor elegant and cohesive but added a rustic spin with chalkboard signs and marquee letters. Plus, we love the bridesmaids' stylish (but comfortable) two-piece ensembles!
See more of Kari & Braden's wedding at Lone Oak Barn »
Paula & Brent: Elegant Rustic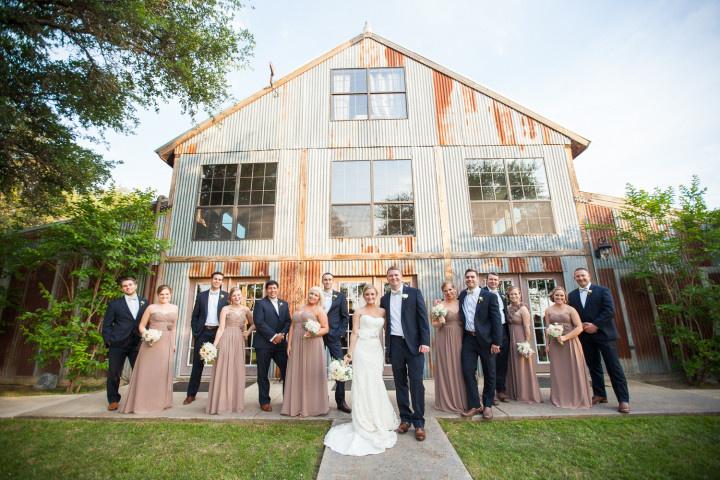 The Venue: Vista West Ranch
Vista West Ranch is one of the only Texas wedding venues in Hill Country that works for almost any type of wedding style, whether it's rustic, elegant, bohemian, or something in between. This Dripping Springs venue is a favorite of ours when it comes to Hill Country weddings, and couples love it too — it constantly receives five-star reviews from clients raving about the property and its staff! Another bonus? The ranch has on-site accommodations for up to 28 people, meaning you can crash there after the party ends.
Learn more about Vista West Ranch »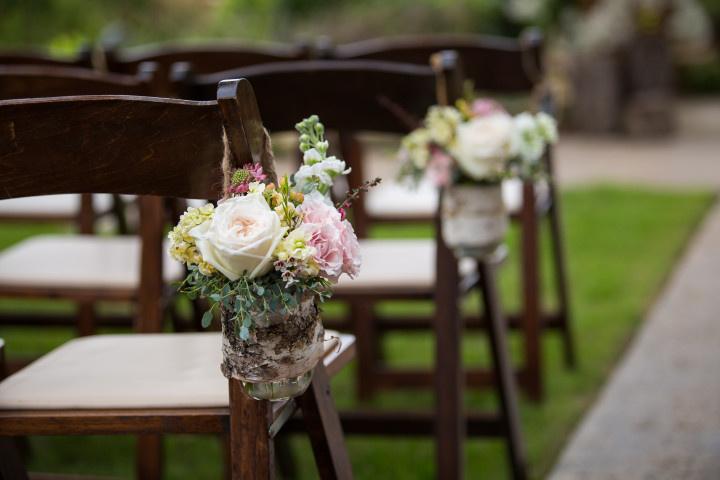 How They Styled It:
Paula and Brent's ceremony took place outside of the barn overlooking the surrounding hills. The couple opted for a classic neutral and pink color palette to achieve a rustic yet elegant theme.
See more of Paula & Brent's wedding at Vista West Ranch »
Megan & Trey: Classic With a Twist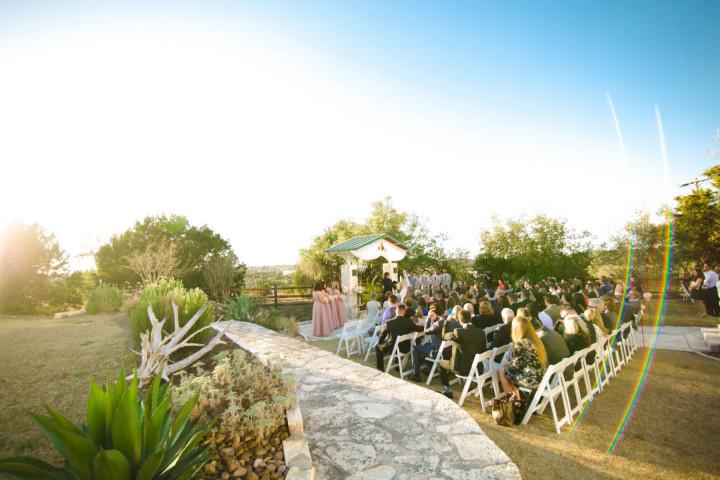 The Venue: The Terrace Club
Couples in search of more traditional Texas Hill Country wedding venues won't want to miss The Terrace Club in Dripping Springs. This venue is the perfect setting for an elegant and classic wedding, but it could also work for rustic and casual wedding styles. The Terrace Club's all-inclusive wedding packages make your planning process a piece of cake—a coordinator, chairs, tables, linens, silverware, china, and in-house catering are all included with the rental fee.
Learn more about The Terrace Club »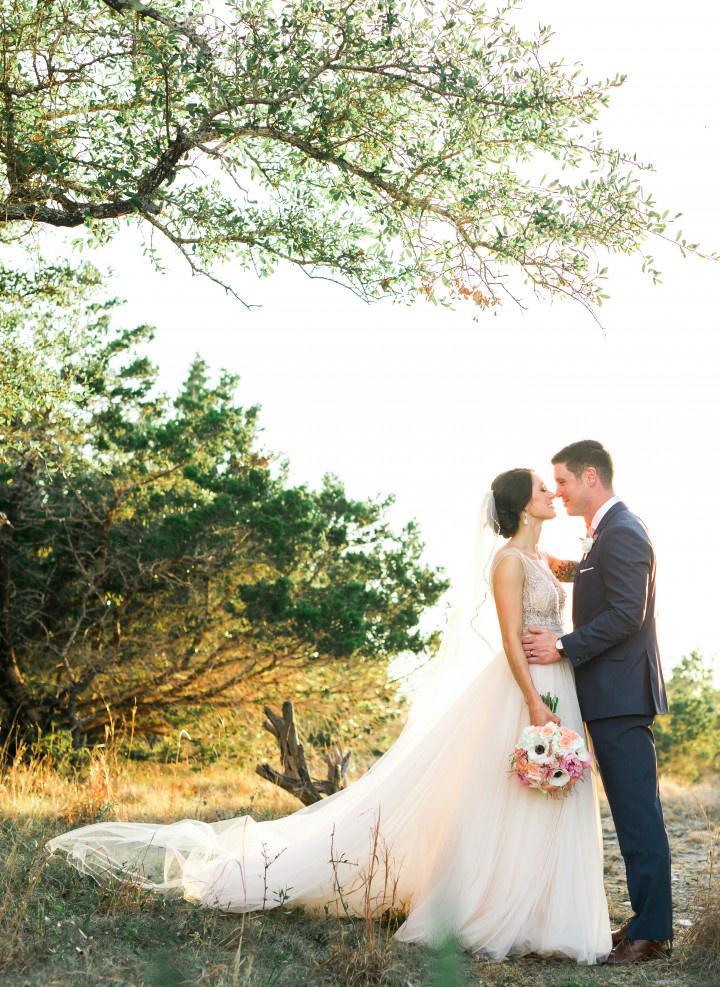 How They Styled It:
Megan and Trey chose a chic blush, gray and navy color palette for their February wedding. We're still swooning over the bride's gorgeous Watters wedding dress! Their decor included sequined table runners, tall candelabra centerpieces, chandeliers, and metallic accents.