9 Austin Outdoor Wedding Venues That Are So Trendy
Take advantage of Hill Country's incredible scenery with these Austin outdoor wedding venues that offer unbeatable views.
Austin outdoor wedding venues are in high demand for couples who want the convenience of a city location without having to sacrifice the natural beauty that Southern Texas is famous for. Austin's mild winters and relatively low rainfall make it an ideal place for getting hitched outdoors, and if you're a local, you know that being outside is a way of life in ATX. From romantic vineyards to rustic ranches, these outdoor venues in Austin offer all the fresh air you could ever want on your big day — plus some pretty fantastic scenery!
Here are nine trendy Austin outdoor wedding venues that we're loving right now.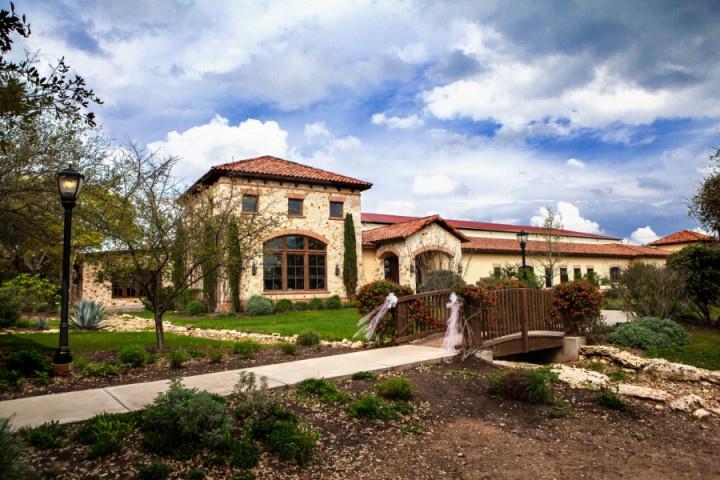 Duchman Family Winery
Hill Country is known for its scenic vineyards and wineries, and this spot makes our list of the top Texas wedding venues for a reason. Duchman Family Winery perfectly describes itself as "a slice of Tuscan heaven" in the heart of Texas, and the venue's Italian-style villa can accommodate up to 250 guests. If you want an outdoor ceremony, a sprawling patch of oak trees overlooking the countryside at Duchman Family Winery does not disappoint when it comes to Austin outdoor wedding venues.
Learn more about Duchman Family Winery »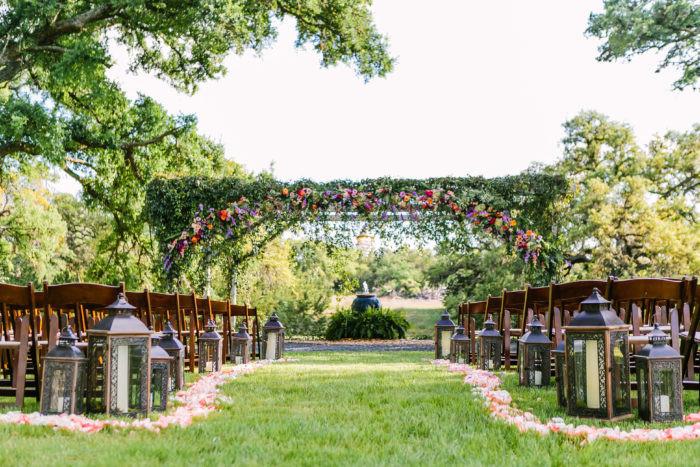 Pecan Springs Ranch
With 17 acres of space just 15 minutes from downtown Austin, Pecan Springs Ranch offers the best of both country and city style with a central wedding location. The venue has several different outdoor spaces you can use for your ceremony or reception (or both!), including a spacious lawn lined with trees, an open-air pavilion, a fireplace backdrop, and a vine-covered pergola.
Learn more about Pecan Springs Ranch »
The Vineyard at Florence
If you're in search of outdoor venues in Austin that provide a truly romantic setting, check out The Vineyard at Florence, located about 45 minutes north of downtown. The Vineyard at Florence boasts more than 500 acres of gorgeous Hill Country scenery, with an "Old World" style villa, overnight accommodations, a day spa, bridal suite, and vineyards on the property.
Learn more about The Vineyard at Florence »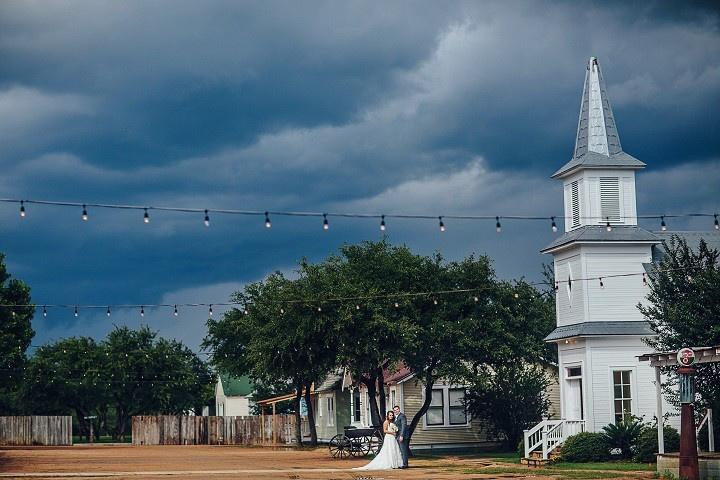 Star Hill Ranch
Couples looking for unique Austin outdoor wedding venues won't want to miss Star Hill Ranch. The venue is a historical re-creation of a 1900s-era Hill Country community, complete with a "main street," barn, guest cottage, outdoor ceremony space with an arbor, and a charming white chapel.
Learn more about Star Hill Ranch »
Thistlewood Manor & Gardens
We love this garden wedding venue in the Austin area. With an elegant French-inspired design, Thistlewood Manor & Gardens is a beautiful location for couples who want to pair tradition with luxury. Host your ceremony in the venue's landscaped garden, and then party all night long inside the spacious ballroom, featuring grand chandeliers and iron doors that open to a stone courtyard. For more inspiration, check out this styled shoot that took place at the venue!
Learn more about Thistlewood Manor & Gardens »
TerrAdorna
Located on a secluded ridge 25 minutes from east Austin, TerrAdorna is situated on a private estate surrounded by groves, hills and wildflower meadows for as far as the eye can see. TerrAdorna's flagstone patio is a perfect spot for your Austin wedding ceremony, while the venue's barn-ballroom combination has reception space for up to 200 guests.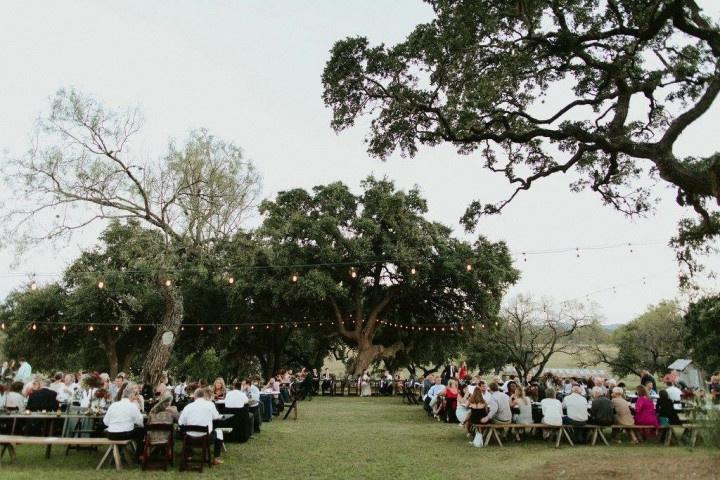 Cherokee Rose the Venue
Next on our list of Austin outdoor wedding venues is this authentic 1800s ranch, which is a dream for any rustic couple. Picture yourself getting married in a grassy clearing surrounded by trees that are more than two centuries old, before dancing the night away on a brick courtyard beneath the stars and romantic string lights. Cherokee Rose is located in between Austin and San Antonio, and offers on-site catering and rentals for Texas weddings.
Learn more about Cherokee Rose the Venue »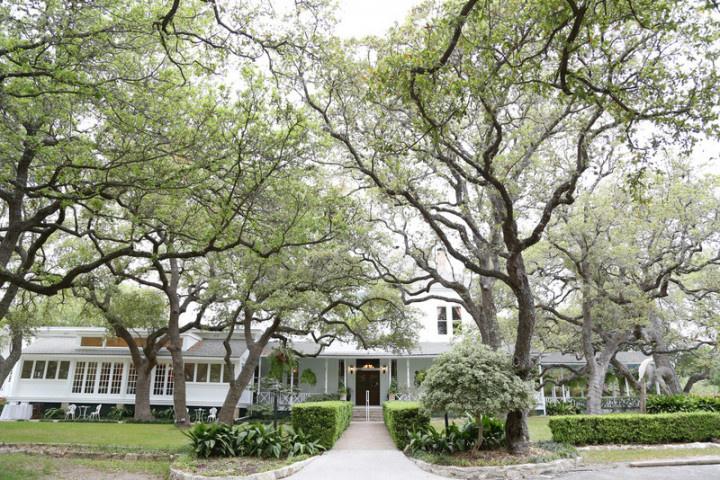 Mattie's
For true Southern hospitality, check out Mattie's in southwest Austin. This beautifully restored estate was built in 1893 and has a traditional Texas farmhouse feel. Mattie's is one of the top Austin wedding venues specializing in all-inclusive events, with a restaurant and in-house catering available for your big day. Say hello to the venue's resident peacocks, including Snowball, a local celebrity with all-white plumage.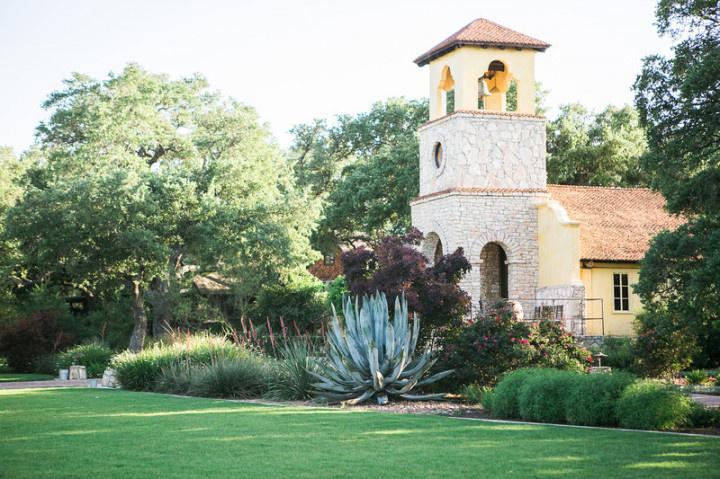 Camp Lucy
Located in Dripping Springs, less than an hour from downtown, Camp Lucy is one of the most gorgeous outdoor venues in Austin you'll find. This "camp" is anything but rugged — the venue offers four unique event spaces, each with a luxurious, country chic feel. A restored 19th Century French Colonial chapel serves as a traditional backdrop for an outdoor ceremony, but there is also a vineyard, a spacious banquet hall, and a repurposed barn on the property.