Here's How to Write the "Our Story" Section on Your Wedding Website
Your wedding website is the perfect place to share your special-day details—and your love story. Here's everything you need to know about writing a wedding website "Our Story" section, with examples!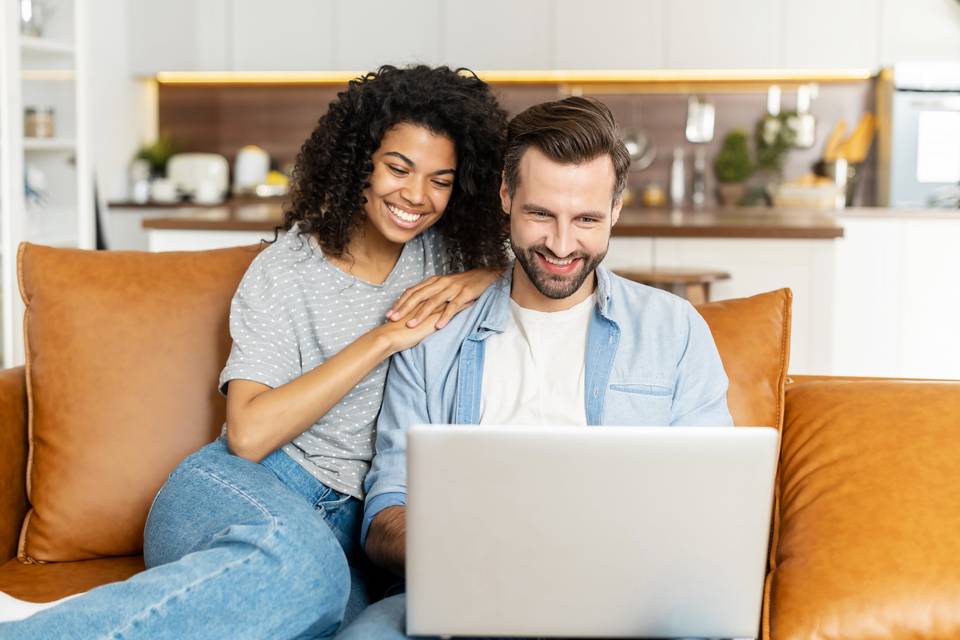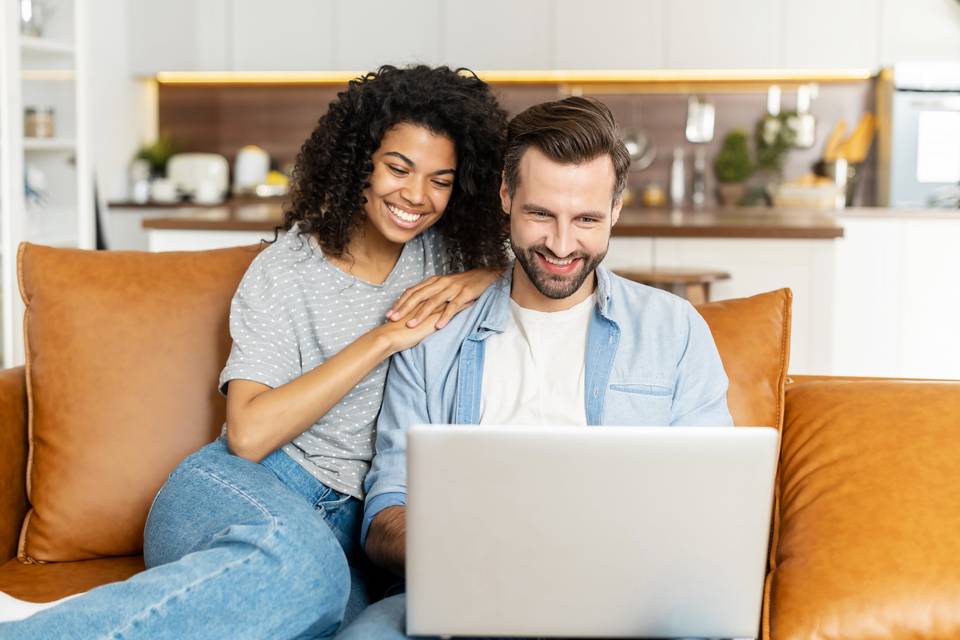 Your wedding website isn't just a place for your wedding registry, dress code information, and a countdown to your big day. By adding some creative personal touches, you can make your beautiful wedding website totally unique and fun place for guests to visit throughout the pre-wedding period. This can be as simple as including some engagement photos of you and your future spouse or as involved as writing bios of all of your wedding party members.
Another way to show your creativity is to include an About Us or Our Story section on your wedding website—basically telling your love story to your guests. From your how-we-met tale to the first date to your proposal, you'll take your loved ones through every important milestone of your relationship. Some wedding website builders automatically include this section in their main template, while others require you to add it as part of your customization.
The hardest part of writing your wedding website's Our Story is getting started. We're here to share some wedding website Our Story examples and advice to help you write your own before the big day.
How to Write Your Wedding Website "Our Story"
Take a trip down memory lane by writing your love story for your Our Story website section—but don't let writer's block get in your way. Here's how to get the words flowing.
Write for the wedding guests who may not know you well.
Not everyone who reads your Our Story or About Us section is your best friend or closest family member, so write it as if you're telling your love story to someone you just met. While it's totally okay (and encouraged!) to inject some personality and humor into your About Us story, avoid using too many inside jokes.
Introduce yourselves.
Before you jump into the details of your relationship, share a bit of information about you and your partner as individuals for those wedding guests who might not know you well. Be sure to include your full names, hometowns, and current city of residence, as well as where you attended school, occupation, and hobbies. While of course your nuptials are all about toasting your coupledom, you each have unique qualities that should be celebrated, as well!
Tell your story chronologically.
We recommend kicking off your love story with the story of how you and your future spouse met and your first date. You can then include some favorite memories from your relationship (trips, moving in together, etc.), as well as your favorite things to do together and what you love about each other, finishing with your proposal story. The proposal story is of particular importance—now whenever someone asks you to share the details of that big moment, you can simply direct them to your wedding website!
Avoid sharing too many details.
Some details of your relationship should remain private. We probably don't have to list them here—just be sure to discuss what you'll include on your wedding website before hitting publish. For example, your partner might not be comfortable sharing the story of the first time they said "I love you". Or maybe you'd prefer that you don't talk about the time your partner took you to the ER after a bad bout of food poisoning. Whoever isn't writing the Our Story section should review it before it's set live. And obviously, avoid including identifying details like addresses, phone numbers, etc. to protect your privacy.
Add some personality—but keep it appropriate.
Your Our Story section should sound conversational and not like a school paper. Feel free to inject some humor throughout, but don't do it at anyone's expense. Skip the inside jokes and keep things G-rated—remember, everyone on your guest list (including Grandma) may be reading this!
Consider writing individual stories.
Typically, Our Story sections are written in the third person. But if you and your partner have a lot to say, you might want to each write your own first-person spin on your love story to feature on your wedding website—especially if your versions of events differ! Just make sure that your and your partner's write-ups are of similar length and style. Or for a fun twist, you can write your version of your love story first, and share it with your partner so that they can write a funny response. Let your creativity run wild!
Break it up into sections.
We recommend keeping your Our Story section to fewer than 300 words. Keep each paragraph to 3 or so sentences—your guests will likely lose interest reading anything longer than that. If you find you're writing a longer Our Story, you might consider breaking it up into sections ("How We Met", "The Proposal", "Favorite Memories," etc.) so it's easy to read.
Conclude with the big day.
To finish off your love story, add a sentence or two about how excited you and your future spouse are for your wedding day. Something like, "After 6 years together, we can't wait to celebrate with all of you on [wedding date]!" While the rest of the love story should be written in third person, this part may be written in first person.
Best Wedding Website "Our Story" Examples
Use these Our Story examples as templates and inspiration as you get started on your own wedding website. We're just focusing on the love story portion of this section here, rather than the individual bios.
Jenny and Jordan first met in college at Texas State University in 2014. Jenny first caught Jordan's eye in the Student Union during freshman orientation. He was too nervous to approach her at first, but later that day, mustered up some courage and said: "Hi-dee!"—mixing up "hi" and "howdy". Fortunately, Jenny thought this was adorable and the rest is history.
During college, Jenny and Jordan traveled extensively—backpacking through Europe during their semester in Italy. One of their favorite memories is trying a new gelato place almost every day while visiting Rome.
Jordan proposed to Jenny a few months after college graduation by renting out a movie theater. Jenny thought she was seeing a screening of her favorite film, The Lion King, but Jordan had created a slideshow of photos from throughout their relationship which was playing on the movie screen. Needless to say, Jenny said yes (and they did end up watching The Lion King!).
We can't wait to celebrate with you at our wedding ceremony and reception in March!
--
Sam and Blake met the modern way: by swiping right on Tinder (swoon!) in 2019. Their first date was a bit of a disaster—it started pouring while they were enjoying their outdoor dinner, Sam fell into a mud puddle, and they had to wait over an hour for a subway train. However, their second date went much better and they've been together ever since.
A few of Sam and Blake's favorite memories from their time together: Attending many concerts and shows, testing nearly 50 chocolate-chip cookie recipes, training for their first 5k, and lots of trips to the beach.
Sam and Blake's proposal was a bit unique as it ended up being a joint proposal. Sam planned to propose to Blake during their trip to Miami to celebrate their third anniversary as a couple—and Blake had the same idea. During a sunset walk on the beach, Sam got down on one knee—and so did Blake! Rings were presented, hugs and kisses were shared, and it was an amazing experience.
We're so excited for you to join us as we say "I do" at our destination wedding in April of 2022. See you soon!
--
Alex's version of our story:
Kyle and I first met at work in 2015. We were co-workers first and then friends. Then at a work happy hour, Kyle had a few too many spicy margaritas and I was tasked with walking them home. Armed with some liquid courage, Kyle expressed his feelings toward me and we went on our first official date the following week. Thank goodness for those spicy margaritas!
Kyle is one of the funniest people I've ever met and makes me laugh every day. They make everything from waiting at the DMV to hiking to the top of Mount Greylock an exciting and magical experience. I can't wait until we're officially married!
Kyle's version of our story:
I would argue that Alex was the one to make the first move. He had been sending me flirty texts for the previous few weeks, so I knew there was something there. And I only had one spicy margarita—Alex was the one to offer to walk me home. Either way, I'm so thankful for that work happy hour and whatever gave me the courage to share how I felt that night.
Alex is so smart, so organized, and so committed to his friends, family, and loved ones. He makes me want to be the best version of myself, whether it's at the gym, cooking, or even just finding the best new show on Netflix. I'm so lucky to have finally found my person. ​​