The Baltimore Wedding Guide to Getting Married in Maryland
If you're planning a Charm City wedding, you'll need to browse this guide to stay on top of your Baltimore wedding planning checklist.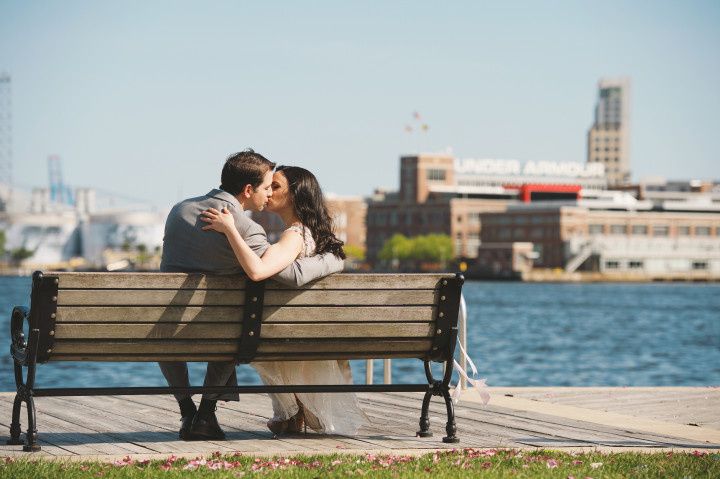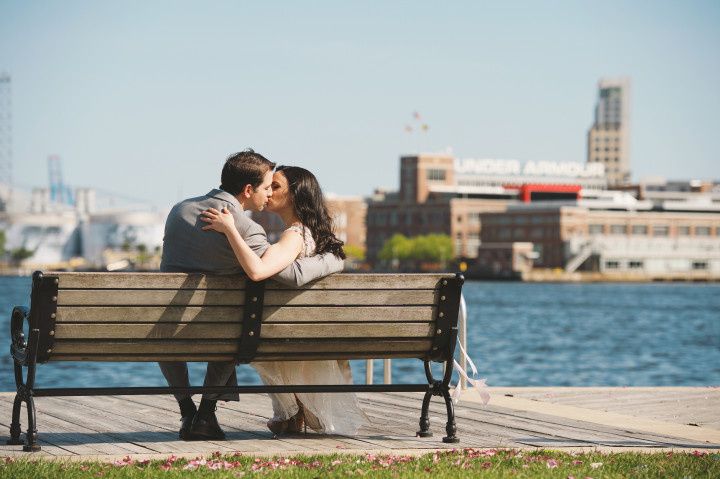 Planning a Baltimore wedding? Good choice! Of all the great options to consider when getting married in Maryland, Charm City's beauty, warmth and river bank access makes it a treasure trove. As you get ready to wed in Baltimore, there will be lots to think about, however. First and foremost, where's this thing going to take place? The right wedding venue sets the tone for not only your marriage ceremony, but the theme and aesthetic of your special day. Then there's your guest list, wedding accommodations for out-of-town guests and the all-important marriage license. No worries, because this Baltimore wedding guide covers all of your must-know bases.
Scroll down for the Baltimore wedding 411 on getting married in the 410.
The Basics
Maryland couples are taking their engagement period nice and easy by spending 14 months to plan their Baltimore wedding, according to WeddingWire data. On average, couples in this region are inviting 120 wedding guests and hiring 13 wedding vendors to make their Charm City wedding visions come true. October is the most popular month for Baltimore weddings.
Getting There and Getting Around
Lots will factor into how your guests will get to Baltimore and how they'll get to your wedding once in the city. For far out-of-town guests, a flight into Baltimore/Washington International Thurgood Marshall Airport is likely the most convenient. Located about 11 miles south of downtown Baltimore, weekend guests will probably get the most bang for their bucks by renting a car at the airport to get around.
Guests from closer destinations like Philly or New York may find cheaper travel with a ride on Amtrak into Baltimore's Pennsylvania Station. Depending on your wedding venue and accommodations plan, short ride shares on Uber or Lyft may be more economical than a car rental.
Once in the city, guests can take advantage of Baltimore's mass transit, Maryland Transit Administration, which provides city buses, light rail and subway service in the most populous areas.
Weather
Baltimore weather really depends on when you visit the city, as it enjoys four distinct seasons with a humid subtropical climate. Due to its proximity to the Chesapeake Bay, the region can be much more chilly at night, especially in the outskirts of town.
Winter months (December to February) typically see highs in the mid to upper 40s and lows in the high 20s to low 30s.
Spring temps (March to May) climb from the mid 50s to the high 70s with lows from 40 to 60 degrees.
Summer months (June to August) peak in the high 80s with lows high 60s.
During Fall (September to November), the most popular time to get married in Maryland, temperatures drift from 80 degrees to the high 50s with lows in the mid 50s to low 40s.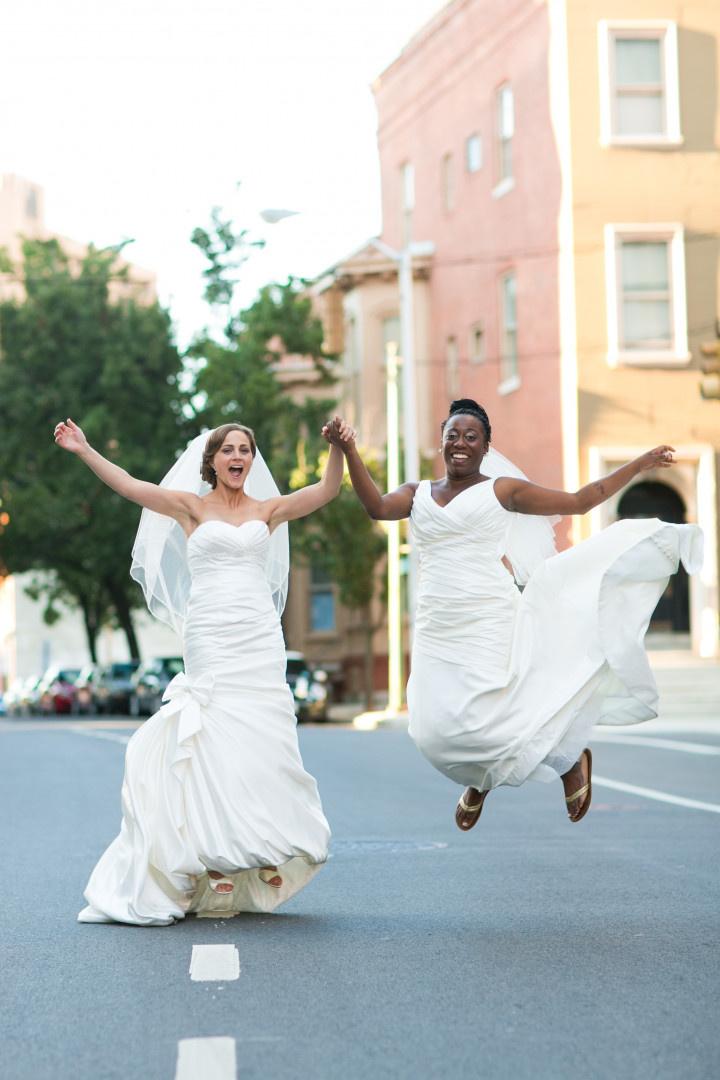 Venues for a Baltimore Wedding
Here's a tough decision: Where should you host your wedding? You'll need something that fits your style, your budget and your guest list. We've rounded up some of our favorite Bmore venues — check out these lists for inspiration.
Marriage Licenses
Maryland marriage licenses are given by the city or county clerk's office.
The office that administers Baltimore City marriage licenses is the Land Records and Licenses Division of the Circuit Court. This office is located at the Clarence M. Mitchell, Jr. Courthouse at 100 North Calvert Street — Room 610.
License fees are $85 for a marriage application and $25 if you want to have the marriage ceremony at the courthouse. Both must be paid in cash. If you'll be wed at the courthouse, you must bring at least one witness, age 18 or over.
If you'll be married in Baltimore County, you'll need to obtain a marriage license from the Clerk of the Court for Baltimore County. There is a 48-hour waiting period before the license is valid and it expires after six months.
License fees in the county are $35, and must be paid in cash. Only one person needs to apply for the license, and they must bring both people's name, age, address, social security number, place of birth and marital status. If one or both people have been divorced or widowed, you should bring the exact date and name of the county and state in which those events occurred. You don't need ID if you're 18 or older. You must be at least 18 to be married without consent of a parent.
Wedding Accommodations & Transportation
Don't leave your guests on their own with lodging. Create a hotel room block at your venue or nearby. Let guests know you have the block on your wedding website, too.
You'll also want to make sure you have a plan to get guests to and from your wedding, plus any other events you have planned for the weekend. If you're planning everything in a small radius (a mile or less), you can encourage guests to walk or share Ubers around town. If things are a little more spread out, though, create a pre-arranged transportation plan.
Things to Do in Baltimore
Send your guests into the city with a fun list of must-dos while they're visiting your town!
Inner Harbor: No trip to Charm City is complete without a walk down the bustling streets of Inner Harbor. Built on the banks of the Patapsco River, this area is filled with fun things to see (like The National Aquarium and the Maryland Science Center), eat (all the Maryland crabs you could ever want) and do (Harborplace shopping or a cruise on the Bay).
Fort McHenry: Visit the birthplace of the "Star Spangled Banner" at Fort McHenry National Monument. Explore the historical Baltimore grounds that inspired the national anthem or watch the Guard perform demonstrations and reenactments at the park.
Baltimore Wedding Inspiration
It helps to see how real couples have put all the wedding pieces together. Check out these beautiful Baltimore weddings for more wedding inspo.
Disclosure: This post contains affiliate links, some of which may be sponsored by paying vendors.