10 Amazingly Affordable & Stylish Baltimore Wedding Venues
These Baltimore wedding venues have it all so you don't have to sacrifice style, a prime location, or amenities on your big day.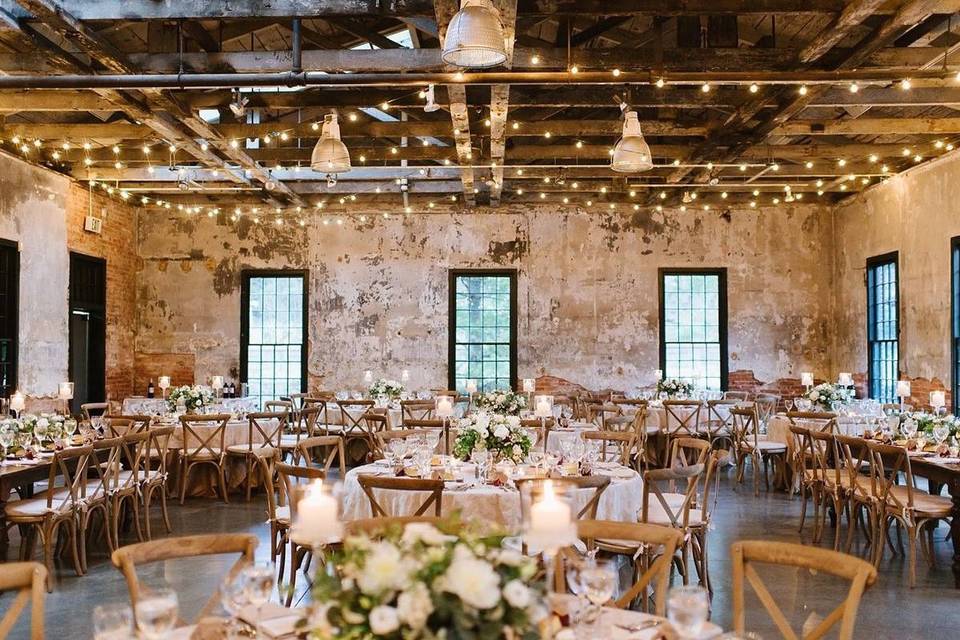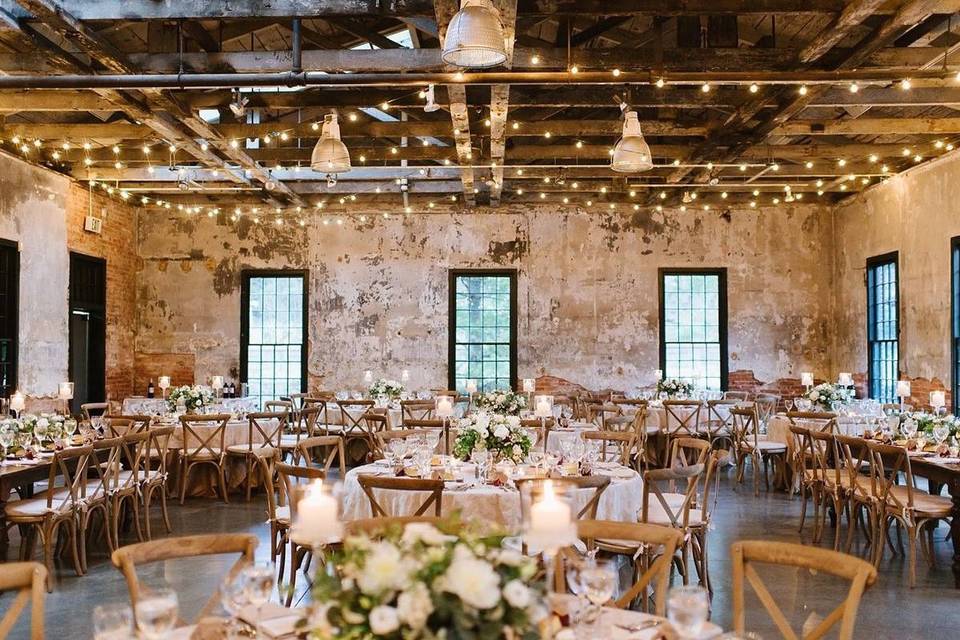 If you're wedding planning in Maryland, the Baltimore area is home to some of the state's best and most recognizable wedding venues. And even better—finding affordable Baltimore wedding venues is totally possible. According to WeddingWire's Wedding Cost Guide, the average cost of a wedding venue in Baltimore is $6,000. Your venue is often one of the biggest expenses for your special day, constituting about half of your total wedding budget, so saving a bit of money with a more affordable venue will definitely help you keep your total costs in check. Ready to start the search for your dream venue? These Baltimore wedding venues are all within the low to mid range of wedding venue costs for the city and include other perks like all-inclusive packages, in-house event planning, and spectacular views.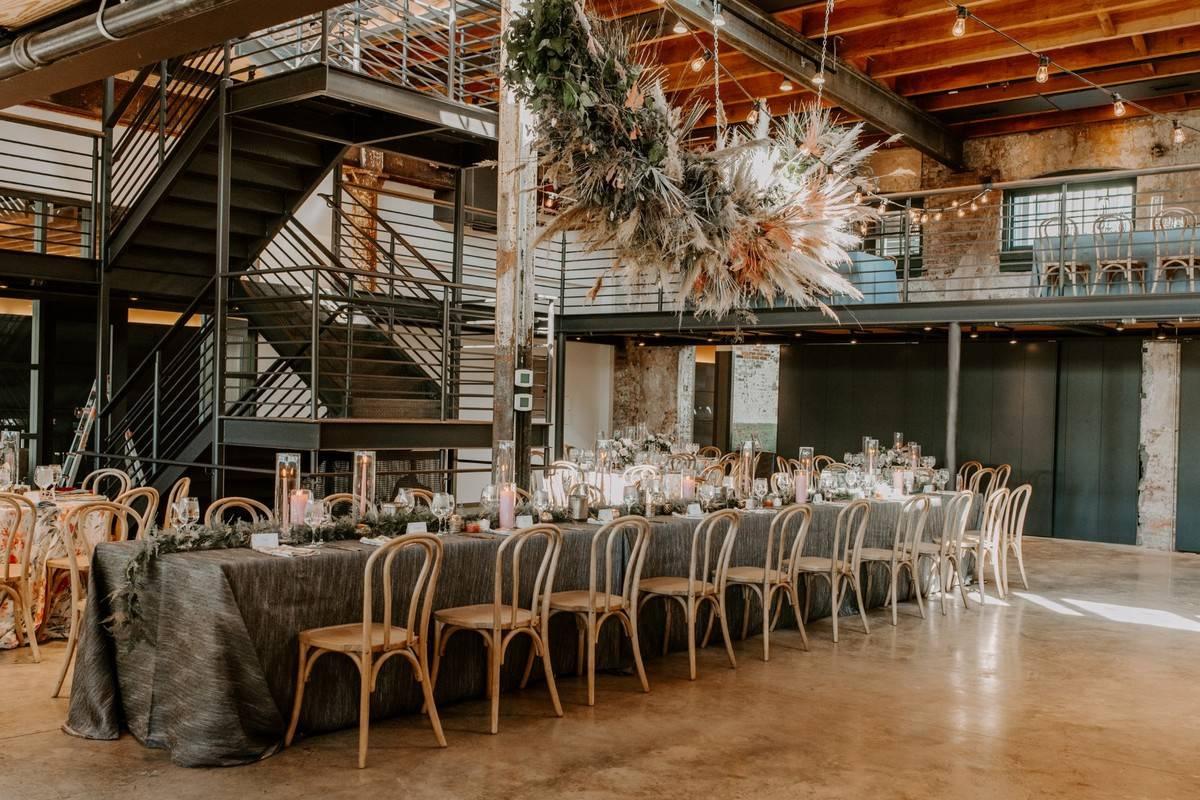 The Winslow
Kicking off our list of Baltimore wedding venues that you won't want to miss is The Winslow, a newly opened industrial space in Washington Village, just a few blocks from M&T Bank Stadium. Located inside a former metal plant, The Winslow retains much of its original industrial character, including distressed brick walls, exposed ceiling beams, and large two-story windows. Weddings at The Winslow include three hours of setup time and four hours of event time, table rentals, chairs, a full-size catering kitchen, and an on-site event coordinator.
Learn more about The Winslow »

Turf Valley Resort
Located in Ellicott city about 30 minutes from Baltimore, Turf Valley Resort has been a staple wedding venue in the area for decades. This spacious wedding venue sits on 1,000 acres of property and includes guest suites, private villas, a spa, restaurants, fitness center, swimming pools, and golf course—plenty of amenities to turn your wedding day into a special getaway for you and your guests. Six elegant event spaces (including the garden, pictured above) give you a range of options when it comes to planning your big day. Wedding packages, which include in-house caterers, bar service, table linens, a complimentary wedding night stay, and more, start at $91 per person.
Learn more about Turf Valley Resort »

Cylburn Arboretum, Mansion and Vollmer Center
Looking for a historical wedding venue in the heart of Baltimore? Check out the Cylburn Arboretum. Located in Coldspring, this city park is home to a Victorian mansion, landscaped gardens, and a modern greenhouse that doubles as a banquet hall. This Baltimore wedding venue is ideal for both elopements and large weddings, with rental fees starting at $500.
Learn more about Cylburn Arboretum, Mansion and Vollmer Center »

Tabrizi's
If you don't want to choose from a pre-set wedding package, Tabrizi's gives you the option of having an à la carte menu that you can design to suit your tastes exactly. Hors d'oeuvres start at $4.50 per item, per person, and all food (including your wedding cake) is made in-house. Event coordination and decor rentals, such as tables, chairs, linens, and tableware, are also provided by the venue. This waterfront venue is located in Federal Hill, just a few blocks from the American Visionary Art Museum, Inner Harbor, and the Domino sign.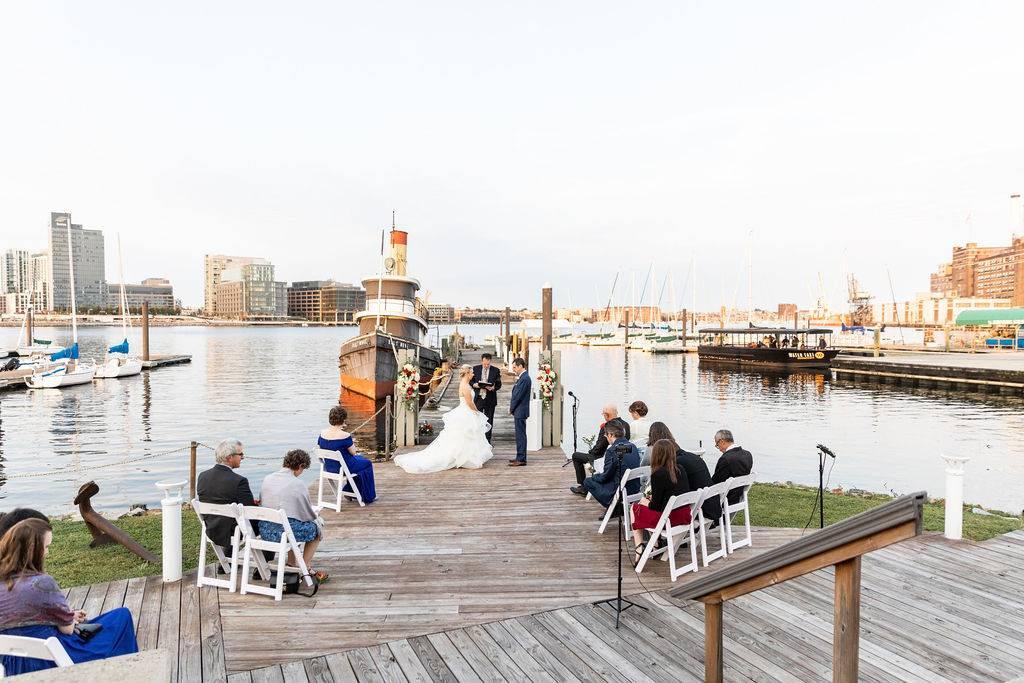 The Baltimore Museum of Industry
This gorgeous museum dedicated to preserving the city's industrial past is also one of the coolest cheap wedding venues in Baltimore. Couples with 120 wedding guests (the average for Baltimore weddings) paid less than $6,000 to host both ceremonies and wedding receptions at the Baltimore Museum of Industry. Housed with a 19th century oyster cannery just off the Patapsco River, this waterfront wedding venue offers beautiful views of Baltimore's Inner Harbor from its perch. Just two short miles from the heart of downtown Baltimore, it's also insanely convenient for your guests. Couples choose from two event spaces: The Outdoor Pavilion and Point is an expansive riverside space with capacity for up to 500 standing wedding guests while the Decker Gallery and Industry Terrace is a light-filled indoor space with roughly the same guest capacity. To see how real Baltimore couple's styled this nostalgic venue, see Bayla and Josh's December wedding at the Baltimore Museum of Industry.
Learn more about The Baltimore Museum of Industry »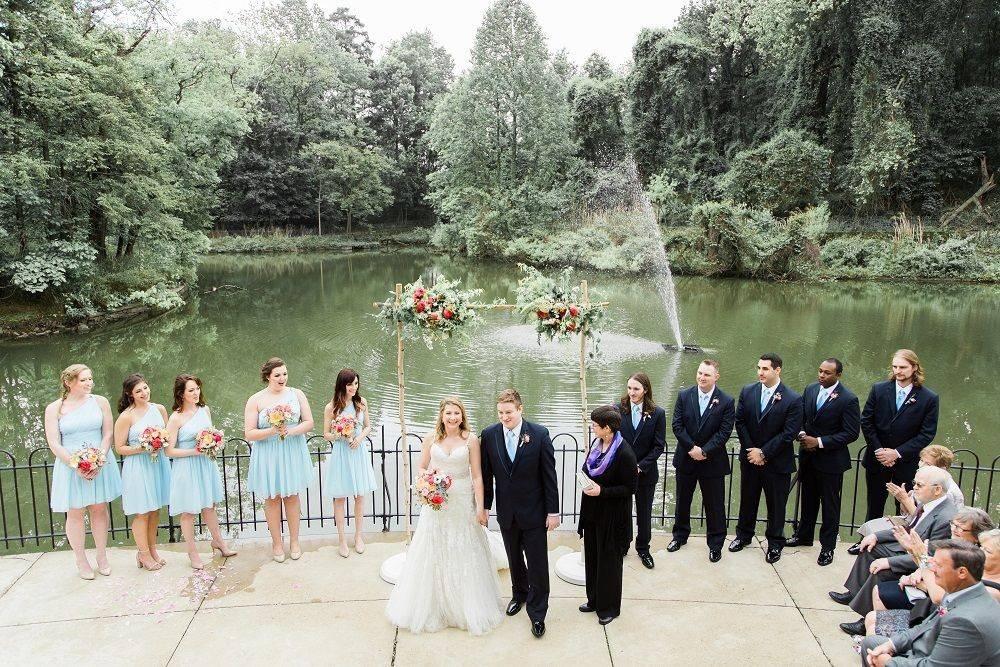 The Maryland Zoo in Baltimore
Animal kingdom lovers will go gaga for the natural beauty of The Maryland Zoo in Baltimore, which also happens to be a great option for cheap wedding venues in Baltimore. Tucked away in North Baltimore near Druid Hill Park, the Zoo is an indoor and outdoor wedding venue with three event spaces for couples to choose from. Rental fees for the ceremony site, The Lakeside Pavilion, start at $,200, while fees for the reception site, Mansion House, $3,000 for Friday to Sunday. Spacious and full of greenery, The Lakeside Pavilion is an ultra-private setting with beautiful views of Boat Lake, while Mansion House is a historic venue with oversized mirrors that overlook a wrap around porch for maximum views. Host up to 180 wedding guests for your special day at this unique Baltimore wedding venue (https://www.weddingwire.com/wedding-ideas/baltimore-unique-wedding-venues).
Learn more about The Maryland Zoo in Baltimore »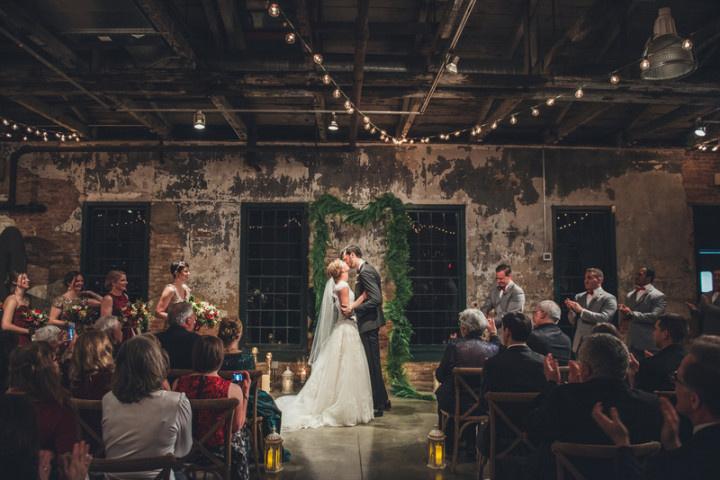 Mt. Washington Mill Dye House
This former Maryland mill is an ideal choice for Baltimore couples searching for an affordable rustic vintage venue in the city. Engaged couples hosting about 120 wedding guests in October (the most popular month to wed in Charm City) paid about $6,000 for this ceremony and reception venue. Amble about in the more than 5,000 square feet of elevated rustic space available at Mt. Washington Mill Dye House, which includes three distinct event venues. Dye House I and II are about 4,000 square feet combined and accommodates up to 200 seated guests in the banquet hall-style setup. There's also a terrace with this space. The Cocktail Room is a smaller space with 1500 square feet. The entire property features toned down features rustic couples love like wood beam ceilings, multi-pane windows, exposed brick and distressed concrete floors.
Learn more about Mt. Washington Mill Dye House »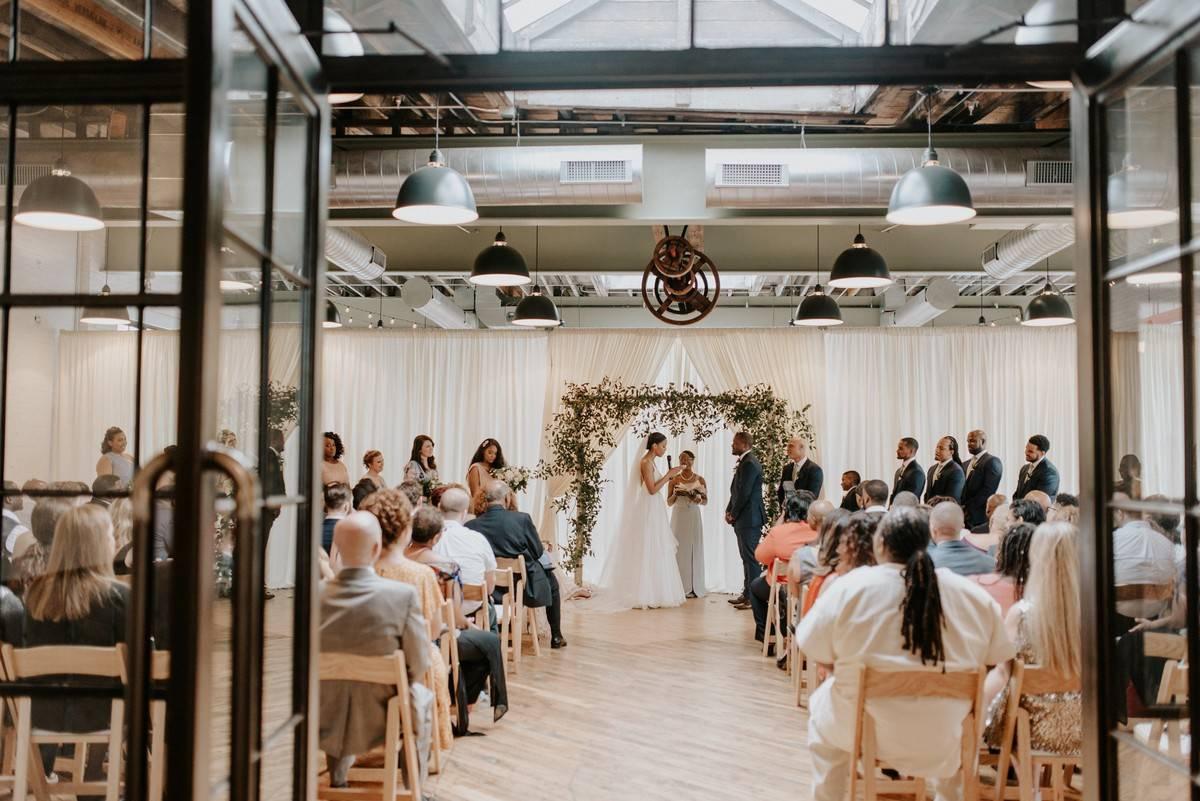 Accelerator Space
Thank the industrial chic wedding trend for this beautiful, modern wedding venue near Belvedere Square Market. If the name reminds you of a car part, that may be because this affordable wedding venue was previously a 100-year-old auto dealership. Don't worry, you won't find any spare carburetors lurking around Accelerator Space, which is a favorite for couples hunting down cheap wedding venues in Baltimore. Couples looking to host 120 wedding guests in October will pay under $4,000 for this versatile space. Transform this sparse, repurposed space into just about any wedding vision. Its industrial Baltimore wedding venue stylings—exposed brick walls, vintage wood floors and exposed beam ceilings—will fit right in. Cozy up on the patio with up to 100 standing guests or 65 seated guests, or spread out inside with up to 375 standing guests or 275 seated guests.
Learn more about Accelerator Space »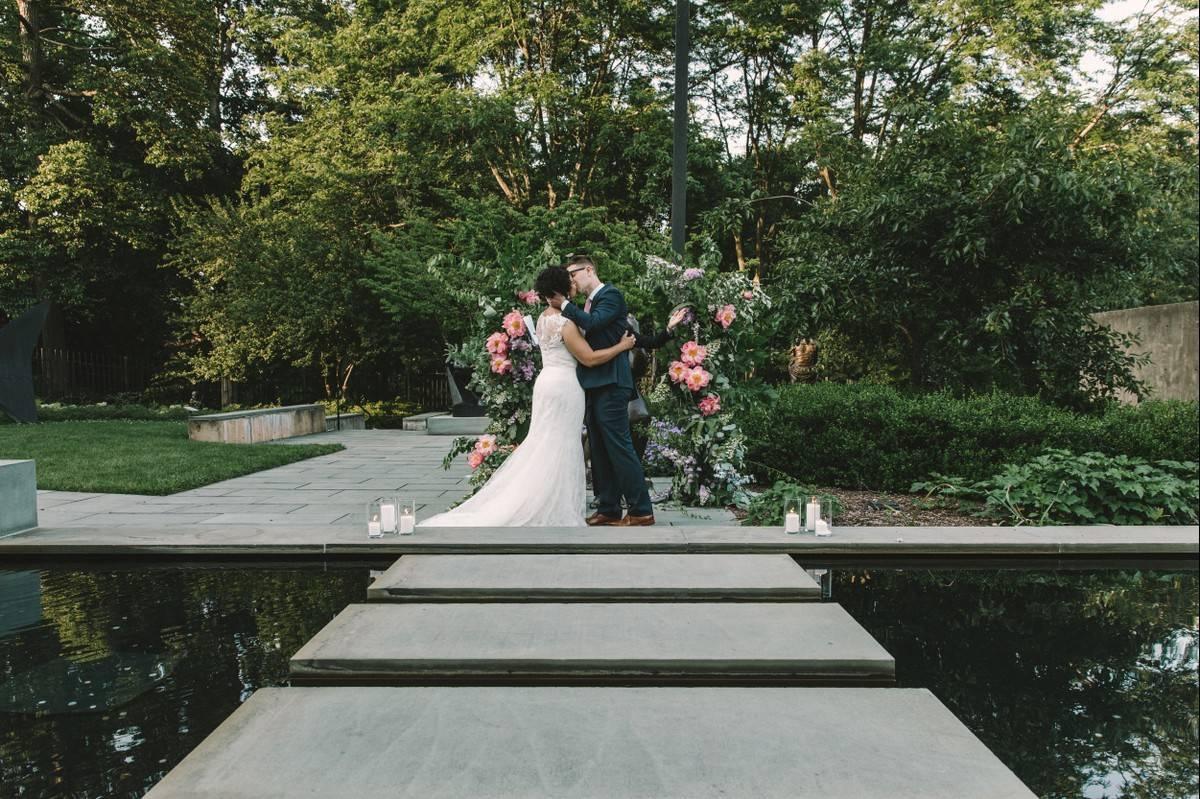 Gertrude's Chesapeake Kitchen
Don't skimp on fresh, local and seasonal wedding menu options for your guests just because you're planning a moderately priced shindig. Gertrude's Chesapeake Kitchen offers a unique experience all couples looking for cheap wedding venues in Baltimore will relish. Peak season rental site fees are $2,500, which includes table linens, china, silverware, glassware, use of an outdoor tent and additional labor costs. Host your wedding ceremony in the shadow of a dainty reflecting pool and a stylish stone fountain while also marveling at breathtaking views of the Baltimore Museum of Art's sculpture garden. This culinary-inspired wedding venue was named for the owner's grandmother, but reflects his Charm City heritage. From the dining room, which is styled after Eastern Shore eateries, to the fare that's straight from the Chesapeake Bay, Gertrude's will strike a chord with proud Marylanders. Gertrude's can accommodate to 180 wedding guests.
Learn more about Gertrude's Chesapeake Kitchen »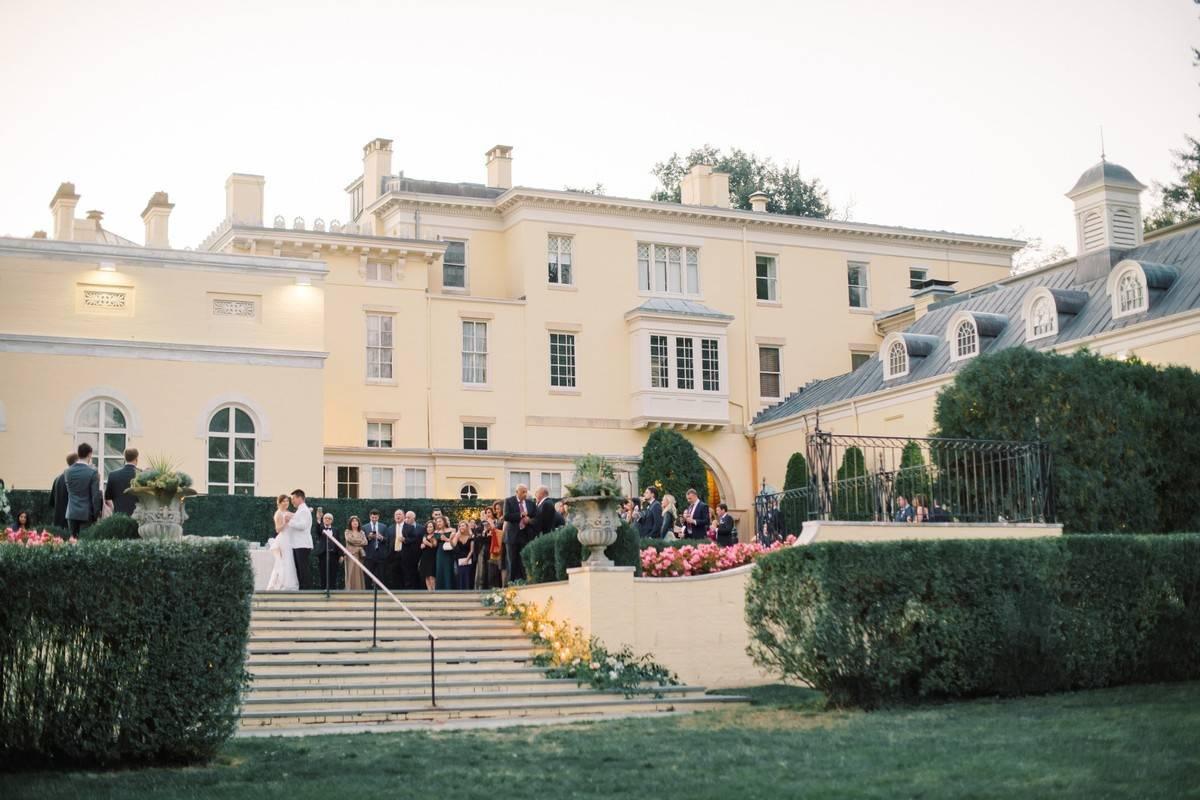 Evergreen Museum & Library
Elegant historic mansion wedding venues aren't out of your price range if you're in the market for cheap wedding venues in Baltimore. Evergreen Museum & Library is a swanky, Gilded Age mansion turned museum in North Baltimore. Peak season reception site fees start at less than $6,000 for this versatile venue that's surrounded by 26 acres of neatly landscaped Italian gardens. Couples choose between three event venue options at this stately manse: the Carriage House, a well-maintained relic from 1870, includes wood-paneled stalls and a garden space for both indoor and outdoor ceremonies. The Upper Garden is a field of fresh florals, Victorian benches and antique statues and fountains. The Main House is a grand, 40-room residence built from four homes to suit the tastes of railroad barons. Weddings of all sizes can be accommodated at this venue with space for up to 400 guests.