These Industrial Wedding Venues in Baltimore Are Pure Goals
No matter your wedding style, you'll fall in love with these sparse and airy industrial wedding venues in Baltimore!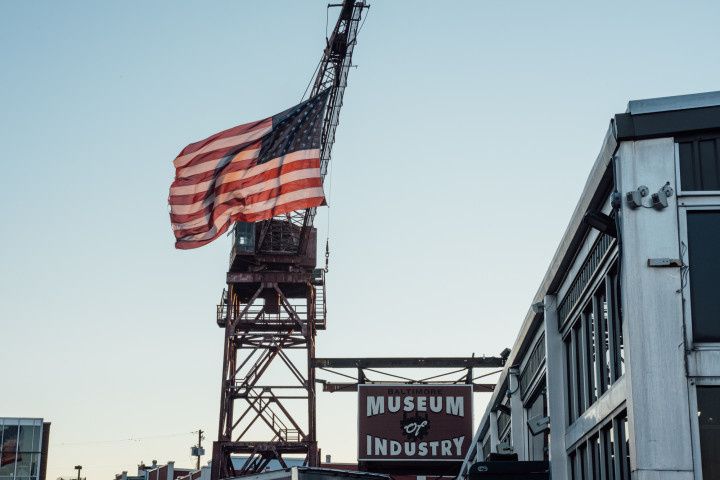 Industrial chic weddings are uber-trendy, and for good reason. Perfect for couples looking to put their own stamp on their weddings, industrial wedding venues in Baltimore often double as downtown Baltimore wedding venues and waterfront wedding venues with enviable access to harbor views. Baltimore is full of converted plants, mills and factories with high ceilings, vintage flooring and textured walls — all design features that make creating a beautiful wedding that much easier. These venues take the "chic" in industrial chic seriously, as well, with amenities that create a lux, swanky Baltimore wedding experience.
Here are all the gorgeous industrial wedding venues Baltimore couples loving right now!

Baltimore Museum of Industry
Located on Key Highway, just off the Patapsco River, the Baltimore Museum of Industry is dedicated to the city's industrial past, so it's fitting that its one of the coolest industrial wedding venues Baltimore has. With stunning Inner Harbor views and homages to the various industries the city used to support, this is a Baltimore wedding venue that's perfect for nostalgic Baltimoreans. Couples choose from an event space between the two offered by the museum. The Outdoor Pavilion and Point is a waterfront wedding venue that holds up to 500 guests for a cocktail hour style reception, while the Decker Gallery and Industry Terrace is an indoor space dripping with natural light that holds up to 500 for cocktail-style receptions and 300 for seated dinners. For inspiration on styling this venue, check out Bayla and Josh's December wedding at Baltimore Museum of Industry.
Learn more about Baltimore Museum of Industry »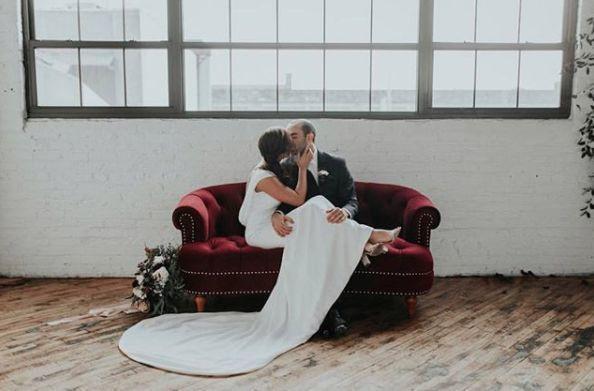 Accelerator Space
You'd never guess one of the most chic Baltimore wedding venues opened nearly 100 years ago as an auto dealership. Repurposed, reinvigorated and gleaming, Accelerator Space is a spacious industrial wedding venue near Baltimore's Belvedere Square Market. Boasting the stylish features that couples love in industrial wedding venues in Baltimore, like exposed beam ceilings and hardwood floors, Accelerator Space offers two event space options. The main room is large enough to accommodate 375 people for a cocktail party or 275 for a seated dinner, while the rooftop patio allows for up to 100 standing guests and 65 seated wedding guests.
Learn more about Accelerator Space »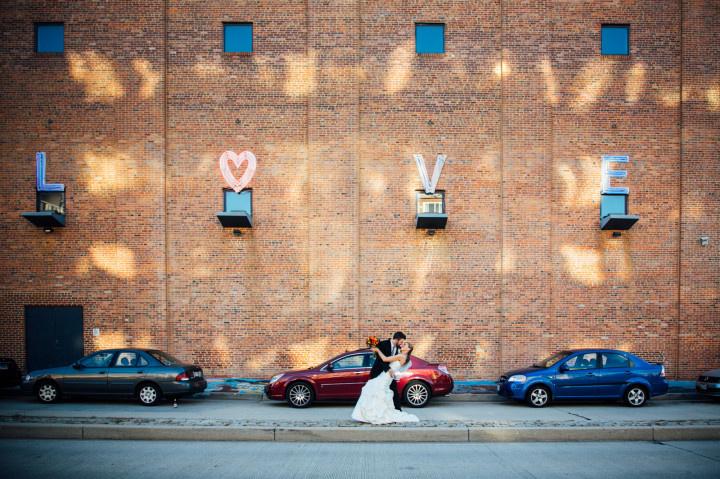 American Visionary Art Museum
Tucked away in Federal Hill, one of yesteryear Baltimore's most industrial neighborhoods, is the American Visionary Art Museum. Certainly one of the most unique industrial wedding venues Baltimore offers, this one-of-a-kind structure includes three event spaces for couples looking for an art-filled special day (including a bonus photo op with the "LOVE" mural). The Sculpture Barn & Wildflower Garden offers an indoor/outdoor experience with room for up to 125 for seated dinners. The banquet room in the JRVC building holds up to 450 guests with gorgeous views of the Inner Harbor and Baltimore skyline, while intimate weddings will love the Permanent Gallery space that is perfect for less than 40 wedding guests. There are infinite ways to style this special modern art wedding venue. Traditional, but full of color, like Samantha and Michael's August wedding or eclectic and whimsical like Kristen and Kris' June nuptials.
Learn more about American Visionary Art Museum »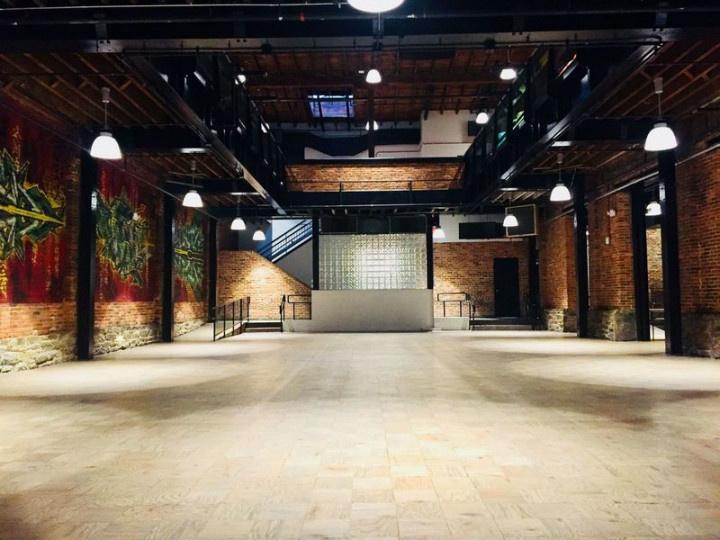 The Assembly Room
With 24,000 square feet of lofty, industrial event space, The Assembly Room is every minimalist wedding couple's dream come true. Right smack dab in the middle of downtown, this is one of the most flexible industrial wedding venues in Baltimore, as there are many ways to style the five event spaces. Accommodate up to 1,400 of your family and friends in this gorgeously renovated space that's been outfitted with black iron accents and exposed ceilings and brick walls.
Learn more about The Assembly Room »

Frederick Douglass - Isaac Myers Maritime Park
Named for two of Maryland's most prominent African-Americans, this site dates back to its 1868 founding as the first shipyard owned and operated by African-Americans. Now a waterfront wedding venue located right on the River in historic Fells Point, Frederick Douglass - Isaac Myers Maritime Park maintains many of its 19th century accents, including exposed brick walls and industrial wood beams. One of the few Baltimore wedding venues that boasts both waterfront and industrial bonafides, this park offers both indoor and outdoor event spaces. Indoors, choose between the classical industrial finishes of the Founders Room or floor-to-ceiling windows and balcony access with the Bearman Gallery. Outdoors, there's a courtyard and Cardin Pier, both of which offer unparalleled views of Inner Harbor and downtown Baltimore.
Learn more about Frederick Douglass - Isaac Myers Maritime Park »

Mt. Washington Mill Dye House
Nestled in the Mt. Washington neighborhood, this is as gorgeous as industrial wedding venues in Baltimore get. Couples will revel in more than 5,000 square feet of flexible event space to make their wedding vision come true. A beautiful mix of rustic and industrial, Mt. Washington Mill Dye House features distressed concrete floors as well as authentic exposed brick walls and wood ceiling beams. Thanks to multi-pane windows, expect tons of natural light during the day and extra twinkles at night, courtesy of the venue's string lights.