8 Unique Baltimore Wedding Venues That Fit Every Couple's Style
Whether your tastes veer more toward historic ballrooms or rustic art studios, these truly unique Baltimore wedding venues will catch your eye.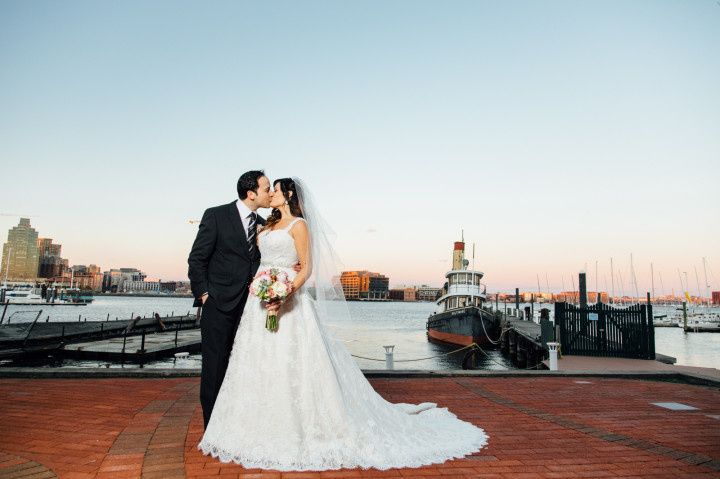 With clusters of distinct neighborhoods, each touting centuries of architecture, history and culture, unique Baltimore wedding venues abound in this one-of-a-kind city. Thanks to Baltimore's thriving arts scene, host of world-class entertainment venues and rich industrial past, you'll find lots of gorgeous inspiration for your upcoming nuptials in these standout Baltimore wedding venues. From a ballroom fit for a queen (literally) to an authentic glassblowing studio to a wedding venue that swims with the fishes, these wedding venues are far from cookie cutter.
You'll absolutely love these unique Baltimore wedding venues!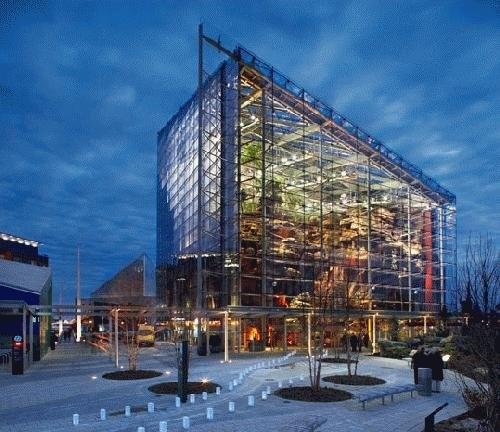 National Aquarium
Nature lovers, animal enthusiasts and sea life fanatics need to look no further than Baltimore's National Aquarium for a unique wedding venue that fits their tastes. If you've never considered hosting your ceremony or reception at an aquarium, you really should change that. Beyond the fact that National Aquarium is a striking, glass-walled architectural marvel in the middle of Inner Harbor, there's something truly magical about the peaceful swimming of exotic sea creatures serving as your wedding backdrop. Weddings at National Aquarium not only get gorgeous sea life as part of their wedding view, the venue is also privy to gorgeous views of Inner Harbor. Choose from event spaces among the aquarium's five levels, which can host anywhere from five to 200 seated guests. Wedding entertainment is also available for your big day at the aquarium with one-of-a-kind options like private, 4-D Immersion Theater screenings — talk about an amazing wedding reception!
Learn more about National Aquarium »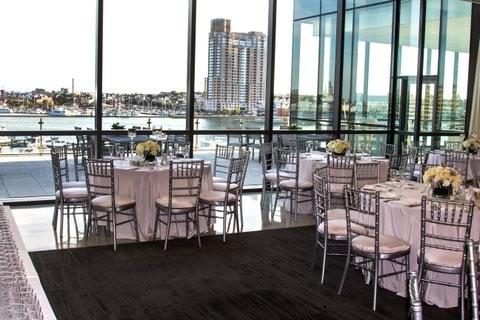 Harbor Tower Events
This wedding venue is appropriately named as you'll find it in the Fells Point neighborhood, just steps away from the banks of the Patapsco River. With stunning views of Baltimore's Inner Harbor everywhere you turn, Harbor Tower Events' high-rise indoor and outdoor event space is one of the most unique Baltimore wedding venues. Couples with a variety of wedding theme ideas will delight in this venue, housed inside of Baltimore's Legg Mason Tower. Water-loving couples will definitely want to host on Harbor Tower Events' balcony, which overlooks Inner Harbor and West Baltimore, while romantic and classical couples will find the elegant ballroom with floor-to-ceiling windows as chic and swanky as any mansion or hotel wedding venue. With the capacity to accommodate up to 400 wedding guests, Harbor Tower Events is ready for whatever size guest list you bring.
Learn more about Harbor Tower Events »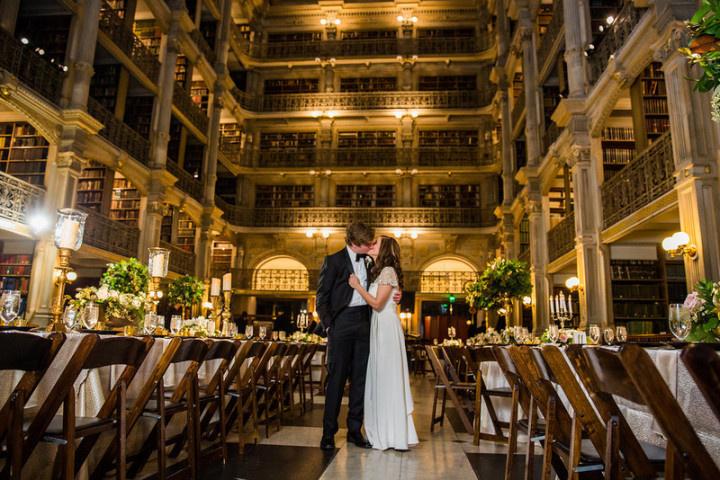 George Peabody Library
Five levels of cast iron balconies leading to a brilliant, 61-foot skylight make the George Peabody Library's Stack Room one of the most magical and unique Baltimore wedding venues. Built in 1878, the Mount Vernon neighborhood staple is now part of The Johns Hopkins University as a research library, but moonlights as a majestic, 19th century wedding venue as well. For couples looking for convenient, downtown Baltimore wedding venues, George Peabody Library fits the bill as well. Tucked away steps from Baltimore's Washington Monument and within walking distance to the city's downtown amenities, George Peabody Library is ideal for couples with large or small guest lists. The Stack Room accommodates up to 200 wedding guests without a dance floor and up to 170 seated guests with a dance floor.
Learn more about George Peabody Library »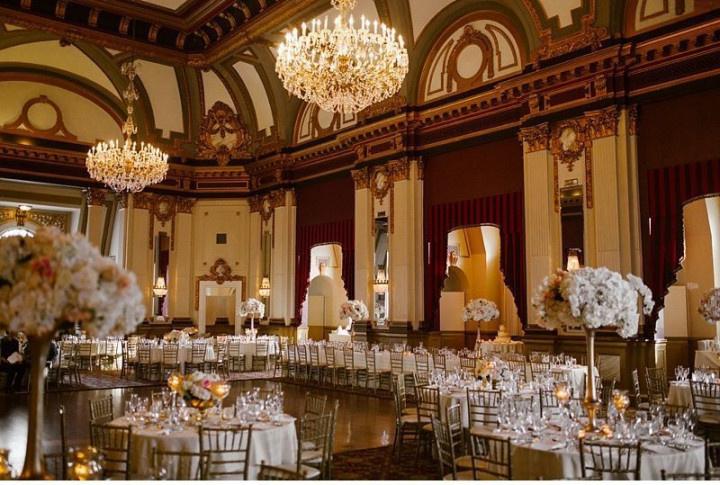 Belvedere & Co. Events
If you're planning a wedding fit for kings and queens, there's no other wedding venue more appropriate than The Belvedere. Part of historic Baltimore, MD and pristinely preserved for more than a century, the unique event center has actually hosted quite a few presidents and royalty. The experience of one of the grand and unique Baltimore wedding venues is something out of a royal affair as well. From pulling up to the stately Beaux-Arts style architecture of the building to stepping into one of the elegant ballrooms, shrouded in dazzling wall molding and sparkling chandeliers, it's hard not to feel like a VIP on your special day. Couples can choose from one of The Belvedere's ballrooms, which can host anywhere from 40 to 400 for brunch, lunch and dinner weddings and cocktail hour. There's also the option of a top-floor wedding venue on the 13th floor of the space with prime views of downtown Baltimore and the capacity to host 80 guests for seated meals and 100 for cocktail-style service.
Learn more about Belvedere & Co. Events »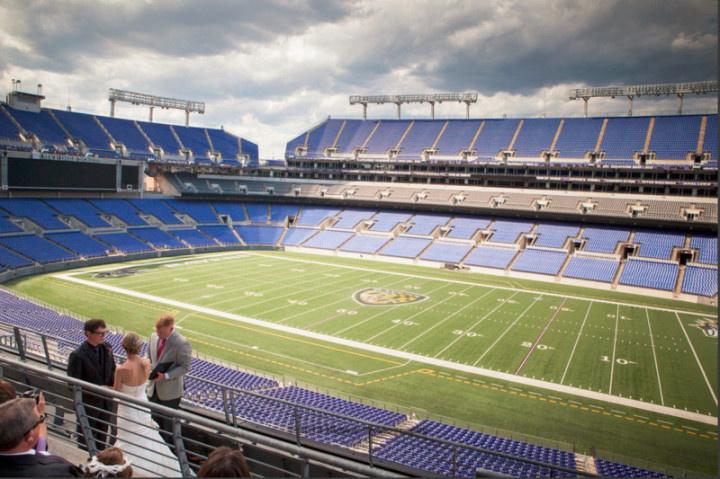 Aramark @ M&T Stadium
Birdland fans rejoice! There's no need to separate your love for the Baltimore Ravens and your love for your future spouse with one of the truly unique Baltimore wedding venues. With Aramark @ M&T Stadium, exchange vows on the home turf of the city's legendary NFL team. While you can be as close to the 50 yard line as you'd like to be for your nuptials, the stadium isn't just about the field. Elegant indoor event spaces are also available for fine dinner and dancing — just under the watchful eye of the raven.
Learn more about Aramark @ M&T Stadium »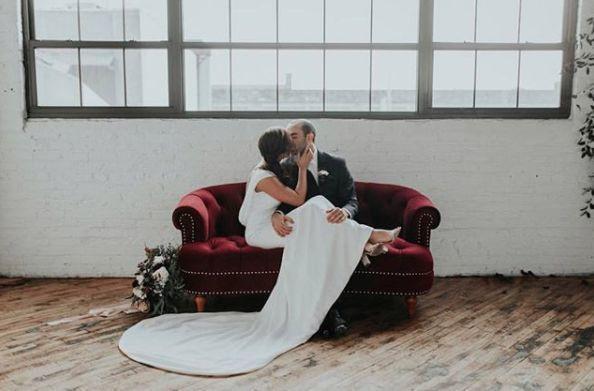 Accelerator Space
This stunning wedding venue near Baltimore's Belvedere Square Market was built to house an auto dealership nearly a century ago. Gorgeously restored and repurposed, Accelerator Space joins the city's beautiful collection of industrial unique Baltimore wedding venues. Touting many of the features industrial chic couples love, like exposed beam ceilings, painted exposed brick walls, hardwood floors and minimalist stylings, Accelerator Space is ready to accommodate just about any wedding vision. This spacious wedding venue is ready to host up to 375 people for cocktail service or 275 for seated meals. The smaller patio space hosts up to 100 standing guests and 65 seated guests.
Learn more about Accelerator Space »
Corradetti Glass Studio & Gallery
If a 3,300 square foot glassblowing studio isn't one of the city's most unique Baltimore wedding venues, we don't know what is. Corradetti Glass Studio & Gallery is the perfect destination for modern rustic chic weddings with ornate glass fixtures, high, exposed beam ceilings, exposed brick and bamboo wood flooring. Your guests will delight in the natural light that pours in thanks to oversized windows, which also overlook a pool designed to resemble Roman baths. The artsy studio hosts up to 100 wedding guests.
Learn more about Corradetti Glass Studio & Gallery »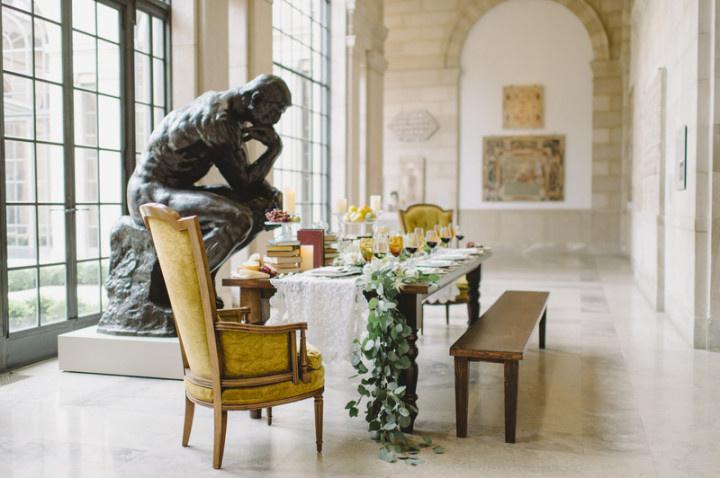 The Baltimore Museum of Art
Whether you're a diehard art fan or just a casual observer, The Baltimore Museum of Art is an ideal venue for couples with discerning tastes. A grand structure in the neoclassical school of design, The BMA is sleek, light-filled and versatile to fit the needs of many Baltimore couples. Choose from the museum's four event spaces: Majestic Fox Court, Antioch Court, West Lawn or Sculpture Gardens for your choice of an elegant indoor or outdoor wedding ceremony and reception.