Whether you grew up on Long Island or are just marrying in the area, you probably know that there are lots of Long Island wedding venues to choose from. So, how do you narrow down the long list of locations where you can host your big day? The first step is to figure out the style of venue you're looking for. Are you dreaming of a grand ballroom, classic country club, historic estate on acres of land, romantic garden, or relaxed beach setting? Then, you'll have to determine your budget and how many guests you plan on hosting. You'll also want to figure out your general location—Nassau or Suffolk County? The Hamptons? No matter where on the island you plan on marrying, you'll be delighted at all of the Long Island wedding venues available.
Start planning your special day by checking out some of our favorite Long Island wedding venues.
Inexpensive Long Island Wedding Venues
The best wedding venues are Long Island aren't necessarily the most expensive. In fact, there are several Long Island wedding venues that are both stylish and affordable. A few of our favorites include Ariana Waterfall, a glam venue that provides an all-encompassing wedding package at a reasonable price; the scenic Harbor Links Golf Course, where you can score discounts by marrying in the off-season, and Beach Club Estate in Ronkonkoma, which has a lively, tropical vibe and breathtaking views.
Read More: 7 Inexpensive Wedding Venues on Long Island for a Budget-Friendly Big Day
Long Island Catering Halls
Catering halls are among the most popular Long Island wedding venues, and for good reason. These venues make planning a breeze for busy brides and grooms, as catering and other services are usually included in the packages. Each of these venues has its own unique feel so you can pick the space that best suits your style. In particular, The Metropolitan in Glen Cove has a modern-urban style, while Land's End is ideal for couples searching for a waterfront venue with beach access and Majestic Gardens has a romantic, fairytale-wedding feel. And for glam couples, there's Chateau Briand Caterers in Carle Place, Floral Terrace in Floral Park, and Leonard's Palazzo in Great Neck.
Read More: 16 Catering Halls on Long Island That Combine Convenience and Style
Hamptons Wedding Venues
If the Hamptons is your favorite vacation spot, you might be looking for a venue out east. Turns out there are lots of Hamptons venues to choose from, whether you're dreaming of a relaxed, beach event or something more luxurious. From gardens like Gansett Green Manor in Amagansett to the beach-elegant Bridgehampton Tennis and Surf Club and Oceanbleu at Westhampton Bath and Tennis to romantic vineyards like Wolffer Estate Vineyard, you're sure to find the perfect spot for your big day in the Hamptons.
Read More: 14 Hamptons Wedding Venues for the East End Event of Your Dreams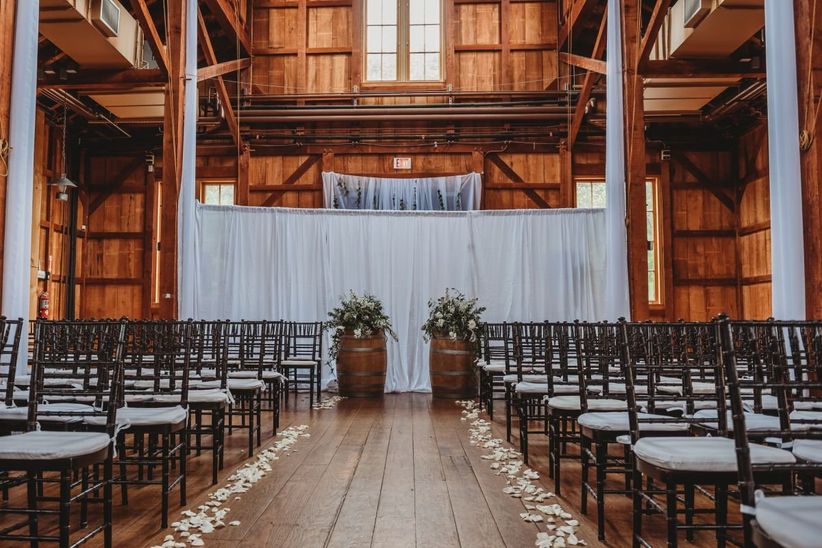 Rustic Long Island Wedding Venues
While much of Long Island is considered suburban, there are numerous rural areas, and several farm and barn venues, as well. The historic Barn at Old Bethpage Village Restoration is charming, as is the luxe Jedediah Hawkins Inn in Jamesport. And if you're looking for real authenticity, there are several working farms available to host your big day, including Breeze Hill Farm & Preserve on the North Fork, Benner's Farm in East Setauket, and Cassidy Hill Farm in Manorville. For couples looking toward the East End for their big day, Topping Rose House and Salt Drift Farm are favorites among the Hamptons crowd.
Read More: These 9 Barn Wedding Venues on Long Island Are Pure Rustic Goals
Small Long Island Wedding Venues
When it comes to the best wedding venues in Long Island, bigger isn't always better. In fact, some of our favorite Long Island wedding venues are among the smallest, including the industrial-chic Loft by Bridgeview in Island Park, Bailey Arboretum in Locust Valley, and Hallockville Museum Farm in Riverhead. If you're looking for a smaller venue with waterfront views for your ceremony, cocktail hour, or wedding reception, there's Navy Beach in Montauk and Lombardi's on the Bay in Patchogue.
Read More: 10 Small Wedding Venues on Long Island for Your Intimate Event
Unique Long Island Wedding Venues
If a ballroom or country club isn't your style, there are many Long Island wedding venues that offer couples a unique setting for their big day—no matter what your personality or style may be. Lovers of aquatic life will swoon over Atlantis Banquets & Events, located at the Long Island Aquarium in Riverhead, while NYIT de Seversky Mansion is just the place for couples dreaming of a true Gatsby-inspired event on the Gold Coast. We also adore the modern, minimalist vibe of the Harbor Club at Prime and the jaw-dropping space at the Cradle of Aviation Museum. You and your guests are sure to be wowed by these incredible venues that are totally out-of-the-box.
Read More: The 10 Most Unique Wedding Venues on Long Island
Vineyard Long Island Wedding Venues
True, Long Island isn't Napa Valley, but it turns out there are lots of vineyard wedding venues on the Island. The North Fork, in particular, features numerous vineyard venues including The Vineyards at Aquebogue, Bedell Cellars, Sparkling Pointe, and Pellegrini Vineyards. These venues not only offer incredibly romantic scenery, many also offer a variety of wedding packages for easy and convenient wedding planning. And, not to mention, there's ample wine for your whole crew to enjoy during your elegant wedding.
Read More: 9 Long Island Vineyard Wedding Venues for Wine-Filled Celebrations