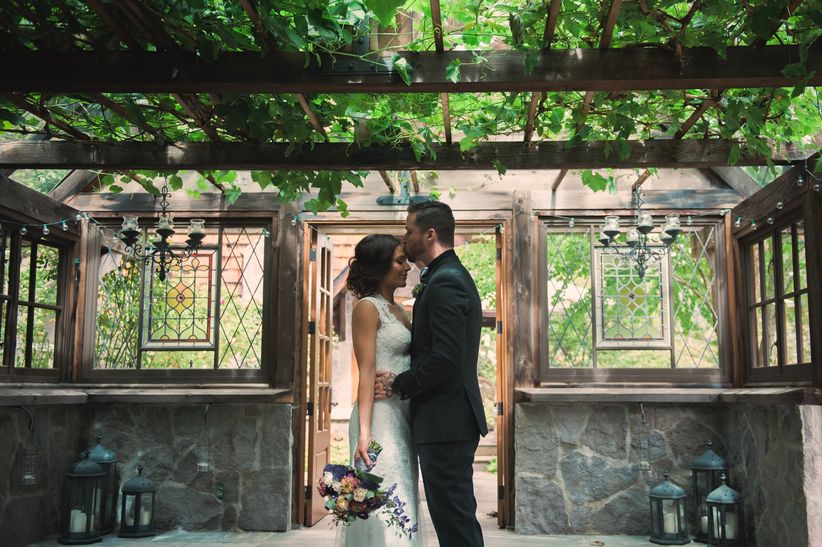 Photo: Mle Jayne Photography
When you're researching unique wedding venues in Seattle, it's helpful to look at ideas from real couples who have already gotten hitched at the locations you're considering. Seeing how a real couple utilized your potential wedding venue will make it easier to envision your own wedding in that space and make it uniquely yours. If you're getting married in the Seattle area, check out these ideas for some real-life inspiration.
Start planning your one-of-a-kind celebration with these unique wedding venues in Seattle.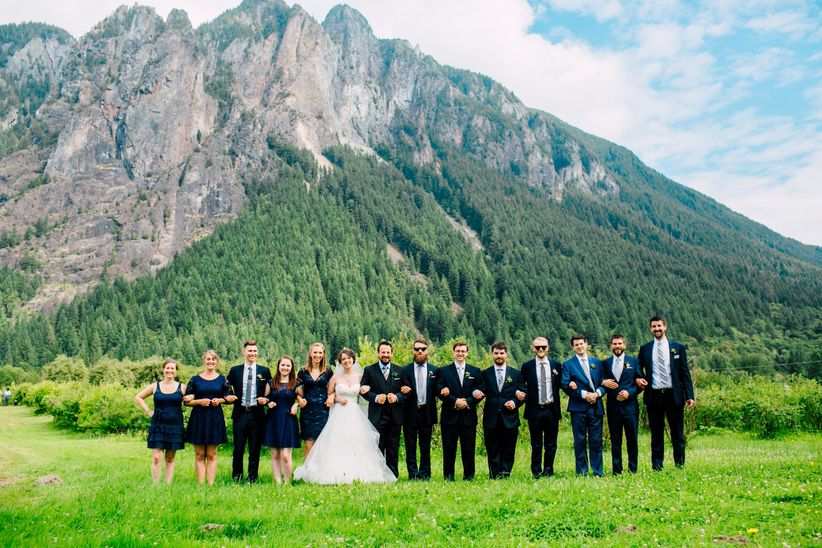 Photo: Katheryn Moran Photography
1. Bybee Farm
Does anything sound more charming than the thought of getting married at a blueberry farm? We don't think so. This idyllic wedding venue in North Bend is less than an hour's drive from downtown Seattle and is one of the most perfect places for outdoor-loving couples. Bybee Farm offers incredible scenic views for a beautiful wedding — the venue's built-in altar is quite literally at the foot of a mountain! The family-owned farm hosts just 12 weddings a year (and only during the summer season), which means that you'll join a small and exclusive group of couples if you get married at Bybee Farm. In our opinion, the best part is that you can return to the venue each summer to pick blueberries and relive your wedding memories all over again.

Learn more about Bybee Farm »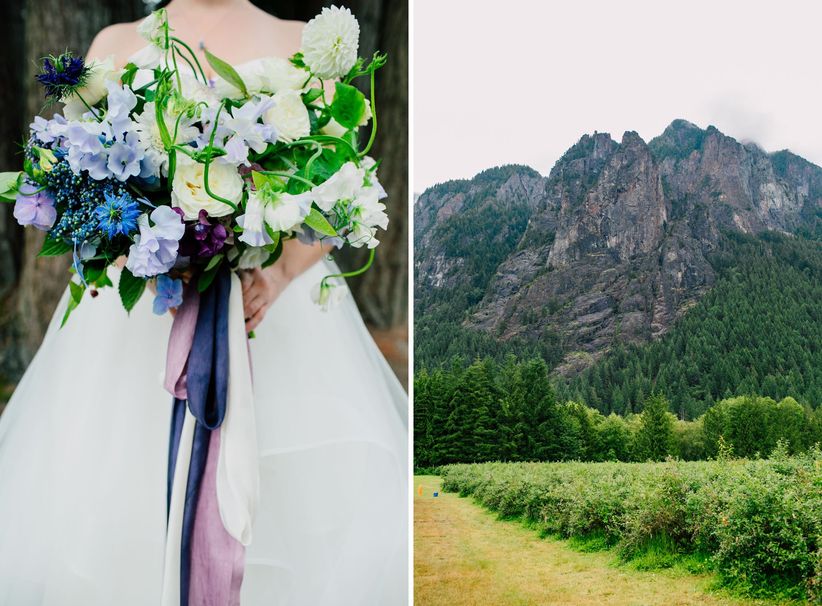 Photo: Katheryn Moran Photography
How to Style It: Whimsical and Inviting
By keeping the overall decor simple, Allison and Jon put the focus of their wedding on the venue's gorgeous location. We love how they used blueberry-inspired hues, like navy blue, light blue and purple, for their color palette. Their reception menu included comfort foods like mac & cheese and homemade desserts — yum!

See more of Allison & Jon's wedding at Bybee Farm »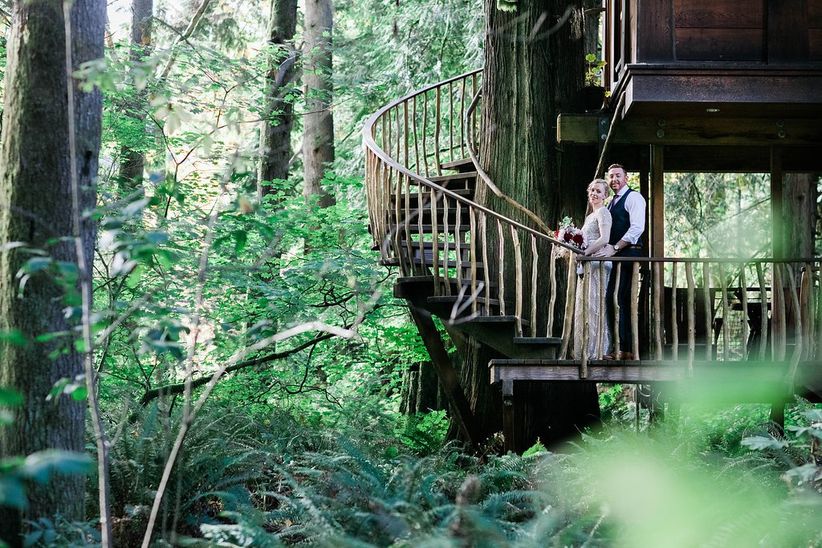 Photo: Adina Preston Weddings
2. TreeHouse Point
If the idea of getting married in the treetops of Washington's forests sounds like heaven to you, then you'll want to visit TreeHouse Point in Issaquah. This venue has not one, but six different tree houses to choose as the backdrop for your ceremony. TreeHouse Point is best for elopements and smaller Seattle weddings, but the property guarantees a one-of-a-kind experience no matter what your wedding size. With the rental fee, you have exclusive use of the four-acre property for up to 22 hours (a rarity when it comes to most wedding venues, trust us). TreeHouse Point offers wedding packages and vendor recommendations to help make your planning process as seamless as possible. Lastly, you won't have to book a hotel room, since you can stay at the venue overnight.

Learn more about TreeHouse Point »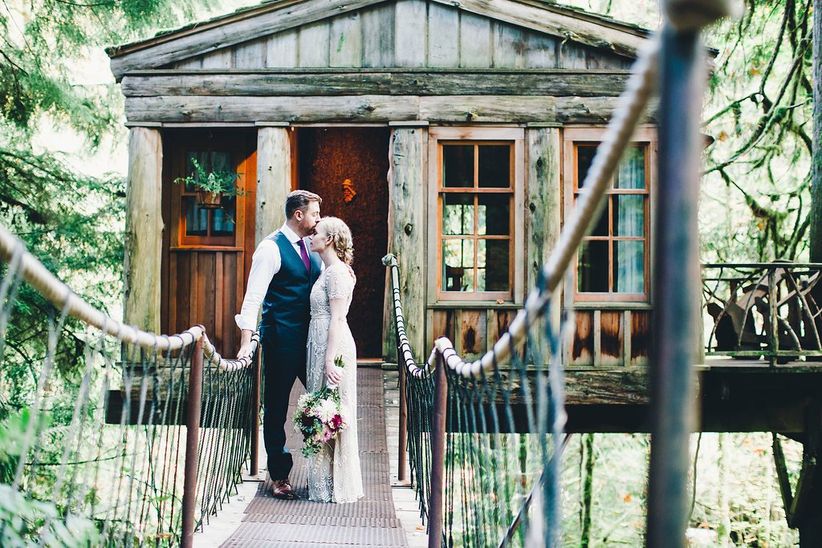 Photo: Adina Preston Weddings
How to style it: Bohemian Vintage
This adorable couple eloped at TreeHouse Point. We're obsessed with the bride's BHLDN wedding dress, which she paired with minimal accessories and a loose updo. Their wedding photos around the venue are oh-so dreamy.

See more of Alicia & Ryan's wedding at TreeHouse Point »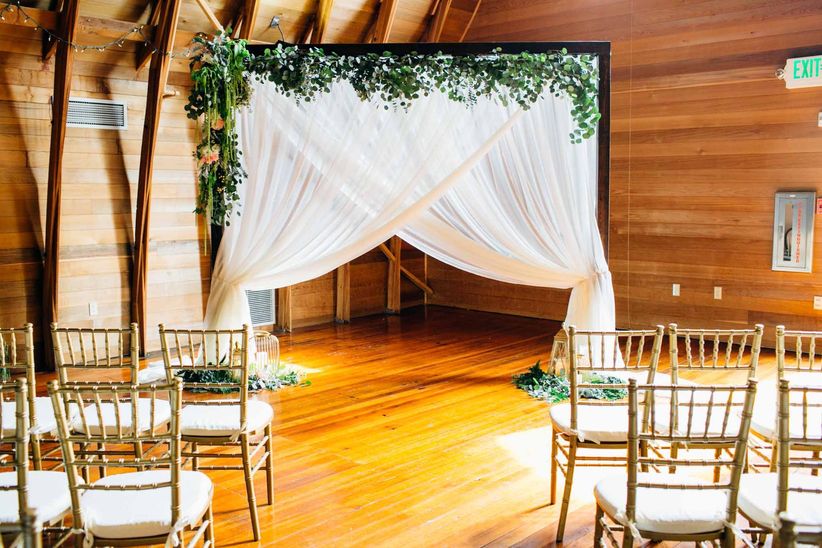 Photo: Katheryn Moran Photography
3. The Loft at Russell's
Located just 20 minutes northeast of downtown in Bothell, this rustic chic property is one of our favorite unique wedding venues in Seattle. The Loft at Russell's is a refurbished barn that was first built in 1927. While the first floor of the barn houses Russell's Restaurant, the loft has 4,000 square feet of event space with original hardwood floors, cathedral-style ceilings and strand lights adorning the rafters. All catering and bartending is provided in-house by the Russell Lowell Catering staff. The venue can accommodate weddings with up to 180 guests and will supply linens, tables, chairs, and china.

Learn more about The Loft at Russell's »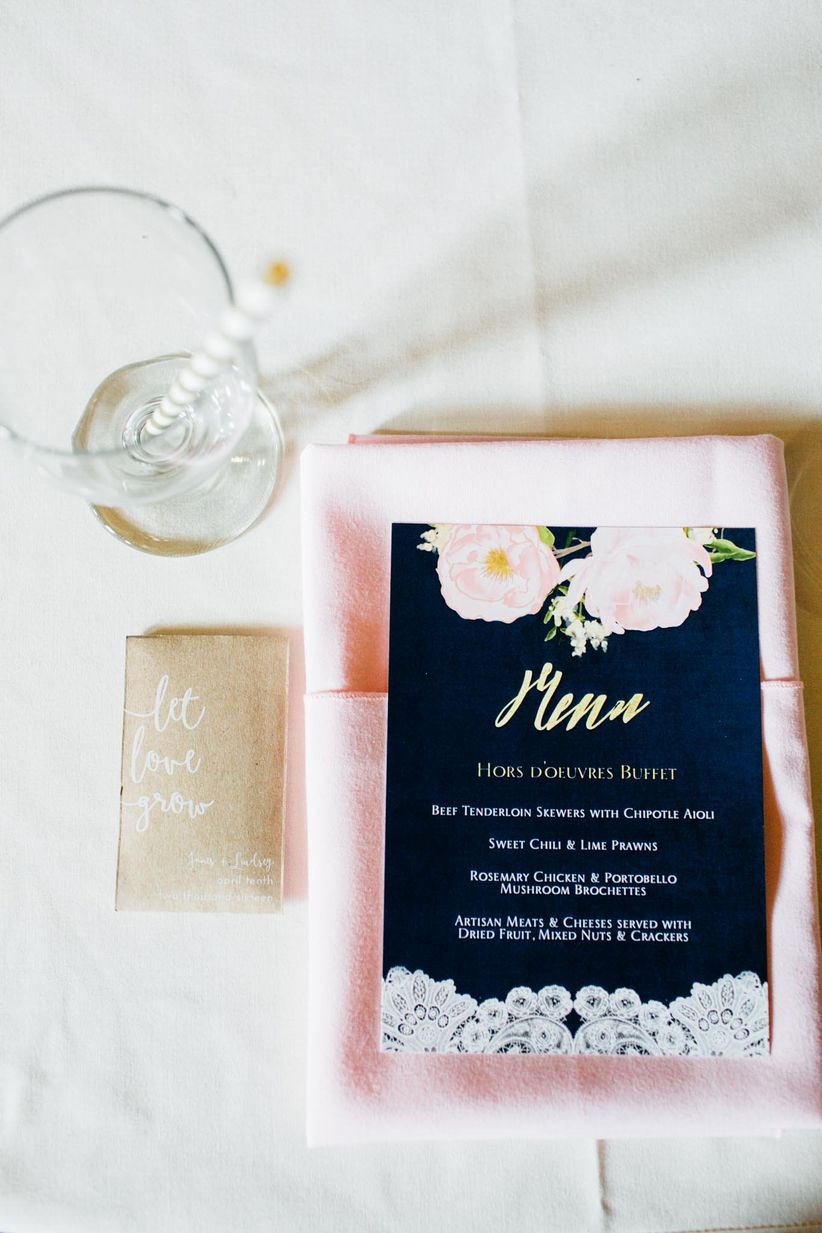 Photo: Katheryn Moran Photography
How to Style It: Modern Romance
From the naked cake to the gorgeous greenery backdrop, this couple's style was all about romance and trendy details. Their blush, gold and navy blue color palette accented the loft's natural wood details beautifully.

See more of Lindsey & James' wedding at The Loft at Russell's »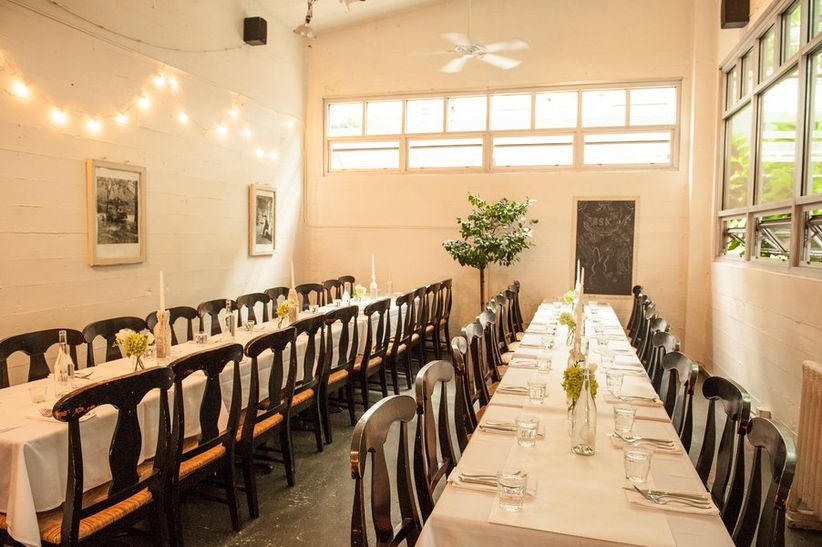 Photo: Kate & Keith Photography
4. Boat Street Kitchen & Bistro
This central Seattle restaurant is perfect for couples who want to host a more intimate and low-key wedding reception. Boat Street Kitchen & Bistro is an excellent choice if you're more concerned about treating your guests to a hearty meal than having an all-night dance party (although you can definitely dance here, too!). The bistro specializes in French-inspired dishes and uses local and organic ingredients whenever possible. You'll feel right at home thanks to the restaurant's cozy, semi-rustic style — think whitewashed walls and industrial-inspired details (steel ceiling fans, bistro lights, exposed pipes). In addition to an outdoor patio, there are several private rooms to choose from based on the size of your guest list. The venue's capacity varies depending on the day and time of your event, but smaller weddings (50 guests or fewer) are easily accommodated on most days.

Learn more about Boat Street Kitchen & Bistro »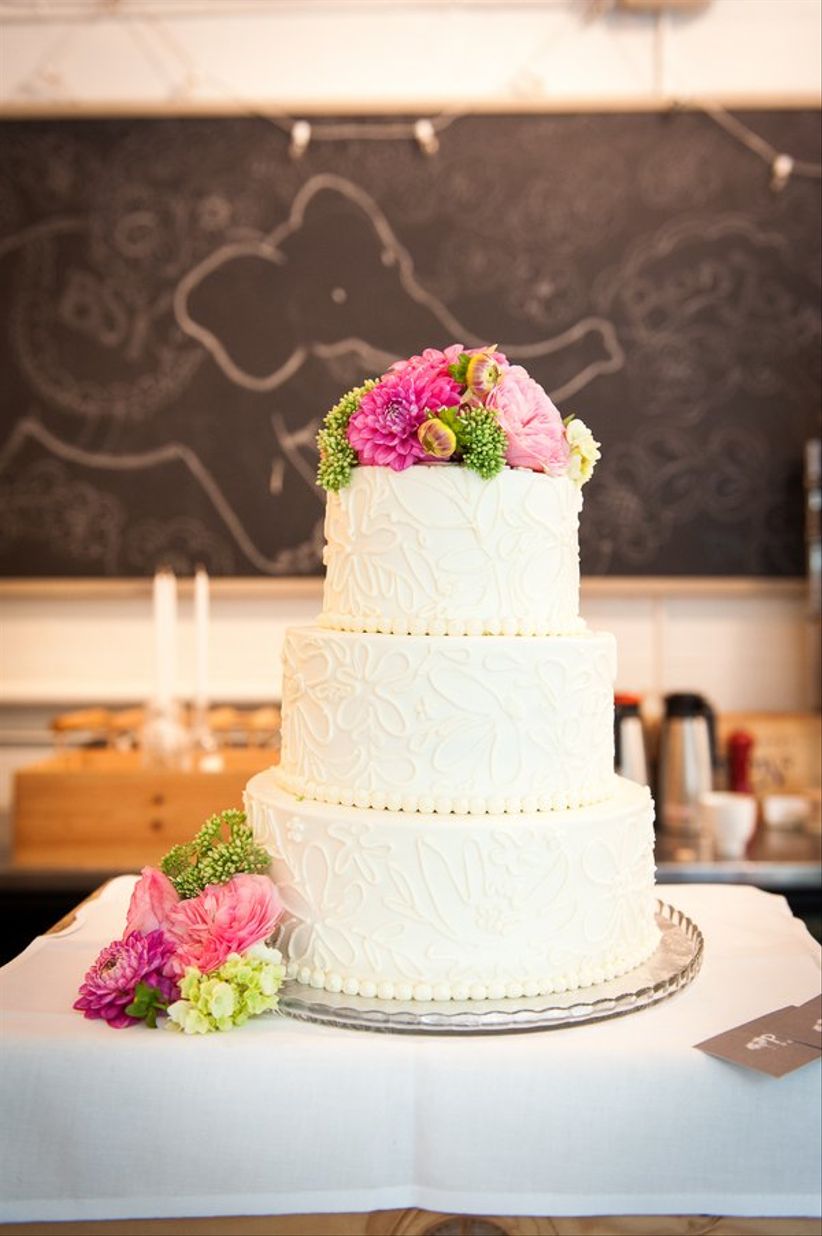 Photo: Kate & Keith Photography
How to Style It: Classic With a Twist
We love how this bride ditched the full-length wedding dress and opted for a lace tea-length style instead. The couple kept the rest of their wedding style classic, with garden rose and hydrangea centerpieces and traditional white fondant cake.

See more of Karen & Ron's wedding at Boat Street Kitchen & Bistro »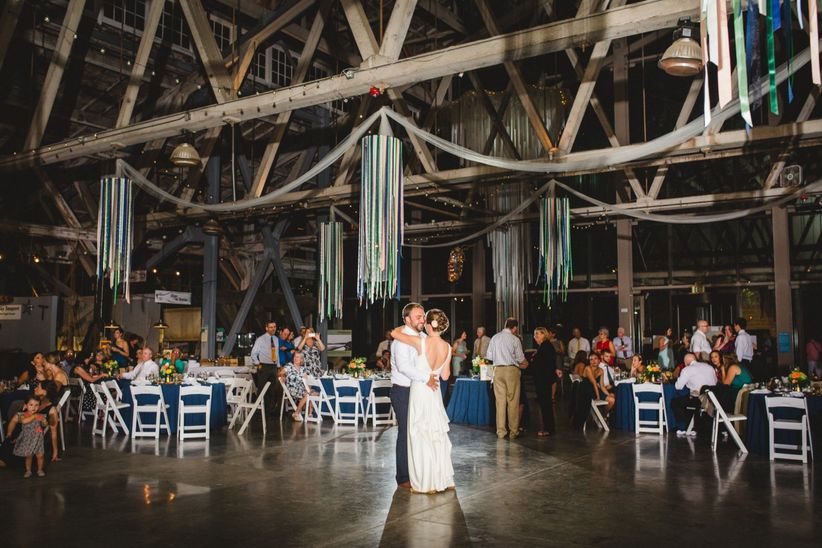 Photo: Jenn Ireland Photography
5. Foss Waterway Seaport
History buffs will love this waterfront Tacoma venue. The Foss Waterway Seaport is a collection of historic buildings, museums and exhibits showcasing Tacoma's maritime past. The venue's main exhibit hall is one of the most memorable and unique spaces in Washington, with 55-foot ceilings and a "window wall" that provides plenty of natural light and unbeatable views of Commencement Bay. Your guests will love exploring the museum's artifacts and exhibits that are housed in the main hall, or they can venture outside to the venue's esplanade for a closer look at the water.

Learn more about Foss Waterway Seaport »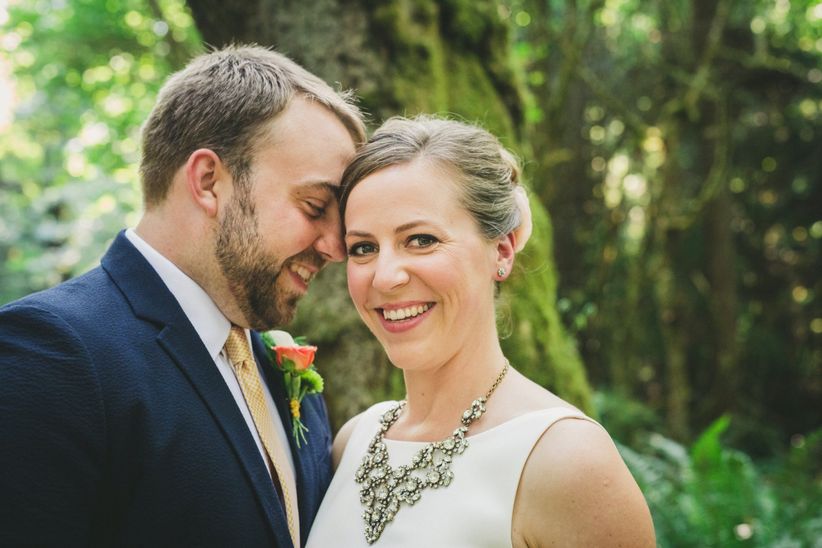 Photo: Jenn Ireland Photography
How to Style It: Preppy but Playful
With a waterfront location, this couple naturally chose to include a few touches of preppy style throughout their wedding, like the bride's J.Crew wedding dress and the groom's blue suit. We specifically love the playful ribbon hoops that were suspended throughout their reception space at Foss Waterway Seaport.

See more of Allison & Patrick's wedding at Foss Waterway Seaport »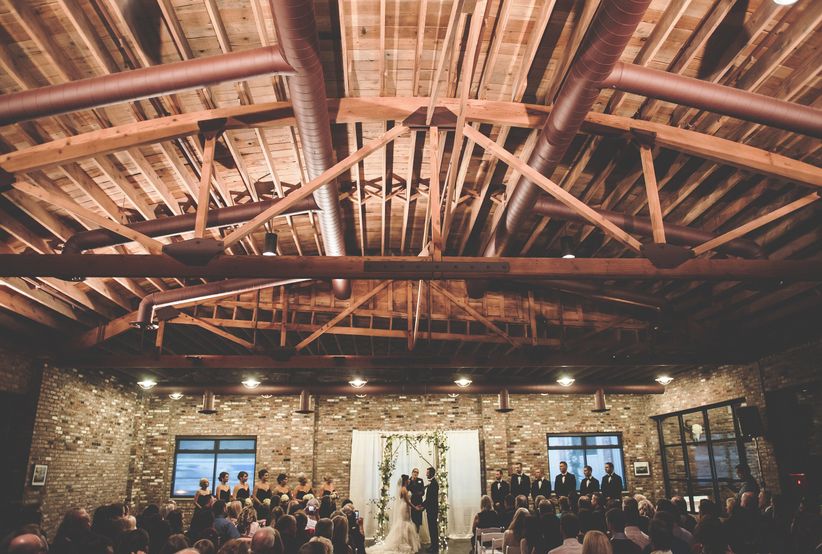 Photo: Vail Studio
6. Historic 1625 Tacoma Place
Old meets new at this refurbished lodge in Tacoma. Historic 1625 Tacoma Place is located in Central Tacoma (near the museum district), which is an easy 40-minute drive from downtown Seattle. If you love the industrial wedding decor trend as much as we do, then you'll appreciate this venue's urban characteristics, such as brick walls, vaulted ceilings, slate floors, and Edison bulb lanterns. The venue's collection of American-made muscle cars is what sets it apart from other Seattle wedding venues — you can even include a viewing of the collection in your wedding package if you or any of your guests are vintage car enthusiasts. The stately Trophy Room at Historic 1625 Tacoma Place can accommodate up to 350 guests, with enough space for a dance floor, tables and bar (all provided by the venue).

Learn more about Historic 1625 Tacoma Place »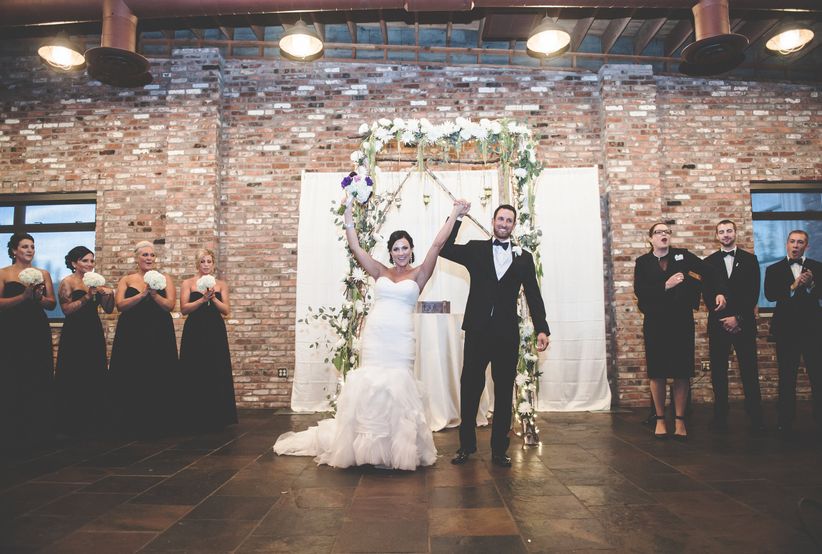 Photo: Vail Studio
How to Style It: Elegant Black Tie
This couple proves that when you combine an industrial venue with a formal style, the result is stunning. We love how Emily and Anthony's black-tie details (crystals, candles, pintuck linens) balanced out the rugged look of the venue.

See more of Emily & Anthony's wedding at Historic 1625 Tacoma Place »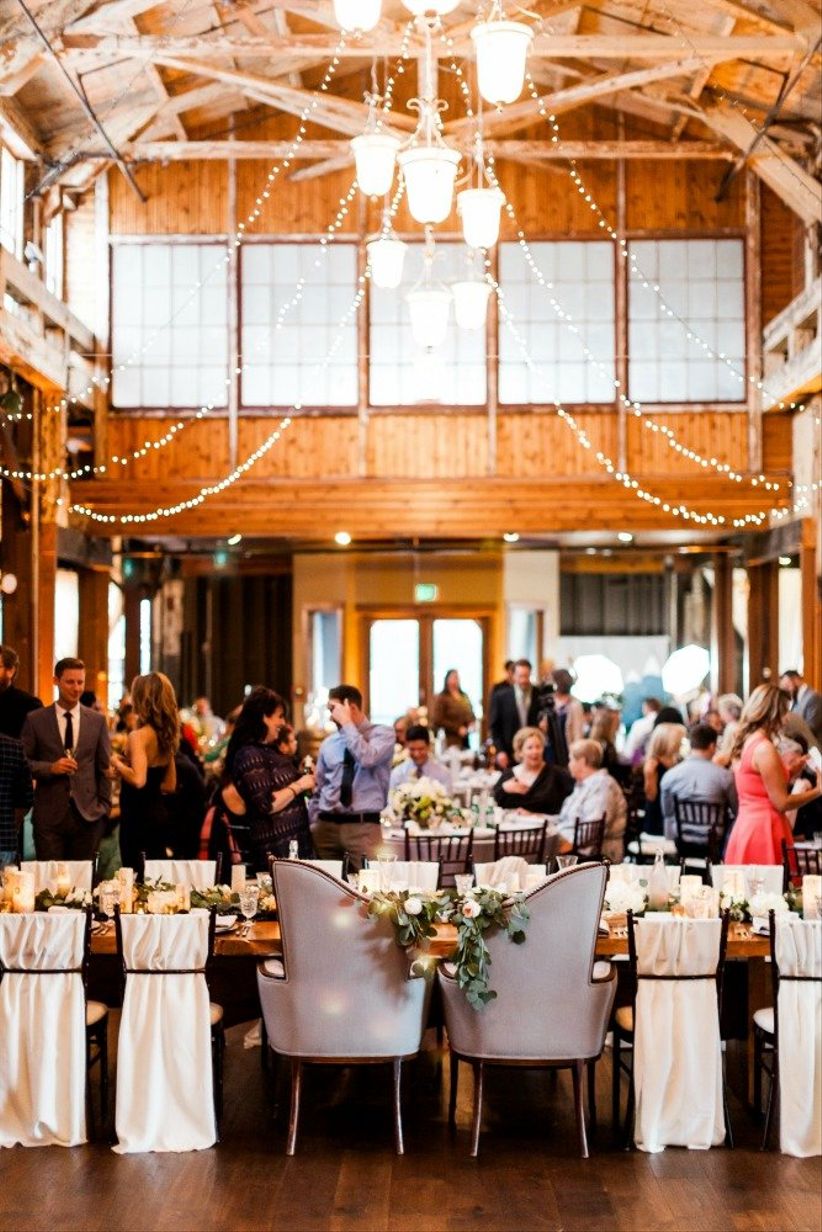 Photo: Luma Weddings
7. Sodo Park
When it comes to unique wedding venues in Seattle, you can't beat this rustic chic spot in the historic SoDo District. Sodo Park is a perfect choice for couples who don't want to sweat the small stuff — this full-service venue takes care of all the necessary wedding planning details for you. Catering, beverages, event coordination, tables, chairs, and china are all included with your rental fee, courtesy of Herban Feast Catering. Event styling, floral design and decor rentals are all optional add-ons provided by the Herban Design Studio. Sodo Park is one of our favorite downtown Seattle wedding venues and can host seated receptions for up to 325 guests.

Learn more about Sodo Park »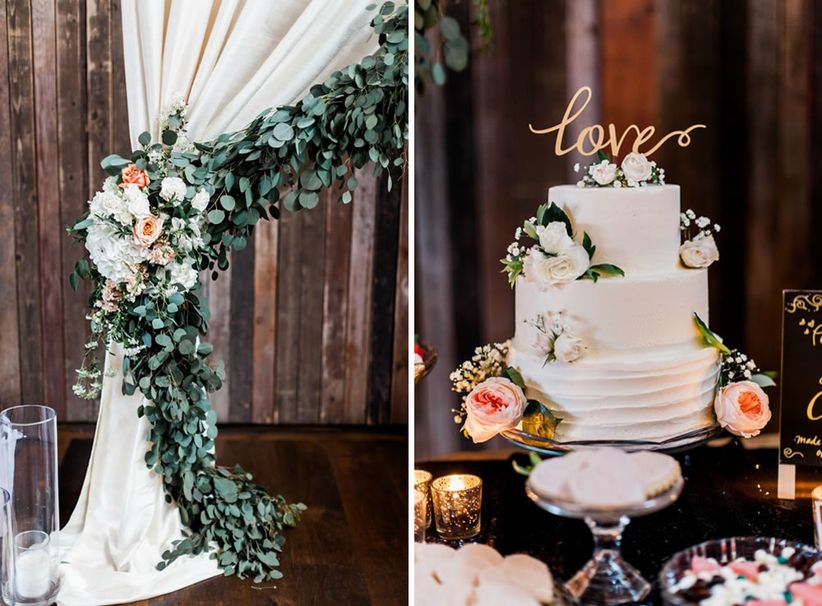 Photo: Luma Weddings
How to Style It: Rustic Glam
Lush greenery and flowers softened the overall rustic feel of this venue. The couple accented their neutral color palette with gold details and lots of candles to create an ultra-romantic setting.

See more of Angela & Jeffery's wedding at Sodo Park »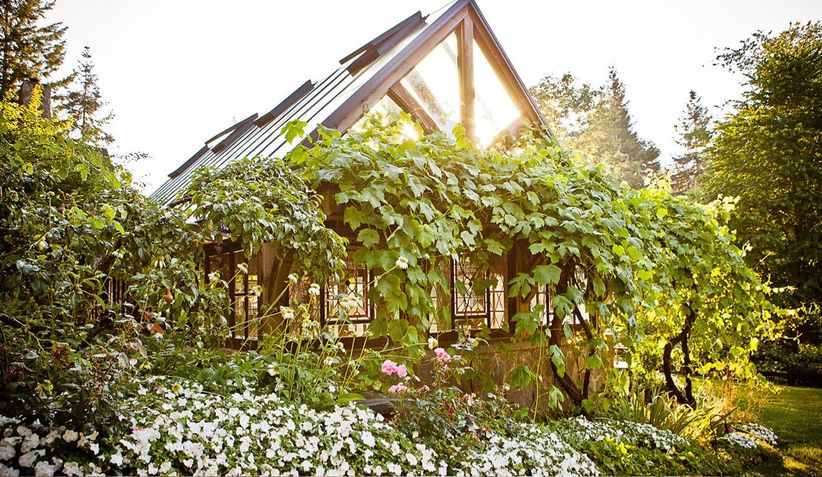 Photo: Bella Luna Farms
8. Bella Luna Farms
European-inspired buildings and quaint, one-of-a-kind details are what set this farm venue apart from other rustic Seattle wedding venues. Bella Luna Farms in Woodinville is full of romance and country charm, and we're not kidding when we say that this venue looks like something straight out of a fairytale, like Belle's house in Beauty and the Beast or the cottage from Snow White and the Seven Dwarfs. On the 12-acre farm, you'll find goats, chickens, an apiary, multiple gardens, and a duck pond. For your cocktail hour or reception, we personally love the adorable Grape House, which is a vine-covered room with skylights, stained glass windows and stone floors. The venue's two-story barn is a popular spot for wedding photos, thanks to a unique lookout balcony on the top floor.

Learn more about Bella Luna Farms »
Photo: Mle Jayne Photography
How to Style It: Enchanted Garden
No detail was too small for Ruth and Ryan's wedding. Oversized floral arrangements and personal touches throughout the venue created an inviting storybook setting — our favorite detail is the gorgeous arch that stood at their ceremony altar.

See more of Ruth & Ryan's wedding at Bella Luna Farms »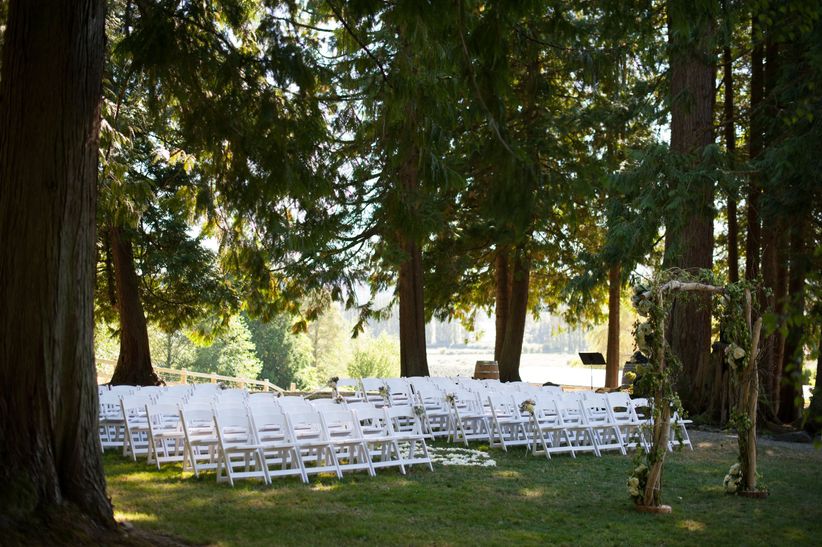 Photo: Julianna J Photography
9. DeLille Cellars
You don't have to travel all the way to France to get married at an elegant château. DeLille Cellars in Redmond is a boutique winery with Bordeaux-style architecture and 10 acres of land, making it one of the most beautiful and unique venues in Seattle (not to mention a perfect location for a wine-themed wedding). For indoor weddings, the venue's Grand Room features vaulted ceilings and French country style accents, such as brass chandeliers, wine barrels, candelabras, and a giant hearth. The estate's tree-lined lawn is a private and romantic setting if you want to get married outside.

Learn more about DeLille Cellars »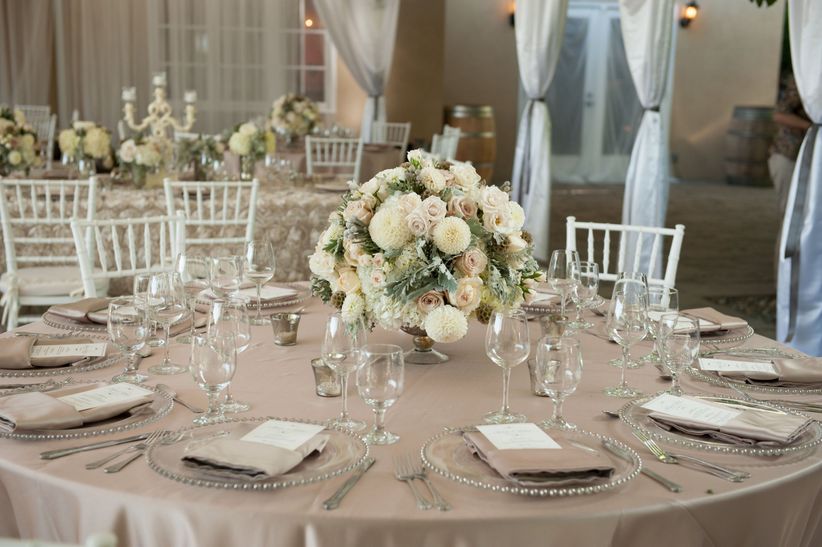 Photo: Julianna J Photography
How to Style It: Formal and Chic
This wedding is timeless style done right.The soft pastel color palette is traditional but not boring. Melissa and Chad personalized their decor with monogrammed details, elegant signage and beautiful mix-and-match centerpieces.

See more of Melissa & Chad's wedding at DeLille Cellars »