14 Modern Ways to Use Candles in Your Wedding Decor
Candles may be simple, but they pack a punch. Set the mood with these new and gorgeous ideas for your wedding candle decorations.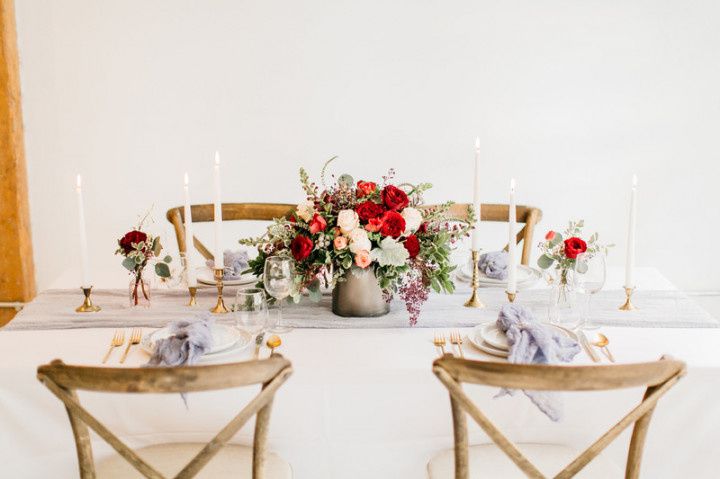 Candles and romance go hand-in-hand, so naturally, wedding candle decorations are a perfect fit when it comes to enhancing your ceremony or reception space. From simple white tapers atop gold candlesticks, to a grand staircase lined with glowing candles in glass vases, candles are a beautiful choice for any style, location and season.
Set your big day aglow with these modern wedding candle decorations.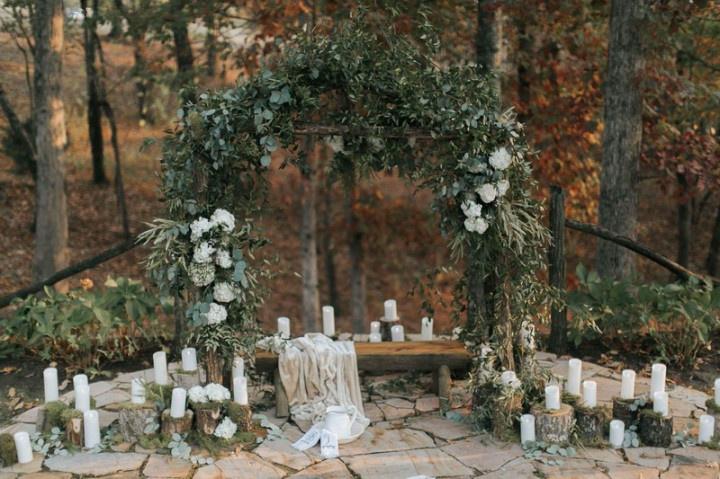 Tree Stumps
We're loving this elegant take on rustic wedding style. Use pillar candles and tree stumps in varied heights for a perfectly imperfect look. Add greenery, flowers, and a hint of moss, and you've got a lovely ceremony altar that's fit for a woodland wedding. If you're getting married indoors, this is also a simple way to bring transform your venue by bringing the outdoors in.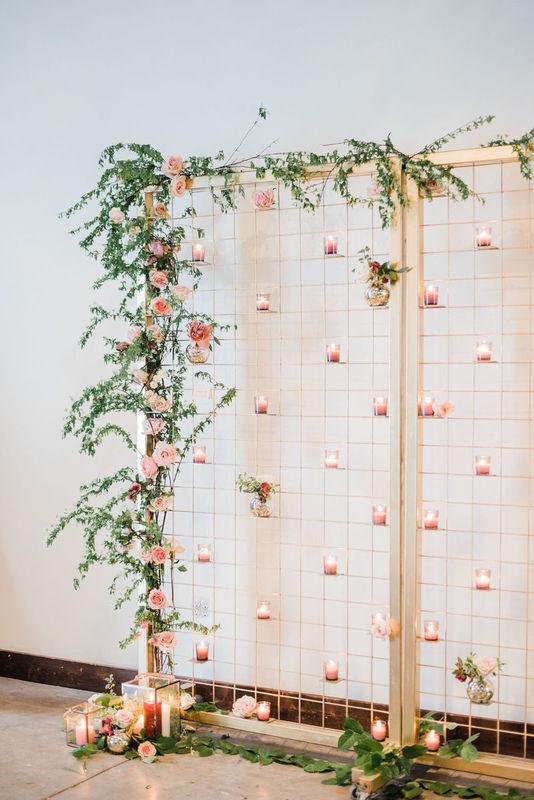 Metal Screen Backdrop
Industrial chic style meets modern whimsy in the form of this metal screen backdrop. The greenery and blush roses are oh-so pretty on their own, but the votive candles give this backdrop an unexpected flair. Use it as a backdrop for your vows during the ceremony, or place it behind the head table or cake table at your reception.
Mixed and Matched
There's no need to stick to just one type of candle — we suggest combining different sizes and styles to create an eclectic, pieced-together effect for your wedding candle decorations. The light blue tapers in this tablescape balance out the white pillars and taller gold candlesticks nicely.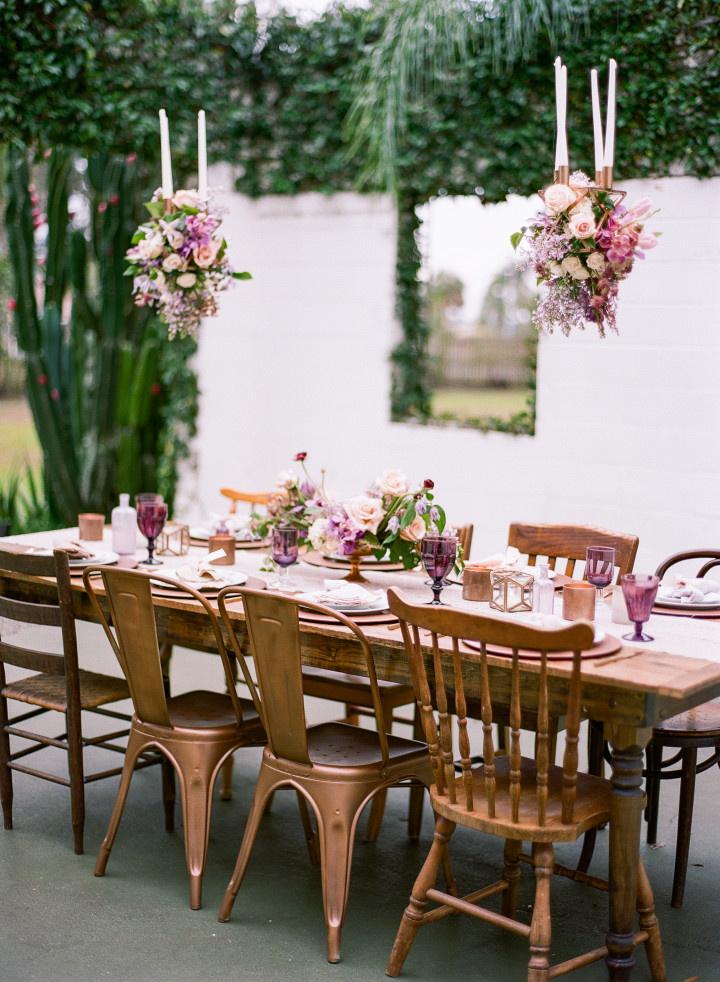 Floating Centerpieces
Floating centerpieces definitely bring the wow factor, but floating centerpieces with candles are simply magical. With geometric vessels and Ultra Violet flowers, this design embodies some of our favorite wedding decor trends. For this idea, you might want to consider using realistic-looking flameless candles to avoid wax dripping onto your tabletops and guests.
Tall Candelabras
A dramatic backdrop created using floor candelabras, fabric draping and floral arrangements brings a European, Old World wedding feel to your ceremony. We envision this setup at a stately mansion or storybook castle wedding venue. So romantic!
Accent Wall
Sometimes, all it takes are floral pillars and a collection of glowing candles to dress up a simple brick wall. By keeping the rest of your decor minimal, you ensure that all eyes will be on this stunning accent wall.
Glass Orbs
For a more modern take on floating candles, try tea lights in glass orbs suspended from a sea of greenery. This idea is one of our faves for couples who love chic, contemporary style, or if you're going for a minimalist wedding vibe.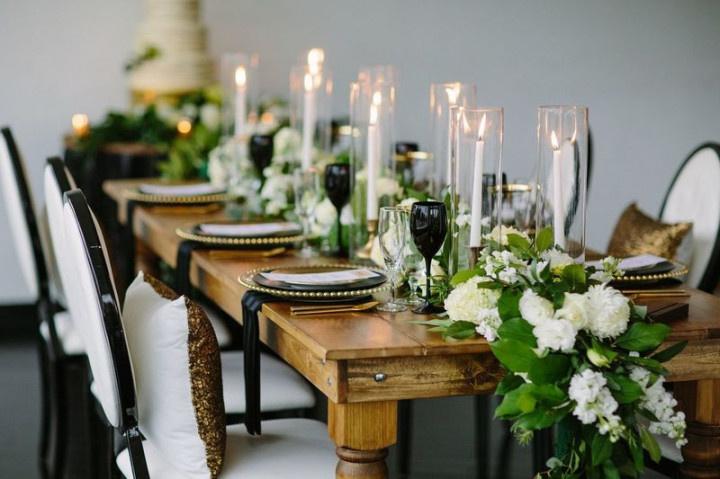 Table Runner
Instead of tall, elaborate floral arrangements, opt for a minimalist greenery runner with monochromatic flowers and taper candles to complete the look. This alternative to traditional centerpieces feels elegant yet inviting, while putting the focus on your wedding candle decorations.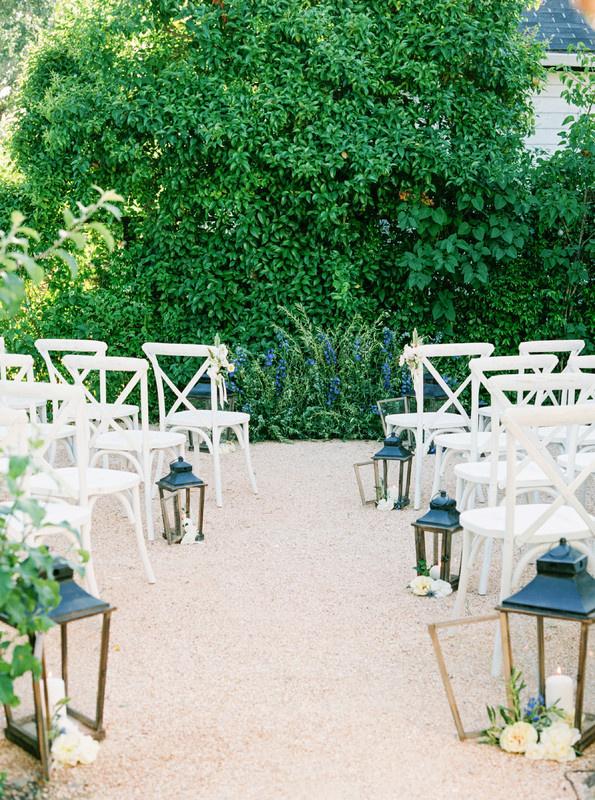 Lanterns
Candlelit lanterns are especially sweet when displayed as aisle markers at a garden or outdoor wedding venue. Choose vessels that match your wedding style — these wooden lanterns would work perfectly for a vintage theme, but you could also use luminaries, mercury glass vases, metal hurricane lamps, and more.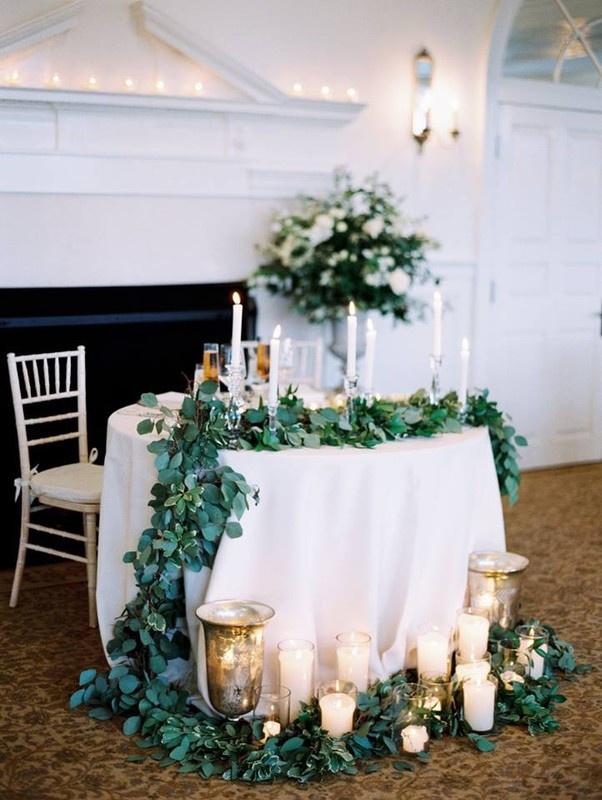 Sweetheart Table
Share your first meal as newlyweds in style by adorning your sweetheart table with lush greenery accents and a grouping of candles. Keep the tabletop simple and concentrate on using the floor to create a true focal element.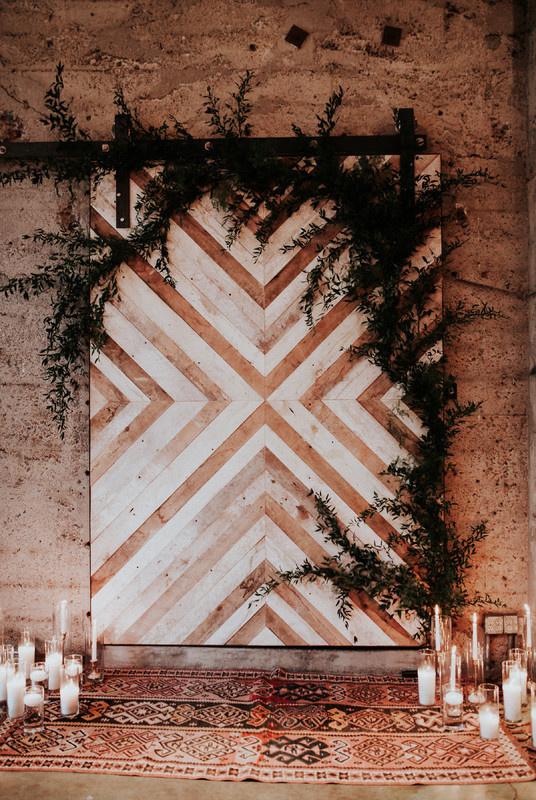 Moroccan Rug
Rugs aren't just for your living room — they can bring an entirely new look to your venue when used as wedding decor. Create a bohemian chic vibe by pairing a collection of candles with a vibrantly patterned rug, such as this rust and black Moroccan-style weave.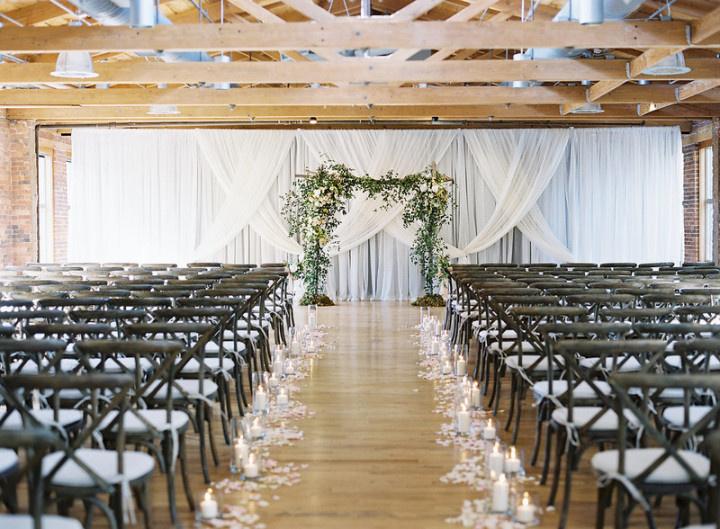 Flower Petals
Can't decide between lining your ceremony aisle with candles or flower petals? Here's proof that you should choose both! This is an easy but beautiful way to dress up a "blank slate" space, such as a loft or warehouse venue, that doesn't have much existing decor.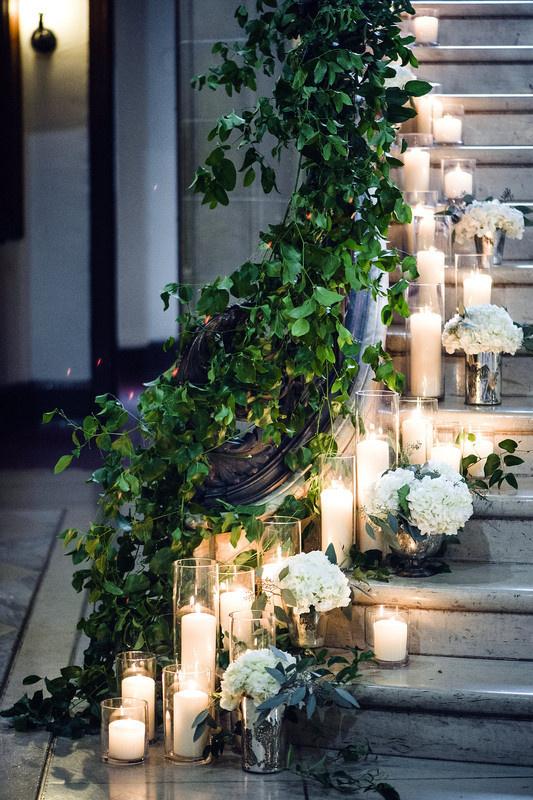 Staircase with Greenery
Use candles to guide guests from point A to point B if they'll be walking on a staircase or along a pathway at your venue.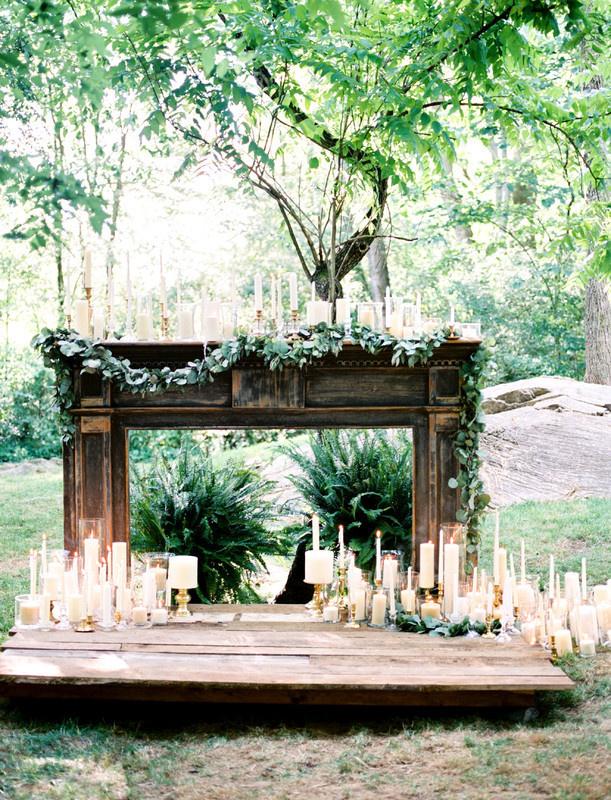 Fireplace Mantel
Fireplace mantels are the perfect opportunity for wedding candle decorations. If your venue has a fireplace (or if you're renting one as a backdrop like this), surround it with dozens of candles for the most breathtaking effect.